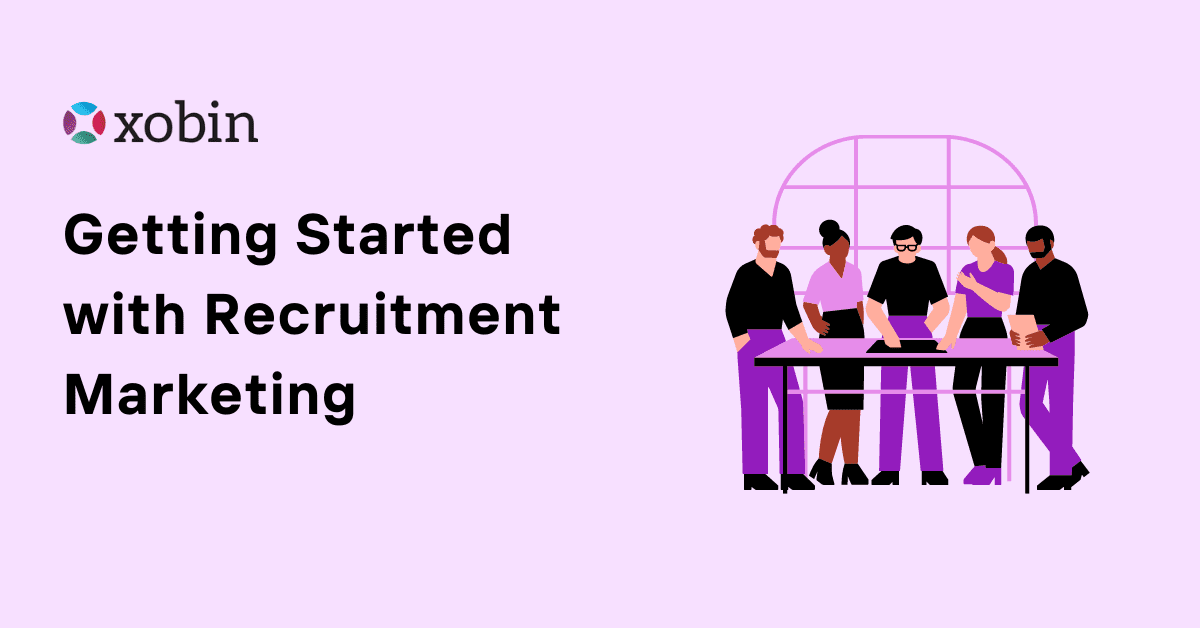 What is Recruitment Marketing?
Recruitment Marketing is the process of creating a strong employer brand in order to attract top talent. More specifically, recruitment marketing involves attracting, engaging, and nurturing applicants.
With the war for top talent heating up, organizations need to stand out. Recruitment marketing focuses on creating a brand name that people would crave to work for.
   Looking for Recruitment Software? Check out the best recruitment software.
Why is Recruitment Marketing Necessary?
You've been searching for that elusive Designer. Your competitor steals your new hire, moments after you sent an offer letter. Now, it takes forever to close an open position?
If this resembles your situation, Recruitment Marketing is certainly the need of the hour.
Let's step back and think from a candidate's point of view.
Studies show that millennials seem to conduct extensive research about the organization before applying. As a result, they have a strong preference for the kind of companies they prefer to work with. Amidst all the competition, how do you convince the top talent to join your organization?
The most noteworthy reasons to adopt recruitment marketing are :
Decreasing Time-to-hire

Improving Offer-to-Join ratio

Building a Talent Network
Here are few marketing strategies that lay the foundation of your required goals.
Steps to Get Started with Recruitment Marketing
Recruiting can't be done by just another ERP like Software or offloaded purely to a vendor. It must be proactive and leverage the right tools to attract, engage, and win over talent from the competition.
Here are some of the ways to improve get started with recruitment marketing –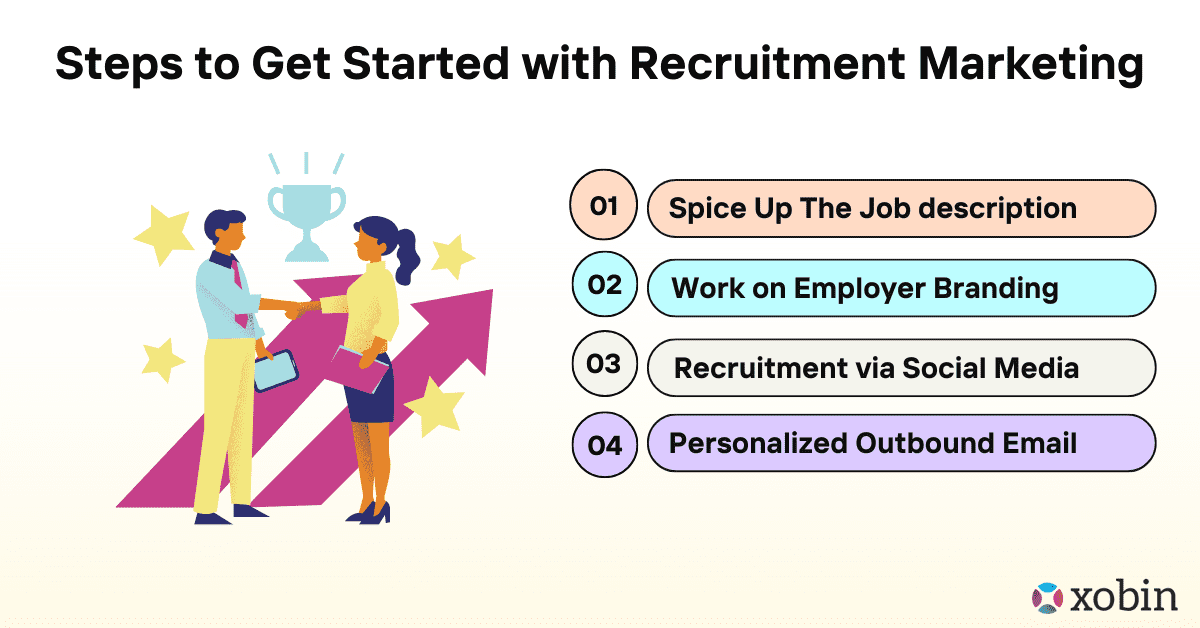 1. Spice Up The Job description
Poor Job Description – One of the key reasons why companies are not able to attract talent.
A Job Description shouldn't sound like a sales pitch or a collection of bullet points. On the contrary, it must spark the curiosity of an applicant.
Moreover, organizations must break out from the conventional templates. They must make an effort to leaves a mark in the candidate's memory.
Pro-tip: Here are few innovative Job Descriptions to refer to.
Apart from the Industry, Position and Qualification, add information that incites your candidates to apply for the position.
A Link of your Office Locations.

Instead of writing about what your company does, add a video that describes what life at your organization looks like.

Highlight your salary range.

Lastly, avoid time-consuming, lengthy application.
2. Work on Employer Branding
The most vital step to capture the spotlight in the recruitment process is to work on Employer Branding. Here are the best ways to go about it!
Hosting & Sponsoring Meetup Events
A personalized industry-specific event can help spread the word about the company's work and culture. It helps to showcase the team, the work environment, and the impact of the work. As a result, these events are the ideal location for senior management to interact and attract top talent.
Hackathons
Hackathons are competitive events where enthusiastic teams comprising of domain experts in technology, design, and marketing collaborate to solve problems.
Large Hackathons typically receive footfall of above 200 people. For this reason, it is seen as an opportunity to interact and meet with 200+ prospective applicants.
If operational challenges scare you, choose Online Hackathons. Long gone are the days when people physically ride to the event location.
Online Hackathons allow for automatic response checking. Therefore, organizations get to store all the ideas as part of their innovation efforts. Also, engineers working together to improve the eCommerce experience can greatly benefit from the expertise of an eCommerce branding agency. Hence, it will enhance not only the technical aspects but also the overall brand identity and customer engagement.
Moreover, it removes the constraint of geography. Such Hackathons offers great flexibility for organizations to scale up the brand name and reach out to a wider range of candidates from the diverse location.
Best HR Software Solutions
Campus Recruitment Software
With our online campus recruitment software screen, hire top talents hassle-free. Everything is under one platform, from test creation to the candidate's evaluation. from test creation to the candidate's evaluation.
Rating 5.0
Based on 321 user ratings
API Integration by Xobin
Get integrated and harness the strength of robust assessments with Xobin APIs. Save sweat and time and focus on your core offering, not building your assessment stack. from test creation to
Rating 5.0
Based on 321 user ratings
Coding Skill Assessment Software
With our 100+ coding assessments on various languages such as Java, Python, JavaScript, React, Angular, etc., evaluate and hire the best-talented developers. from test creation to the candidate's evaluation. to the candidate's evaluation.
Rating 5.0
Based on 321 user ratings
Pre-Employment Testing Software:
Get access to the vast library of validated tests to screen candidates using online assessments. Simplify your recruitment process with our cloud-based Pre-employment Testing Software. from test creation to the candidate's evaluation.
Rating 5.0
Based on 321 user ratings
Pre-recorded Video Interview Platform:
Pre-recorded Video Interview Platform allows candidates to fully express themselves to a pre-recorded question. So that you can get more insight into candidates in far less time than a traditional phone interview. from test creation to the candidate's evaluation.
Rating 5.0
Based on 321 user ratings
With the help of software platforms like Xobin, you can now host the challenge link on your organization's website and organize hassle-free online Hackathons. Xobin has an extensive question library exclusively prepared for Hackathons.
Campus Recruitment & University Recruitment
University graduates bring energy and new ideas to old problems. A well-branded Campus drive enables an organization to catch the attention. Here are some ways to stand out –
Use Chatbots to interact with students and answer FAQs.

Automate process of getting student CV, shortlisting and transparent communication.

More importantly, incorporate

skill assessments

that are mentally stimulating and fun to solve.
You may certainly use a 360° Campus Recruitment solution like Xobin. Automate and simplify your Campus Recruitment activity. Just select the assessment and send it to your candidates in the matter of a click.
Pro-tip: Curious? Here is how you can leverage an online assessment platform to boost your hiring.
3. Recruitment via Social Media – Make some noise!
Millennials spend a lot of time on Social Media. Snapchat, Facebook, Instagram are relatable to them. One can certainly grab their attention using these mediums!
A Glassdoor report suggests that 70% of people look are reviews before they make a career decision. So merely announcing "We have a great culture" wouldn't help.
Instead of a boring corporate video, create short and relatable videos. More importantly describe the work, recognition, wellness, your CSR activities. Above all, let your existing employees take to Social Media and do the selling. Harness these mediums to brag about your organization through compelling videos and captions. 
Maximize Referrals
Your company referral program should become an integral part of your recruitment marketing efforts. First of all, start an internal referral program for your existing employees and reward them for employee referrals.
Just like how happy customers do the 'word-of-mouth' thing, the same way happy employees will market about your organization. Make the habit of requesting referrals from job applicants on the application form and during reference checks.
Bonus Read: A Guide for Setting Up an Employee Referral Program
4. Personalized Outbound Email
A personalized gift on your birthday or in the festive season, with your name written on it.. Isn't the word 'Personalization' by itself is exciting, contentful, and makes you smile.
An email from a founder, hiring manager with a personalized touch does all the magic. It truly means that you as an employer have invested time and effort to know more about a person.
How to create a personalized outbound email?
Put your research skills into some use -Check projects, LinkedIn

Explain what interested you to reach-out to him

Induce 'Humor' in your email. Humor is something that connects people universally.

How your job role will benefit them. Let it be realistic and not too salesy.
Getting to the bottom line . . .

Finally, every organization is unique. Just like a human, every organization is a living creature. Recruitment Marketing is all about showcasing the organization effectively and strategically.
Likewise, brainstorm with your existing employees to incorporate various marketing techniques. Our aim is to reach out to as many candidates as possible using technology to build a talent pipeline. Spread the word around, source, and track your candidates with TalentLyft, while Xobin takes care of assessing their skills!
Lastly, Give your Talent acquisition a kick-start with a trial of Xobin.