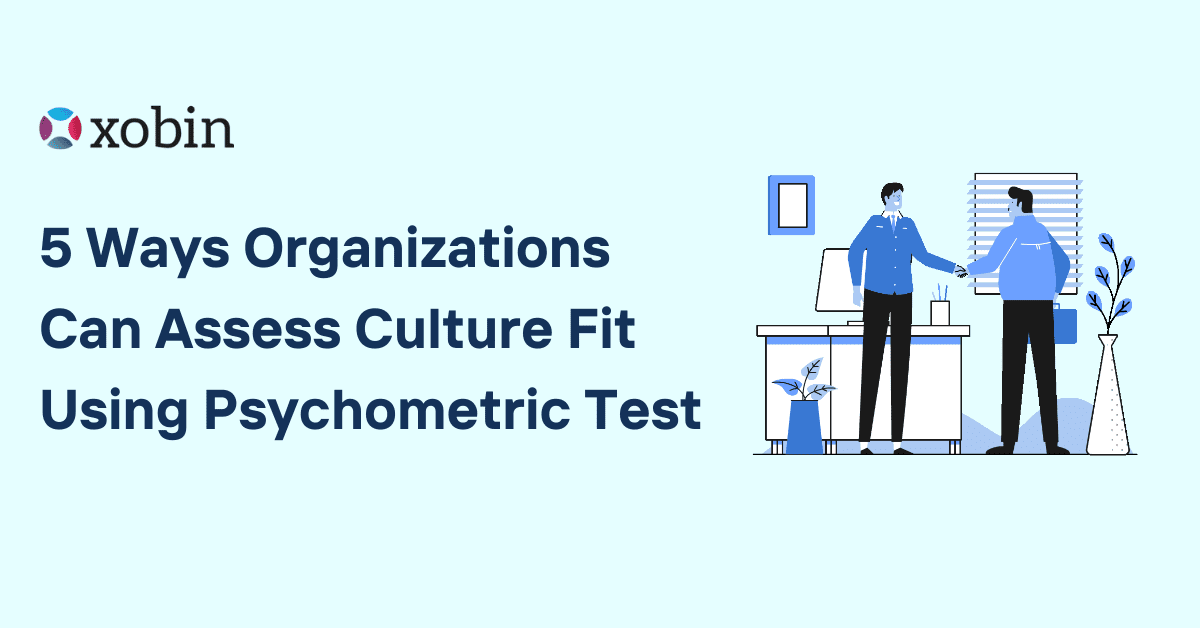 Yet another new hire leaves the company just within 3 months of his induction. Sounds familiar? Organizations lose 25% of all new employees within the first year, says research done by the Allied Workforce Mobility Survey. While a considerable number of factors like work-life balance, pay, lack of recognition are stated from the employee's end.
Hence, misalignment of expectations drives unhappiness amongst the new hires after starting the position. So, setting real expectations of what a typical day at the workplace looks like, what organization culture they believe in, an idea of hierarchy. So, only those candidates who feel that they have the job skills and feel that the organization's culture and structure align with that of theirs. Hence, let me take you through the details on culture fit.
   Looking for Psychometric Testing Software? Check out the best psychometric testing software.
What is Organizational Culture?
Every organization has its own culture, that descends from the top management – founders, key stakeholders to the employees of the company. Be it a dress code, their priorities, employee policies, customer policies, and many others.
Employers want people who can fit into the organization on the go or have innate traits that match the organization's culture.
What are the types of Organizational Culture?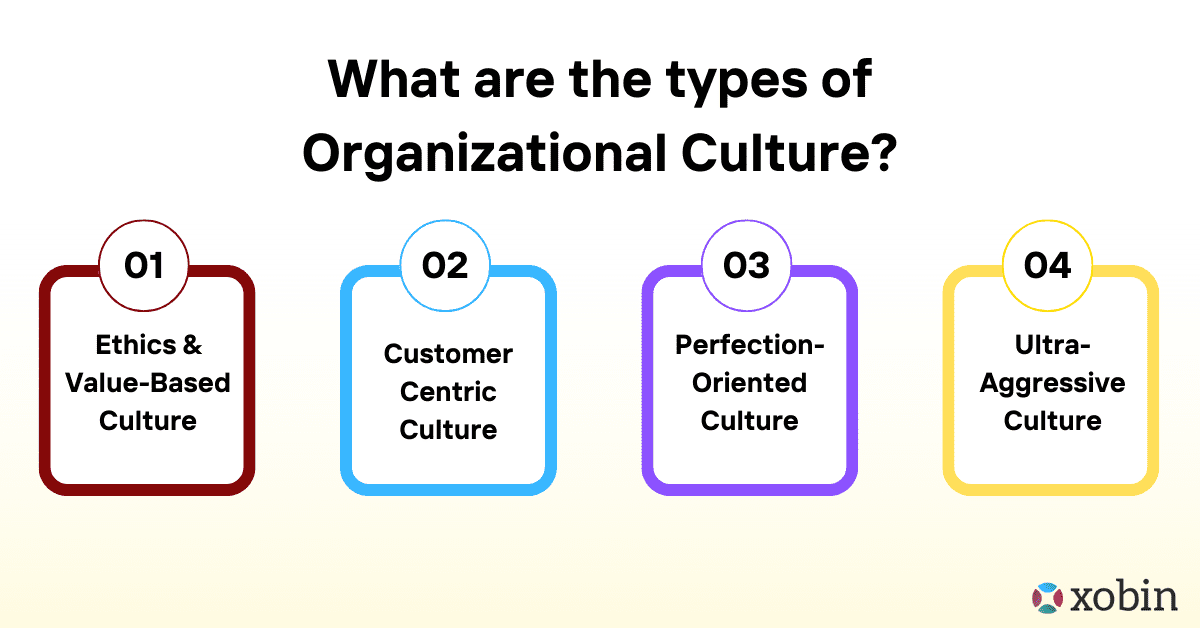 1. Ethics & Value-Based Culture
Values drive the culture. On the other hand, the entity strongly emphasizes ethics, integrity, and employee morale. Also, they put employees first, and believe that happy employees lead to organizational prosperity and bring in happy customers.
Example: Tata Group focuses on 5 values, Leading Change, Respect for individuals, Integrity, Excellence, and Learning & Sharing.
Personality traits such organizations look for in potential candidates: Integrity, Empathy, Autonomy, and Accountability
2. Customer-Centric Culture
As I have noted, customer-centric companies put their customers on priority. In such organizations, all the activities carried out and hustling are customer-centric. Right from the C-level executives to the entry-level customer service representatives are instilled with a customer service attitude.
Example: Amazon positions itself as one of the most customer-centric companies in the world.
Personality traits such organizations look for in potential candidates: Leadership, Ownership, Pro-activity, Empathy, Persuasiveness, and Innovation.
3. Perfection-Oriented Culture
In perfection-oriented organizations, organizations need nothing but perfection. Therefore, these organizations have their quality products. Hence they recruit employees who have exceptional command over their skills and believe in quality rather than quality.
Example: Apple believes in creating excellence and thus perfectionism and the highest level of innovation. In this case, apple is famous for its innovations and quality design. Employees are instilled with competitiveness, creativity, and utmost perfectionism.
Personality traits such organizations look for in potential candidates: Thoroughness, Conformity, Perseverance, and Perfectionism
Best HR Software Solutions
Campus Recruitment Software
With our online campus recruitment software screen, hire top talents hassle-free. Everything is under one platform, from test creation to the candidate's evaluation. from test creation to the candidate's evaluation.
Rating 5.0
Based on 321 user ratings
API Integration by Xobin
Get integrated and harness the strength of robust assessments with Xobin APIs. Save sweat and time and focus on your core offering, not building your assessment stack. from test creation to
Rating 5.0
Based on 321 user ratings
Coding Skill Assessment Software
With our 100+ coding assessments on various languages such as Java, Python, JavaScript, React, Angular, etc., evaluate and hire the best-talented developers. from test creation to the candidate's evaluation. to the candidate's evaluation.
Rating 5.0
Based on 321 user ratings
Pre-Employment Testing Software:
Get access to the vast library of validated tests to screen candidates using online assessments. Simplify your recruitment process with our cloud-based Pre-employment Testing Software. from test creation to the candidate's evaluation.
Rating 5.0
Based on 321 user ratings
Pre-recorded Video Interview Platform:
Pre-recorded Video Interview Platform allows candidates to fully express themselves to a pre-recorded question. So that you can get more insight into candidates in far less time than a traditional phone interview. from test creation to the candidate's evaluation.
Rating 5.0
Based on 321 user ratings
4. Ultra-Aggressive Culture
Ultra-aggressive organizations are always focused on value competitiveness and outperforming competitors. They are revenue-centric and expect employees to outperform their job roles. They believe in only one moto 'Get shit done'.
Example: Uber has an ultra-aggressive work culture emphasizing agility, forward-thinking, and change management. In this, employees need to put work first and adapt to the changes quickly.
Personality traits such organizations look for in potential candidates: Stress management, Self-resilience, Change management, Assertiveness, and Tolerance
How to Assess Culture Fitment of Candidates?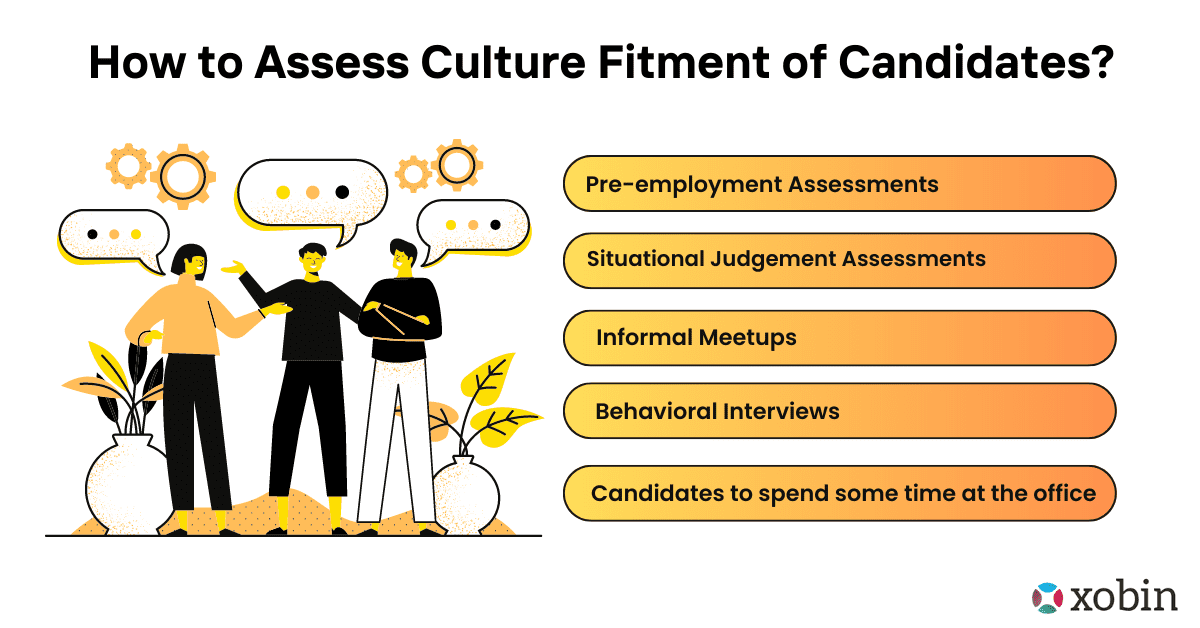 1. Pre-employment Assessments
"Culture fitment = Skill fitment + Personality fitment"
Skill assessment tests are as important and necessary as culture fitment. Only when candidates have the necessary hard skill required on the job, they could grasp the processes of the organization. Hence, some pre-employment assessment modules like Xobin, help with assessing both hard skills and soft skills of employees.
Standardized psychometric and culture fit tests to understand the innate behavioral traits of employees. So, for instance, if your organization is breakneck-paced, believes in agility. In that case, you need to check if your candidate can work alone, learn things on the go, be adaptable, and embrace change.
In the above case, if you find the candidate expects extensive training sessions, structured work timings, he/she shall be a culture misfit for that particular organizational culture.
2. Situational Judgement Assessments
Job-based situational judgment assessments and psychometric tests expose candidates to real-life business. For example, when stress management, diplomacy, and other job-related soft skills situations are put to the test.
3. Informal Meetups
Informal meetups may not be comfortable for all candidates. So the ones who live in the same city may meet. In this case, you will first send an informal meetup invite first to meet the candidate. Therefore, in such meetups, the way one behaves in an informal setting can reveal a lot about his/her overall personality.
4. Behavioral Interviews
Exposing candidates to tough behavioral interview questions opens the room for interesting insights about their perspectives on aspects that matter in the everyday operation of businesses.
Try these follow-up behavioral questions:
Do you believe in workplace friendships? Why and Why not?
What work environment you are most happy and productive in?
What management style do you prefer?
What are some positives aspects of your previous company?
5. Insist candidates spend some time at the office
Insist your potential candidate to spend some time at the office, catch up with his/her future manager over a coffee. Take a tour around the office. So, let them get a feel of how a typical day at the workplace looks like, how interactions among different levels happen, is the dress code more relaxed or business professional, what hierarchy at your office looks like.
Why is assessing Culture Fit important?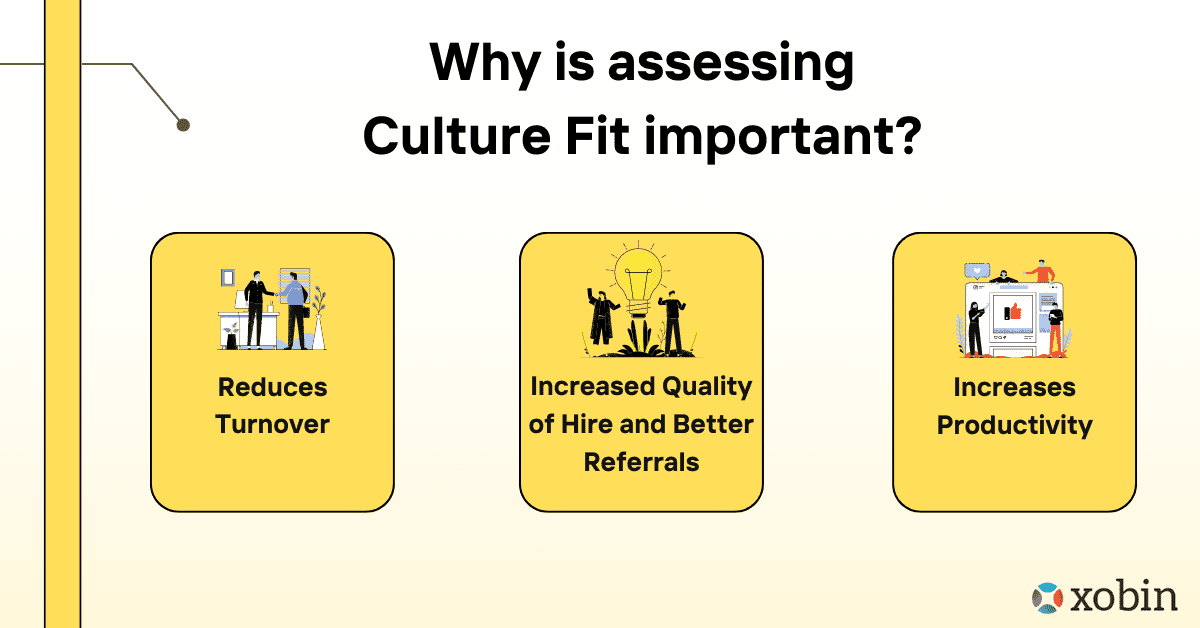 1. Reduces Turnover
High employee turnover portrays an unhealthy picture and also affects the morale of other employees. And one of the major reasons for higher employee turnover is the mismatch of behavioral efficiencies. As a result, culture-fit employees will eventually contribute more towards the growth of the organization.
2. Increased Quality of Hire and Better Referrals
Hence, Employees who feel 'at home' while at the workplace ultimately increase productivity. Just like happy customers result in higher NPS, happy employees bring in more quality referrals. Therefore, more than 65% of organizations harness employee referrals, as candidates hired by means of employee referrals tend to stay at the organization for a longer period.
3. Increases Productivity
The ultimate aim of hiring more employees for the organization is to share the work burden. On the other hand, disengaged employees tend to take a long break, come late, leave early and also disrupt the work style of fellow colleagues. As a result, culture-fit employees fit like a glove and result in increased productivity.
Software you need for all your recruitment process
1 Million +
Test takers per year
Wrapping up . . .
Therefore, employees stay for long if their needs are met in the company. So, hiring employees in desperation, and ignoring culture fitment might result in burnt fingers with bad hires. Defining your organization's culture, setting the expectations right on your JD, and incorporating culture tests, for sure help you to hire gems.