Introduction:
A technical role involves working with computers and other technology. If you have been closely following the tech industry, then you might know that technical jobs are constantly being filled. However, there are only a certain number of tech roles that companies can hire and this can be a major problem when trying to find a job in the tech industry.
Therefore the pre-employment testing for tech hiring is intended to narrow down your search for tech hires. It's a skill test that can give you insight into your future opportunities in tech roles. Stick with me to know more about these tests.
What is pre-employment testing?
Pre-employment testing is critical to the startup hiring process as it helps you evaluate candidates' skills and abilities. Such tests ensure you are hiring the best among the hundreds of candidates in tech hiring. Therefore, in most cases, these tools are used to determine the level of work knowledge and test the dedication to the domain.
   Looking for Pre-Employment Testing Software? Check out the best pre-employment testing software.
What is pre-employment testing for Tech Hiring?
As written above, pre-employment testing is the process, or in some cases, the technology used to assess whether a job seeker has the right skills and education needed to obtain a particular job. Similarly, pre-employment tests are used in tech hiring to assess the applicant's technical knowledge.
Pre-employment testing is becoming more and more common for technical hires. It's a convenience that gives companies the first impression of whether or not the applicant can do the job. Also, on the other hand, Pre-employment testing can help save valuable time and money in the hiring effort. If you don't test candidates you're considering, you and your team will have to spend valuable hours doing work to see if they're qualified for the position. As a result, when it comes to technical hiring with these assessments, it's a lot easier to find out about candidates before you even need to consider them for an interview.

However, with this guide, we're hoping to inform you about what it is so that you know exactly what to expect and how to prepare for your tests.
How are pre-employment assessments used in technical hiring?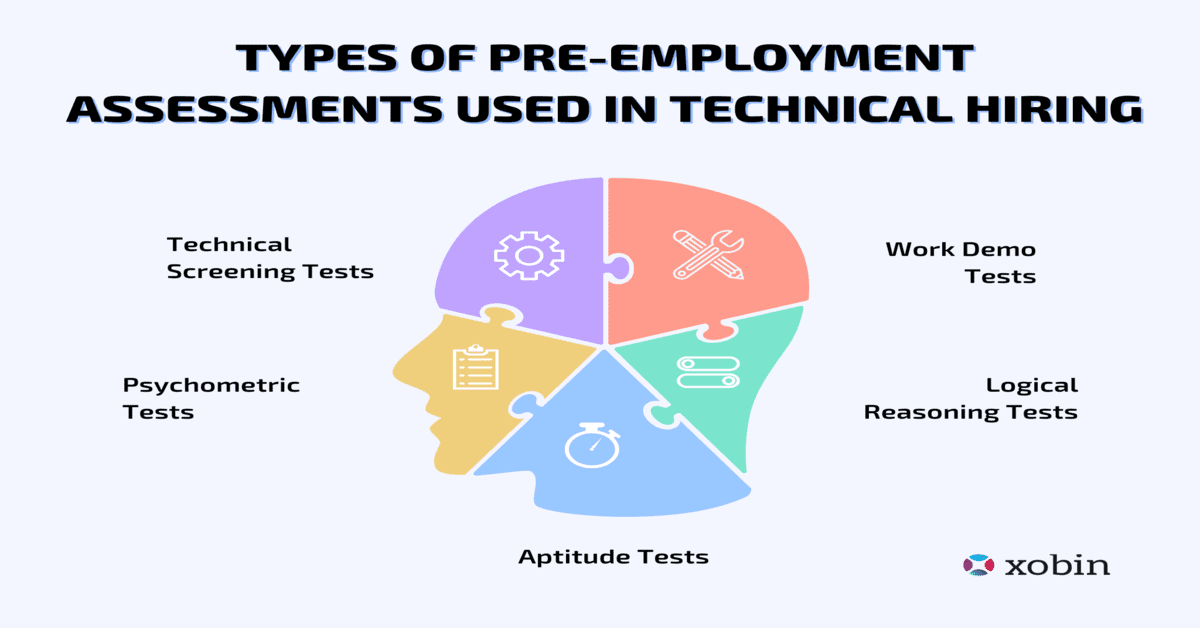 Technical Screening Tests:
A technical test is a pre-employment assessment commonly used for all types of technical recruitment. Recruitments include a computer programmer, developer, data scientist, or analyst. These technical tests challenge a candidate's actual knowledge of a subject. As a result, these tests will give insights into the candidate's knowledge in the domain.
However, these tests don't show how likely a candidate might be to learn the skills they don't already have. Rather these tests focus on knowledge rather than the capacity to learn, which is bad for technical skills.
Psychometric Tests:
For ages, recruiters have been testing employees with such psychometric tests. Such tests have been used in recognizing the value and benefit of a candidate's cognitive abilities, personality, and integrity for the job. Therefore, psychometric tests have been used to analyze a candidate's mental skills and assess various aspects of their thinking.
These tests focus on ethical questions designed to assess personality traits. Ironically, one of the issues with such tests is that candidates can lie about their answers. So they're not as foolproof as other types of pre-employment assessment tests. Hence employers should consider taking more one-on-one interviews.
Best HR Software Solutions
Campus Recruitment Software
With our online campus recruitment software screen, hire top talents hassle-free. Everything is under one platform, from test creation to the candidate's evaluation. from test creation to the candidate's evaluation.
Rating 5.0
Based on 321 user ratings
API Integration by Xobin
Get integrated and harness the strength of robust assessments with Xobin APIs. Save sweat and time and focus on your core offering, not building your assessment stack. from test creation to
Rating 5.0
Based on 321 user ratings
Coding Skill Assessment Software
With our 100+ coding assessments on various languages such as Java, Python, JavaScript, React, Angular, etc., evaluate and hire the best-talented developers. from test creation to the candidate's evaluation. to the candidate's evaluation.
Rating 5.0
Based on 321 user ratings
Pre-Employment Testing Software:
Get access to the vast library of validated tests to screen candidates using online assessments. Simplify your recruitment process with our cloud-based Pre-employment Testing Software. from test creation to the candidate's evaluation.
Rating 5.0
Based on 321 user ratings
Pre-recorded Video Interview Platform:
Pre-recorded Video Interview Platform allows candidates to fully express themselves to a pre-recorded question. So that you can get more insight into candidates in far less time than a traditional phone interview. from test creation to the candidate's evaluation.
Rating 5.0
Based on 321 user ratings
Aptitude Tests:
Most of you might already be aware of IT job roles and how important they are. These technical roles play the most important role in any organization in order to function. Therefore these job roles require a high level of tolerance and mental fitness as well as physical fitness.
So to test the mental fitness and high-stress managing skills of a candidate, such aptitude tests should be used in your hiring process. These mental ability tests are not needed for most technical recruiting positions because most technical work is dependent on the mind more than the body.
Logical Reasoning Tests:
Logical reasoning tests focus on the candidate's thinking capacity and problem-solving skills. Similar to the above aptitude test, these tests can also be used to measure the high-stress work efficiency of the candidates. These logical reasoning tests include tests such as mathematical, logical, technical, and situation-based questions.
Work Demo Tests:
Pre-employment skill testing is important in order to assess both soft and hard skills. These focus on practical applications, such as code writing tasks, rather than merely theoretical knowledge. So work demo tests are a kind of skills test of their own.
In such cases, a recruiter should give an assignment to the candidate. With these methods, it is easy to help you with predictive validity as well as in technical hiring. Work sample tests are a good indicator of whether the candidate possesses the required skills to perform the role. The candidate in these cases is given an example of the kind of work they will be expected to carry out on the job and asked to complete a task based on this.
What are the benefits of a pre-employment assessment in Tech Hiring?
Pre-employment testing for tech hiring helps recruiters accurately gauge the abilities and skills of each candidate as well as insights into their personality. With the method that was being used previously, the CV and resumes, it was very difficult to assess someone's technical knowledge, soft skills, personality, and aptitude to learn. With the help of these psychometric tests, recruiters can assess these in less time and make a successful hire after an interview.
However, for recruiters hiring technical talent has always been a challenge and costs a lot of time and money. Also, replacing a new employee who is not the right fit costs a lot.
Therefore the above tests allow recruiters to make a more reliable, objective process, whereby candidates are assessed on their actual, on-the-job skills.
Conclusion:
Therefore with all the information above, you may have a got idea of how pre-employment assessments are vital in modern technical hiring. These tests take off the bias and subjective judgments and give us the objective and needed results.
In technical hiring, pre-employment assessment tests also help in fastening the recruitment process. This is particularly the case with Xobin tests, which are automatically assessed. Therefore, quickening the recruitment process for the candidate in the long run.