Introduction:
The basic idea behind pre-employment testing is to identify the best candidates and make hiring decisions faster, easier, and completely bias-free. But what about when it comes to making hiring decisions for recruiters? For an employer, it is necessary to be clear with their expectations and requirements about what they expect from a candidate. Apart from these, they should treat every candidate as equal as well as split into multiple targets.
So before you conduct pre-employment assessments for your Human Resource roles, do your research! For an employer, it is vital to understand the exact set of tasks you expect an HR person to perform in your company. Let me take you through pre-employment testing for HR roles and the details.
What is pre-employment testing?
Pre-employment or screening tests assess the applicants on various parameters. These assessments can test the candidate's and applicant's abilities like knowledge, technical skill check, aptitude, and cognitive abilities. Using the data from these tests, it is easy for an employer to identify the right fit for the job role and company.
Hence the primary purpose of these pre-employment tests is to test a candidate's intelligence and passion for the job. On the other hand, these tests are required to eliminate the individuals who are not qualified.
   Looking for Pre-Employment Testing Software? Check out the best pre-employment testing software.
What are the types of pre-employment tests for HR roles?
In all organizations, HR managers play an essential role. So to test these capabilities, here is a close look at the various pre-employment tests currently being used to evaluate the candidate applying for HR roles. Also, to help summarize candidates for their required responsibilities within the organization.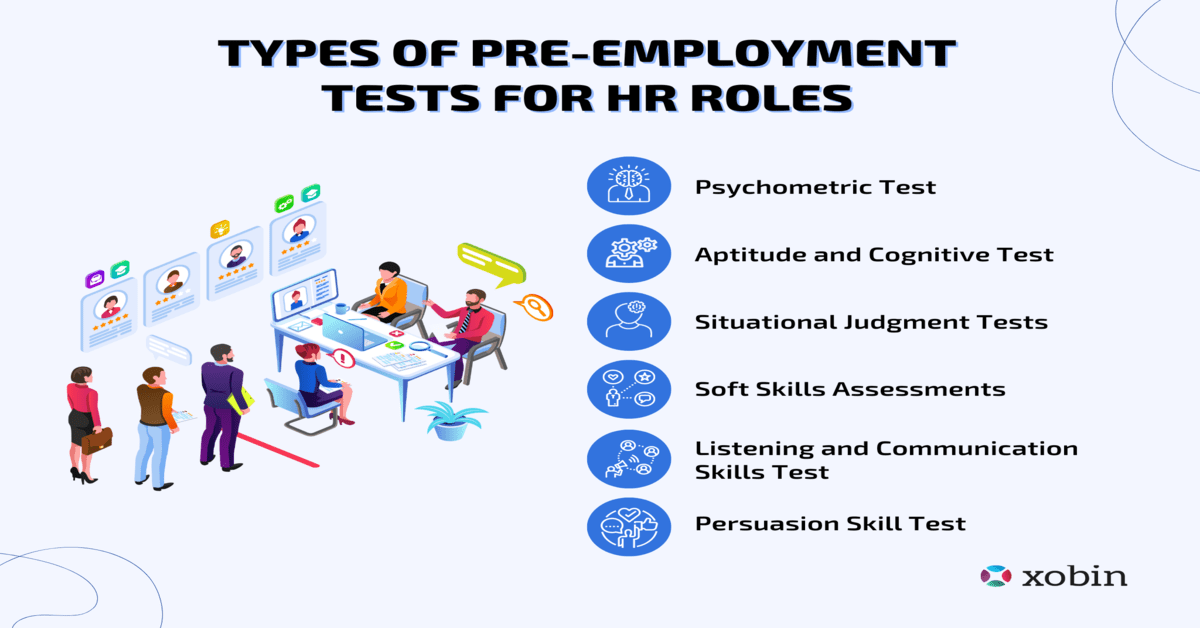 Psychometric Test:
In all the job roles, these tests are mandatory. In addition, psychometric tests are a standard strategy used in recruiting to get insights into a candidate's personality. With the results of these tests, an employer will make informed recruitment.
Aptitude and Cognitive Test:
Traditionally in hiring, employers made a lot of bad hires that cost them a lot. So when it comes to hiring an HR role candidate, why make the same mistake? So all the applicants need to be tested on aptitude and cognitive tests.
These aptitude tests test the candidate's awareness of the role regarding questions. Also, these tests help evaluate mental ability, interests, etc.
Best HR Software Solutions
Campus Recruitment Software
With our online campus recruitment software screen, hire top talents hassle-free. Everything is under one platform, from test creation to the candidate's evaluation. from test creation to the candidate's evaluation.
Rating 5.0
Based on 321 user ratings
API Integration by Xobin
Get integrated and harness the strength of robust assessments with Xobin APIs. Save sweat and time and focus on your core offering, not building your assessment stack. from test creation to
Rating 5.0
Based on 321 user ratings
Coding Skill Assessment Software
With our 100+ coding assessments on various languages such as Java, Python, JavaScript, React, Angular, etc., evaluate and hire the best-talented developers. from test creation to the candidate's evaluation. to the candidate's evaluation.
Rating 5.0
Based on 321 user ratings
Pre-Employment Testing Software:
Get access to the vast library of validated tests to screen candidates using online assessments. Simplify your recruitment process with our cloud-based Pre-employment Testing Software. from test creation to the candidate's evaluation.
Rating 5.0
Based on 321 user ratings
Pre-recorded Video Interview Platform:
Pre-recorded Video Interview Platform allows candidates to fully express themselves to a pre-recorded question. So that you can get more insight into candidates in far less time than a traditional phone interview. from test creation to the candidate's evaluation.
Rating 5.0
Based on 321 user ratings
Situational Judgment Tests:
When it comes to the situation judgmental test, the candidates face questions about the future responsibilities for the role. In such trials, candidates must show their skills and the presence of mind they will be working. They're supposed to show and prove how well they will organize, according to the instructions, and handle unpleasant circumstances in the workplace if they need to.
Soft Skills Assessments:
Soft skills like critical thinking and teamwork are tested during these tests. These skills are not specialized but must to have in the workplace. Recruiters can evaluate candidates and recruit individuals with the privilege of soft skills.
Listening and Communication Skills Test:
For every HR, listening and communication skills are a must. Therefore, these test candidates will be tested on how good they are at listening, understanding, and communicating. In these tests, an employer should choose a candidate who is good at listening and has offered objective input.
Interestingly these tests give insights into a candidate's sensibility, intellectual skill, and verbal accuracy. Therefore, pre-employment testing for HR roles plays an essential factor in recruitment processes.
Persuasion Skill Test:
There are times when there will be conflict in the organization or mismanagement problems that an HR manager notices. In such Incidents, an HR manager should be organized and skilled enough to come up with proper data and evidence to make their point.
Therefore these tests test the candidate's people management as well as their persuasion skills to make a difference and grow the engagement among all the employees.

Importance of pre-employment testing for HR roles:
We all know how vital an HR manager's role is in an organization. Still, employers face challenges in recruiting a suitable HR role candidate. Because of pre-employment tests, recruiters always experience a massive load of advantages when they choose pre-employment assessments to evaluate candidates for their requirements. Here are some possible benefits of these tests in the hiring process:
Streamlining the hiring process:
With the proper tests and tools, an employer can increase the hiring process's efficiency.
In eliminating biases:
With proper pre-employment testing, it is easy to avoid prejudices based on character, color, and gender.
In improving the candidate's experience:
With the proper pre-employment tests, the candidate feels happy to attempt such tests. With the fast process, they don't think they are stuck, improving the candidate experience.
It saves time and money:
With the fast recruitment process, this test gives quick, insightful results. As a result, the further process happens faster and more efficiently. Therefore this way, it saves the organizations a lot of time and money.
Conclusion:
In conclusion, I can assure you that with a proper pre-employment test and the right tool, it's easy to find a suitable candidate for your HR role. With Xobin tools, we assess all the necessary tests that you want to and you can save time and money in making hiring mistakes. So use this guide to determine if pre-employment testing is proper for your subsequent HR role hiring.