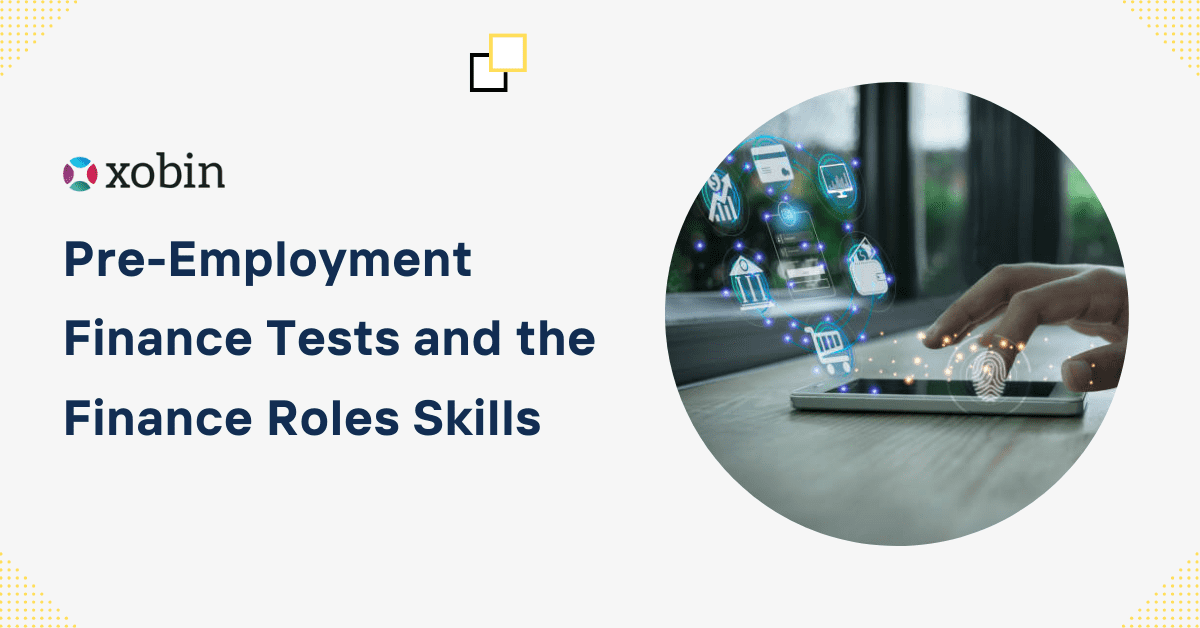 In the age of tech-driven recruitment, pre-employment finance tests are becoming a mainstream tactic for employers. In the past, employers relied primarily on a combination of résumés, cover letters, and interviews to assess potential hires. With testing processes, however, they can save time and money by directly assessing whether or not candidates have skills relevant to the job at hand. This, in theory, leads to more high-quality hires, and more and more businesses around the world are subscribing to the idea. In fact, pre-employment testing platform Mytat claimed to have assessed more than 3 million candidates. Also, as rapidly expanding its business as a result. On the other hand, survey around the world talks about the quality of candidates from the pre-employment finance test screened candidates are.
 Looking for Recruitment Software? Check out the best recruitment software.
On the other hand, pre-employment testing of candidates based on their roles is a new norm for all industries. It is perhaps particularly useful in the financial sector, however. This is a space in which employers need to absolutely certain that new hires are able to handle their jobs. For example, from day one; poor performance can have immediate financial consequences for a company or its clients.
Furthermore, it is essential today that employers using candidate testing and assessment methods in the financial sector. So, include digital components in their processes. The bottom line is that the modern financial world exists online. People working in this space need to be adept at navigating the various tools, platforms, and methods that drive the financial world.
What Are Pre-Employment Finance Tests?
Broadly speaking, a pre-employment finance test can be anything from a general cognitive aptitude quiz to an in-depth assessment of a given work process or exercise. Naturally, the more specific and in-depth forms of pre-employment tests vary according to the job and industry at hand.
Pre-employment finance tests are typically designed to accomplish two main objectives. The first is ensuring that prospective employees have not exaggerated their skills, qualifications, or capabilities on their resumés; a job candidate must demonstrate an ability rather than just claim it. The second objective is establishing that a candidate can not only demonstrate a general ability but also handle the specific type of work they will be challenged with within the job.
Best HR Software Solutions
Campus Recruitment Software
With our online campus recruitment software screen, hire top talents hassle-free. Everything is under one platform, from test creation to the candidate's evaluation. from test creation to the candidate's evaluation.
Rating 5.0
Based on 321 user ratings
API Integration by Xobin
Get integrated and harness the strength of robust assessments with Xobin APIs. Save sweat and time and focus on your core offering, not building your assessment stack. from test creation to
Rating 5.0
Based on 321 user ratings
Coding Skill Assessment Software
With our 100+ coding assessments on various languages such as Java, Python, JavaScript, React, Angular, etc., evaluate and hire the best-talented developers. from test creation to the candidate's evaluation. to the candidate's evaluation.
Rating 5.0
Based on 321 user ratings
Pre-Employment Testing Software:
Get access to the vast library of validated tests to screen candidates using online assessments. Simplify your recruitment process with our cloud-based Pre-employment Testing Software. from test creation to the candidate's evaluation.
Rating 5.0
Based on 321 user ratings
Pre-recorded Video Interview Platform:
Pre-recorded Video Interview Platform allows candidates to fully express themselves to a pre-recorded question. So that you can get more insight into candidates in far less time than a traditional phone interview. from test creation to the candidate's evaluation.
Rating 5.0
Based on 321 user ratings
Today, AI is not only for IT sectors and HR tech. Whereas, it is now AI technologies are now playing a crucial role in the front-end of logistics trends, improving and also stepping into the world of truck accident lawyers. For example, sometimes the curtain does fall unexpectedly. A truck accident, for instance, could be a sophisticated ballet of legal proceedings and paperwork. That's when our caped heroes, truck accident lawyers, take center stage. Hence, in case of an accident, AI technologies can streamline the analysis of incident data, assist in case review, and even help predict case outcomes.
Therefore, coming back to the both objectives, much of the specific pre-employment testing for modern finance analyst jobs comes down to digital technology literacy. In other words, employers in this sector need to be certain that job candidates can work effectively with the technology at the core of financial processes and businesses.
Finance Role Questions in Pre-Employment Finance Tests?
Naturally, specific digital technology questions in pre-employment testing will vary from one company to the next. Finance, after all, is a wide-ranging sector covering innumerable specific businesses and client needs. By and large, however, questions of this sort will revolve around job candidates' ability to operate in the digital spaces that drive common financial practices. For example, pre-employment testing and assessment might revolve around some of the following types of technologies:
Online Payment Gateways:
Online payment gateways are digital technologies used to facilitate payments from customers to merchants and, in some cases, between peers. Some popular examples of online payment gateways include UPI, PayTM, and Nimbbl, to name a few. A finance-related company that uses these services needs to assess during pre-employment testing whether a candidate is familiar with them. This process should include not only whether the candidate can use the technologies but also whether they are equipped to keep related records, invoice transactions, and the like.
Blockchain and Crypto:
Cryptocurrency is not booming as it has in recent years. Nevertheless, there are many financial businesses today that have equipped themselves to handle crypto- and blockchain-related transactions. Such businesses, therefore, need to ensure that their employees are aware of trends and changes. In these cases, pre-employment testing should include measuring candidates' general crypto literacy, understanding of blockchain transactions. Also, ability to use digital wallets like CEX.io and conduct digital transactions. Interestingly, this wallets come with unique method of transaction where people are able to buy bitcoin like currencies using PayPal. So, candidates will be tested on this digital transactions as well.
Fintech Companies:
Much like they need to know how to operate online payment gateways, many modern financial businesses require intimate familiarity with fintech companies as well. The leader in this space remains PayPal, with some 286 million users operating on the platform as of 2022 and 25 different currencies in circulation around the globe. Another significant option is Razorpay, which has grown significantly in India of late, with increased usage leading to a 19% profit increase for the company in 2022 alone. This PayPal alternative, along with Payoneer and even PayTM Business, has spread to make fintech companies even more essential to businesses. Businesses using these companies and services need to conduct pre-employment testing to ensure that candidates can operate accounts, accept transactions, manage invoicing, and more.
Skills To Assess in Finance Roles Aptitude Tests:
Interestingly, there are more universal skills that should factor into financial candidate assessments. As a result, these skills speak to candidates' general fitness for roles in the finance sector. Also, these tests are if use in readily available platforms and technologies.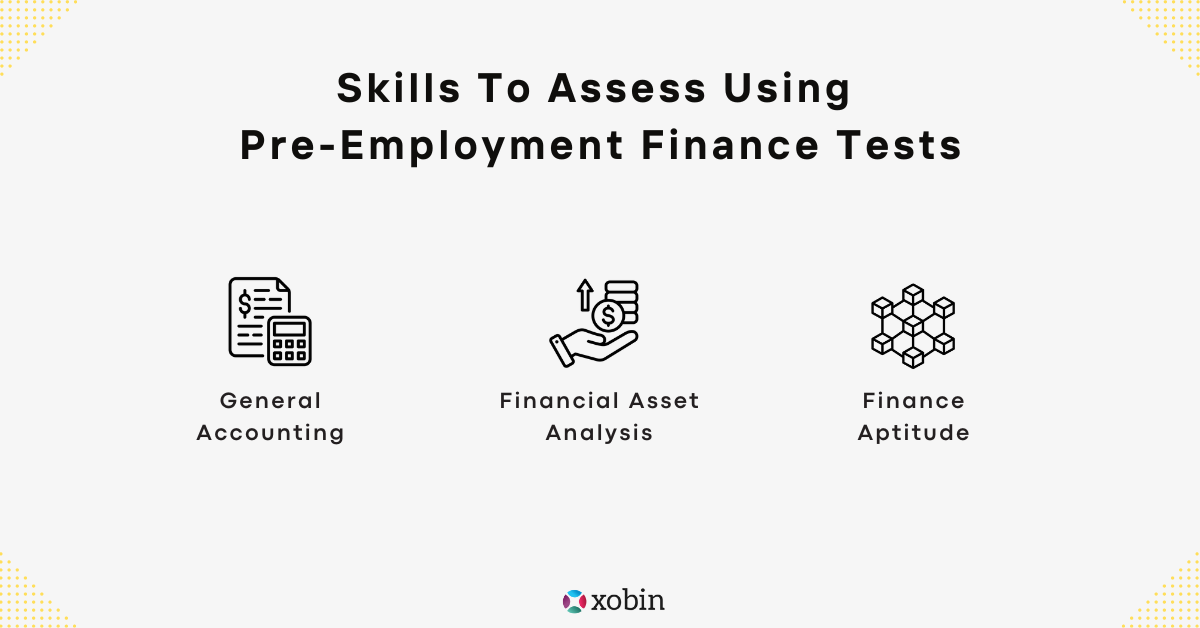 General Accounting:
Digital bookkeeping is essential not only in finance-related companies but in modern business more broadly. In the world of finance in particular, though, many employees need to understand electronic accounting. So, whether to log data and transactions in the course of day-to-day work. Also, to keep books in a more detailed fashion. Ability in this space can best be tested through the actual use of Intuit QuickBooks. As it is which is viewed by many as the standard in digital accounting. QuickBooks is known for ease of use and versatility connecting to finance-related apps; a candidate who cannot make sense of it or use it effectively may not be suited for related roles.
Financial Asset Analysis:
Any financial business dealing in asset trading, market transactions, or even cryptocurrency also needs to assess if potential new employees are adept at asset analysis. It's a broad subject, so demos or tests on a modern trading platform skills analyse skills. For this sort of task, MetaTrader 4 (MT4) is a sensible go-to. In addition, for the flexibility it provides it is the most popular online trading platforms. Also, a wide variety of asset classes and a range of trading orders support it. So, that a financial companies need to tailor an MT4 assessment according to the methods that relate to its business. This platform also has built-in analytical tools. So, the ways in which a candidate makes use of these can further clarify that candidate's abilities concerning asset analysis.
Digital Finance Aptitude:
Above we covered how candidates familiarity with cryptocurrency and related transactions to assess. At some financial institutions, however, a broader understanding of blockchain technology is also significant. The blockchain has grown well beyond cryptocurrency and is now used in some cases to transfer documents. Also, support international transactions, and even formalize agreements. So, by using popular blockchain to move files, HR's can gauge the needed skills. Hyperlink InfoSystem is a popular option. But a company should use whatever blockchain it actually employs in its business to test candidates.
Conclusion:
Pre-employment testing has become a crucial part of the hiring process in modern business. In financial companies operating in the digital space, it is particularly important.
Our recent article titled "Breaking Dawn in the IT Hiring and AI Tech Sector" concluded with the note that "the interplay between human potential and technological prowess will shape the way businesses operate….". Hence, this is undoubtedly the case where financial companies are concerned. Also, it is through pre-employment testing companies ensure the human potential of their candidates. Also, includes relevant technological prowess. Hence, assessing abilities relating to key digital finance technologies is a must. So, a company in the financial space can ensure that it is hiring capable employees who will improve operations.