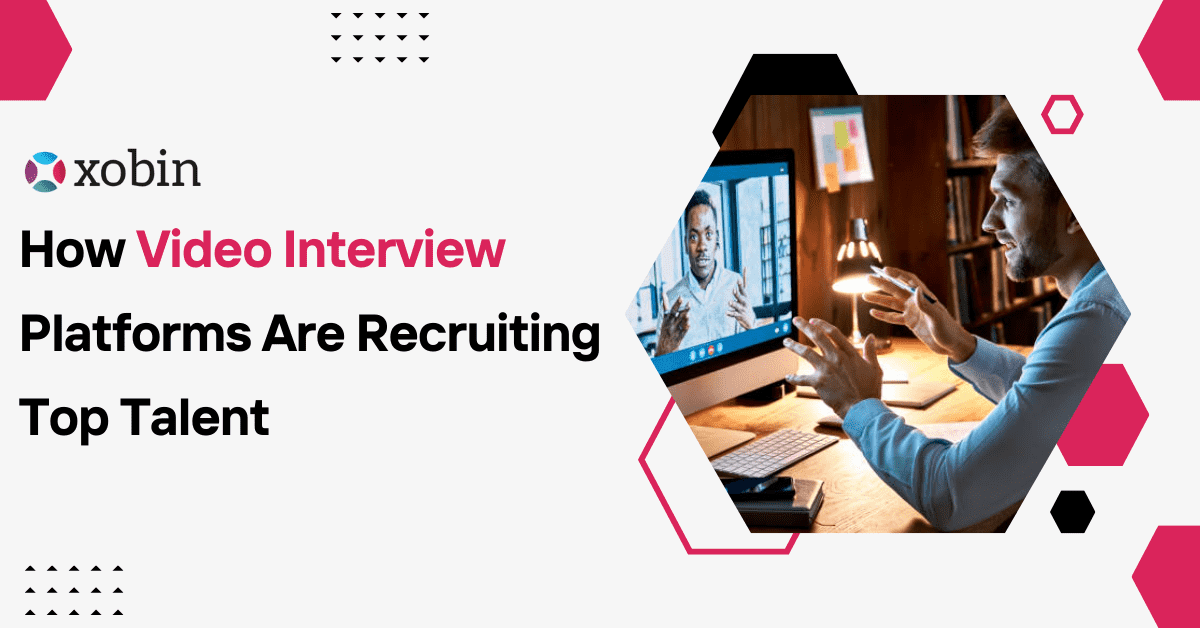 It must be mentioned that the pandemic brought about a paradigm shift in employee selection. In this new era of recruitment, there are no longer stacks of paper resumes, long queues, or in-person interviews.
The digital age has ushered in a new revolution, and video interview platforms have become the norm rather than the exception.
 Looking for Skill Assessment Software? Check out the best skill assessment software.
For businesses, the decision to use video interview platforms is a game-changer. The current precarious economic environment has necessitated creative and innovative thinking in every area of business. In this highly competitive business landscape, companies are seeking to recruit top talent quickly and more effectively.
Video interview platforms have replaced traditional recruitment methods. The former is more accurate, efficient, and effective at spotting, analyzing, and selecting top talent. But, how do they achieve this? Let's find out.
Advantages of Using Video Interview Platforms
Video interview software reduces the workload of companies and streamlines the hiring process. They offer several benefits; some of which are listed below:
These platforms expand the talent pool and break down geographical barriers. Companies can identify and engage the talent pool regardless of their location.
In-person interviews are a time-consuming and expensive affair. Video interview platforms reduce costs and the need for travel for both candidates and recruiters.
Flexibility and convenience are provided for both candidates and recruiters. Interviews can be conducted at any mutually agreed-upon time, which helps put both at ease.
The recruitment process, which was once a laborious manual task, is now simplified, streamlined, and more efficient because the bulk of the work is automated.
The emergence of new technology, such as Artificial Intelligence, ensures that candidate assessment is comprehensive, fast, and free from any bias.
How Video Interview Platforms Help Recruit Top Talent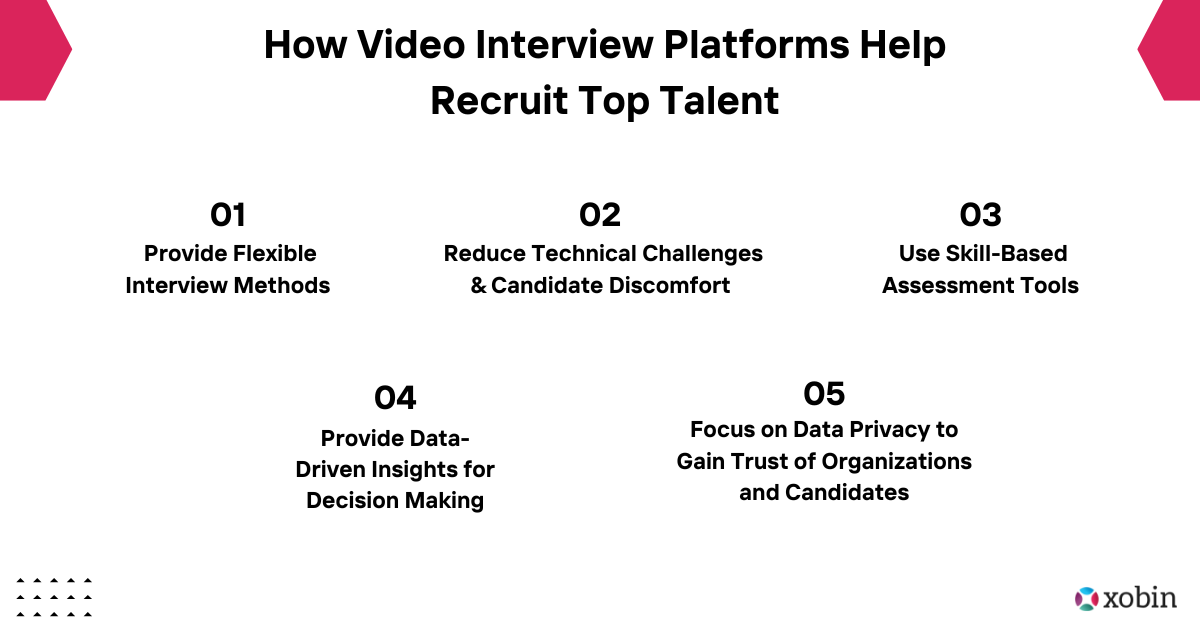 1. Video Interview Platforms Provide Flexible Interview Methods
The rigidity that once plagued the recruitment process is now shattered by video interview software. One of the reasons for the popularity and widespread adoption of these recruitment platforms is their ability to provide flexible interview methods.
In this regard, these platforms harness the power of technology to cater to the needs and convenience of both recruiters and candidates.
One of the most common features of these tools is automated interviews, also called one-way or asynchronous interviews.
This method permits job aspirants to record and upload an interview answering a set of pre-designed questions. This method allows candidates to make a great first impression by creating a high-quality interview video. Since the video editing cost has come down, they can hire a video editor to create an impactful interview video.
Moreover, this method removes constraints such as different time zones and scheduling conflicts. Furthermore, automated interviews put less stress on the candidates, allowing them to freely express themselves and showcase their skills.
Most recruitment software also includes live interview functions. This remote yet one-on-one interview adds a personal touch to the process.
It is a more interactive method and allows the recruiter to assess the candidate's ability to think on the feet, perform under pressure, and carry out spontaneous interaction on various topics.
2. Reduce Technical Challenges and Candidate Discomfort to Attract Top Talent
Complicated recruitment processes and unreliable technology can often deter in-demand candidates from applying. The top video interview platforms address the critical concerns that candidates have, thereby attracting the best talent out there.
The entire recruitment process, from candidate registration to accessing the final interview report, must be simple, reliable, and hassle-free.
Candidates who are not tech-savvy or are not applying for any tech-related position must not face any unnecessary complexity. Video interview platforms provide user manuals, tutorials, and technical support to help aspirants confidently navigate the recruitment system.
In addition, to attract top talent, recruiters must go the extra mile to encourage candidates' participation. Most platforms provide candidates with tips, interview guidelines, and how-to videos on interview participation and conduct.
For example, through their knowledge base section, these platforms can guide candidates on where to position the camera, how to set up the microphone, choosing proper attire, and more.
Video interview platforms also collaborate with online course platforms to educate and impart key interview and subject skills. These valuable resources will alleviate candidates' concerns, reduce discomfort, and boost their confidence during their interviews.
Best HR Software Solutions
Campus Recruitment Software
With our online campus recruitment software screen, hire top talents hassle-free. Everything is under one platform, from test creation to the candidate's evaluation. from test creation to the candidate's evaluation.
Rating 5.0
Based on 321 user ratings
API Integration by Xobin
Get integrated and harness the strength of robust assessments with Xobin APIs. Save sweat and time and focus on your core offering, not building your assessment stack. from test creation to
Rating 5.0
Based on 321 user ratings
Coding Skill Assessment Software
With our 100+ coding assessments on various languages such as Java, Python, JavaScript, React, Angular, etc., evaluate and hire the best-talented developers. from test creation to the candidate's evaluation. to the candidate's evaluation.
Rating 5.0
Based on 321 user ratings
Pre-Employment Testing Software:
Get access to the vast library of validated tests to screen candidates using online assessments. Simplify your recruitment process with our cloud-based Pre-employment Testing Software. from test creation to the candidate's evaluation.
Rating 5.0
Based on 321 user ratings
Pre-recorded Video Interview Platform:
Pre-recorded Video Interview Platform allows candidates to fully express themselves to a pre-recorded question. So that you can get more insight into candidates in far less time than a traditional phone interview. from test creation to the candidate's evaluation.
Rating 5.0
Based on 321 user ratings
3. Video Interview Platforms Use Skill-Based Assessment Tools
It's an undeniable fact that a company's success is intrinsically linked to the skills and caliber of its employees. Recruitment platforms ensure that companies only hire candidates with the right skill set by providing recruiters with the latest skill-based assessment tools.
The technical proficiency and subject matter assessment tests that these platforms provide are on par with those created by industry experts and companies.
Many video interview platforms even go beyond testing industry-specific skills and evaluate candidates on other traits, such as problem-solving ability and hands-on skills.
Furthermore, each company has unique skill set requirements, in addition to the skills that candidates must possess to work in a specific industry. Many video interview platforms allow recruiters to customize skill assessment tests to suit their specific needs.
Additionally, many platforms enable companies to design their assessment tests from scratch. Of course, the platform will provide the necessary tools and support to create the tests.
For example, candidates who have qualified for the final assessment test could be asked to read the employee handbook and take a specially designed test to assess their understanding of company policies, company culture, workplace behavior, etc.
4. Recruitment Platforms Rely on Data-Driven Insights for Decision Making
During the recruitment process, not only the candidates, but even the recruiters are under pressure. They have a huge responsibility to hire the most capable and suitable candidate for their company. Video interview platforms make this aspect of recruitment simple and reliable.
Recruitment platforms make available artificial intelligence (AI) and other advanced tools to recruiters to analyze interviews, assess personality traits, identify patterns, and evaluate skills. Recruiters can leverage data-driven insights to make informed decisions.
Technology has made the lives of recruiters easier. The latest technology-backed tools are far better at assessing an aspirant's skills, personality traits, and suitability than traditional methods.
AI-powered algorithms can analyze and scrutinize every aspect of the skill test. In a matter of seconds, AI tools can identify a candidate's strengths and weaknesses, problem-solving skills, proficiency in various subjects, and more. These tools can provide in-depth information about candidates' technical capabilities.
Many video interview platforms use machine learning algorithms to identify patterns in an aspirant's written assessment tests. These algorithms analyze every response from the candidates to predict whether they'll excel in a particular role or not.
AI-based tools can go beyond technical skill assessment. Many recruitment platforms use natural language processing (NLP) to analyze language and speech to decode personality traits, communication styles, interpersonal skills, and general attitudes. These data insights can be used to decide whether an aspirant's personality aligns with the company's vision and values.
5. Video Interview Platforms Focus on Data Privacy to Gain Trust of Organizations and Candidates
Advanced digital tools offer unparalleled convenience, efficiency, and accessibility. But are these tools safe?
In the digital world, our every move is watched, every word heard, and every sentence analyzed and monetized. Ensuring personal privacy and data safety is one of the biggest challenges most platforms face today.
Maintaining the privacy of organizations and candidates is paramount for video interview platforms. Companies share valuable information with recruitment platforms, including proprietary data, confidential company information, job descriptions, and salary structures.
On the other hand, candidates provide personal information, medical history, contact details, and other background information. Data breach can have serious consequences such as identity theft, reputational damage, and more for everyone involved.
Most video interview platforms are aware of the dangers of a privacy breach. To gain the trust of companies and candidates, these platforms comply with data privacy legislation such as CCPA and GDPR.
Companies wondering how to build an email list of in-demand candidates can start by hiring video interview platforms that have a clear privacy policy. In addition, the recruitment platform must have a robust security structure and comply with all major data protection regulations.
Final Thoughts
The truth is that recruiting through video interview platforms is already a reality. Nearly a third of the Fortune 500 companies and over 700 organizations use such services to recruit the cream of the crop.
Businesses have found multiple reasons to use video interview platforms. This recruitment method is more cost-effective, highly accurate at candidate evaluation, breaks barriers of distance and bias, and is environmentally friendly.
This article illuminates the myriad ways in which the new recruitment method helps hire top-tier talent. Share your views about the article with us. Also, let us know the features you like or expect to see in a video interview platform.
Software you need for all your recruitment process
1 Million +
Test takers per year
Author's Bio
Cristian Stanciu is a freelance video editor, owner and post-production coordinator of Veedyou Media – a company offering video animation services to marketing agencies, video production studios and brands all over the globe. You can catch up with him on his blog or on LinkedIn.