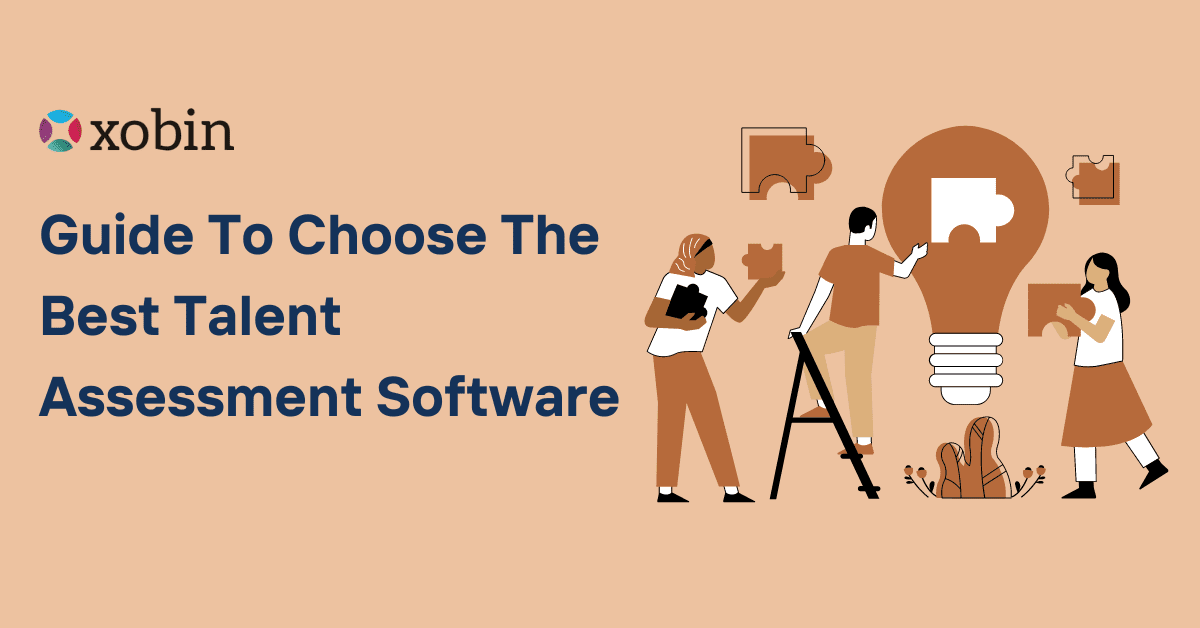 Hiring typically takes a duration of more than 2-4 weeks. But, the intervention of technology and automation in the recruitment processes, has significantly reduced the mundane administrative tasks of the hiring managers, brought down the duration of the process by manifolds. Technology in HR, especially Applicant Tracking Software and its twin cousin Talent Assessment Software has before a part of the hiring managers' lives in modern-day recruitment.
   Looking for Talent Assessment Software? Check out the best talent assessment software.
The thing is, an assessment software that is solely designed with just pre-build assessments and assessment reports is nothing but a mundane product, whereas a professional Talent Assessment Software that not just calibrates the technical skills but also aids in understanding the overall cultural and behavioral fitment of the candidates is the solution to the carping recruitment problems.
How to find the best Assessment Platform to make data-backed hiring and training decisions?
Here is the checklist!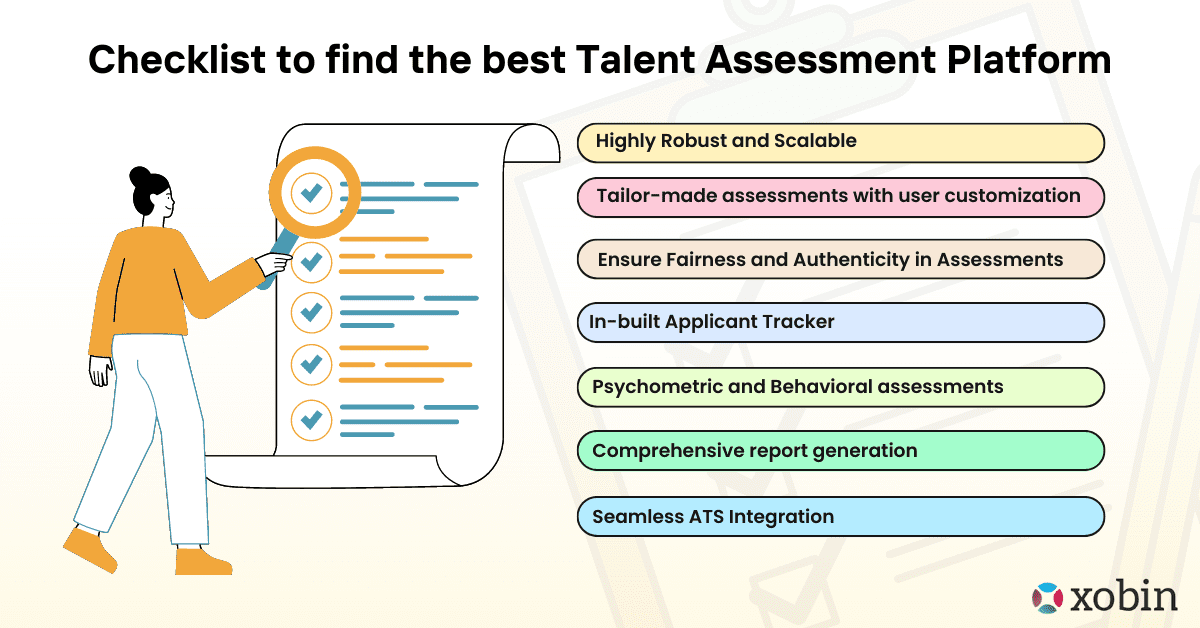 1. Highly Robust and Scalable
For campus recruitments, internal employee assessments and other such instances where there is a need to assess multiple candidates at once, the assessment software needs to be highly robust and scalable.

The assessment software needs to have lively and appealing UI that is user-friendly for both the candidates and the recruiters.
2. Tailor-made assessments with user customization options
Vast question library with questionnaires spanning across different domains, varied levels of difficulty and pre-built questionnaires.

User customization options to create combinations of MCQs, subjective and coding questions
3. Ensure Fairness and Authenticity in Assessments
This is the most important pre-requisite while selecting a Talent Assessment Software. Mostly importantly the assessment software should ensure that the candidates feel that the assessment process is unbiased and transparent. Remember, your organization's reputation is at stakes.

So in order to ensure fairness, the assessment software need to have an OTP authentication for the candidates, built-in proctor and off-tab monitors systems in place to

prevent candidates from cheating during the assessments.

Xobin's AI enabled proctored assessments helps hiring managers to conduct the initial level of screening by conducting assessments remotely.
Best HR Software Solutions
Campus Recruitment Software
With our online campus recruitment software screen, hire top talents hassle-free. Everything is under one platform, from test creation to the candidate's evaluation. from test creation to the candidate's evaluation.
Rating 5.0
Based on 321 user ratings
API Integration by Xobin
Get integrated and harness the strength of robust assessments with Xobin APIs. Save sweat and time and focus on your core offering, not building your assessment stack. from test creation to
Rating 5.0
Based on 321 user ratings
Coding Skill Assessment Software
With our 100+ coding assessments on various languages such as Java, Python, JavaScript, React, Angular, etc., evaluate and hire the best-talented developers. from test creation to the candidate's evaluation. to the candidate's evaluation.
Rating 5.0
Based on 321 user ratings
Pre-Employment Testing Software:
Get access to the vast library of validated tests to screen candidates using online assessments. Simplify your recruitment process with our cloud-based Pre-employment Testing Software. from test creation to the candidate's evaluation.
Rating 5.0
Based on 321 user ratings
Pre-recorded Video Interview Platform:
Pre-recorded Video Interview Platform allows candidates to fully express themselves to a pre-recorded question. So that you can get more insight into candidates in far less time than a traditional phone interview. from test creation to the candidate's evaluation.
Rating 5.0
Based on 321 user ratings
4. In-built Applicant Tracker
An in-built applicant tracker helps to track a candidate's journey right from the start of the candidate's journey into the recruitment funnel. It serves as a respite for the hiring managers as they need not toggle between excel sheet and the assessment software to map the candidate's journey, thereby helping them to make objective hiring decisions.
5. Psychometric and Behavioral assessments to determine culture fit
'Culture-fit' assessments are most deliberately avoided by hiring managers as they assume that a new hire would adapt to the organization's culture 'on-the-go'. But, the reality is not so. Psychometric and behavioral assessments need to be taken more seriously than the technical assessments predict the learnability, adaptability and performance on the job to a great degree of accuracy.

Situational based psychometric assessments give us more insights about a candidate's integrity, emotional intelligence and work ethics.

Personality Traits assessments like MBTI helps organizations in forming synergistic teams to enhance productivity.
6. Comprehensive report generation with extensive SWOT analysis
A comprehensive assessment report with a detailed analysis of the performance of a candidate with extensive SWOT analysis helps recruiters to understand the training needs required for the candidates.

Assessment reports validate the skills on the resume thereby finding the true potential of the candidate.
7. Seamless ATS Integration
Most enterprises have ATS to track applicant pipeline in the careers page. Tha talent assessment software needs to seamlessly integrate with the ATS thereby ensuring smooth transition of the candidates from one phrase to another through the recruitment funnel.
Benefits Of Using The Best Talent Assessment Software
Reach wider candidates remotely – Hence more talent pool under the hiring manager's umbrella

.

Reduced administrative work

.

Increased productivity

.

Find culture-fit candidates

.

Eliminates human error and bias from recruitment

.

Data-driven hiring decisions reduce legal risks involved in hiring

.

Instant test analysis and report generation

.

Higher employee retention rate

.
Xobin is one the best talent assessment software emphasizing more on the 'AI and Psychology' part of our product. Schedule a demo with us to know what we mean by our 'AI and Psychology' first approach.