The corporate world is transforming at a fast pace. Some amazing technologies are leading to some great transformations. With incredible technological innovations like AI, blockchain, and so on, the world around us is changing for the better. Speaking of AI in particular, AI integrations have made a massive difference in terms of how the corporate world has evolved.
Statistically speaking, 56% of organizations have embraced AI in at least one function, up from 50% the year before. Businesses are now incorporating artificial intelligence into different verticals of their functioning to drive optimized results. From manufacturing to digital marketing, AI makes deep inroads into corporate operations. Besides, another core business operation where artificial intelligence is changing things for the better is hiring.
   Looking for Hiring Software? Check out the best Hiring Software solutions.
AI in hiring has become a trend that organizations are increasingly embracing. Every chance your organisation would be planning to bring artificial intelligence onboard. The purpose would be to find the best-fit candidates in the least amount of time. The subsequent section discusses how more and more organizations are investing in AI hiring solutions.
AI and the changing recruitment scenario
As a recruiter or employer, your ultimate goal is to hire the most exceptional talent who can add immense value to your organization. No horizon would seem unattainable with a skilled workforce, would it? However, we must also acknowledge that the hiring scenarios have changed dramatically. This change is more evident, especially after COVID-19 which resulted in a mass resignation of the workers.
Due to this, many companies could not get the best-fit candidates for job roles requiring specific skills. Besides, given the changing workplace demographics, it has become essential for organizations to hire the best young talents. Hiring challenges are greater than ever before. And organizations do not have the privilege of time given the enormous competition.
AI in recruitment can enhance the hiring experience of companies. Moreover, custom AI development can also help a great deal to improve candidates' experience. For companies, AI can be a great way to deal with the hurdles in screening. This explains why modern organizations are interested in AI-driven recruitment processes.
To validate, Globe News Wire stated that 63% of companies plan to invest in AI methodologies. They aim to bring greater efficiency to the hiring process. This blog will uncover the key benefits of using AI in the recruitment process.
Benefits of using AI in the recruitment process
AI can reduce human efforts to a great extent. AI have impacted the task of recruiting hundreds of candidate resumes positively. Not only is that massively time-consuming, but it is overwhelming for recruiters. However, with AI integrations, the screening process has been streamlined to a great extent. AI solutions in hiring are known to reduce screening time by 90 percent. This is only a small glimpse of how AI can transform recruitment operations. The following section highlights the advantages of AI in recruitment in detail.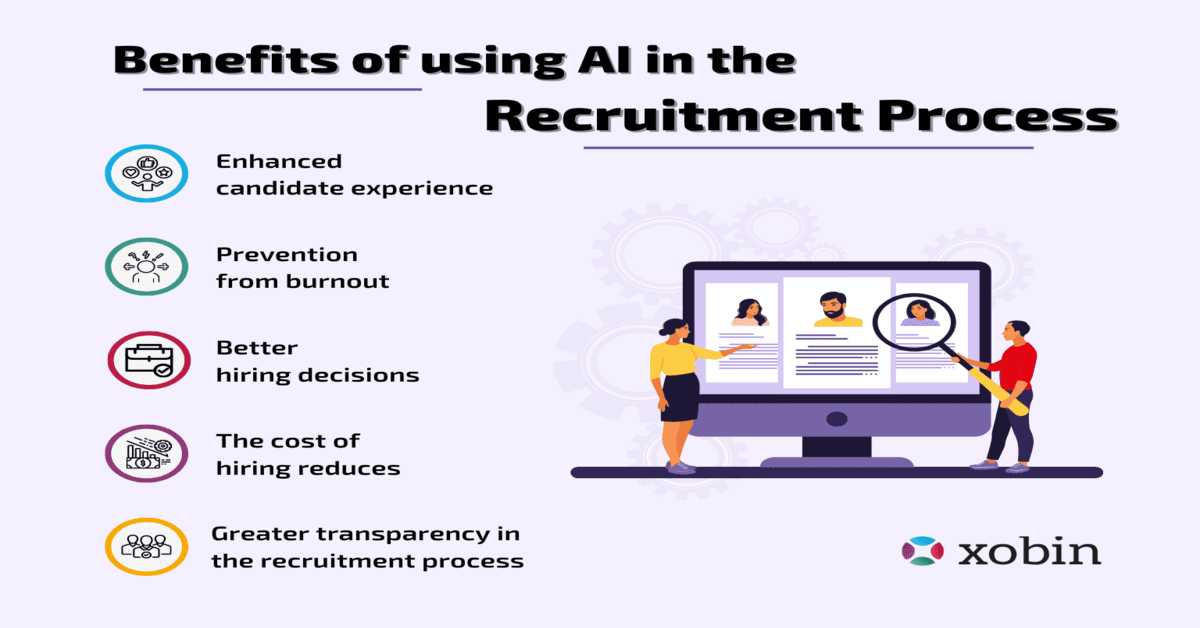 5 ways in which AI is enhancing the hiring process
Enhanced candidate experience
As per traditional hiring practices, candidates had to wait a long time to get a response from the company to know their hiring status. Delays in response time have always resulted in negative candidate experiences.
The introduction of AI in the recruitment process has made life easier for candidates and recruiters. AI-powered systems can provide a timely response to the candidates. As a result, companies can significantly reduce their waiting time.
AI-driven chatbots can further help companies enhance candidates' experiences. Chatbots can help candidates easily navigate through the company website to find vacancies. They can also assist them with the stepwise process of applying for a job.
In this way, you can create a highly positive experience for candidates applying to your organization. They will remain engaged throughout the process. Candidates would love to be a part of such an organization. Their zeal will also be reflected in their employee engagement. In addition, they will further recommend your organization to their peers.
Best HR Software Solutions
Campus Recruitment Software
With our online campus recruitment software screen, hire top talents hassle-free. Everything is under one platform, from test creation to the candidate's evaluation. from test creation to the candidate's evaluation.
Rating 5.0
Based on 321 user ratings
API Integration by Xobin
Get integrated and harness the strength of robust assessments with Xobin APIs. Save sweat and time and focus on your core offering, not building your assessment stack. from test creation to
Rating 5.0
Based on 321 user ratings
Coding Skill Assessment Software
With our 100+ coding assessments on various languages such as Java, Python, JavaScript, React, Angular, etc., evaluate and hire the best-talented developers. from test creation to the candidate's evaluation. to the candidate's evaluation.
Rating 5.0
Based on 321 user ratings
Pre-Employment Testing Software:
Get access to the vast library of validated tests to screen candidates using online assessments. Simplify your recruitment process with our cloud-based Pre-employment Testing Software. from test creation to the candidate's evaluation.
Rating 5.0
Based on 321 user ratings
Pre-recorded Video Interview Platform:
Pre-recorded Video Interview Platform allows candidates to fully express themselves to a pre-recorded question. So that you can get more insight into candidates in far less time than a traditional phone interview. from test creation to the candidate's evaluation.
Rating 5.0
Based on 321 user ratings
Prevention from burnout
Workplace burnout is real, and so is the fact that recruiters often find themselves under great stress. It is commendable how you scroll through thousands of resumes for each job vacancy you put up. But even the best of us have our saturation points. We find ourselves in the jaws of burnout beyond that saturation.
What is also true is that burnout and productivity cannot go hand in hand. When you are on the verge of burnout, you will find your productivity falling. You will be more vulnerable to making errors you otherwise would not make. Your productivity lapses can further result in inefficient hiring decisions.
However, when you find reliable assistance in AI, it will only help you to have greater efficiency as a recruiter. The AI tools will help you swiftly analyze which skill sets in the resumes of candidates match the skill requirements of a specific job role. This way, you have the highest productivity and the lowest stress.
The bottom line is that AI adds greater efficiency to the entire recruitment framework of your organization. It also ensures that it takes the pressure off recruiters. Both the agility and the enhanced wellness of recruiters will promote positive hiring experiences.
Better hiring decisions
Your hiring decisions as a recruiter will impact the entire organization. When you hire the best-fit candidates, they add greater value to the organization. On the contrary, when you make mistakes in hiring decisions, it can cost the entire organization. By all means, your decision-making is of great importance to your company.
Hiring decisions based on AI analytics are bound to be more accurate. This accuracy will come in the minimum possible time. AI can effectively segment candidates into different groups. For instance, using AI algorithms, you can segregate employees with a minimum of three years of work experience from other applications. If you are looking to hire people with a minimum of three years of work experience, you can shortlist candidates.
Along similar lines, if you want to hire only candidates with a data science degree, you can use AI algorithms to shortlist candidates with specific qualifications. AI can also effectively address the issue of subconscious bias in hiring. As a recruiter, you may make a hiring decision subject to your subconscious bias towards a candidate. You may not even realize it at times. Or let's say even if you are not biased, your associates may make a hiring decision under the influence of subconscious bias. But, AI can remove even the slightest possibility of bias.
AI can lead to effective, quick, and fair hiring decisions in multiple ways. A systematic recruitment framework will lead to greater business success in the long run.
The cost of hiring reduces
Companies spend a massive part of their operational budget on hiring and promoting job vacancies. At times, these costs can be overwhelming. Still, companies may not find suitable candidates. But AI solutions can reduce hiring costs and improve companies' hiring experiences.
You can bring down the cost per hire with AI integration in the recruitment process. It is possible that your company relies on third-party recruiters to find the best talent. With Artificial Intelligence, you can drop their role as a considerable cost-cutting measure.
Not only will AI in recruitment help in reducing the cost per hire, but it will also assist you in keeping training costs low in the future. The need for extensive employee training will be reduced when you hire employees as per the specific skill requirements. Hence, there is every reason why you should bring AI into the picture via effective change management. Any amount of cost saved will always lead to a positive experience for organizations.
Greater transparency in the recruitment process
A positive culture of hiring cannot exist without transparency. The key is to create transparent hiring processes. It will promote greater confidence among the candidates and existing employees. An opaque hiring process can lead to uncertainty and low trust.
Thus, Artificial Intelligence will ensure that there is greater transparency in the hiring process. With AI solutions in the hiring processes, each element of the process will be traceable. There will be greater accountability in the hiring department. It will lay the perfect foundation for better hiring experiences and decisions.
Software you need for all your recruitment process
1 Million +
Test takers per year
To conclude, there are many ways in which AI can optimize the recruitment process. From cost reduction to better hiring decisions, AI in recruitment has vital benefits. It is a trend that organizations are now paying keen interest in. Are you keeping up with the pace of the changing enterprise world?
Author Bio
"Doing what you love is the cornerstone of having abundance in your life." Wayne Dyer's thoughts are well suited to Kiara Miller. She has been working as a content marketing professional at 'The Speakingnerd'. Her passion for writing is also visible in the innovative joys of material she provides to her readers.
LinkedIn | Twitter