As a startup, you have many things to juggle, given the nature of starting a new business. However, this article will discuss the most foundational one一your human resources department. You must consider many things before you start working on your brand or if you are thinking of being an FBA Amazon seller. This includes the initial planning stages of marketing, sales, and day-to-day operations.
Did you know that one of the most important aspects is establishing a solid HR department to start your startup when you are new to this industry? So before you go ahead with listing your products online or dealing with Amazon suspensions, you must first make sure your HR department's foundation is rock-solid.
With that said, we'll discuss the things you'll need to start your HR department. We understand how overwhelming it can be, but with this checklist by your side, you can secure that your workers are well taken care of!
What is Human Resources, and Why Do Startups Need It?
Startups are all about moving fast and making things happen. Some consider this a great culture to work in, but it also has its dangers. One misstep can mean the difference between success and failure, so it's important to have systems and processes in place to help manage risk. That's where human resources (HR) comes in.
The HR department deals with employee-related concerns from dealing from recruiting and onboarding to benefits and salary. It's manageable to believe that a small business won't need an HR department. But in a startup company, this can be a critical factor in ensuring that the company attracts and retains top talent. They can also help create a positive work environment and culture, which can be essential for employee satisfaction and productivity.
While establishing an HR department might not be the easiest part of running a business, it's essential for all employees during their recruitment process until their onboarding. So if you're considering starting a company, make sure you also put much thought into building your HR department.
Best HR Software Solutions
Campus Recruitment Software
With our online campus recruitment software screen, hire top talents hassle-free. Everything is under one platform, from test creation to the candidate's evaluation. from test creation to the candidate's evaluation.
Rating 5.0
Based on 321 user ratings
API Integration by Xobin
Get integrated and harness the strength of robust assessments with Xobin APIs. Save sweat and time and focus on your core offering, not building your assessment stack. from test creation to
Rating 5.0
Based on 321 user ratings
Coding Skill Assessment Software
With our 100+ coding assessments on various languages such as Java, Python, JavaScript, React, Angular, etc., evaluate and hire the best-talented developers. from test creation to the candidate's evaluation. to the candidate's evaluation.
Rating 5.0
Based on 321 user ratings
Pre-Employment Testing Software:
Get access to the vast library of validated tests to screen candidates using online assessments. Simplify your recruitment process with our cloud-based Pre-employment Testing Software. from test creation to the candidate's evaluation.
Rating 5.0
Based on 321 user ratings
Pre-recorded Video Interview Platform:
Pre-recorded Video Interview Platform allows candidates to fully express themselves to a pre-recorded question. So that you can get more insight into candidates in far less time than a traditional phone interview. from test creation to the candidate's evaluation.
Rating 5.0
Based on 321 user ratings
The HR Department Startup Checklist
Making a detailed plan and careful observations in fulfilling the checklist are needed to ensure that the HR department functions well. Here's a quick rundown on the things you need to sort out for this: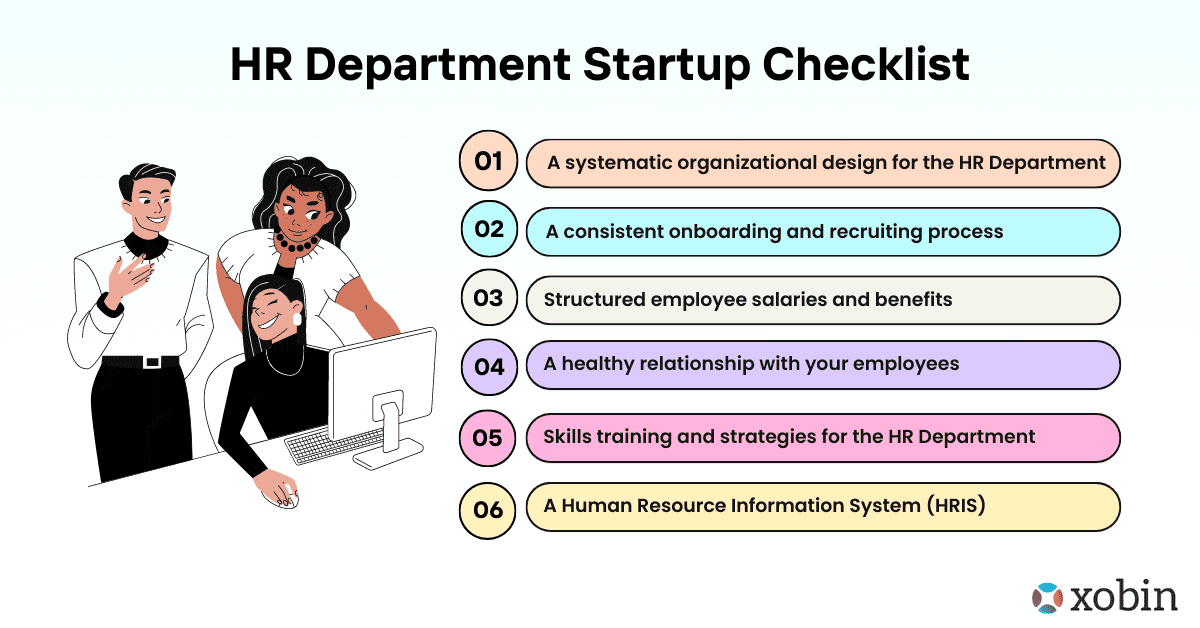 A systematic organizational design for the HR Department
An HR department's organizational design helps ensure that the department functions effectively. This should consider the department's size, structure, and processes, as well as the organization's overall needs.
Aside from these, it should also note each person's roles and obligations and how they should interact with one another. The organizational design also determines the department's plans and purposes and how it intends to accomplish them.
A consistent onboarding and recruiting process
An HR department for startups should ensure that the company has a steady supply of qualified employees. This is done to support its growth by maintaining a pool of qualified candidates and to fill vacant positions by maintaining a consistent recruiting process.
To accomplish this, the department can conduct regular outreach initiatives to potential recruits and collaborate with other departments within the company to identify potential talent sources.
It's also important to maintain a systematic onboarding process. This ensures that all new hires are onboarded efficiently and given all the information and resources they need to succeed in their respective roles. It'd help to have a clear plan for each new hire, from when they are hired until their probationary period ends.
Structured employee salaries and benefits
As a startup business, you may not have the budget to offer the same comprehensive package as a larger and more established company. So It's best if you'll consider following these effective ways to evaluate salaries and benefits:
Explore salaries for comparable positions at other companies in your industry. It will deliver you with a suitable starting point for determining employee compensation.
Consider the cost of living in your area and make necessary adjustments. You don't want to underpay your employees, but you also don't want to overpay them. So don't just throw a random number on the job board; make sure you know the cost of living is where they are!
Consider which benefits would be most appealing to your target employees. For example, if you cannot provide health insurance, perhaps you can provide other benefits such as flexible hours or remote working options. These may not be paid benefits, per se, but they might be something an employee would appreciate.
A healthy relationship with your employees
The HR department must establish and maintain positive relationships between employees and management in any startup business. Here are some suggestions for how the HR Department can foster excellent working relationships within your company.
Always be truthful with your employees. Inform them immediately if there are any issues within the company. Honesty fosters trust between your employees, making them more likely to approach them with their concerns.
Be fair with your employees. Always try to be as fair as possible when giving raises or dealing with disciplinary issues. All employees will appreciate their fairness, contributing to a more positive working environment.
Remember to express gratitude for employees' efforts. A little acknowledgment can go a long way toward boosting morale and keeping them happy!
By following these simple guidelines, your HR department can quickly establish a strong relationship with all employees that will benefit your startup company!
Skills training and strategies for the HR Department
The HR department should identify the skills (soft and hard skills included) your employees will require formal training. From here, they can then start developing a training plan. Not everything you can give your employees should be monetary. They'd also appreciate the life-long skills and knowledge you can impart to them!
After creating a training plan, you can start implementing it within the department. It is critical to remember that managing this aspect is an ongoing process, so you must constantly monitor and adjust your processes as needed.
A Human Resource Information System (HRIS)
A human resource information system (HRIS) can benefit any business, but it is especially beneficial to startups. The software equips a centralized database for keeping and operating employee data and performance reviews. It can also help automate HR tasks such as payroll and benefits.
Startups can better understand their workforce and make more informed decisions about managing human resources by utilizing an HRIS which can provide valuable insights into employee recruitment and retention trends. This way, you're not going in blind when making business decisions. Data backups everything! Also, It takes patience, perseverance, and time to launch a business. Make sure you do your homework and write a strong business plan, and if you still need help, look to websites like BusinessGuru, which have the experience and understanding to guide you.
Final Thoughts for HR Departments
That's a quick rundown of the startup HR department checklist you can use for your company. With this, your company will undoubtedly grow if you take all the necessary notes and aim to tick everything on this list!
Following these steps will get your company organized and on the right track. Of course, as your business grows, you may need to add or change certain aspects of this system, but keep in mind that establishing a solid foundation is essential!
Software you need for all your recruitment process
1 Million +
Test takers per year
AUTHOR'S BIO:
Jayce is the managing director of Seller Interactive, a company designed to help brands grow their business online. As an expert in content marketing, Jayce has worked with top brands such as GoDaddy and Toyota. Whether you need a hand with Amazon listing optimization service and Amazon PPC management, Jayce is the expert that will get you results. Linkedin