Heres the list of all the major product upgrades that Xobin went through in 2022. Sit-back and enjoy 🙂
In early 2021, we had a traffic of 1k test takers in a day . By the end of that year, we were seeing 10k test takers on the platform—that's 10x more customers, 10x more candidates, and 10x more feature requests! And because of that, we had to make some big architectural changes and go back to the drawing board to re-invent Xobin.
   Looking for Hiring Software? Check out the best Hiring Software solutions.
An Updated Interactive Dashboard
Back in January 2022, we faced an upsurge in our customer base. Our new customers were in need to monitor the progress, in addition to giving out assessments.
To aid them more effectively in their recruitment process, Xobin updated the homepage dashboard with interactive charts, for both Assessments and XoForms. The homepage has been updated with easily understandable data, with the aid of various graphical representations in the form of donuts, line charts, or card formats.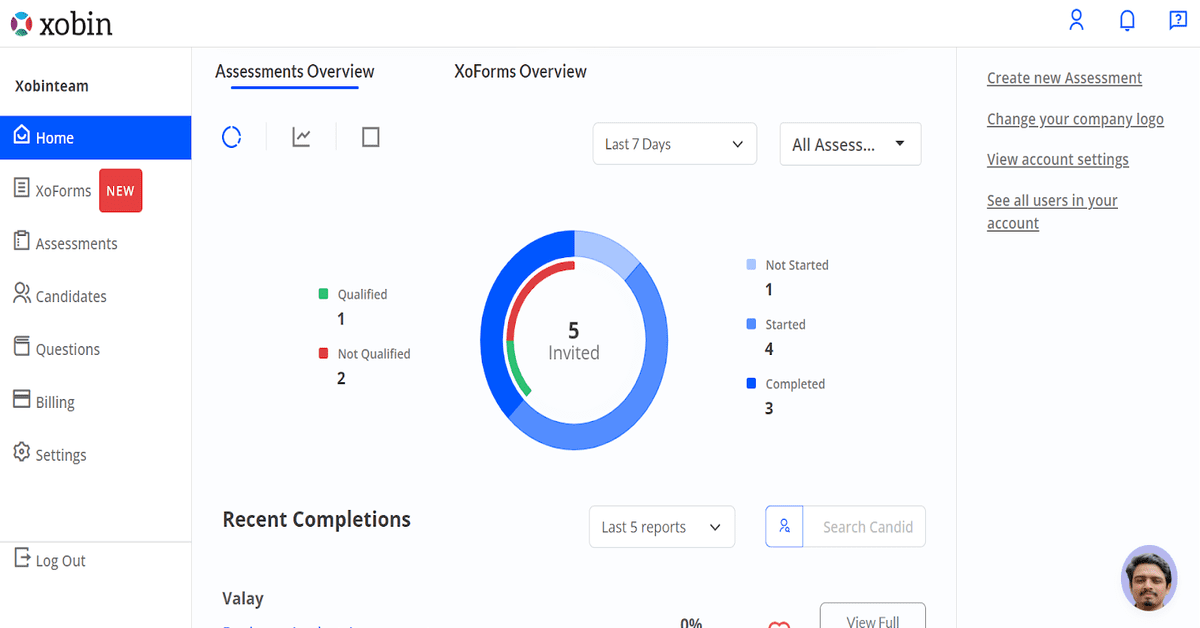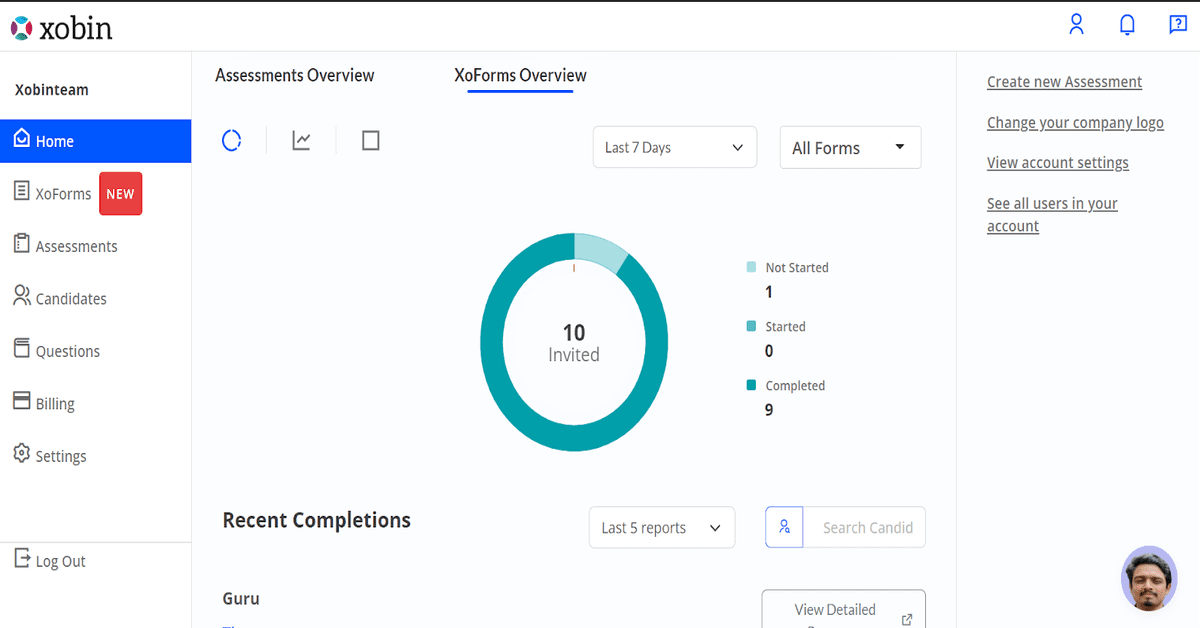 The overview of assessments from seven days to a year can be viewed in a single chart, which gives the recruiter a concise idea of the statistics of the assessments and XoForms given.
With all these assessments and monitoring tools made available, the next roadblock was remote hiring. Even though remote hiring was prevalent, it was not fully functional. To ease out the process of remote hiring, Xobin included an additional feature where it allows the candidate to record a short video along with the assessment questions.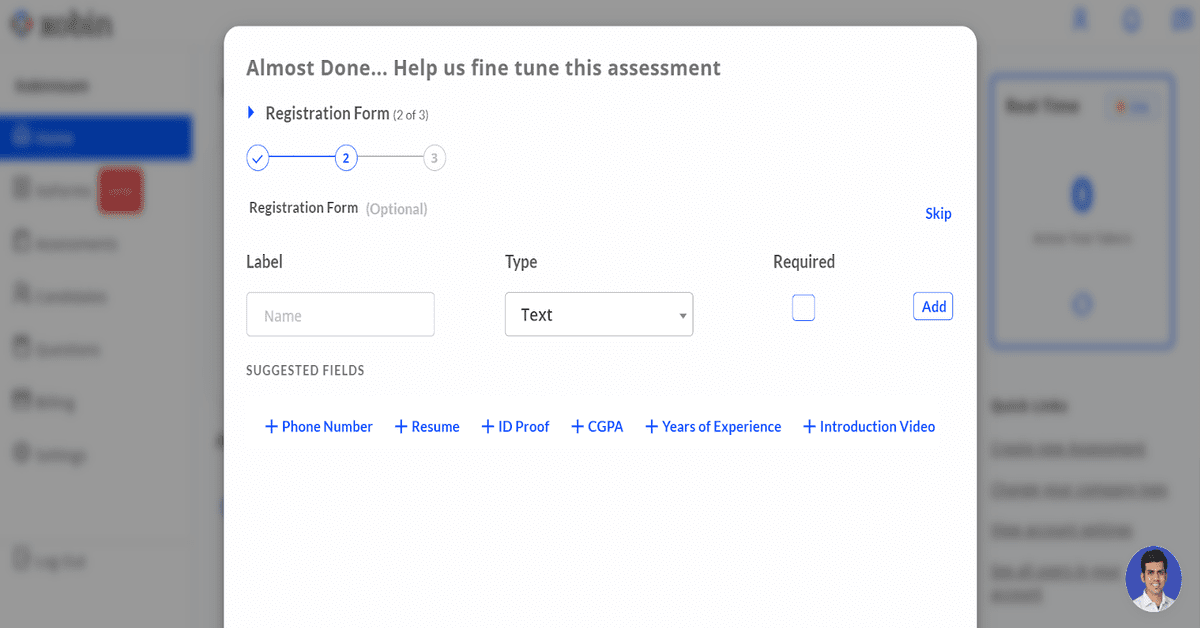 This short video introduction was our major milestone this year. This feature helped our customers in meeting the candidates virtually, which substantially reduces the time of the recruiters in their recruiting process.
Redesigned Home Page
We observed that it was difficult for the customers to navigate through every page, and to overcome this we came up with a new homepage with everything that Xobin offers on a single page.
Xobin's homepage has quick links to assessments, candidate profiles, questions, billing, and settings from a single page, making the customer's user experience a better one.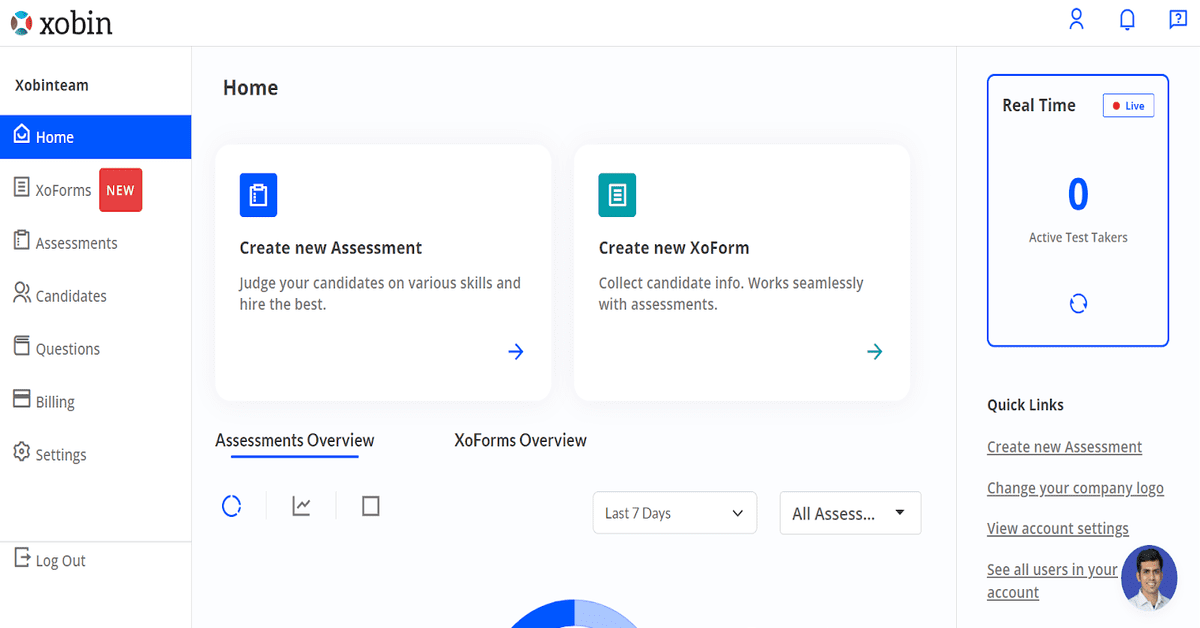 Skill-based Assessment
By the mid of 2022 Xobin launched a new skill-based assessment feature where the customer can just click on the pre-loaded assessment questions to create an assessment. Earlier the customer was required to navigate to the dashboard which was a slightly tedious process. To ease up the process for the customers, the skill-based assessment test was launched. After multiple discussions with numerous subject matter experts, the new skill-based assessment questions were placed at different levels of difficulty that enable the customer just to choose from the dashboard, depending on the requirement.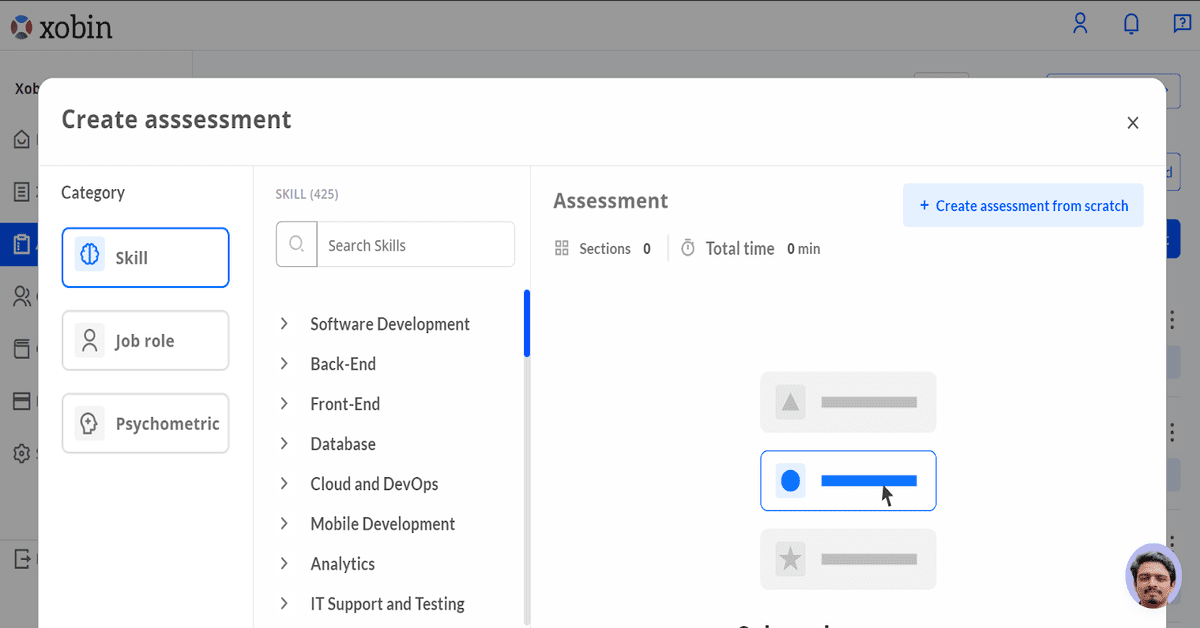 Easy Code Questions
With numerous feedback from candidates, we deprecated our legacy coding questions by launching easy code questions, which were positively accepted by a huge number of candidates.
Launch of XoForms
After several upgrades, we noticed that candidates' information was collected from different job portals and Xobin was used solely for assessment. We have always wanted to bridge this gap and hence we launched our new product XoForms, which would be the only software, wherein our customers use to manage their whole recruitment process starting from candidate data collection to virtually conducting interviews. Creating a XoForm is a pretty simple process, which can be done directly from Xobin's homepage.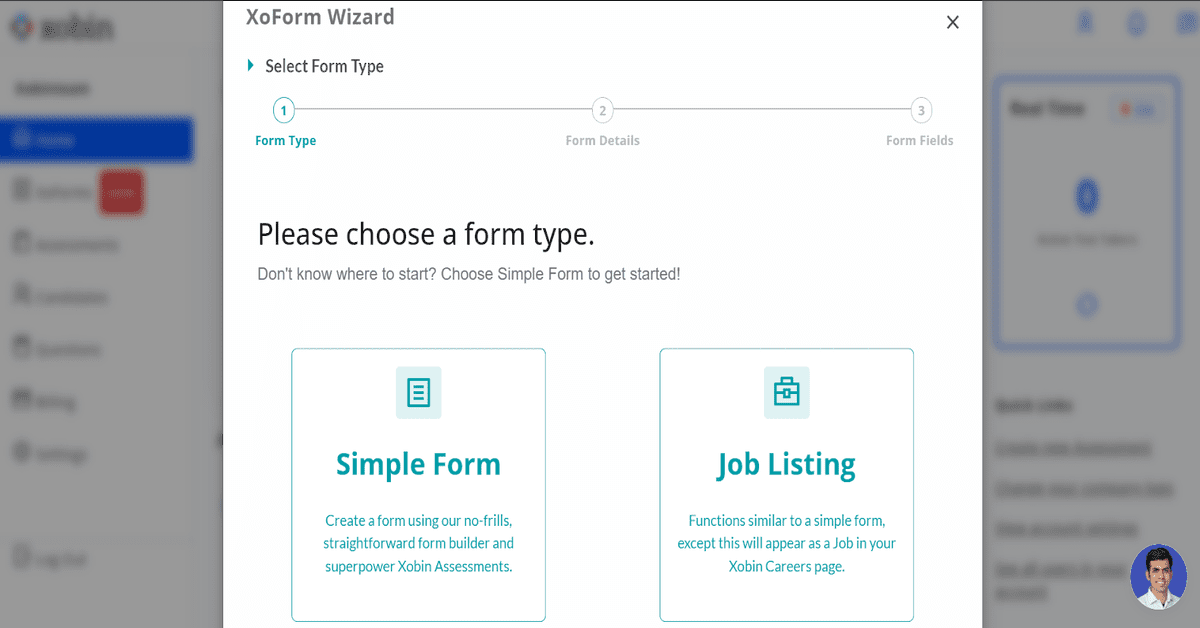 Why XoForms
XoForms is the first ever video-first job applicant management platform, where the recruiter does not have the use to shuffle between different products for sourcing candidates, ATS, interview scheduling, etc. XoForm is ideally the only software that helps the customer to manage the whole recruitment process from a single page.
XoForms is ideally a platform where you collect the applicant's information, but after collecting the information, tests can be sent directly from the XoForm page depending on the customer's requirements.
Build your Career Page with Xobin
XoForms can be integrated with your career page. You can customize your careers page by adding the title of the page, giving a short description which will be reflected on your career page along which you can add the openings in your organization.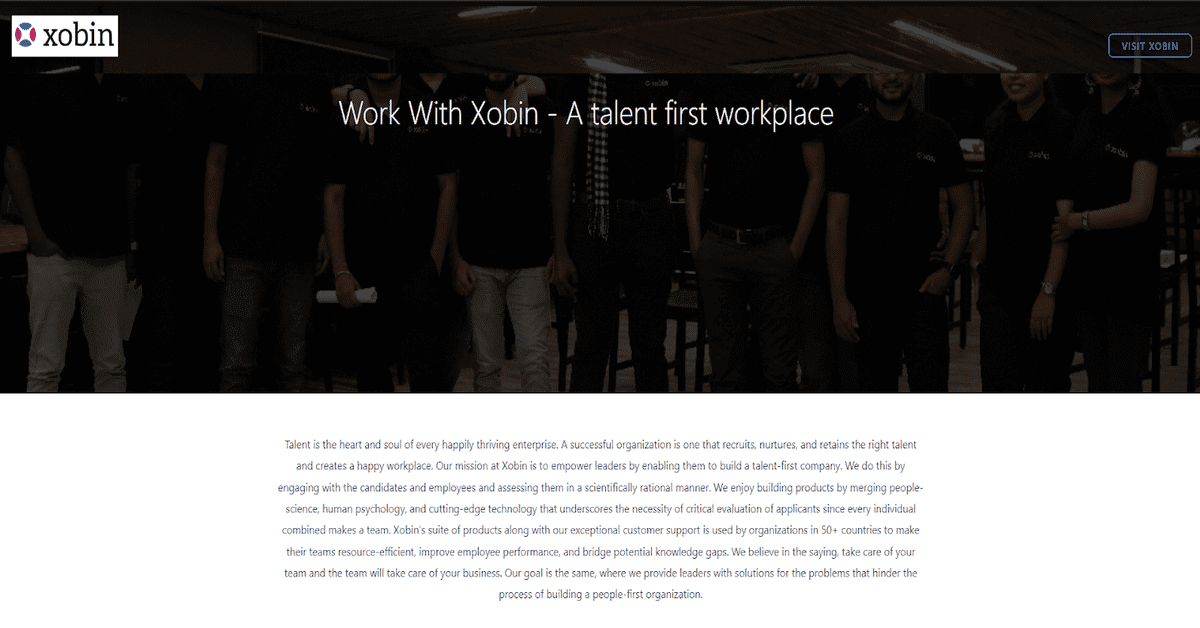 Post the launch of XoForms, we realized that customers required more form fields to make the process much more efficient. So we introduced numerous Form fields that include, text, number, email, paragraph, upload image/document, video, webcam snapshot, telephone, number range, rating, date & time, yes or no, dropdown, and multiple choice. This completely changed how our customers used the Xobin platform, from a mere assessment platform to a place where they could manage their whole recruitment.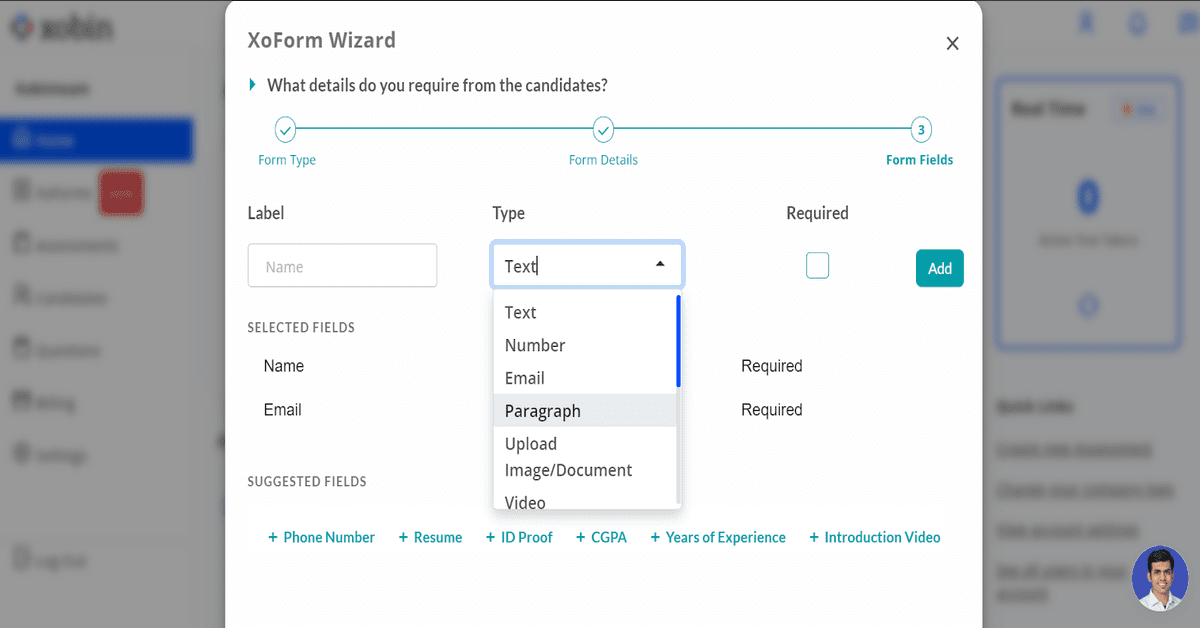 What to expect?
In the next quarter, Xobin has planned to launch an interviewing module, where the customers apart from sending assessments and creating job listings, will be able to schedule interviews. So ideally where we are headed is, customers will require only a single platform to manage their whole recruitment process, which eases up the process of the customer where they don't have to use multiple platforms to manage their recruitment process, where a single HR will be able to handle a recruitment process of 100 odd people.
Hiring remotely? Screen your candidates with Xobin Online Assessments
Get a Demo