Employee engagement has become a popular term in the modern workplace. Organizations realize that employee engagement is directly linked to their success. It is a fact that profitability is the greatest motivation for any business.
Besides, it is also true that employee engagement adds to business profitability. Did you know that Gallup concludes that a workforce with higher engagement can lead to 21 percent higher profitability? This rate shows that the greater the employee engagement, the more scalable your business can be. As a result, organizations focus on employee engagement strategies.
   Looking for Recruitment Software? Check out the best recruitment software.
Employee engagement levels are still low despite organizations trying their best. As per HR Cloud, not more than 40 % of employees show engagement in their jobs. It brings us to an important question. Are companies focusing on the correct drivers of engagement?
That being the case, in this blog, we will highlight the key drivers of high employee engagement and how these factors boost engagement levels. So, let us get started without further delay.
Factors that Drive High Employee Engagement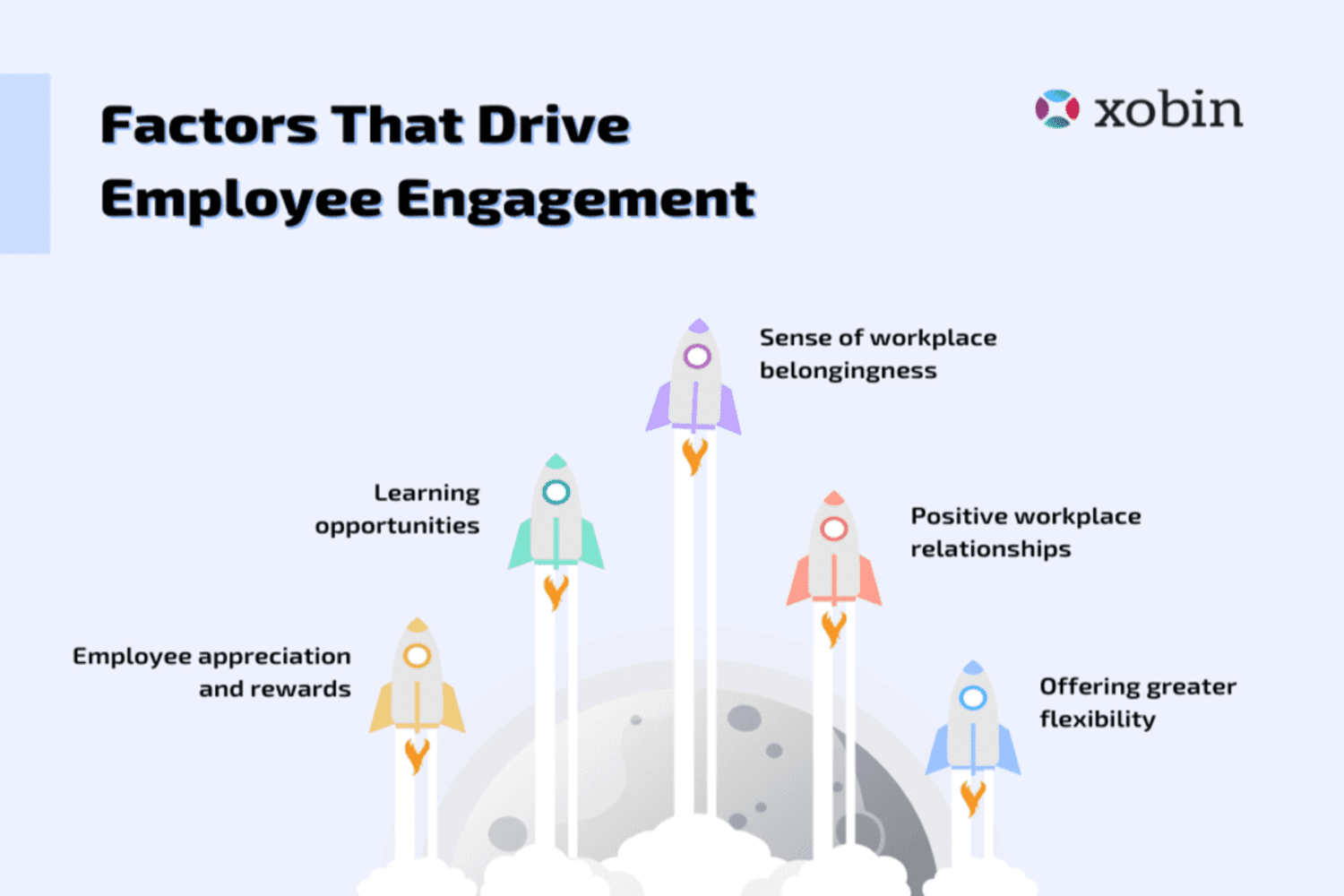 1. Employee Appreciation and Rewards
There would be no human on this planet who does not like to get appreciation. Whenever we get appreciated for performing well, it boosts our motivation.
You cannot drive high employee engagement unless you have a well-structured system of appreciation and rewards. As per HubSpot, 70% of employees say workplace appreciation is vital to them. They also state they will work with higher commitment if leaders offer recognition. Deloitte explains that recognition can lead to a 14 % increase in engagement and performance. Hence, it is correct to say that recognition in an organization plays a crucial role in employee engagement and retention.
Further, you may have gone fully remote or may still be functioning in a traditional office setup. In any case, you cannot ignore the need for employee recognition and rewards. Moreover, the culture of personalized employee rewards is rapidly growing. Hence, it would be best if you gave your employees the recognition and appreciation in a way they need. After that, you will see how they perform with more enthusiasm and loyalty!
By making this personalization, you can also avail benefits of people analytics. Along with this, posting on social media to appreciate employees can also be a great way of enhancing engagement.
2. Learning Opportunities
Another vital factor for enhanced employee engagement lies around workplace learning opportunities. These days everyone wants to advance in their careers. Hence, modern employees realize that continuous learning is vital for professional growth. Therefore, employees expect their organizations to add value to their career growth.
As per Lorman, almost 90 % of millennials claim that workplace learning is a priority. Thus, they expect high learning and development chances from their company. The fact is that millennials are estimated to represent 75 % of the global workforce. Hence, you cannot ignore their needs.
Hence, you can offer a more practical & effective learning experience for your team members. This way, you can boost engagement on a broader level among them.
This correlation explains why organizations are now investing large amounts in employee training. They realize that professional growth opportunities are equally important for employee engagement.
It is also a major cause why workplace mentoring programs are part of a new corporate trend. As per MentorcliQ, 84 percent of Fortune 500 enterprises have thoughtful mentoring programs.
You need to provide rich and practical learning experiences to your employees to get the best. Thanks to technology, you can optimize workplace learning experiences. Otherwise, if you keep ignoring employees' learning expectations, it can lead to disengagement. Besides, this employee disengagement may soon translate into a high employee turnover.
3. Sense of Workplace Belongingness
To make employees feel motivated, they need to feel that they belong in the organization. This way, employees show high engagement and start positive changes when they feel a strong sense of belongingness.
To validate, the detailed study by BetterUP concluded that a sense of belongingness improves job performance by 56 %. Further, a strong sense of belonging also helps in enhancing greater satisfaction among employees.
Here it is crucial to know the factors that lead to workplace belongingness. When you take notice of the employee in decision-making, they feel valued. Employees feel they belong to the organization when they feel valued. When employees have a sense of belonging, they link their success with company growth.
As a result, they show better commitment and willingness to perform more efficiently. Hence, the greater the positivity in the workplace, the higher the engagement levels.
Best HR Software Solutions
Campus Recruitment Software
With our online campus recruitment software screen, hire top talents hassle-free. Everything is under one platform, from test creation to the candidate's evaluation. from test creation to the candidate's evaluation.
Rating 5.0
Based on 321 user ratings
API Integration by Xobin
Get integrated and harness the strength of robust assessments with Xobin APIs. Save sweat and time and focus on your core offering, not building your assessment stack. from test creation to
Rating 5.0
Based on 321 user ratings
Coding Skill Assessment Software
With our 100+ coding assessments on various languages such as Java, Python, JavaScript, React, Angular, etc., evaluate and hire the best-talented developers. from test creation to the candidate's evaluation. to the candidate's evaluation.
Rating 5.0
Based on 321 user ratings
Pre-Employment Testing Software:
Get access to the vast library of validated tests to screen candidates using online assessments. Simplify your recruitment process with our cloud-based Pre-employment Testing Software. from test creation to the candidate's evaluation.
Rating 5.0
Based on 321 user ratings
Pre-recorded Video Interview Platform:
Pre-recorded Video Interview Platform allows candidates to fully express themselves to a pre-recorded question. So that you can get more insight into candidates in far less time than a traditional phone interview. from test creation to the candidate's evaluation.
Rating 5.0
Based on 321 user ratings
4. Positive Workplace Relationships
We can all agree that we do not like to work with an organization where we can not trust people. The dedication and the hard work that we invest in often come from our relationships with our colleagues and other people at the workplace.
On the contrary, when employees sense that their workplace relationships are toxic, they feel disengaged. Hence, the bottom line is that trust is the basis of these relationships. Furthermore, it has a direct impact on engagement. As per Harvard Business Review, employees in high-trust companies show 76 % higher engagement.
The virtue of trust can assist an organization in achieving incredible things. Furthermore, in companies where the trust is high, employees show 50 % higher productivity. Moreover, they exhibit 29 % higher satisfaction. Therefore, you need to lead by example and show faith in your teams as a leader. This act implies that you empower them to unlock new capabilities when you trust your people. This is how exactly engagement flourishes.
Besides, working relationships become more essential for engagement if your workforce is diverse. Employees should feel comfortable and accepted in a diverse environment. They need to have cordial relations with their co-workers. There should be a standard operating procedure regarding the team's capability to generate great relationships between each other, and to achieve this, you could use some of the main team building icebreaker questions. 
When they feel accepted, they will respond with greater affection for the organization. It makes complete sense, right?
5. Offering Greater Flexibility
In this new corporate world, employees do not want to compromise on flexibility. Flexibility has become a priority for employees, especially for younger working generations.
Employees feel flexible working arrangements help in a better work-life balance. As per LinkedIn, 73 % of employees claim that flexibility leads to a better work-life balance. Moreover, 78 % of employees report that they achieve higher productivity in flexible arrangements.
On the contrary, when employees do not get their preferred flexibility in a workplace, it can disengage them. It can further contribute to enhancing the turnover of your company. To validate, as per stats, 36 % of employees will consider quitting their jobs for flexibility.
If you are still resisting flexibility in the workplace, it will not be a very good decision. Organizations are embracing flexibility and reaping its incredible benefits for higher engagement. When are you bringing flexible working arrangements into your organization? For that, you need effective change management strategies.

The Future of Employee Engagement
To conclude, the dynamics of employee engagement are changing. Hence, organizations need to align with this change and assess skills gaps. Moreover, we have discovered that the crucial factors for high engagement include;
Appreciation
Flexibility
Workplace Learning
Trust
Hence as a leader, you need to create a positive company culture around these virtues. That way, you can unlock new levels of employee engagement.
Software you need for all your recruitment process
1 Million +
Test takers per year
About the Author:
Jessica Robinson loves to write interesting and knowledgeable blogs regarding business management, education, and life to satiate the curiosity of her lovely readers. Currently, she is serving as a content manager at the 'Speaking Polymath'. Every piece of content that she writes demonstrates her immense love and passion for her profession.
LinkedIn