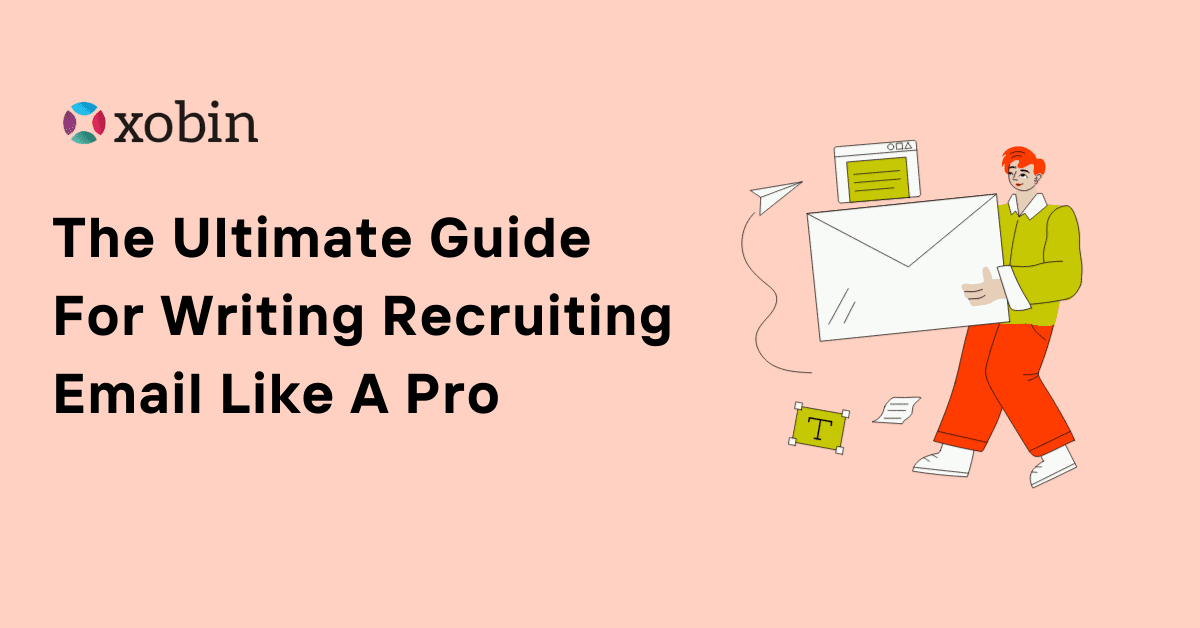 Lucky you, if your dream candidate is actively looking for a job shift. But a study shows that 73 percent of candidates are passive job seekers. At times people are not even sure if they want to shift jobs. Hence, it matters how you write your recruiting email to avoid these incidents.
How do you make them believe that your company is the right place to work at? How do you pull them to your side?
Goes without saying, pitching out to the candidate, writing a recruiting email!
Deploy a few of your marketing skills while writing your next recruiting email. Remember, you ( and your organization) will be judged by the way you reach out to your candidates. Try out free email subject line generators to get ideas and boost your open rates
Make sure you rock the first impression!
Here are a few tips: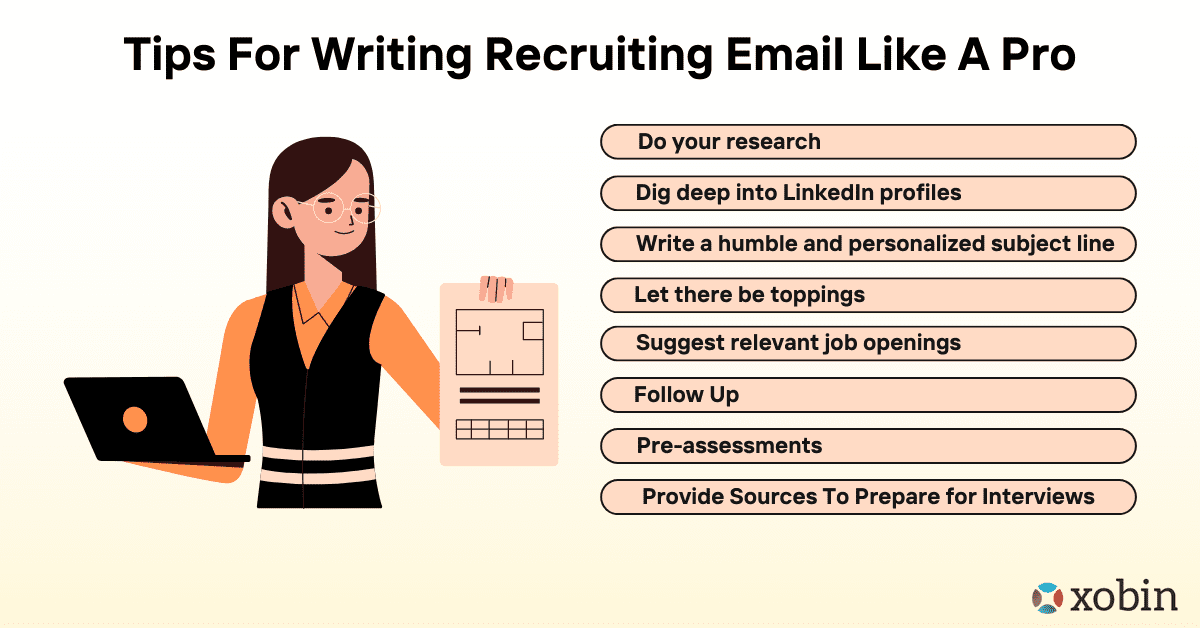 Do your research
The ultimate sutra to write a recruiting email like a pro is to research like a pro.
Most of us might have received a random recruiting email for some role we have never applied for, nor interested in. I have personally received random emails from recruiters for the role of a financial analyst, although I do not possess any book-learned finance skills, nor do I hail from a finance background academically. These types of recruiting emails make us wonder if the recruiter is doing his/her job right.
Dig deep into Linkedin profiles
In today's digital world all your potential hires will definitely have online profiles on various social media platforms.
So do your homework! Mine information before you send out a cold outreach.
Make sure you get all this information in the first place.
The candidate's past role.
The candidate's past projects that relate to the job you're recruiting for.
Does the skills of the candidate align with your requirement.
Write a humble and personalized subject line
Don't oversell right in the first place.
At times, few recruiters go overboard and start pitching right from the subject line.
Beware, your recruiting email shouldn't be mistaken as a sales email.
Pitch something that is humble, realistic, and excites your candidate. Try out something of this sort,
Let there be toppings, but not too much cheese!
Offer specific information when writing a Recruiting Email.
People's time is precious, and explaining the basics is just a waste of that time.
Giving a detailed explanation of your organization's history simply turns your email to a bloated copy, most likely destined for the trash. Not just that, it also takes a toll on your reply rates.
Best HR Software Solutions
Campus Recruitment Software
With our online campus recruitment software screen, hire top talents hassle-free. Everything is under one platform, from test creation to the candidate's evaluation. from test creation to the candidate's evaluation.
Rating 5.0
Based on 321 user ratings
API Integration by Xobin
Get integrated and harness the strength of robust assessments with Xobin APIs. Save sweat and time and focus on your core offering, not building your assessment stack. from test creation to
Rating 5.0
Based on 321 user ratings
Coding Skill Assessment Software
With our 100+ coding assessments on various languages such as Java, Python, JavaScript, React, Angular, etc., evaluate and hire the best-talented developers. from test creation to the candidate's evaluation. to the candidate's evaluation.
Rating 5.0
Based on 321 user ratings
Pre-Employment Testing Software:
Get access to the vast library of validated tests to screen candidates using online assessments. Simplify your recruitment process with our cloud-based Pre-employment Testing Software. from test creation to the candidate's evaluation.
Rating 5.0
Based on 321 user ratings
Pre-recorded Video Interview Platform:
Pre-recorded Video Interview Platform allows candidates to fully express themselves to a pre-recorded question. So that you can get more insight into candidates in far less time than a traditional phone interview. from test creation to the candidate's evaluation.
Rating 5.0
Based on 321 user ratings
"Less is more."
Pro Tip: Appreciate your candidate outright, if they have mentioned great achievements, extracurricular or written an article on their Linkedin Profile. This shows that you really invested time to know about them.
Suggest relevant job openings in your Recruiting Email
At times, candidates would look to switch laterally. A software developer might be seeking out to make a switch to a management function. In the case of startups, we have personally witnessed people willing to take up and manage more than two roles.
So recruiters could suggest all the relevant openings.
Also, fair chances that your candidate may suggest a referral to you.
Follow Up
Got a radio silence from your candidate?
Don't take it to heart, the recipient wouldn't have read it or the worst, wouldn't have received it in the first place.
Kindly send a polite follow-up email the very next week. This shows that you truly value your candidate experience, skills and want them onboard. Mention your contact details at your signature to highlight your personalization.
Pre-assessments
Got a response now?
Great!
Why?
Pre-job assessments help you gauge your candidates against a standard competency required for the job, analyze the skill gap, understand the culture fit thus aiding you to make an informed decision.
But, how?
Seek out help from professional assessment software.
For instance, at Xobin, we have several tailor-made proctored assessments with an extensive question library, varying levels of difficulty, and also user-friendly customizing options.
Here is a display of our mighty arsenal!
All that you need to do is select the assessment that you wish to send the candidate, add custom fields to know any specific information( if required), and click on "Invite Candidate".
An assessment link gets generated.
Draft an "assessment invite" email, asking them to take up the assessment, why is it important to take up the assessment, and also mention that you have enclosed the assessment link in your email.
Once your candidate is done with the assessment, you will immediately get the score in your personal dashboard.
Click on 'View Full Report' to get a detailed assessment analysis of your candidate.
We adopted this during our Campus recruitment process to outreach a wider pool of candidates.
Likewise, if you are planning for hiring freshers in campus recruitment, this works like charm. You can pre-define your cut-off score, drag-drop in Shortlist or Reject column.
We have a feature, that automatically sends an email on the status of the assessment to your candidate.
Provide Sources To Prepare for Interviews
The ultimate goal of a recruiting email is to invite a person for a formal interview or a casual chat for further discussion.
Upon completion of the above process, invite them for a personal interview.
Let this not resemble a blind date!
Explain a gist of what you would be discussing in the interview. Provide some sources to prepare for the interview.
Wrapping Up . . .
At Xobin, we have personally framed and also adopted these recruiting email templates in our recruiting scenarios.
And the result?
Not just great click-through rates, but also a good number of responses from our candidates.
Having to spend time and money traveling to an interview is not ideal. Many recruiters understand this, provide the flexibility to spare a video interview. But make sure that you adopt a professional video interview platform.
Looking for a credible pre-job assessment and video interview platform?
Schedule for a FREE demo to know how this works.