Design thinking has now become another corporate buzzword. With big names like Apple, Microsoft, and IBM recruiting in-house design thinking teams to unearth innovation and create possible solutions for human-centric problems, at Xobin, we wanted to unravel and present to our customers as to how design thinking in recruitment could bring in "value proposition" to the table.
   Looking for Recruitment Software? Check out the best recruitment software.
What is Design Thinking?
Simply put, design thinking is a method of solving complex problems using a structured innovation process aimed at providing solutions to human-centric problems. First off, let's pen down the process involved in design thinking and see how we could relate it to recruitment.
Major problems faced by recruiters
We leveraged LinkedIn to connect with over 1800 Recruiters across 25 countries and asked precise questions on the recruiting challenges faced by their organizations. We found that while on one hand, three-quarters find it cumbersome to find relevant candidates, on the other hand, hiring managers claim that 40 percent of the new hires leave the organization within 6 months of joining. Hence we attempted to chalk out the major problems faced by the employers.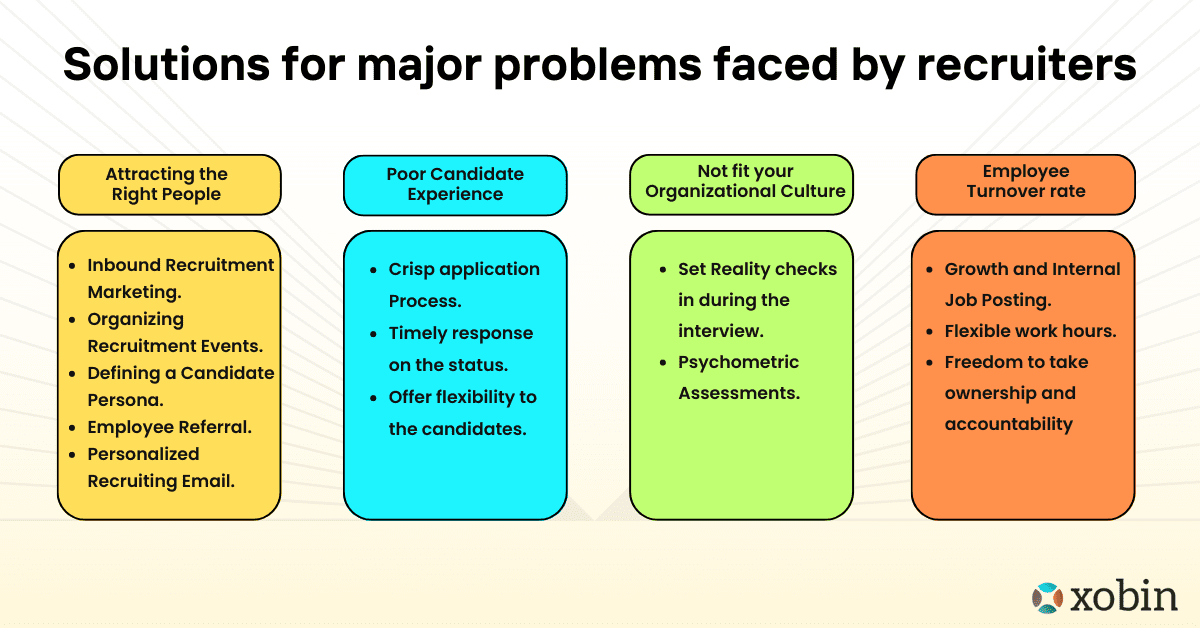 1. Attracting the Right People
As already stated earlier, a vast number of recruiters and hiring managers are not able to find relevant candidates. Inefficient recruitment outreach, unattractive job description, and ignoring passive candidates are the main aspects considered as bottle-neck for attracting the right candidates.
Design Solution 1 – Inbound Recruitment Marketing
Harness Inbound recruitment marketing. Just a "we are hiring" post on Linkedin, Facebook and Twitter is not sufficient. In addition to the careers page on the website, design an exclusive blog for recruitment and write content as to how it would be like to work in your organization. A professional video citing your gender diversity and cultural diversity will attract a wider range of applicants. Now ask your existing employees to take out social media and do the selling.
Design Solution 2 – Organizing Recruitment Events
With millennials dominating the workplace, hiring managers are expected to perform marketing stunts. Recruitment has now become more of a marketing event. Hence, organizations should proactively participate in job fairs and work on employer branding. Sponsor business meetups at your organization, invite thought leaders for a podcast, and invite your target candidates to attend such sessions. Let them get a feel of your organization's culture. This is one way for senior management to interact with the candidates.
Design Solution 3 – Defining a Candidate Persona
Create a realistic, attractive job description and a well-defined candidate persona. At times, it may be tempting for the hiring managers to go overboard and list out too many skills expected out of the candidate. But, this can greatly put off your candidate from applying. Instead, differentiate the requirements as 'must-to-have and ' nice-to-have in your job ad. Talk to your existing top-performing candidates to create a realistic candidate persona.
Design Solution 4 – Employee Referral
Most of the qualified candidates for your open positions are already employed and are not actively looking for a switch.
Market an employee referral program and reward your existing employee for each qualified referral. An employee referral program is one of the most effective tools in your recruitment arsenal. Co-workers spread the word of mouth, bring in better quality candidates as they are already aware of the industry expectations. Not to mention the cherry on the cake, referred employees work at companies longer than non-referred employees.
Design Solution 5 – Personalized Recruiting Email
Create a humble recruiting outreach by drafting a personalized recruiting email. This can bring in most of the passive candidates under your umbrella.
2. Poor Candidate Experience
How you treat your candidates during the course of the recruitment process is what is envisaged as a candidate experience. Just like how customer testimonials affect the buyers' decisions, your job seekers judge your organization based on the interviewee's reviews on social media and employee review platforms like glassdoor.com.
A good candidate experience creates a positive image of the company. At the same time, a bad candidate experience can damage the reputation of your brand and your candidates may lose respect for you. The Job Application Process, the taken to respond, and how you treat them during interviews greatly impact candidate experience.
Design Solution 1 – Crisp Application Process
A lengthy application process demanding minuscule information can demotivate your potential hires. Shorten the application process by presenting possible options like "Apply using Linkedin Profile". Adopt a 'mobile-friendly job application process. Acknowledge the candidates' applications by sending out a confirmation email.
Best HR Software Solutions
Campus Recruitment Software
With our online campus recruitment software screen, hire top talents hassle-free. Everything is under one platform, from test creation to the candidate's evaluation. from test creation to the candidate's evaluation.
Rating 5.0
Based on 321 user ratings
API Integration by Xobin
Get integrated and harness the strength of robust assessments with Xobin APIs. Save sweat and time and focus on your core offering, not building your assessment stack. from test creation to
Rating 5.0
Based on 321 user ratings
Coding Skill Assessment Software
With our 100+ coding assessments on various languages such as Java, Python, JavaScript, React, Angular, etc., evaluate and hire the best-talented developers. from test creation to the candidate's evaluation. to the candidate's evaluation.
Rating 5.0
Based on 321 user ratings
Pre-Employment Testing Software:
Get access to the vast library of validated tests to screen candidates using online assessments. Simplify your recruitment process with our cloud-based Pre-employment Testing Software. from test creation to the candidate's evaluation.
Rating 5.0
Based on 321 user ratings
Pre-recorded Video Interview Platform:
Pre-recorded Video Interview Platform allows candidates to fully express themselves to a pre-recorded question. So that you can get more insight into candidates in far less time than a traditional phone interview. from test creation to the candidate's evaluation.
Rating 5.0
Based on 321 user ratings
Design Solution 2 – Timely response on the status
Leaving your candidates unformed on the status is a big no-no. Even if selected, negligence from recruiters can put off the candidate to take part in the further processes.
Follow a 2 Day Rule!
Send a personalized response citing the status of selection or rejection within 2 days of receiving the job application. As a matter of fact, instant response from the recruiters implies that you value your candidates' time. Those candidates who have not made the cut for this position may prove to be a perfect fit for some other position in your organization. Be courteous to all the candidates.
Design Solution 3 – Offer flexibility to the candidates
Your potential candidate feels inconvenient to drive across town during the workday for assessments and formal interviews and may prefer to opt-out from the recruitment funnel. Adopt a flexible approach. Xobin helps you to send assessments to your candidates in the matter of a click.
Now your candidates can up the assessment from anywhere. Skeptical about your candidates' integrity on an online assessment?
We have an AI-enabled proctor in place to monitor eye movements and a web browser monitoring system to indicate when the candidates toggle between tabs.
After your candidates cut through the assessments, adopt a professional video interviewing tool. As organizations are looking for talent beyond their home countries, we need to have remote hiring options. An Online Video Interviewing tool offers great flexibility and a seamless solution to the understating problem. Your candidates need not fret commuting for on-site interviews and also recruiters can break out from the monotony of scheduling interviews.
Pro tip: Give a brief heads-up to your candidates before the interview with regards to the following information
How to prepare for the interview and what is expected out of the role
Number of interviews they are likely to meet with and who they are.
How long is the interview expected to take.
This helps the candidates to prepare ahead, thereby providing satisfaction to both recruiters and the candidates.
3. Recruiting people who don't are fit your Organizational Culture
Many recruiters focus primarily on hiring those with specific talents, skills, and experience, and more often 'the culture-fit always remains to be elephant in the room.
An organization's age, the pace of growth, leadership style determine and define the organizational culture. A mismatch between candidates' behavioral traits and your Organizational Culture will eventually take a toll on your employee turnover rate.
Design Solution 1 – Set Reality checks in during the interview
Once your candidate aces through the technical and aptitude assessments, a culture fit interview should be made mandatory to understand if your candidate can sustain through tough times or quickly bail.
Design Solution 2 – Psychometric Assessments
Adopting job-specific psychometric assessments can help you to gain insights into your candidates' habitual and behavioral traits. Psychometric assessments have questions that check the internal consistency of your candidates' responses, thereby ensuring fairness in the tests.
4. Employee Turnover rate
Many bosses wrongly believe that employees quit because they want more money. But here is a different story, a study conducted by employee- retention expert, Leigh Branham shows that salary is not THE major reason for people quitting their jobs. Employees state 3 major reasons for quitting their organization: Lack of growth, Lack of Work-Life Balance, and Micromanaging.
Design Solution 1 – Growth and Internal Job Posting
Employees measure appreciation not just in terms of monetary benefits but also with respect to growth, rewards, and recognition. Some may even seek lateral growth within the organization. Implement internal job posting policies in your organization.
Design Solution 2 – Flexible work hours
The ultimate aim of any organization or a boss is to get the work done. If your organization follows a strict '45 working hours per week' schedule, break out from the traditional '9 to 6'. Encourage your employees to work from home, provide compensation off for working overtime and work on flexible working strategies.
Design Solution 3 – Freedom to take ownership and accountability
Managers should learn to refrain from being too bossy. Micromanagement leaves no room for innovative thinking. Make your employees feel truly invested in their jobs by giving them a sense of ownership and trusting them. Employees, voluntarily feel obliged to take more responsibility thereby staying with your organization for a longer period of time.
Software you need for all your recruitment process
1 Million +
Test takers per year
Concluding Thoughts . . .
Thus, we have presented various human-centric design thinking solutions to cap various talent acquisition problems. These solutions eventually will translate into a superior and robust talent acquisition strategy. Onboard those candidates who are culturally sound, value, and align with the goals of your organization. Now, work on design thinking strategies for training and employee engagement.