Limitations Of Pre-employment Tests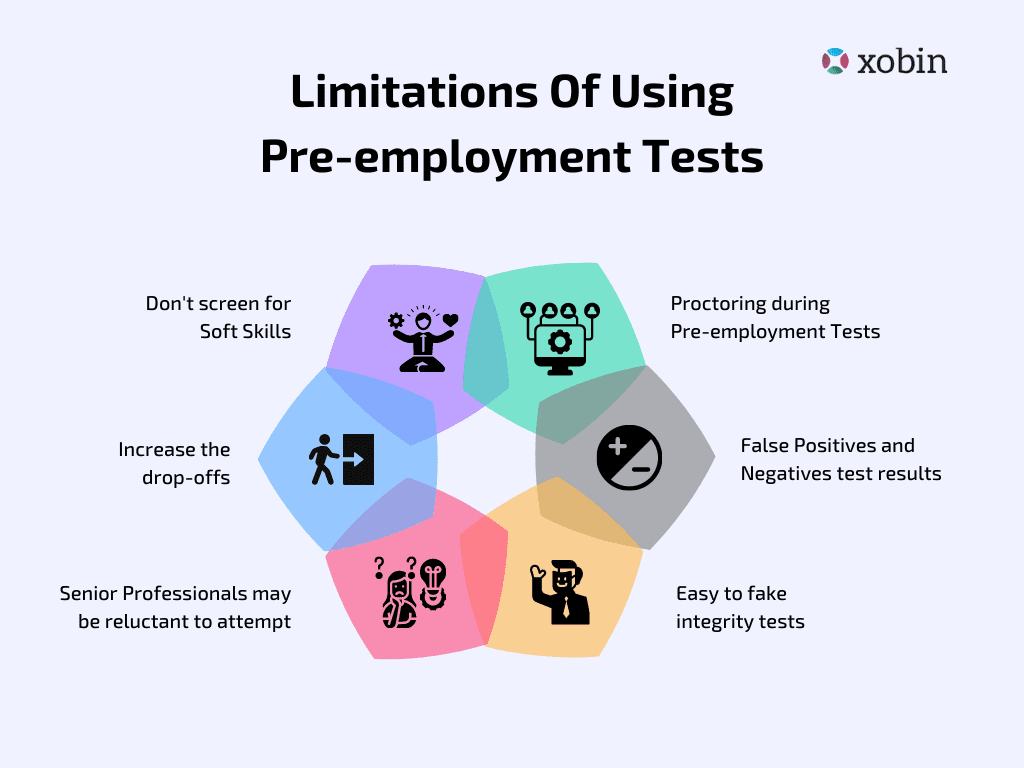 Pre-employment Assessments don't screen for Soft Skills
The pre-employment tests primarily showcase the aptitude and job skills of the applicant. The tests are able to quantify the hard skills of the applicant. However, this isn't the complete picture.
What is missing are soft skills like the learnability, passion, and grit of an individual. Such facets of their skills and competencies are not quantifiable with pre-employment tests.
Pre-employment tests increase the drop-offs
SHRM states that the average till to fill is 42 days. Candidate skills screening can often add an additional stage to the recruitment funnel. But the fact is almost all organizations using pre-employment tests experience drop-offs.
There may be a few reasons for these drop-offs. Most important is the length of the tests. Certain test providers are known to give lengthy 2-3 hour tests that have little to no correlation with the actual job.
Secondly, while candidates are happy to visit prospective employer offices for 3-4 on-site interviews, they may not find it convenient to take 3-4 tests in a day.
Senior Professionals may be reluctant to attempt
Senior professionals, especially those with 10+ years of experience may be hesitant to take up pre-employment tests. Such professionals are already at the top of their game in terms of skill and talent. Being in the industry for such a long time, some of them may consider it rude to justify their skill set. A 30-45 min pre-employment test may not be the best way for them to spend their time.
Such senior professionals are more interested in the culture of the organization, the nature of the work, and how it aligns with their career plans. These are aspects that are better determined at any interview rather than giving a test.
Proctoring during Pre-employment Tests
With the world going remote, most assessment platforms have deployed online remote proctoring solutions as part of the anti-cheating measures. This may involve recording the candidate's activities and the browser during the test. While employers wish to keep stringent anti-cheating practices, candidates find such proctoring activities intrusive in nature.
Test takers have reservations about such practices. Some candidates claim that these anti-cheating features make them conscious while appearing for the test. Naturally, test takers dislike the feeling of someone watching them while they take up the test.
Even the most advanced pre-employment testing software cannot guarantee 0% cheating.
Test Results
Every top pre-employment assessment software provides results and insights on candidates taking up the test. These results are false positives and false negatives.
Easy to Fake Integrity Tests
A wave of startups popularized the concept of psychometric Tests, integrity Tests, and culture fit assessments. These tests are mostly self-reporting in nature, which means applicants often give answers that are socially desirable. This bias makes it easy to fake such pre-employment tests and screening processes.
Studies by Harvard Business Review have shown that multiple-measure tests have the highest positive correlation with job performance. In other words, the best hiring decisions are taken after aggregating scores from different tests at different stages of the hiring funnel.
Benefits Of Using Pre-employment Tests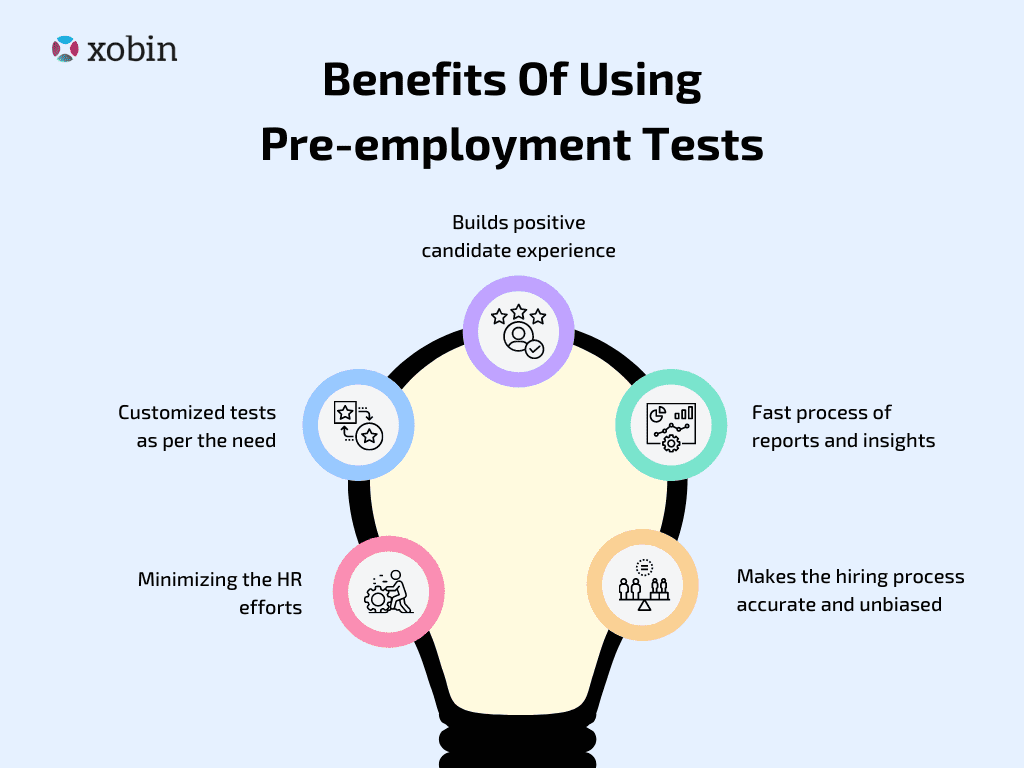 Minimizing the HR Efforts
As we all are aware how time-consuming recruitment processes are. Recruiters say that they receive 250 applications per position in 90 days.
So, using pre-employment tests to screen out the applicants will narrow down the top of the funnel of applicants. The least this test can be used to filter out the not required applicants and will give the fit candidates.
After the pre-employment tests, the screening occurs quickly. As a result, hiring managers complete interviews, screening, and in-time hires.
Best HR Software Solutions
Campus Recruitment Software
With our online campus recruitment software screen, hire top talents hassle-free. Everything is under one platform, from test creation to the candidate's evaluation. from test creation to the candidate's evaluation.
Rating 5.0
Based on 321 user ratings
API Integration by Xobin
Get integrated and harness the strength of robust assessments with Xobin APIs. Save sweat and time and focus on your core offering, not building your assessment stack. from test creation to
Rating 5.0
Based on 321 user ratings
Coding Skill Assessment Software
With our 100+ coding assessments on various languages such as Java, Python, JavaScript, React, Angular, etc., evaluate and hire the best-talented developers. from test creation to the candidate's evaluation. to the candidate's evaluation.
Rating 5.0
Based on 321 user ratings
Pre-Employment Testing Software:
Get access to the vast library of validated tests to screen candidates using online assessments. Simplify your recruitment process with our cloud-based Pre-employment Testing Software. from test creation to the candidate's evaluation.
Rating 5.0
Based on 321 user ratings
Pre-recorded Video Interview Platform:
Pre-recorded Video Interview Platform allows candidates to fully express themselves to a pre-recorded question. So that you can get more insight into candidates in far less time than a traditional phone interview. from test creation to the candidate's evaluation.
Rating 5.0
Based on 321 user ratings
Customized Tests as Per the Need
The use of pre-employment assessments is an important part of the hiring process to assess the applicant's skills. Pre-employment assessment tools help recruiters form customized tests to evaluate candidates for a specific position.
So this is how such assessment tools can help fill the job out of the average range.
Builds Positive Candidate Experience
The use of assessment tools in hiring will be the first contact between candidates and a company. The experience while these assessments count. It gives them a feeling of what is to come and how it will be after they are hired.
An engaging and candidate-friendly assessment process is an add-on to companies employer brand.
Fast Process of Reports and Insights
One of the main advantages of pre-employment tests is the candidate's skills and reports. In addition, the use of these tests speeds up report creation and helps recruiters with insights into candidates' overall profiles.
With the help of reports and insights, an employer will be able to make an informed decision.
Makes the Hiring Process Accurate and Unbiased
Applying pre-employment tests in hiring will give accurate results for the skills the employer wants to test. The scenarios and the questions in the test will analyze the answers and generate the report. This way, it will avoid the bias we humans are exposed to.