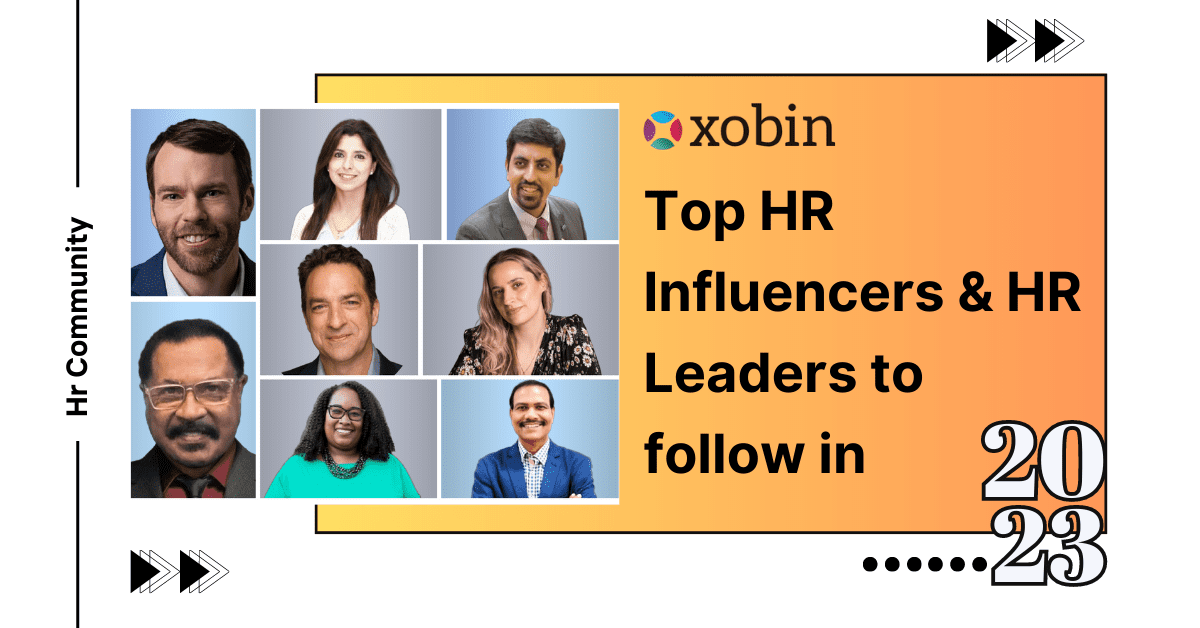 Welcome to Xobin's most awaited and celebrated blog on the Top HR influencers and HR leaders of 2023!
We all agree that Human resources (HR) is an essential function in every organization, responsible for managing the most important asset of a company: its people. As the world of work continues to evolve rapidly, human resources influencers are playing an increasingly critical role in shaping the culture, strategies, and operations of their organizations.

Looking for HR Hiring Software? Check out the best HR Hiring Software solutions.

This year after we received over 700+ nominations, our jury has shortlisted the Human Resource influencers and HR Leaders based on their insights and impact their work leaves on HR professionals and HR community. Therefore, below mentioned list of top human resources influencers is in 5 different domains of HR profession. So, we will be highlighting some of the most influential and innovative HR influencers of 2023. On the other hand, these leaders have demonstrated exceptional skills in navigating the challenges of the modern workplace, building diverse and inclusive teams, and implementing effective talent management strategies.
Therefore, by studying their leadership styles and insights, we can learn new trends and how to develop successful HR strategies and create an engaging and productive work environment for our own teams. Consequently, for you we've mentioned the social media handles where you could follow these Human Resource influencers. So, let's dive into the inspiring stories and achievements of the top HR leaders of 2023!
Top HR Influencers of Diversity and Inclusion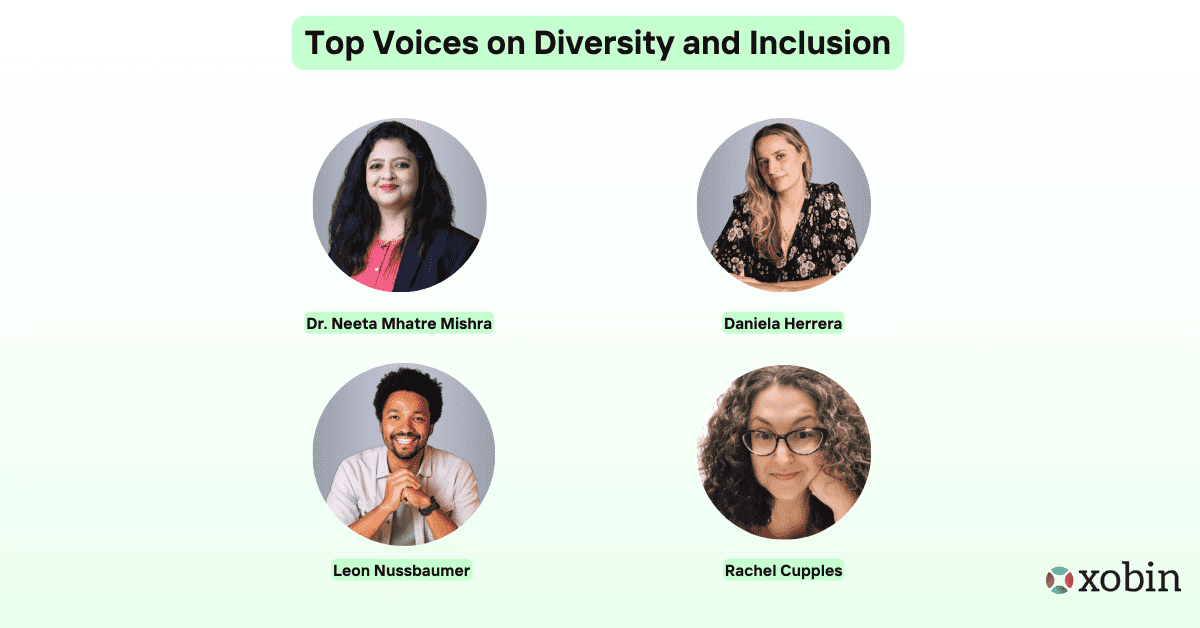 Dr. Neeta Mhatre Mishra
Dr. Neeta certified trainer educator Master NLP comes from a background in medicos. She owes her specialization in the alternative system of medicine, psychotherapist, Counselor and Relationship Coach. A professional with varied skills, high zeal for positive living. Has served as a medical officer in charge for 12 years for the shipping industry.
Through her initiative ReachOut she offers training programs for workplaces. With these workshops as well as training she helps in maintaining the diversity and inclusion of the workplace. Hence, follow her on LinkedIn to get motivated as well as make the change.
---
Daniela Herrera
Daniela Herrera is an award-winning DE&I Professional with 17+ years of experience in Talent Operations, Recruitment, Leadership, and People Management.
She has coached junior and senior talent on resume writing and has seen how other recruiters and staffing agencies approach reviewing resumes.
Currently she is a Director, Recruitment Operations and ED&I at R/DA. You can follow her on LinkedIn to know more insights about the DE&I at the workplace and trends.
---
Leon Nussbaumer
If you're interested in scaling your business, by achieving goals by amplifying brand and digital footprint Leon is the person for you.
With his podcast Leon and the professionals he keeps having good conversations with professionals and talks to the ones changing the world through their work.
He's an ex-recruiter who is currently a Talent Attraction Partner – Recruitment Marketing at LinkedIn. One of the true Human Resources Influencers among all he is, you can follow him on LinkedIn for more updates.
---
Rachel Cupples
If you want to learn how to build recruitment programs that empower candidates. Also, hiring teams clients as well as being a champion for diversity and inclusion. Rachel's focus allows her to deliver top talent without compromising candidate experience.
Rachel is a Senior recruiter at Textio. In addition, she is a speaker, writer, panelist for D&I as well as many more HR related topics.
She has close to a decade of recruiting experience and has focused the past 6+ years on diversity recruitment. You can follow her on Linkedin.
---
Top HR Influencers and HR Heroes of Employee Engagement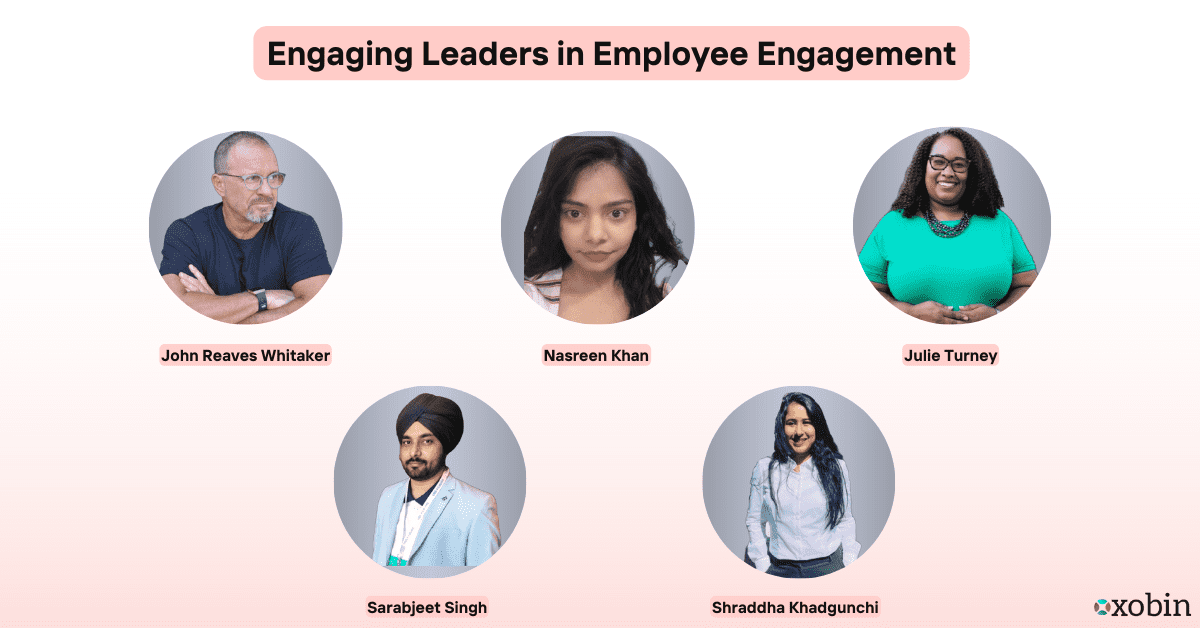 John Reaves Whitaker
Human Behavior IS Human Resources. With this motto on HR Hardball John talks about real experiences, real life, real lessons learned. Also, how to make your next experience a successful one.
Currently he is an EVP and CHRO at National Partners in Healthcare, LLC. For more interesting topics and insights you can follow him on LinkedIn and Twitter.
---
Nasreen Khan
Creating a day to day engaging experience that offers employees meaning and leaves a positive impact. In her article on how to build a culture of reward recognition and Engagement, Nasreen Khan talks about 10 core takeaways to implement in work culture.
Currently Nasreen is an HR Director at Eloelo and is Passionate about making a difference by creating and implementing a tailored strategy that works for the business. Also, leading high-performing teams and delivering through employee engagement.
You can follow her on LinkedIn for more interesting updates from her.
---
Julie Turney
If you or anyone from the HR domain needs help in building their resilience as well as agility Julie Turney is the champion for you. Also, as an HR influencer, through her podcast she provides information on great ways to future-proof your career in HR. Also, by sharing information on trends in HR you can use to develop your current skills and competencies.
She is a HRforHR Coach at HRatHeart Consulting Inc. Here she works with organizations, executives, teams and individuals who are ready to prioritize their self-care and professional development.
Then why wait? follow her on LinkedIn and Twitter.
---
Sarabjeet Singh
To become best in the engagement you have to learn from the best from the domain Sarabjeet Singh is that leader for you to look up to.
He is Skilled in talent acquisition and management, employee relations, and compliance. Sarabjeet is a strong leader with a track record of building and leading high-performing teams. Also, an excellent communicator who establishes trust with senior leaders and employees at all levels.
Currently he is a Global Head of People and Culture at Helpshift. You can follow him on LinkedIn.
---
Shraddha Khadgunchi
To stay positive and keep your team motivated at the workplace with high enthusiasm this is something Shraddha Khadgunchi is a leader at. On the other hand, through her articles on LinkedIn and posts she shares as well as reflects her motivated positive attitude.
Currently with her expertise in employee engagement and people management she is an HR manager at Upsquare Technologies. You can follow her on Linkedin and keep learning from her.
---
Top Human Resources Influencers of Learning and Development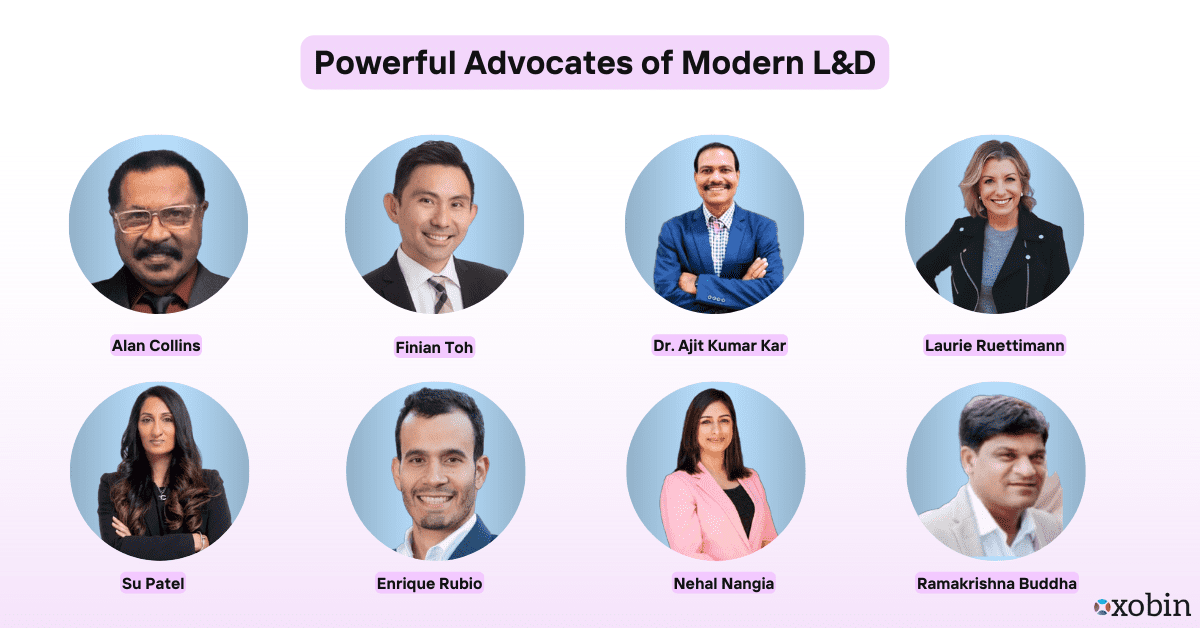 Alan Collins
If you are an HR professional and want to become the best version of yourself and accelerate your career Alan is the mentor you are looking for. With his 25+ years of talent development experience he is one of the top human resources influencers. Also, he is in Fortune 100 companies today he is the author of 3 best selling books. The new HR leader's first 100 days, HR Interview Secrets, Unwritten Rules.
Today, as FOUNDER of Success in HR he provides career advice to 11,000+ worldwide subscribers. Over the past ten years, he has written 11 books and 200+ articles and white papers on HR contributing in HR communities learning and development.
To know more about Alan you can visit Success in HR and learn from the best in the field. For interesting updates from him you can follow him on Linkedin or subscribe to his newsletter.
---
Finian Toh
As the captain of your career you live with your choices to guide you better with these choices you need a coach. Finian Toh is that guide for human resources influencers. Finian is a knowledgeable subject matter expert in HR who has a successful track record of leading senior HR searches and provides deep insights into HR market trends, talent landscape and astute career planning advice for HR professionals.
In his latest article he talks about how HRs can navigate their career path. His focus is on senior level appointments across the full spectrum of HR functions in local and global multinational organizations across the Asia Pacific Region.
Currently Finian is a Managing Director with ChapmanCG based in Singapore. He brings with him more than 18 years of industry experience. You can follow him on LinkedIn for more insights.
---
Dr. Ajit Kumar Kar
As employees want greater flexibility, empowering managers, cultivating an outcome-oriented attitude is a challenge for HR professionals. In his article on ET, Dr. Ajit Kumar talks about Managing Evolving Challenges at Hybrid Workspace.
Dr. Ajit Kumar Kar is a Global Coach, Certified LinkedIn Social Selling Professional, Certified Design Thinker, an NLP Diploma Holder, NLP Master Practitioner & NLP Coach, ICF Certified, Member – ANLP International C.I.C – UK, Board Member NLP Guild, Member – AUNLP – USA, Member Board – Australian – New Zealand Mental Health Association.
Currently he is In-Charge of Learning & Development at IMFA LTD. To learn more from him you can follow him on LinkedIn and Twitter
---
Best HR Software Solutions
Campus Recruitment Software
With our online campus recruitment software screen, hire top talents hassle-free. Everything is under one platform, from test creation to the candidate's evaluation. from test creation to the candidate's evaluation.
Rating 5.0
Based on 321 user ratings
API Integration by Xobin
Get integrated and harness the strength of robust assessments with Xobin APIs. Save sweat and time and focus on your core offering, not building your assessment stack. from test creation to
Rating 5.0
Based on 321 user ratings
Coding Skill Assessment Software
With our 100+ coding assessments on various languages such as Java, Python, JavaScript, React, Angular, etc., evaluate and hire the best-talented developers. from test creation to the candidate's evaluation. to the candidate's evaluation.
Rating 5.0
Based on 321 user ratings
Pre-Employment Testing Software:
Get access to the vast library of validated tests to screen candidates using online assessments. Simplify your recruitment process with our cloud-based Pre-employment Testing Software. from test creation to the candidate's evaluation.
Rating 5.0
Based on 321 user ratings
Pre-recorded Video Interview Platform:
Pre-recorded Video Interview Platform allows candidates to fully express themselves to a pre-recorded question. So that you can get more insight into candidates in far less time than a traditional phone interview. from test creation to the candidate's evaluation.
Rating 5.0
Based on 321 user ratings
Laurie Ruettimann
If you're looking for someone who can teach you about building groundbreaking solutions to drive better employment experiences. Also, increase retention rates, and improve job satisfaction Laurie Ruettimann is the chief you are looking for.
She started her career as an HR assistant. Now she is a Founder of an HR workplace an HR dedicated platform. Also, she is a writer, a speaker and one of the human resources influencers. Through her stories she teaches HR leaders and HR influencers how to create workplace cultures that support, empower, and engage workers meaningfully.
You can watch her podcast with more than 200 videos on authentic and real life work experiences. Providing tips on engaging and happier work culture. Laurie also shares great insights in her and offers tons of getaways. You can also follow her on Twitter and LinkedIn.
---
Su Patel
As part of the executive team, you understand the pressures and demands of the job. If you are striving for excellence in your career Su Patel is the mentor for you. She will listen, guide and hold you to account as you strive to level up without burnout and help you create balance across all areas of your life.
She is the author of the book 'Putting The Human Back Into HR: Success as an HR professional begins with you'. In this book Su Patel shares the 5 areas HR professionals need to master to be effective in their role, along with practical advice to develop a more balanced approach while making a positive impact on any business and the people who work there.
To know more on how she contributes to the Learning and Development of HR professionals. You can follow her on LinkedIn and Twitter.
---
Enrique Rubio
If you are passionate about Human Resources, People Operations, Technology and Innovation. Enrique is that guide and an Electronic Engineer, Fulbright Scholar and Executive Master in Public Administration with a focus on HR. On the other hand he is founder of Hacking HR, a global community of HR leaders and practitioners.
Connect with him on LinkedIn and know more about Human Resources, New trends, People Operations, Technology and Innovation.
---
Nehal Nangia
Nehal brings in 15 years of professional experience in human capital. With a focus on talent and performance management. Also, employment value proposition, workforce transformation, and DE&I. So she is an expert
She specializes in enabling HR executives to achieve strategic business objectives and talent outcomes. Also, she drives empirical research on key workforce related topics, and the development of actionable insights, tools, and powerful stories for today's talent executives.
In her current role, Nehal Nangia is the Research Director at the Josh Bersin Company. You can follow her on LinkedIn.
---
Ramakrishna Buddha
Ramakrishna Buddha leads and influences organization-wide initiatives around capability enhancement, rolling out transformation programs for domains. Also, technology, human skills and leadership development HR functions as well as crafting and executing talent solutions having tactical and strategic impact.
He has experience over 22 years in building talent functions. Also, assisted companies in Financial Services, Technology and Software across India, US, APAC and Europe.
He's a Speaker, thought leader and has been a visiting faculty for Mumbai University. You can follow him on LinkedIn.
---
Our best HR leaders in Strategic HR and Workforce Planning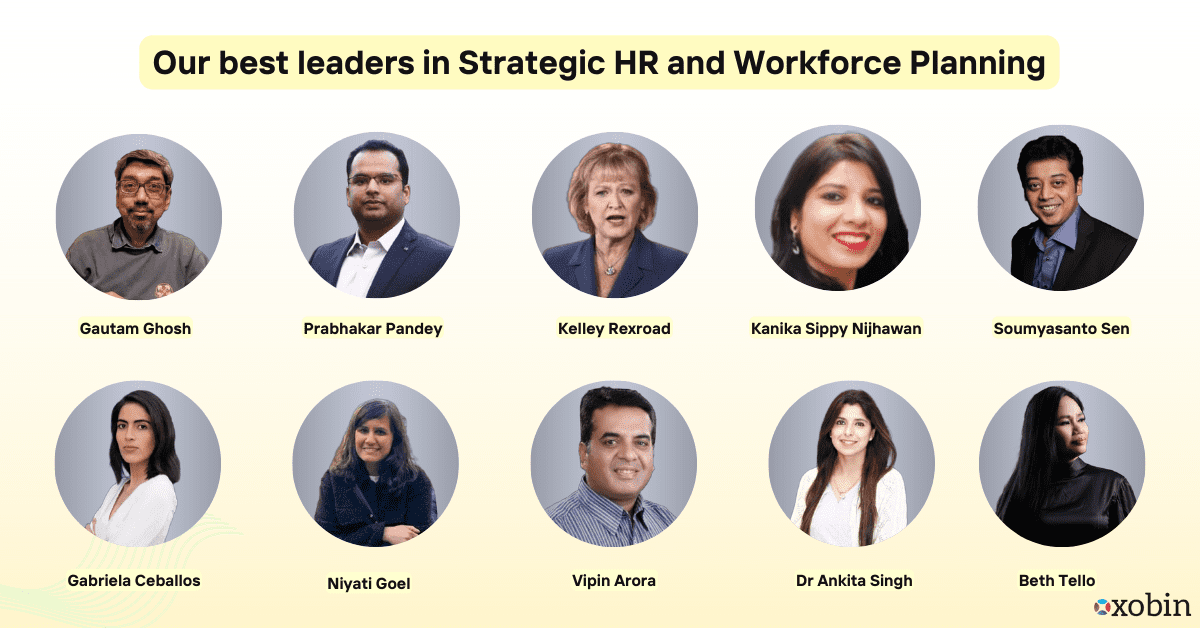 Gautam Ghosh
Gautam Ghosh is a Consultant on Digital and Social HR. He specializes in the areas of Human Resources, Organization Development and how businesses can leverage Social tools for HR. So if you want to learn He was a subject matter expert in HR.
With the power of the web, recruiters can execute faster and more accurate hires. In his one webinar he discussed the role of Employer Branding and Influencer Marketing in recruitment and talent management.
In his career he led the talent practice, advising companies on strategic talent planning & workforce planning. For more updates from him you can follow him on LinkedIn.
---
Prabhakar Pandey
With over 17 years of HR experience in leading Service Delivery and Solution design of People Analytics, HR Business Intellegience and HR Technologies projects/Enhancements for global conglomerates. Prabhakar is a seasoned, highly skilled and result-oriented expert.
Over these years, he has honed his skills as a domain expert by setting up global people analytics, deploying HR Analytics. He aims to share his knowledge of analytics with beginners as a guide via blogging.
Currently he is an Associate Director, HR and REFS Analytics at Novartis. To keep in touch with the vast knowledge he shares, follow him on LinkedIn.
---
Kelley Rexroad
If you are looking for a leader who helps align and build workplace communities. Identifies, develops, and implements tailored succession plans. Modifies and coaches through her podcasr behavior through appropriate analysis, reinforcement, and changes in environment. Kelly Rexroad is the leader you need.
With more than 30 years of studying data, changing behaviors, and leading people. She has a strong understanding of systems and their interactions. Also, she is one of the human resources influencers in sharing creative strategy and tactical execution with her podcast. She believes in compliance as the fundamental on which a strong foundation is built.
She is a nationally published author who is a much sought-after speaker. Recognized with multiple awards. You can follow her on LinkedIn.
---
Kanika Sippy Nijhawan
If you are looking for someone to re-engineer your HR Systems & Processes. Also, if you are in need of someone to build your HR function from scratch? Kanika Sippy is the person for you.
She is a person of passion for everything that she does. Also, she enjoys tackling new challenges and keeping up with the trends. She has led her team keeping in mind the future rather than just resolving current issues.
She has been in the field of HR for over eleven years now and she is a Head HR at Staqo World Private Limited. You can follow her on LinkedIn.
---
Soumyasanto Sen
To master a skill you have to learn from the best. Soumyasanto Sen is the leader and one of the top HR influencers of tech. With almost 20 years of experience in advisory, management, and research in technology and transformation. So, by creating a strategic approach for sustainable transformation which goes beyond conventional digital HR propositions.
He is an author of Digital HR Strategy, Transformation, keynote speaker and mentor for startups. Also, he is a Top leader across various large firms worldwide in America, EMEA, and Asia-Pacific.
His book is crucial reading for all HR practitioners and leaders wanting to ensure that their organization adapts to this changing and increasingly competitive environment with the help of case studies. You can follow him on LinkedIn and Twitter.
---
Gabriela Ceballos
Gabriela Ceballos, began her professional career in consulting at Deloitte, but a change within her job at Uber made her pursue her dream of creating her own artificial intelligence startup, called Hitch.
She is an amazing leader and talks about HR technology, HR leadership and AI in work. You can follow her on LinkedIn
---
Niyati Goel
With 11+ years of experience in verticals across the HR function Niyati Goel is a SPHR Certified Leader. SHe is an HR 40 under 40, a speaker, panelist.
Niyati is Keynote speaker at several International HR forums. She is advisor to DEI start-up and Board member to non-profit organization working for the causes of poverty alleviation, women empowerment and child literacy.
Currently she is a Sr. Director Human Resources at Tatcha ( Unilever Prestige). If you want to learn Organizational Transformation, Change Management, and HR Strategy in complex multi country and high growth Start-Up environments she is one of the hr influencer you need. You can follow her on LinkedIn.
---
Vipin Arora
Vipin is a multifaceted professional with vast work experience of 28+ years. He has worked across diverse industry segments like projects organization, manufacturing set-up and service sector.
Currently he is a Managing Director at InvokHR Solutions Private Limited. Expertise in providing HR solutions with Sound Bites in different business cycles – start-ups, expansions, integration. He is one of the HR influencers in leading big complex projects of HR Strategy deployment, Policy Framework, Innovative Compensation solutions and Benefits harmonization.
He is also a Guest faculty/speaker in various management institutes and professional forums and also served as Jury member of professional awards. You can follow him on LinkedIn for more bites on HR.
---
Dr. Ankita Singh
Truly understanding your niche is an important step towards to be a great leader Dr. Ankita Singh knows this best. She is known as the person that popularized and excelled in establishing innovative and competitive initiatives. She has been recognized in different prestigious platforms for her contribution and excellence in the field as one of the HR influencers and as a HR leader.
If any company has an organized leader, the entire team performs well and functions properly. Dr Ankita Singh is the Senior Vice President & Global Head HR, IT, Admin and Travel| CHRO at CIGNEX and the Founder of the HR Association of India, is an absolute classification of transformational leadership intellect and one of the top HR influencers.
She believes in driving organizational culture and values through PEOPLE, not processes alone. On the other hand, apart from her professional excellence, Ankita is very active in supporting social causes by working closely with various NGOs. Also she is an avid traveler and passionate photographer. You can follow her on LinkedIn.
---
Beth Tello
Beth Tello is an experienced HR Business Process Manager. With a demonstrated history of working in the finance, higher education and manufacturing industries. She is a Head of People & Talent at Pure Watercraft, Inc.
She is skilled in HR Transformation, Analytics, Team Building, Leadership & Organization Development. Also, in succession planning and HR IT Business processes. With her writings she questions companies about the interview process for introverted candidates. For more updates from her you can follow her on LinkedIn.
---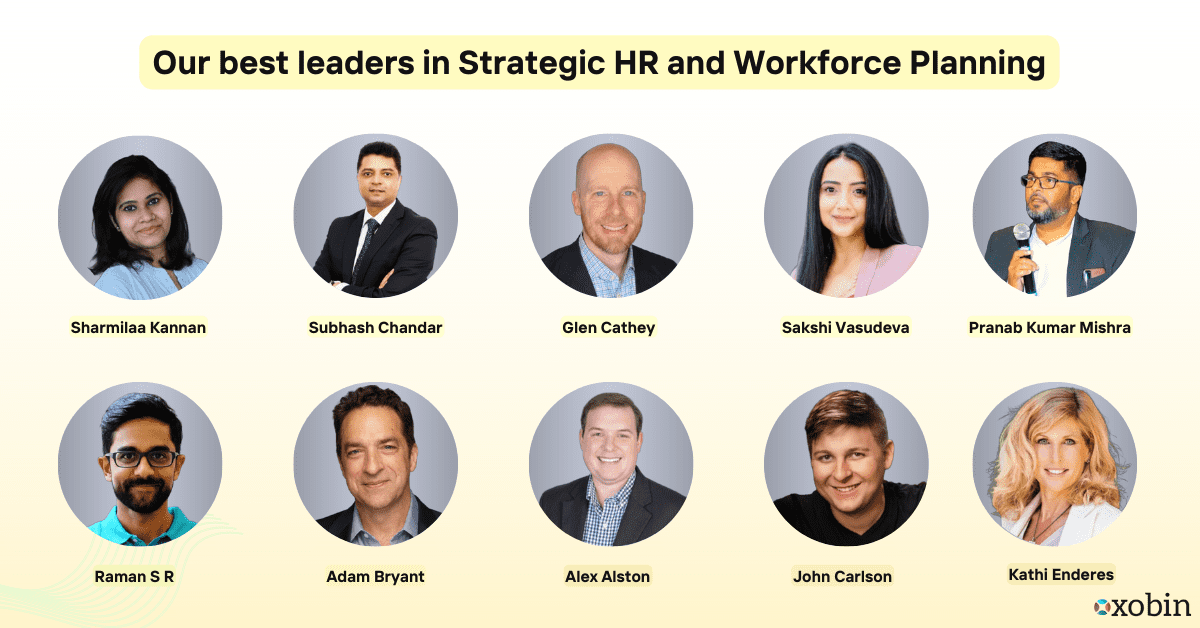 Sharmilaa Rajesh Kannan
Sharmilaa is a strategic HR leader with over 18 years of cross-functional exposure across diverse industries including Life Insurance, General Insurance, Mobile Applications & BPO / ITES. One should always have her skills of assessing performance and analyzing human resource health during complex business challenges with laser focused work-ethics and impactful communication.
Currently she is a VP- HR at Kensium. So, her core expertise lies in working with C-suite, Setting up business verticals and functions from scratch. Also, client management, leading large teams, training and development, building operational capability, and driving strategically focused projects for improvement. You can follow her on LinkedIn for more interesting updates from her.
---
Subhash Chandar
With over 29 years of amazing experience with some of the finest Fortune 500 organizations. As a result, Subhash has been responsible for heading and reshaping them with robust People Strategies. Also, with his skills in people management, Organization Development he handled a large workforce of over 9000 personnel across the globe makes him one of the top hr influncers.
He believes that leadership begins when you empathize with your front line, understanding their issues. strengths and focusing on creating the best Employee Value Proposition. He is a speaker for the upcoming Global HR summit of 2023 at Prague. Currently he is Global CHRO at Laminaar Aviation Infotech. Also, he is a long-awaited speaker for more upcoming HR summits in 2023. You can follow him on LinkedIn and keep up to date with him.
---
Glen Cathey
If you are passionate about making a difference, diversity, inclusion, sourcing & recruiting, digital strategy, performance and solving problems Glen Cathey is the guy for you.
He is strategic thinker, talent acquisition leader, global keynote speaker and served as the thought leader for sourcing and recruiting strategies. On the other hand, he has been a conference keynote speaker for 10X LinkedIn Talent Connect makes him one of the top hr influencers. Also, he is a strong advocate for quality over quantity.
Presently, he is an SVP, Workforce Advisory and Digital Strategy at Randstad. You can follow him on LinkedIn to keep updated with Glen.
---
Sakshi Vasudeva
Sakshi Vasudeva is a trusted HR Professional with a proven track record of 14 years. She is specialized in driving the strategic performance & productivity of the organizations, formalizing Policies, designing initiatives. Also, she has written more than 50 interesting LinkedIn articles.
Currently she is an independent HR consultant expertise in facilitated conversation programs and organization design. strategic manpower planning; Human Capital analytics & Organization Effectiveness. Follow her on LinkedIn for more updates from her.
---
Pranab Kumar Mishra
According to Pranab, employees are the machines of businesses. As well as it's vital that they create cultures in which they can thrive. This shows, as an HR professional, Pranab Kumar Mishra knows how important his role is in regard to employees and the success of the business.
Specialized in HR strategy, People Analytics, Digitization of HR processes/ HRIS, Compensation as well as Benefits he is an expert. Currently Pranab works as Director Human Resources at CriticalRiver Technologies Private Limited. So, follow him on LinkedIn to read what he writes and keep updated with him.
---
Raman S R
With his mission to help build sustainable people-centric companies he is an HR practitioner. Raman is responsible for articulating and executing the people's vision, values, and culture code and for heading all HR functions of the company. He streamlined the initiatives like enhanced workforce planning, fostering a culture of pride, and enabling career growth.
In an event by people matters on The Hiring & Firing Conundrum He talks about how HR can manage this double edged sword.
Currently he is Chief People Officer at Log9 and likes to read about the latest trends in HR. You can follow him on LinkedIn to know the trends and read interesting articles.
---
Adam Bryant
Adam Bryant is Senior managing director of The ExCo Group. Which is a senior leadership development as well as an executive mentoring firm. Prior Adam worked for 30 years as a journalist. Interestingly, he interviewed more than 500 CEOs for "Corner Office". a series on leadership that he created in 2009.
Today he continues to conduct leadership interviews on LinkedIn with CEOs, board directors, prominent Black executives and chief human resources officers. Overall, this channels have more than 160,000 subscribers. In addition, he also writes a monthly column for Strategy+Business magazine.
Adam is the author of three books based on the themes that have emerged from his interviews and consulting work. His new book is THE CEO Test: Master the Challenges that Make or Break All Leaders. There is a lot you can learn from him by visiting his LinkedIn.
---
Alex Alston
Alex Aston brings over 15 + years of experience in hospitality developing teams, surpassing projected goals and demonstrating innovative problem-solving. He has a passion for creating engaging training programs and motivating both teams and individuals to optimize their performance potential.
In the beginning, prior to jumping into his current role as corporate director of HR with Presidian Hospitality, Alex worked for over three years in the human resources field as a training and development manage. Also, additionally works as a hotel HR director in his current role. As well as Alex is responsible for recruitment, retention, payroll, compensation, labor relations, and policy interpretation. So, to learn more from Alex you can follow him on LinkedIn.
---
John Carlson
When someone's work enables leaders and their organizations to empower their employees. Also, to do their best work, make them feel safe, valued, accepted and equal in all they do, everyday. Because of these all perks John is that person to look up to.
He is a Keynote speaker, strategic, writer and influential leader with extensive experience. Also, he helps in building and leading teams within global organizations. In this case, he guides people as well as organizations to thrive in their culture in their bottom line. You can follow him on LinkedIn.
Not everyone gets a chance to work globally but Kathi Enderes is an exception. She is a SVP Research and Global Industry Analyst with The Josh Bersin Company.
---
Kathi Enderes
Kathi has a combination of global leadership experience of more than 20 years in consulting, industry, and research on human capital, organizational culture management and change management and talent approaches.
She is obsessed with making work better. Recently, Kathi led talent and workforce research at Deloitte. Where she led many research studies on various topics of HR and talent and frequently spoke at industry conferences. Follow her on LinkedIn to learn more from her.
---
Our top Talent Management HR Influencers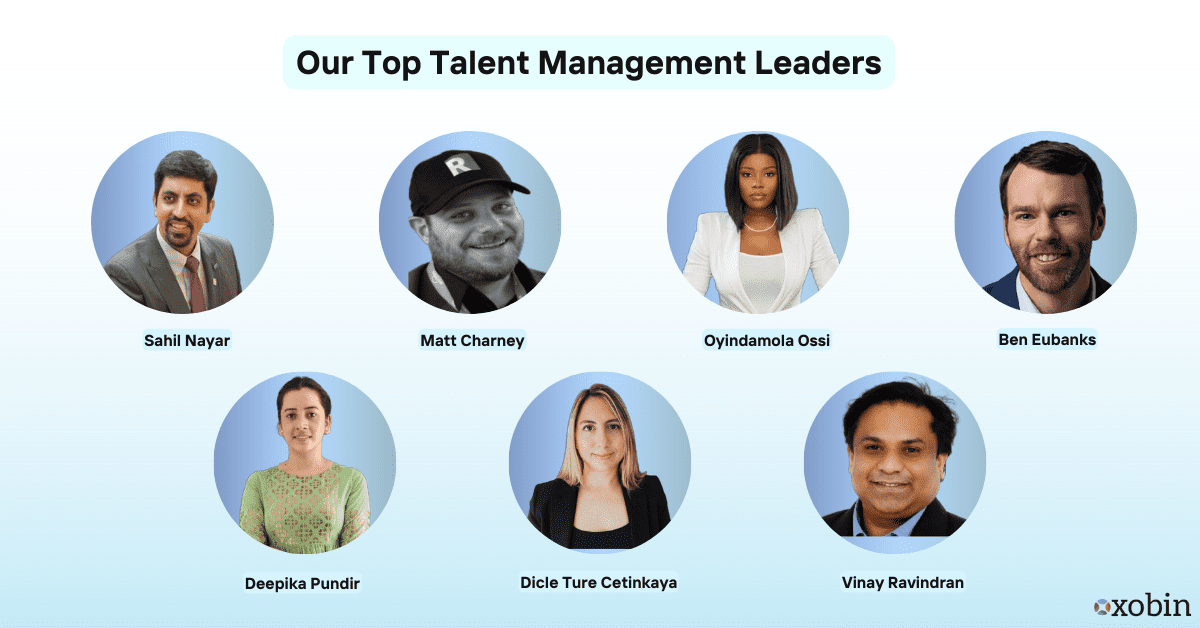 Sahil Nayar
From being a Certified NLP, MBTI and Design Thinking Practitioner, speaker to taking the time out to listening in to the junior most colleagues. Notably, Sahil Nayar is all that for over the last 12 years.
He is a curious human being who chanced upon HR and wondered about why the function suffered from a credibility crisis. Building an Employer brand, leading as well as engaging high performing teams are his forte. He speaks vividly about how organizations can stay at best mentally.
Therefore, you can follow him on LinkedIn for more. In addition, he is a regular columnist in various leading HR magazines, a keynote speaker across Industry and one of the top hr influencers. Also, on academia bodies and a visiting faculty at MBA colleges across the country.
---
Matt Charney
Matt is the Talent Acquisition Leader for HR.com. He is one of the best hr influencers. Also, he runs point on editorial strategy, content creation, industry relations, podcasting and blogging.
Matt has worked with some of the world's biggest brands as both a recruiting and marketing leader. In addition, Matt's personal blog has been recognized by WordPress as one of its top 20 business blog recommendations, and he has been recognized as one of the top hr influencers in HR Technology.
Overall, there is a lot to learn from him. So, follow Matt on Twitter or connect with him on LinkedIn.
---
Oyindamola Ossi
A true self-starter HR generalist with over 10 years' experience. Overall, Oyindamola Ossi expertise's across all HR functions. Also, labor and employment laws, International Mobility, Stakeholder Management, HR policies and procedures development and many more.
She comes from a Business professional background before deciding to take up a career in Human Resources. Now she works with a diverse cross-functional, multicultural team with a strong appetite for high-end performance. In her free time she writes articles, speaker at events on topics covering Leadership, Work-place Productivity, Career and Personal Development.
Currently, She is a Group, HR Manager [EMEA] at Aldelia Limited. So, follow her on LinkedIn to connect with her.
---
Ben Eubanks
If one has dreamed for it long enough and waited and worked on that dream surely they will live that dream. Ben Eubanks is that person who dreamed of being in HR and now he is one of the top HR influencers.
Presently, Ben is an expert speaker on the future of work as it relates to talent, technology, and innovation. His speaking has reached over a hundred thousand business leaders in the last 10 years on physical and virtual stages notably. Also, he's an author on artificial intelligence debuted at the #1 spot. Also, He works with HR, talent, and learning leaders across the globe to solve their business challenges with a research-based perspective tempered by practical, hands-on experience.
Previously an HR executive for a global technology startup on the other hands, he currently heads up research and operations at Lighthouse Research & Advisory, a human capital advisory services firm. Hence, he is one must follow leader for HRs on LinkedIn.
---
Deepika Pundir
We have all experienced the woes of job searching, making a perfect resume, landing our desired job, and making that positive impact at work. In her blog Deepika Pundir has written about all the mistakes to avoid in career path.
Deepika Pundir is currently a HR Manager at Bizdesire. She brings more than 3 years of industry experience and expertise in handling the entire recruitment cycle and maintaining cordial relationships with employees. Follow her on LinkedIn to connect with her.
---
Dicle Ture Cetinkaya
In her recent article, Dicle Ture Cetinkaya shared her thoughts on KPIs to run a quick gender equity audit in your company. She notably, thinks of these KPIs as like a health check-up for your company. And we all agree!
Dicle Ture Cetinkaya is Founder and People & Culture Advisor at Tech Talent Hub. As a result, She helps build People & Culture functions for early-stage startups. Also, helping scale their business by creating people strategies. Follow her on LinkedIn to know more from her.
---
Vinay Ravindran
With a career objective of becoming a Transformational HR Leader within a dynamic organization, Vinay Ravindran is leveraging his deep understanding of business needs. Also, with extensive experience in human resources he is driving HR projects from concept to completion. Also, working independently while building strong relationships with clients as well as teams across organizations.
Skilled in driving HR initiatives at the strategic, tactical as well as operational level. Currently he is a Senior Manager People and Culture at SG Analytics. Additionally, he is passionate about exploring the opportunity to implement balanced scorecard, employee value proposition (EVP). As well as, psychometrics, HR analytics, employer branding, HR benchmarking HR digitization.
Know more about him via his blog as well as follow him on LinkedIn.
---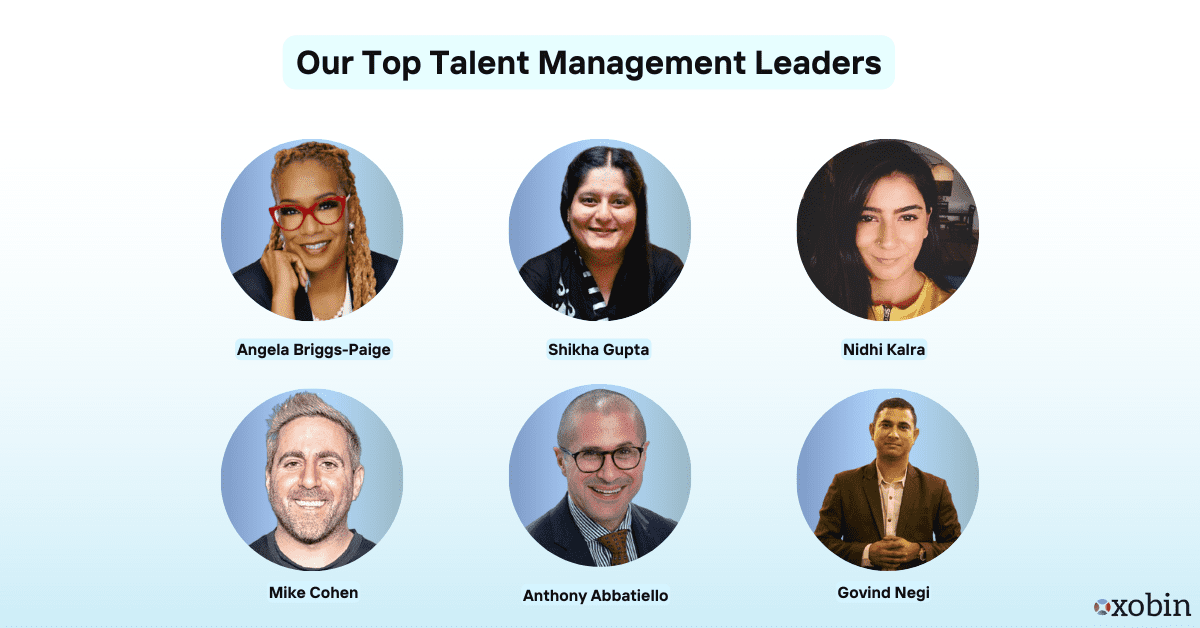 Angela Briggs Paige
Angela Briggs Paige leads the People and Culture team at Opportunity@Work. where she is responsible for driving a people-first strategy that is grounded in Opportunity@Work's mission to rewire the U.S. labor market.
With more than 20 years of experience in recruitment, retention and development, Angela brings out results with her purpose and performance excellence through people.
In Angela's spare time, her hobbies include being a speaker on several HR related podcasts, reading, learning. Follow her on LinkedIn to know more.
---
Shikha Gupta
Shikha Gupta is an HR leader with experience across a gamut of Human Resources functions in the IT sector. She has a strong background in corporate HR activities, organizational development, and effective communication at all levels. She shares her perspective on diverse topics on her Youtube channel with innovative problem solving methods.
Currently she is a Senior Director of Talent Acquisition at Birlasoft Limited. Involved in leading and motivating the HR function. Also, developing a coherent forward thinking HR & operations strategy, in line with the changing organizational needs.
By all means, you can follow her on LinkedIn to get interesting updates from her.
---
Nidhi Kalra
Nidhi is a multi-skilled person who has chosen to let two of her talents be experienced by the world. currently a Director as well as a Founder of Its All About People OPC Pvt ltd. She speaks vividly about her journey here.
Prior to her current role she was a partner at Helix-Hr, contributing toward making it the most sought after recruitment firm in the Market Research space. After that she started an executive grade HR recruitment firm, ITAAP (It's All About People). In conclusion, follow her on LinkedIn to know more about her.
---
Mike "Batman" Cohen
Mike "Batman" Cohen is the Founder of Wayne Technologies, a Contract Sourcing and Recruitment Training Company. Mike's approach to sourcing is based on deliverables, transparent data, and using multiple sources to find the greatest diversity and quality candidates.
Throughout his career he's learned several things that he is committed to paying forward. He has worked with a diverse group of top US clients. Also, he is a speaker advisor, trainer who talks about sourcing & recruiting
In addition, he contributes articles to RecruitingDaily as well as helps run SourceHouston and many more. Hence, follow him on LinkedIn to learn more from him after.
---
Anthony Abbatiello
Anthony Abbatiello is a Partner, Head of Human Capital practice at PwC. He has the fortunate opportunity to lead the human capital consulting business as well as workforce transformation, for the firm.
Anthony brings over 25 years of P&L management, leadership consulting and human capital experience to advise senior clients in all industries. He notably talks about client issues around HR strategy as well as workforce transformation, behavioral change including rewards and well-being. So, he is a proven operational leader who is relentlessly passionate about driving growth in the business at the intersection of talent, human resources and digital.
Hence, if you want to know more industry insights connect with Anthony on LinkedIn.
---
Govind Negi
Govind Negi is a dynamic professional with rich experience of over 22 years in Business Strategy and Talent Management. Currently, he is a Head of Talent Europe and Asia at 3Pillar Global.
He shares his expertise in implementing strategic HR Policies and Procedure. Also, Performance Management System as well as most of the HR operations. He is a speaker and an award winning leader.
Notably, Govind is also a founder of HR Success Talk which is a global community of HR influencers and Business Leaders with 150,000 members. Also, he is passionate about building culture in an organization which supports companies to grow. So, what are you waiting for follow him on LinkedIn.
---
Summary
To summarize, we had really a great time conducting campaigns as well as receiving nominations from HR leaders all across the globe. Thanks a lot to all who took their time out and responded to our campaign and supported throughout the journey.
In the end, to sum it all up this is our list of Top HR influencers and HR leaders of 2023. In the meantime you can take a look at our previous HR influencers list of 2020, 2021 and 2022. Meanwhile, if you feel someone's information is wrong and needs to be updated, feel free to reach out to us. Until then Ciao!!