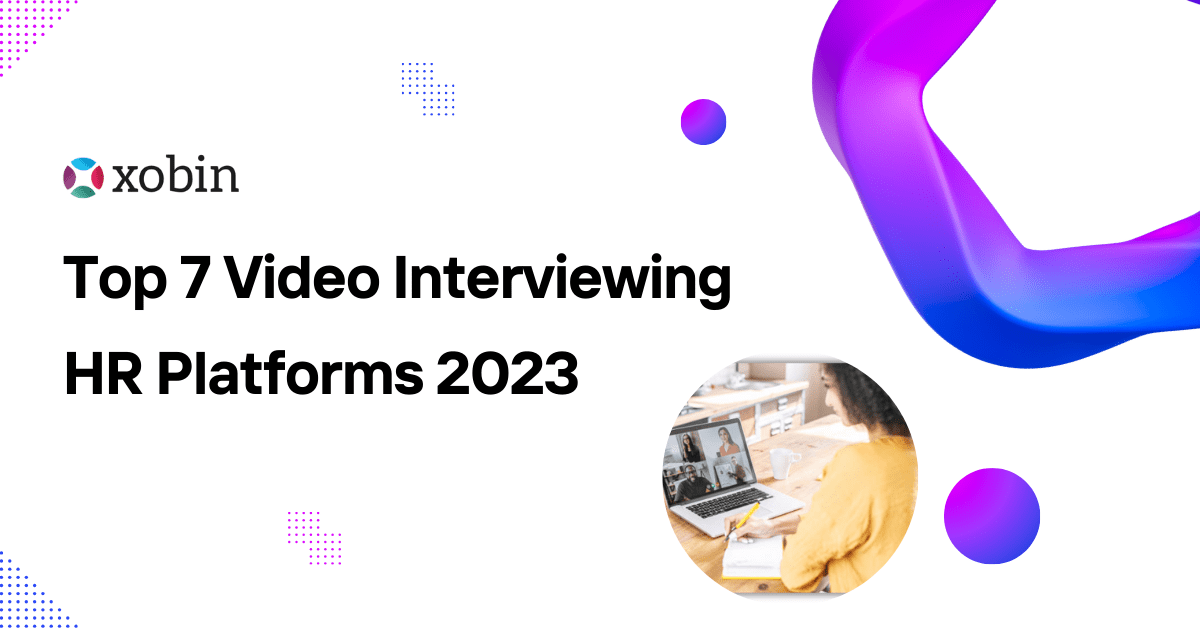 Most businesses have embraced remote working and remote interviewing in recent times, especially after the pandemic. It is convenient, quicker, and easier to conduct interviews anywhere. There are more advantages to video interviewing on HR platforms than maintaining social distance. If you are conducting interviews online, then there is a need to hire more HR managers who can reach more job seekers wherever they are in the world.
And data shows that 60% of HR managers use video interviewing solutions, when it comes to delivering interview questions to shortlist the best candidate.
In recent times, Software-as-a-service (SaaS) models and video interviewing solutions have become the logical next steps for modern recruiters. In a recent report from Gartner in April 2020, 86% of organizations started opting for virtual technology for the hiring process, which was around 60% before COVID-19.
 Looking for Skill Assessment Software? Check out the best skill assessment software.
Video interviews put non-local candidates in the hiring pool. And this becomes the greatest advantage for people who are searching for jobs at any time in the local area.
Video Interviewing HR Platforms: Key Features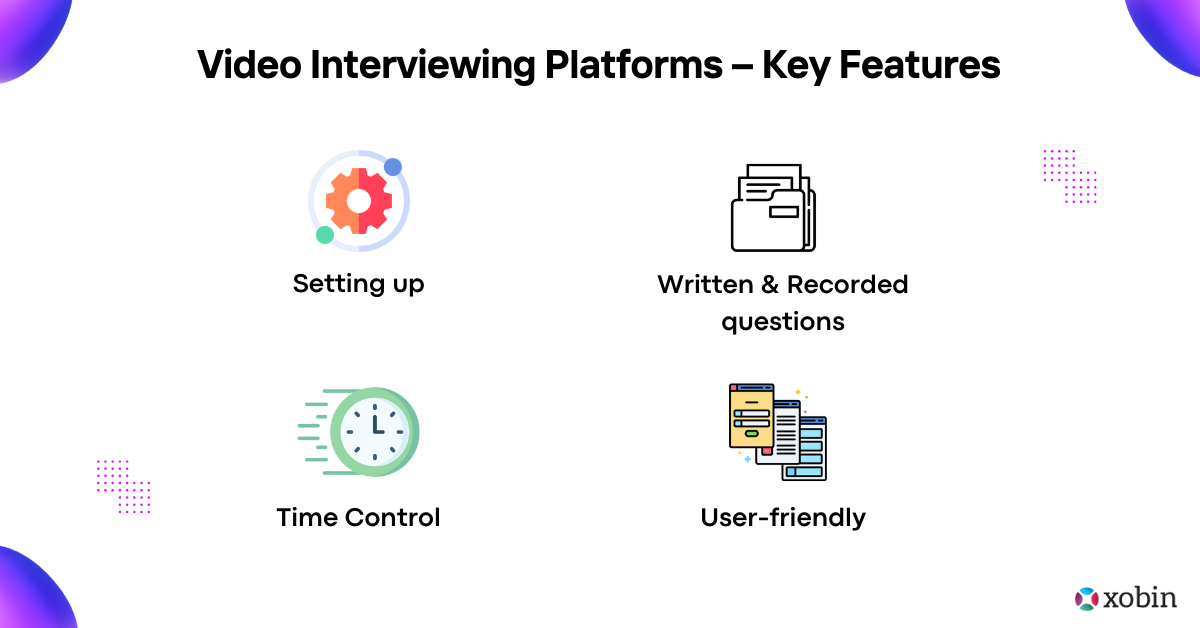 Setting up: The best video interviewing HR platforms will set up interviews where candidates answer pre-written questions on camera. Also, you can review the footage later.
Written and Recorded questions: The platform provides HRs with the ability to test candidate knowledge using different question types and templates.
Time Control: Some interview questions are meant to be performed under time constraints,. Also, the best video interviewing software will have in-built mechanics.
User-friendly: The interview process should be imperative to set up as well as usability should be user friendly for first-time users.
Now we will get into the top video interviewing HR platforms for you to recruit candidates.
Xobin is one of the top video interviewing HR platforms. Also, Xobin offers simplified assessment solutions in recruitment process with its latest innovations in the HR tech sector.
Key Features:
1. Live Video Interviews: Xobin likely offered the ability to conduct live video interviews, allowing recruiters and candidates to connect in real-time through video calls.
2. Pre-Recorded Interviews: Xobin may have allowed recruiters to send pre-recorded interview questions to candidates, who could then record and submit their responses at their convenience.
3. Interview Scheduling: Users of Xobin might have been able to schedule video interviews with candidates directly through the platform, simplifying the coordination process.
4. Video Interview Recording: The platform may have provided the capability to record and store video interviews for later review and assessment.
5. Interviewer Collaboration: Collaboration features might have allowed multiple interviewers or team members to participate in and review video interviews.
6. Skill Assessment Tests: Xobin might have offered a library of pre-built skill assessment tests across various domains, aiding in candidate evaluation.
7. Custom Test Creation: Users may have had the ability to create custom assessment tests tailored to specific job roles and requirements.
8. Anti-Cheating Measures: To maintain the integrity of assessments, Xobin may have implemented anti-cheating features, including webcam proctoring and secure browser mode.
9. AI-Powered Analytics: The platform could have provided AI-driven analytics and insights into candidate performance and assessment outcomes.
Best HR Software Solutions
Campus Recruitment Software
With our online campus recruitment software screen, hire top talents hassle-free. Everything is under one platform, from test creation to the candidate's evaluation. from test creation to the candidate's evaluation.
Rating 5.0
Based on 321 user ratings
API Integration by Xobin
Get integrated and harness the strength of robust assessments with Xobin APIs. Save sweat and time and focus on your core offering, not building your assessment stack. from test creation to
Rating 5.0
Based on 321 user ratings
Coding Skill Assessment Software
With our 100+ coding assessments on various languages such as Java, Python, JavaScript, React, Angular, etc., evaluate and hire the best-talented developers. from test creation to the candidate's evaluation. to the candidate's evaluation.
Rating 5.0
Based on 321 user ratings
Pre-Employment Testing Software:
Get access to the vast library of validated tests to screen candidates using online assessments. Simplify your recruitment process with our cloud-based Pre-employment Testing Software. from test creation to the candidate's evaluation.
Rating 5.0
Based on 321 user ratings
Pre-recorded Video Interview Platform:
Pre-recorded Video Interview Platform allows candidates to fully express themselves to a pre-recorded question. So that you can get more insight into candidates in far less time than a traditional phone interview. from test creation to the candidate's evaluation.
Rating 5.0
Based on 321 user ratings
Zoom is a video-conferencing platform that offers simplified video conferencing and messaging across any device.
Key Features:
1. Zoom is easy to use, has gained worldwide popularity, and has become an industry standard.
2. In work spaces and everywhere, Zoom Meetings are the most popular one because it makes it easy for both the candidate and HR since it's accessible on any device and people know how to use it already.
3. Free Zoom Meetings can host up to 100 participants, so group interviews are a possibility.
4. Zoom makes everything available on a platform to get started within minutes when an interviewer sends an invite link.
5. The basic package has a 40-minute meeting limit for more than three participants.
6. There are no time limits for videos on a paid plan, as well as the solution offers in-app private and group messaging systems.
7. Zoom Meetings costs $149.90/year/license and offers other services such as Zoom Phone, Zoom Video Webinar, Zoom Rooms, and Zoom United, each with their own pricing plans.
8. Zoom also has a free forever plan.
myInterview is a premium Video Interview Provider operating globally.
Key Features :
1. Platform myInterview is completely mobile responsive, so there's no need for applicants to download a separate app.
2. MyInterview is GDPR compliant and offers support both for interviewers and candidates.
3. You can integrate myInterview into your ATS or use it as a standalone video interviewing platform.
4. You can also customize your branded profile, set the interview questions, and invite candidates.
5. MyInterview offers a forever free plan that includes 1 job, 2 user seats, and up to 30 candidates.
Hireflix is a leader in the one-way video interviewing space, sporting a minimalist and modern interface that's super easy to navigate.
Key Features :
1. HireFlix is simple and frictionless.
2. Candidates can take the interview from any country, at any time as well as from any device or browser.
3. No application, log-in, or registration is required.
4. According to users, Hireflix is super easy to implement, can be deployed immediately, requires no technical knowledge as well as provides excellent customer support.
5. Hireflix provides a multi-language candidate experience.
6. It supports more than twenty languages, including English, Spanish, French, Polish, German, and more.
7. Excellent features for one-way video interviewing (think time, answer time, retakes, multi-branding, transcriptions, customizable notifications, shareable links, an open API, native integrations with the top ATSs, and more.)
8. Hireflix provides integration with various third-party tools as well as we haven't heard any complaints regarding its implementation.
9. One of the longest free trials for a product in its category.
10. Priced at $75/month after a one-month free trial, this plan is ideal for businesses with fewer than 50 employees.
Willo is all about simplifying the hiring process. Willo's video interview platform is a simple-to-use tool that companies of all sizes can take advantage of to cut down on the time their recruiting team needs to spend on interviews.
Key Features :
1. Asynchronous video interviews save your recruiting team time while allowing them to see candidates for who they are beyond a resume.
2. Extremely simple to get started and powerful enough for larger companies.
3. Transparent and affordable pricing, including a free tier.
4. Willo calculates the time your recruiting team saves each month, so you know you are getting value.
5. Willo has a free tier where you can interview up to 10 people per month.
Avature's video interviewing solution allows you to conduct both live and on-demand interviews efficiently. It also facilitates interview scheduling for group, or panel video interviews.
Key Features :
1. Avature's solution is quite comprehensive.
2. They have a full-fledged ATS with built-in video interviewing, and they offer management and onboarding solutions.
3. They also have a CRM, allowing TA teams to amp up candidate engagement and plan for future hiring.
4. Avature leverages artificial intelligence with features such as automatic talent matching and candidate ranking.
5. Avature comes with a recruiter mobile app that allows key stakeholders to perform several recruiting tasks while on the go.
6. The app also supports offline use, and syncs with the system the next time it's connected to the Internet.
7. While it is fully integrated with their broader suite, it can also be used on a standalone basis for companies just looking for video interviewing technology. 8. The pricing of Avature's plans isn't disclosed upfront.
Recright is a user-friendly video interviewing tool that can handle both live and pre-recorded interviews and also has an applicant tracking system that complements the video interviewing product. It's an effective tool for recruiters to save time and improve the recruiting process.
Key Features :
1. The Recright video interviewing tool is easy to use for both recruiters and candidates.
2. Helps recruiters save time and enhance the recruiting process by recording questions one time and sharing them with candidates instead of meeting all candidates one-on-one.
3. Provides information on which candidates make sense to meet for a personal interview.
4. Ability to have multiple users, allowing recruiters to share video information with hiring managers and other team members.
5. Great customer support.
6. Transparent pricing structure.
7. A 14-day free trial is also available.
Harver's one-way interview tool lets you customize questions for each open role as well as invite interviewees to record answers on their own time. But if you prefer two-way interviews, Harver lets you schedule those too.
Key Features :
1. Users like the variety of customizable assessments. Harver offers asa well as the ability to test a range of skills, aptitudes, and personality traits.
2. The automated candidate matching system provides you with qualified candidates that match your specifications.
3. Most users appreciate that Harver has a built-in reference checking tool with a relatively quick turn-around time.
4. The platform comes with a mobile app that lets you search for and view candidate profiles, invite candidates to apply, review their test scores, and more on the go.
5. Harver's pre-employment assessment platform lets you assess candidates, interview individual applicants, verify references, and optimize your hiring process with several built-in automations.
6. Harver offers custom pricing based on each customer's unique needs.
Wrapping Up
Video interviewing with HR platforms can be a very powerful part of your HR technology stack. This is especially true for high volume roles where you're spending a tremendous amount of time doing phone screens. However, it's worth noting that you should have a well defined strategy around how you will introduce the concept of video interviews to your candidates, and set expectations for a great candidate experience as well as how this content will be used.
Companies that simply send candidates a link to take a video interview are not going to be successful.
Software you need for all your recruitment process
1 Million +
Test takers per year
Author Bio: Ramadevi Chelliah is a freelance content and creative writer. Co-author of more than 10 books. Loves Rational books, Novels, and fiction. Being a blogger, poet, and artist makes her life colorful and satisfying, and she is also a Positive Public speaker. And, The best thing is she is a hodophile, always interested in learning and exploring exciting things.