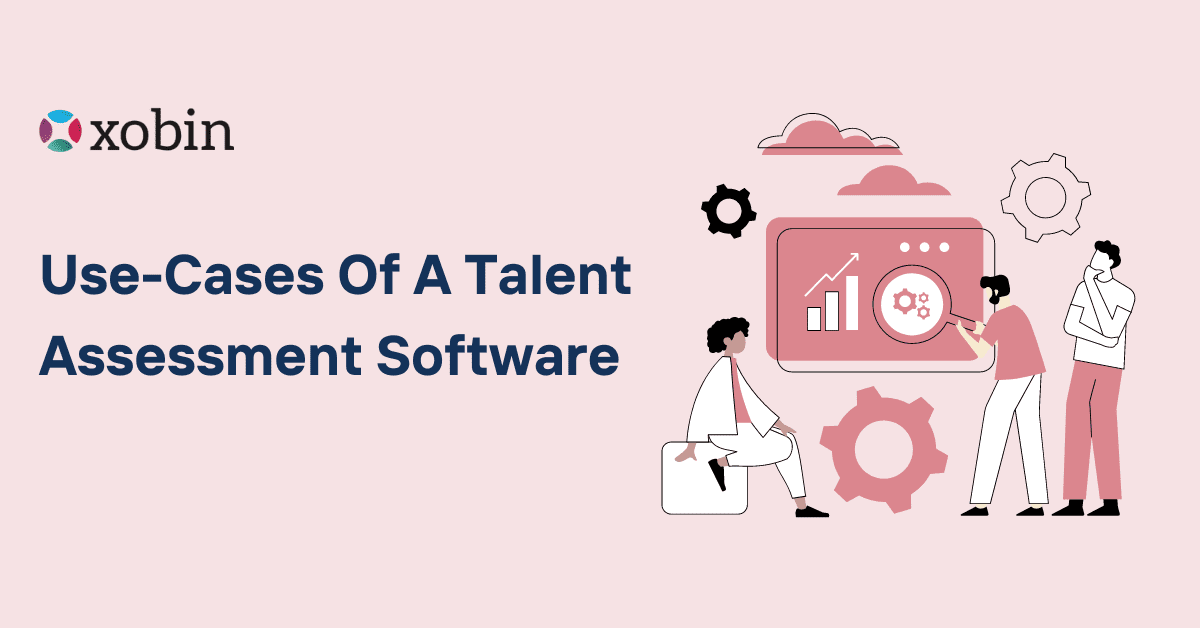 With Talent Assessment Software contributing to their lion's share of solving recruitment challenges. They are also being used for other processes in various organizations and educational institutions.
   Looking for Talent Assessment Software? Check out the best talent assessment software.
So, here are the use cases of online assessment software: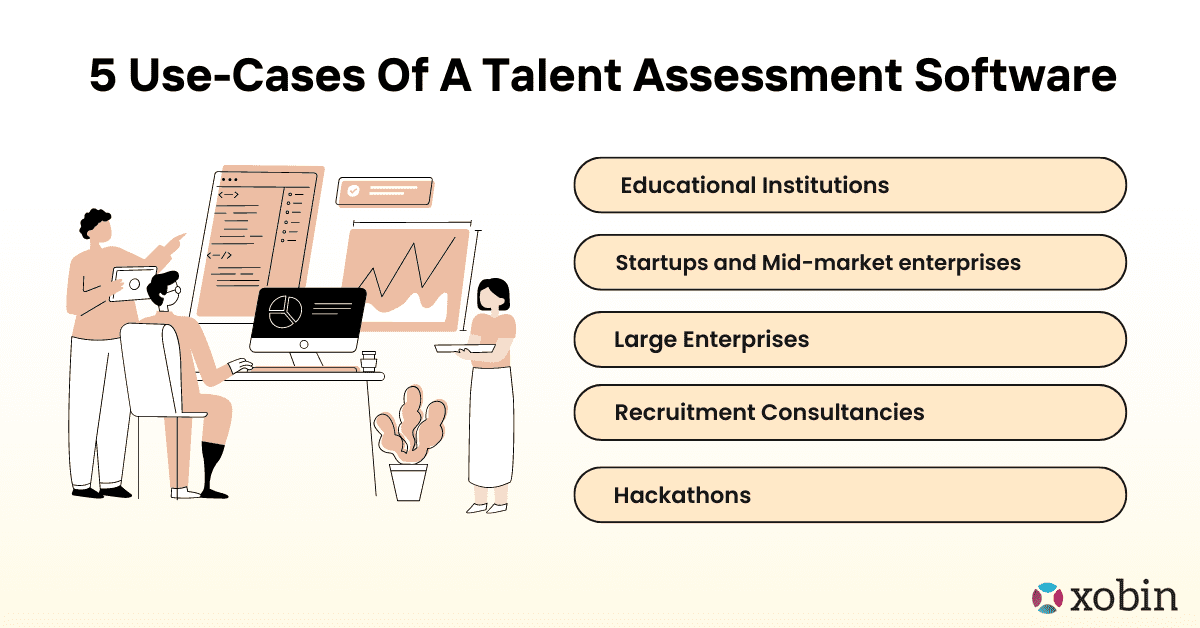 Use Case 1: Educational Institutions
The introduction of AI-enabled proctored assessments has greatly relieved educational institutions especially universities, where professional assessment software has started to take over the traditional pen-paper assessments. AI proctors have replaced manual invigilation, tracks a candidate's activity while taking an assessment. Also, educational institutions are using online coding stimulators and platforms to train students prior to campus recruitments.
Use Case 2: Startups and Mid-market Enterprises
Startups have zero tolerance for complexities and need an all-in-one solution for their assessment needs. Any startup that signs up for recruitment and/or assessment software has expected a decent ROI out of the software. At Xobin, we understand these concerns build the product with a user-friendly interface, customized assessment solutions exclusive for startups.  Our psychometric and behavioral fit assessments can predict if the candidate can adapt to the ambiguity that prevails in a startup.
Best HR Software Solutions
Campus Recruitment Software
With our online campus recruitment software screen, hire top talents hassle-free. Everything is under one platform, from test creation to the candidate's evaluation. from test creation to the candidate's evaluation.
Rating 5.0
Based on 321 user ratings
API Integration by Xobin
Get integrated and harness the strength of robust assessments with Xobin APIs. Save sweat and time and focus on your core offering, not building your assessment stack. from test creation to
Rating 5.0
Based on 321 user ratings
Coding Skill Assessment Software
With our 100+ coding assessments on various languages such as Java, Python, JavaScript, React, Angular, etc., evaluate and hire the best-talented developers. from test creation to the candidate's evaluation. to the candidate's evaluation.
Rating 5.0
Based on 321 user ratings
Pre-Employment Testing Software:
Get access to the vast library of validated tests to screen candidates using online assessments. Simplify your recruitment process with our cloud-based Pre-employment Testing Software. from test creation to the candidate's evaluation.
Rating 5.0
Based on 321 user ratings
Pre-recorded Video Interview Platform:
Pre-recorded Video Interview Platform allows candidates to fully express themselves to a pre-recorded question. So that you can get more insight into candidates in far less time than a traditional phone interview. from test creation to the candidate's evaluation.
Rating 5.0
Based on 321 user ratings
Use Case 3: Large Enterprises
Use Case 4: Recruitment Consultancies
When organizations have a huge requirement for manpower, they approach recruitment consultancies that are specialized in sourcing and building a talent pipeline. But in most cases, recruitment consultancies do not have proper check gates to evaluate candidates and end up bombarding organizations with just raw candidates from their database without clearly analyzing the organization's requirements. This process ends up straining the business relationship between the organization and the recruitment consultancy.
Hence a talent assessment software with customized assessment solutions will help the recruitment agencies. Helps in conducting basic screening tests and culture-fit tests before recommending the candidates to the organization thereby enhancing the quality of their talent pipeline.
Use Case 5: Hackathons
A significant number of organizations harness Hackathons: works like a charm for employer branding. Hence, attracting top talent pool, lower the recruitment effort, lowers the cost-per-hire metrics. Assessment and coding platforms, such as Xobin, help organizations to conduct online hackathons. Wherein candidates from any location can participate without driving to the event location. This brings in more qualified candidates into the employer's funnel.
If your organization needs an assessment platform for any of the use cases in the distant future, Xobin could be an ideal choice. Signup for a 14-day FREE trial now!