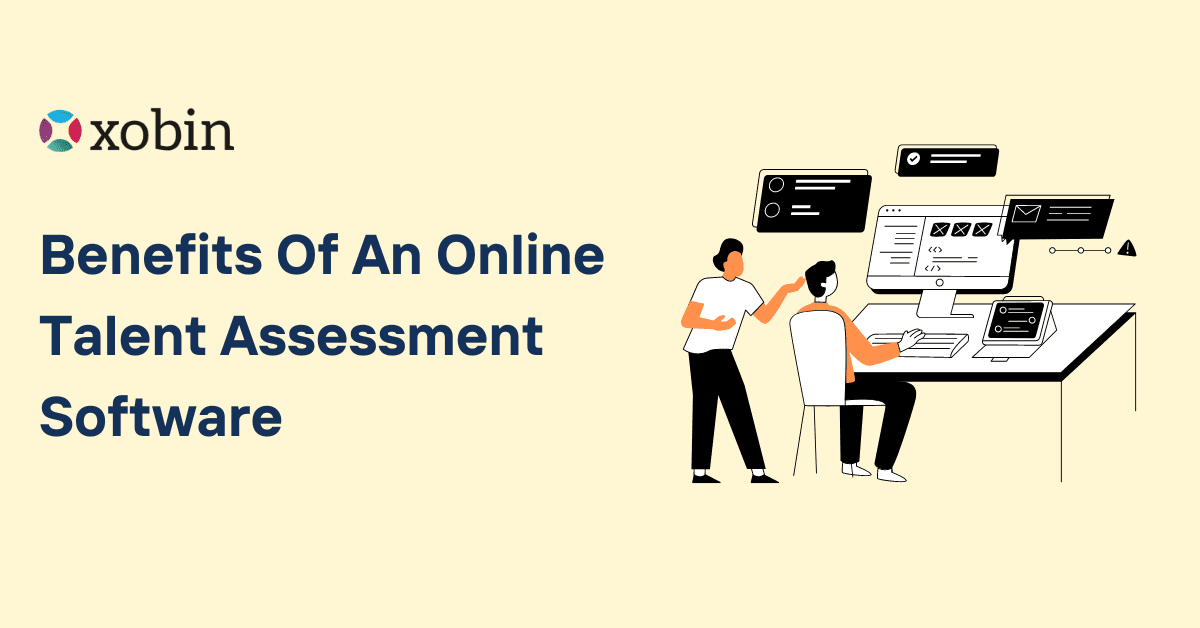 What is a Talent Assessment Software?
An online Talent Assessment Software is a standardized tool to assess and calibrate the employability of a candidate based on technical/domain skills, psychometry, and culture fit of the candidates. Online Talent Assessment Software provides an automated way for HR professionals to simplify and fasten the recruitment process. Hence, let me take you through the talent assessment software benefits.
All good, but anything that an organization invests in, be it supplies, workspace, personnel, software need to reap benefits for the organization i.e., prove a sizable ROI. Therefore, In this article, we share how organizations have benefited and continue to benefit from Talent Assessment Software.
   Looking for Talent Assessment Software? Check out the best talent assessment software.
Benefits of a Talent Assessment Software
Benefit 1: Shorter Time-to-hire
It is one of the most important metrics in the recruitment process. Time-to-hire is time taken to fill an open job position. It includes the time at which the job post is created to the time the new hire is on boarded to fill the position.
How does Assessment Software shorten the time-to-hire?
Declutters whole of the recruitment process, asks only job specific questions-to assess the key attributes and skills required for the job , thereby greatly saving the time and effort of the recruiters and hiring managers
Weeds out unqualified candidates
Instant test reports result in reduced time-to-hire
Seamlessly integrate with the ATS and HR software of the organization
Benefit 2: Lower Cost-per-hire
Cost-per-hire is the total amount of money invested to recruit a new employee. In either case, costs for hiring a new employee include investment in job sourcing, ATS, pre-employment software, the salary of recruiters.
The cost-per-hire increases if the organization fills the position with a bad hire.
Best HR Software Solutions
Campus Recruitment Software
With our online campus recruitment software screen, hire top talents hassle-free. Everything is under one platform, from test creation to the candidate's evaluation. from test creation to the candidate's evaluation.
Rating 5.0
Based on 321 user ratings
API Integration by Xobin
Get integrated and harness the strength of robust assessments with Xobin APIs. Save sweat and time and focus on your core offering, not building your assessment stack. from test creation to
Rating 5.0
Based on 321 user ratings
Coding Skill Assessment Software
With our 100+ coding assessments on various languages such as Java, Python, JavaScript, React, Angular, etc., evaluate and hire the best-talented developers. from test creation to the candidate's evaluation. to the candidate's evaluation.
Rating 5.0
Based on 321 user ratings
Pre-Employment Testing Software:
Get access to the vast library of validated tests to screen candidates using online assessments. Simplify your recruitment process with our cloud-based Pre-employment Testing Software. from test creation to the candidate's evaluation.
Rating 5.0
Based on 321 user ratings
Pre-recorded Video Interview Platform:
Pre-recorded Video Interview Platform allows candidates to fully express themselves to a pre-recorded question. So that you can get more insight into candidates in far less time than a traditional phone interview. from test creation to the candidate's evaluation.
Rating 5.0
Based on 321 user ratings
How an Assessment Software lowers the cost-per-hire?
Eliminates conventional paper-pen assessments, thereby reducing the costs on office supplies
Remote AI-enabled assessments reduce the travel expenses of recruiters during campus recruitments.
Eliminates the chances of bad hire by means of 360° assessment of the candidates.
Benefit 3: Better quality-of-hire
Quality-of-hire is the metric to gauge the technical knowledge/competency and learnability of a candidate. It is a function of the employee's performance on the job over a period of time.
How a Talent Assessment Software brings in a better quality of hire?
Remote Assessments eliminate the necessity to drive down to the organization's location and hence bring in more quality candidates into the recruiter's
Assesses both technical and culture-fit of the candidates
Assessment test reports generate a detailed SWOT analysis to map the competencies of the candidates
Benefit 4: Higher Success-of-hire
Success-of-hire is the most important metrics of all. Success-of-hire is the measure of a quality hire who not just has an impressive resume but, upon hiring, stays at an organization for more than 18 months and proves to be a HiPo – High performing employee (top 30 %tile) over a period of time.
HR managers can now use predictive hire decisions in essence, Xobin's AI provides an objective 'Recommended' or 'Not Recommended' test result which is interpreted from the technical/ core competency assessment and psychometric assessment test results.
How can a Assessment Software help HR managers to predict if a candidate proves to be a successful hire?
Evaluates the technical/core competencies of the candidate with respect to the job
Evaluates both adaptability and learnability of a candidate
Overall, the greater the score of the technical and psychometric assessments, higher the success-of-hire
Data obtained from

Behavioral and Psychometric assessments

produce insights to know what motivates a person to perform better, if hired – thus helps in employee retention
Signup with Xobin for a 14-day FREE trial, lessen your recruitment complexities, and reap long-term benefits.