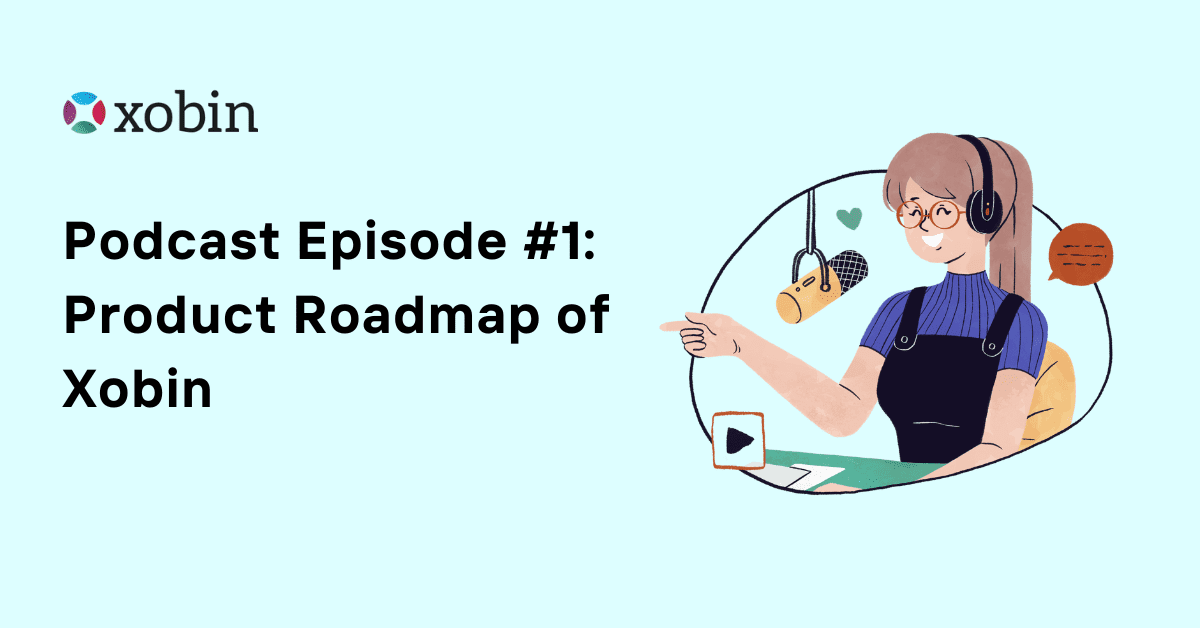 Crossing The Chasms
Crossing The Chasms is a podcast series by Xobin where we feature founders, HR Tech Influences, Product and Growth Marketers to share about their products and experiences. Here is Xobin Product Roadmap
Episode #1: Product Roadmap of Xobin
In the first episode of the podcast series we feature the CEO of Xobin, Guruprakash Sivabalan. Xobin is a smart Talent Assessment Platform that helps recruiters and hiring managers to make objective hiring decisions.
Before Guru entered the startup world, he was the mastermind behind the SRM Search Engine that he built as an educational project during his college days. These projects were recognized and funded by the Indian Government.
Listen to this podcast as Guru shares his journey with the product, when he figured-out the product-market fit. He also explains as to how Xobin is different from the rest of its competitors and the strategies he personally adopts for hiring employees in his startup and a lot more…
This podcast is hosted by Sucharita.
Note: This article is only a glimpse of the podcast.
Question: What really inspired you to choose this product. When did you start your groundwork and figure out the product-market fit?
Guru: Before I started Xobin, I used to work for the Government Of India where I was building search engines, something that is competing with Google. I had a lot of research scholars (students) working for me and the attrition rate in the project was close to 30%. So over a period of 4-5 years, I would have interviewed close to 1000 people just in order to run a 70 member team. Also, when I met the startup folks or growth stage enterprise people, I felt that the hiring or the way in which they were assessing people had no proper structure.
That is when I did this experiment back in 2015. I met close to 100 CHROs, VP-HRs, and CTOs of organizations with 100+ employees. I spent almost 6 months in collecting various data points and realized that there are already a lot of Tech products in recruitment. It is very simple to build a product, but I felt that nothing really, fundamentally had solved the problem. I felt that the market was clearly underserved. The quality of the products was very poor, people built the products only to churn out the revenue and are not actually solving the problem.
So, that is when we decided to build Xobin. One fundamental principle we decided is to make sure that only good talent get recruited into the company. So we decided that the product we are going to build focuses on Pre-employment Skills Assessments. The idea is not to streamline or automate the recruitment, but to make sure that we make a very very strong Talent Assessment Engine.
When we started Xobin initially, we had an agency approach. We used to assess candidates by ourselves with the help of a small product that we built (and also were selling the product as a service). We sold the product to a good number of customers, 50-60 mid-market customers to be precise, thus helping them in hiring candidates. After tasting initial success with the prototype, and a good amount learnings from the product we went ahead and launched the first version of Xobin in early 2017. We focused on the technology and the talent assessment science part of the product.
In 2018, we transitioned the product with the help of data of the 100000+ candidates who were assessed using our assessment platform. We started building Machine Learning Models using the data which helped our customers to predict talent at a faster rate. After the candidate takes the test we give an objective 'Hire' or 'No-Hire' decisions. These objective decisions are the future of talent assessments. Also, more than 300 customers have benefited from our platform so far.
Question: The next is a follow-up question on what you have already mentioned earlier. Xobin helps recruiters with objective hiring. So on what parameters does the product gauges a candidate's ability?
Guru: Most of the assessment tools used by the mid-market and enterprises are built by non-millennials for non-millennials. Skills are not the primary aspect to test while hiring millennials. For instance, a high school student has the potential to learn programming language and become a software developer. But when it comes to recruitment, something more than skills is important. Behavioural traits are what one should look for i.e, what is the real intent for a person to work in the organization, how long is he going to stay, is the candidate introvert or an extrovert are the factors. So there are 50-60 aspects that are needed for hiring a candidate for a tech role or a non-tech role that decide the success of millennials.
70% of the signals we track are the behavioural traits. The situational judgement tests assess whether a candidate possesses learning capacity to learn a new programming language in a weeks time. Such type of signals along with technical traits put together forms a bag of scores. The machine then compiles all the scores and makes the 'Hire' or 'No-Hire' decision. That's our secret sauce!
Question: Talent assessment by itself is a very competitive market. What are the key features that differentiate Xobin from the rest of the competitors?
Best HR Software Solutions
Campus Recruitment Software
With our online campus recruitment software screen, hire top talents hassle-free. Everything is under one platform, from test creation to the candidate's evaluation. from test creation to the candidate's evaluation.
Rating 5.0
Based on 321 user ratings
API Integration by Xobin
Get integrated and harness the strength of robust assessments with Xobin APIs. Save sweat and time and focus on your core offering, not building your assessment stack. from test creation to
Rating 5.0
Based on 321 user ratings
Coding Skill Assessment Software
With our 100+ coding assessments on various languages such as Java, Python, JavaScript, React, Angular, etc., evaluate and hire the best-talented developers. from test creation to the candidate's evaluation. to the candidate's evaluation.
Rating 5.0
Based on 321 user ratings
Pre-Employment Testing Software:
Get access to the vast library of validated tests to screen candidates using online assessments. Simplify your recruitment process with our cloud-based Pre-employment Testing Software. from test creation to the candidate's evaluation.
Rating 5.0
Based on 321 user ratings
Pre-recorded Video Interview Platform:
Pre-recorded Video Interview Platform allows candidates to fully express themselves to a pre-recorded question. So that you can get more insight into candidates in far less time than a traditional phone interview. from test creation to the candidate's evaluation.
Rating 5.0
Based on 321 user ratings
Guru: India has close to 100 odd talent assessment platforms. Online assessments have become mainstream ever since 2006. But here is what the problem is. Majority of these platforms focus only on skill based tests. But, this doesn't solve the recruitment problems while hiring millennials. Xobin defers from other platforms in this respect.
Situational judgement questions with a mixture of technical questions to assess the job skills of the what Xobin concentrates on. Secondly, a mid-market company with 5000+ employees assesses more than 10000 candidates a year using a talent assessment platform. These talent assessment platforms are not focused on storing the data of the candidates which is a major major flaw. Whereas, Xobin on the other hand always stores the data with regards to the 'Hire' or "No-Hire' decision made, to train our ML system.
Also, in Xobin, psychology and AI is the heart of the system. We focus on asking the right question to the right candidates. For instance, a particular job role, at a particular geography for a specific company is different. So we have a map, in every single segment we have different types of questions so that the company can hire really good talent, who not just performs well in the interview but also brings in ROI to the company.
Tier 2 and Tier 3 software do not really guarantee a candidate's performance post-assessment and interviews. Also, if there is no collection of candidates' data and no AI in the assessment system, many errors in the hiring decisions may bound to happen.
So Xobin is psychology and "AI- first" platform. We are an all-round recruitment platform. We are the only talent assessment platform that has invested huge amounts in R&D to improve our talent assessment science.
Thirdly, Xobin is most suited for a 5 member team as well as a 50,000 member team. We have developed this vertical product to serve both startups and enterprises equally and deservingly. This care and dedication towards the talent assessment science and application of deep learning to make use of all the data that is getting generated is what really separates Xobin from all the other 100 odd talent assessment platforms.
Question: How do you incorporate fairness into the hiring process? How important is proctoring during online assessments?
Guru: We give prime importance to proctoring. Since the past 3 years, we have a dedicated 4 member team who work on adding extensive technological components to our proctoring system.
The first thing we do is track the pupil movement. We have written an algorithm that detects when a candidate looks into the screen. We have an application based on advanced statistics that help us to gauge a candidate's integrity while taking the assessment. Based on the pupil movement data statistics that we have collected by far, we can find if a candidate is cheating to an extent with some errors. At the end of the test, we help the HR managers with 'Copied' or "Not-Copied' decision.
Candidates may give fake answers to get a job with respect to psychometric tests. When we built these psychometric assessments, we made a very interesting experiment. We used a device called EEG that is capable of reading and decoding brain waves. So we have tested a different set of questions with people from different geographies. We call it sampling, tracked their brain wave patterns. So we say that with 90-95% accuracy we can predict if a candidate is faking an answer.
Question: Recently heard of Xobin 2.0 being launched in TechHR Singapore. Could you tell us more about the recent developments in Xobin Assessment Platform?
Guru: Previously, we never had a separate portal in Xobin Platform in which our customers could shortlist, hire or reject a candidate. Now, for the first time we are introducing this feature, which means that you will have a small in-built ATS system in the platform. Our machine learning learns the data as to on what basis a candidate has been shortlisted when a customer shortlists a candidate. The recruiters' decisions help the ML to create a model to offer accurate predictions. We have already tried this with 25 our active customers and got a phenomenal response.
So we felt that Tech HR Singapore ( that is happening on 28th Feb, 2019) is the ideal place to launch this product and get feedback from our peers in the HR Tech space.
Question: What are the other HR Tech products you personally admire?
Guru: I would like to mention 1 Indian startup and 2 International startups.
The one Indian startup that is able to raise good investment is Belong. Although I have not tried their product, the reason why I like Belong is their proposition is very good.
Globally, I like Greenhouse, a famous ATS. I like the platform-oriented approach they have built. In terms of product and design, I admire Lever. I feel that Hackerrank is doing a phenomenal job in building communities and connecting all the top hackers in their platform. These are the 4 startups that are on the top of my head.
Question: Currently the attrition rate in startups is worse, seems to be more than 50 %. So how do you think Xobin could solve this problem?
Guru: One important mention is that Xobin is not just used for recruitment. We use the platform for upskilling. In India close to 25 colleges have signed up with the platform for upskilling students. So here is how it goes. Before starting the training session, they conduct assessment using Xobin to understand the training needs. They use the platform every month to gauge the progress of the training sessions. Of course, we have separated the content for upskilling and recruitment purposes.
So I feel that upskilling students right at colleges will bear fruits and indirectly reduce the attrition rates in startups.
Question: How do you personally hire employees for your startup?
Guru: I have not used Xobin for hiring my employees, but since our team size is increasing, I feel the need to assess candidates using Xobin. However, we have stopped giving out technical tests to our employees, we ask them to take psychometric tests. I personally believe the 16 personalities assessment gives me an idea as to whether a person can fit into Xobin or not. The moment I find those few traits that I'm looking for, I hire the person. Hence, skills can be taught so the right candidates will naturally evolve. We are a budding startup, so we feel that is the right approach.
That's the end of the podcast. Have any question for Guru?
You could tweet out to him at @_Guruprakash or you could also connect with us @xobin_official
Until the next episode, this is Sucharita signing off!