Landing your dream job is something that many people hope for in their lives. The first part of this process may include sending in a job application to show your interest. Many will fill out paper applications and send them in, or fill them out online. However, it's becoming more popular for applicants to use videos to apply for jobs.
But why has video making become an essential part of a job application in many cases? Well, that's because of the many advantages it can provide. With that in mind, this article reviews a few benefits of video regarding job applications.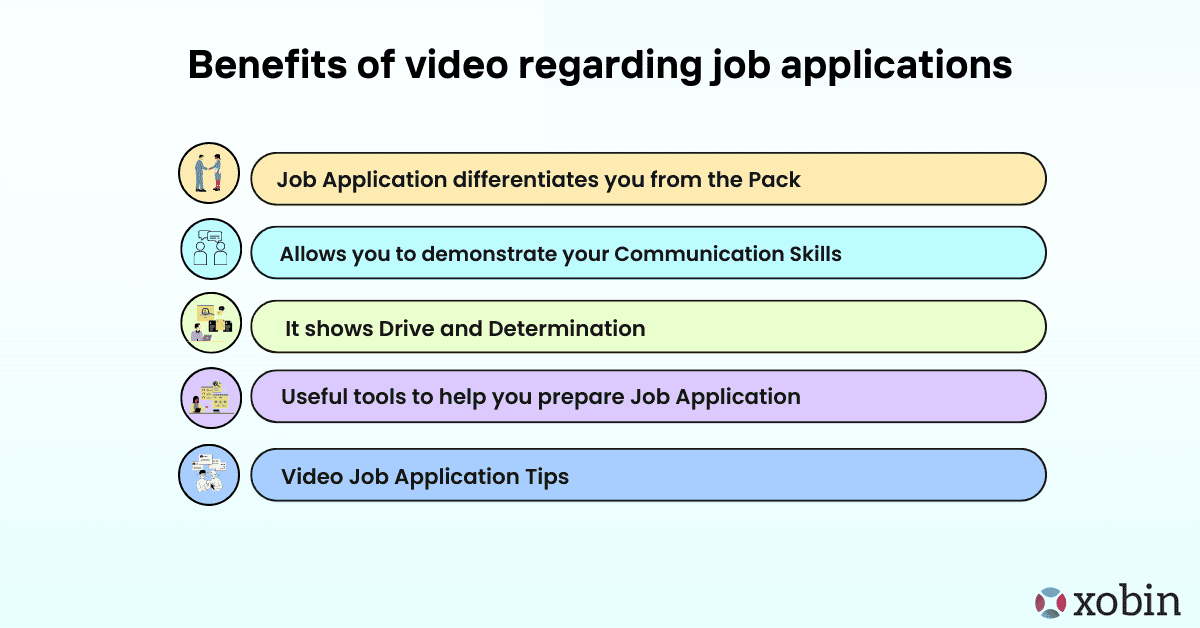 Looking for Recruitment Software? Check out the best Recruitment Software solutions.
Job Application differentiates you from the Pack
In many parts of the world, there is a lot of competition for jobs. So when you apply, you are up against various other impressive candidates. People are always looking for ways to stand out in a competitive job market, and providing a job application in the form of a video can help you do just that.
Using a video job application allows you to highlight yourself, your skills, and your experience in a way that's incredibly unique and different from others. If you hand in a paper application like everyone else, you may blend in with the pack and could be skipped over for that reason. Even if your video isn't perfect in every way, differentiating yourself when applying for a job that's expected to be competitive is never a bad idea. Especially that some new studies have shown that sending video resumes gets a more than 10% call-back rates increase.
Recruiting can be challenging for businesses, and sending in a video can often help them make a decision easier, as they can get a better sense of you and how you will fit in their culture.

Allows you to demonstrate your Communication Skills
There is no doubt about the importance of communication in the workplace. It's at the center of all projects, helps build relationships, and ensures that all team members are always on the same page about things. Poor communication can ruin a firm, and finding success can be challenging if you aren't great at communication.
A video within your job application can be a great way to present your communication skills and personality. It can give hiring managers a more authentic look at who you are and how you communicate, which can help them make their decision a little more easily. Also, with communication being one of the most important soft skills, it's never bad to show off that you're a great communicator as soon as possible.
Best HR Software Solutions
Campus Recruitment Software
With our online campus recruitment software screen, hire top talents hassle-free. Everything is under one platform, from test creation to the candidate's evaluation. from test creation to the candidate's evaluation.
Rating 5.0
Based on 321 user ratings
API Integration by Xobin
Get integrated and harness the strength of robust assessments with Xobin APIs. Save sweat and time and focus on your core offering, not building your assessment stack. from test creation to
Rating 5.0
Based on 321 user ratings
Coding Skill Assessment Software
With our 100+ coding assessments on various languages such as Java, Python, JavaScript, React, Angular, etc., evaluate and hire the best-talented developers. from test creation to the candidate's evaluation. to the candidate's evaluation.
Rating 5.0
Based on 321 user ratings
Pre-Employment Testing Software:
Get access to the vast library of validated tests to screen candidates using online assessments. Simplify your recruitment process with our cloud-based Pre-employment Testing Software. from test creation to the candidate's evaluation.
Rating 5.0
Based on 321 user ratings
Pre-recorded Video Interview Platform:
Pre-recorded Video Interview Platform allows candidates to fully express themselves to a pre-recorded question. So that you can get more insight into candidates in far less time than a traditional phone interview. from test creation to the candidate's evaluation.
Rating 5.0
Based on 321 user ratings
It shows Drive and Determination
If you're willing to go above and beyond when applying for a job, it can help your case. Hiring managers want people who are passionate, determined, and have the drive to work and succeed. Making a video means going a step beyond simply writing a basic job application. It can help impress companies and show them that you're willing to do what it takes.
While the video might be short, a lot goes into creating it and this effort is sure to be appreciated. Also, it can be not easy to get in front of a camera and talk about yourself, so taking a step like this can typically show the lengths you are willing to go for something you want.
Useful tools to help you prepare Job Application
If you're going to make a video as a part of your job application, there are some tools that you should be using to help you find success. First, you'll need a camera to capture the video. You don't need to spend a ton; in some cases, your phone camera may be okay, but it needs to be decently high-quality.
You can also use a free video editor to make something special to send to hiring managers. This allows you to ensure that the video turns out just the way you like, features the right transitions, and looks good.
Also, investing in microphones and other audio equipment can help ensure everything sounds good.
Video Job Application Tips
First and foremost, ensure that the job you're applying for is okay with receiving video job applications. Some might have strict rules about what is acceptable, so make sure that video sending is okay. Traditional companies may prefer basic applications, so always know the company you are applying to and its style. Also, take the time to learn how to make a video job application before sending yours in.
It would help if you always began with an introduction that is a friendly and brief greeting. Throughout the video, do your best to look at the camera and ensure you are acting professionally. Make sure to show your eagerness for the position, and explain things clearly and concisely. Be sure to provide enough information and show off your personality, but do your best to keep the video around a minute or a minute and a half long.

Conclusion
We hope this article has shown you how video making has become essential to a job application. While using a video for an application may not always be appropriate, many jobs and industries accept this new and exciting practice.
Only Software you need for all your recruitment process
1 Million +
Test takers per year
Author Bio:
Miley Dowing is the IT consultant with Daily Cup of Tech who helps digital businesses reach their full online potential. Miley is passionate about programming and IT consulting. Her current focus is helping SaaS businesses create a better world for our kids. He frequently writes about the latest advancements in the digital and tech industry.