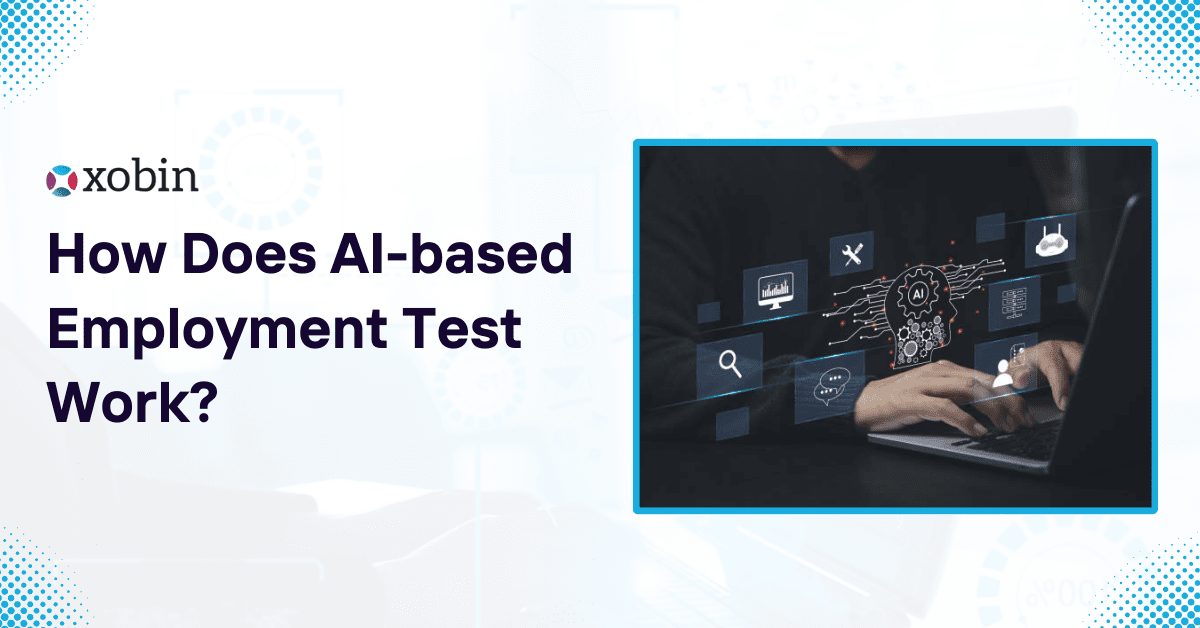 It's amazing how much technology has advanced in recent years, isn't it? With the growth of businesses, employers have found it helpful to use AI-based recruitment tests to aid in hiring. When it comes to finding the perfect candidate for a job, all sorts of tests can be used. Aptitude tests are actually a really great way to get the job done quickly and efficiently.
They help employers find the most qualified people for the job without any fuss or hassle. One of these types of tests is evaluation tests based on Artificial Intelligence. Yes! AI has also found its way into the world of employment and is replacing older testing methods. You may be asked to take an AI-based employment test if you're looking for a job. So, what is it, and how to succeed in it?
 Looking for Recruitment Software? Check out the best recruitment software.
Well, this article examines the answer to these questions. So, if you want to master AI-based tests, scroll down and let us prepare you for it!
What is an AI-based employment test?
Tests using artificial intelligence can assist in identifying and selecting the most qualified job candidates based on their objective performance in specific fields. Basically, these pre-employment online assessment tests, help make hiring more accurate and reduce the risk of human error in picking the wrong candidates. It's a great way to ensure that you're getting the right person for the job!
Did you know employers can also use tests to better understand applicants' skills and qualifications? That's right! AI lets them off the hook of choosing the most professional candidates. Now, companies are using different types of AI-based recruitment tests, some assess your skills while others check your resume.
Let's take a closer look at how they work!
How does an AI test work?
Employers can improve their hiring process by using an AI test to analyze candidates' answers to multiple questions. The test uses various tools to get the best result. You might ask how exactly the AI does the work.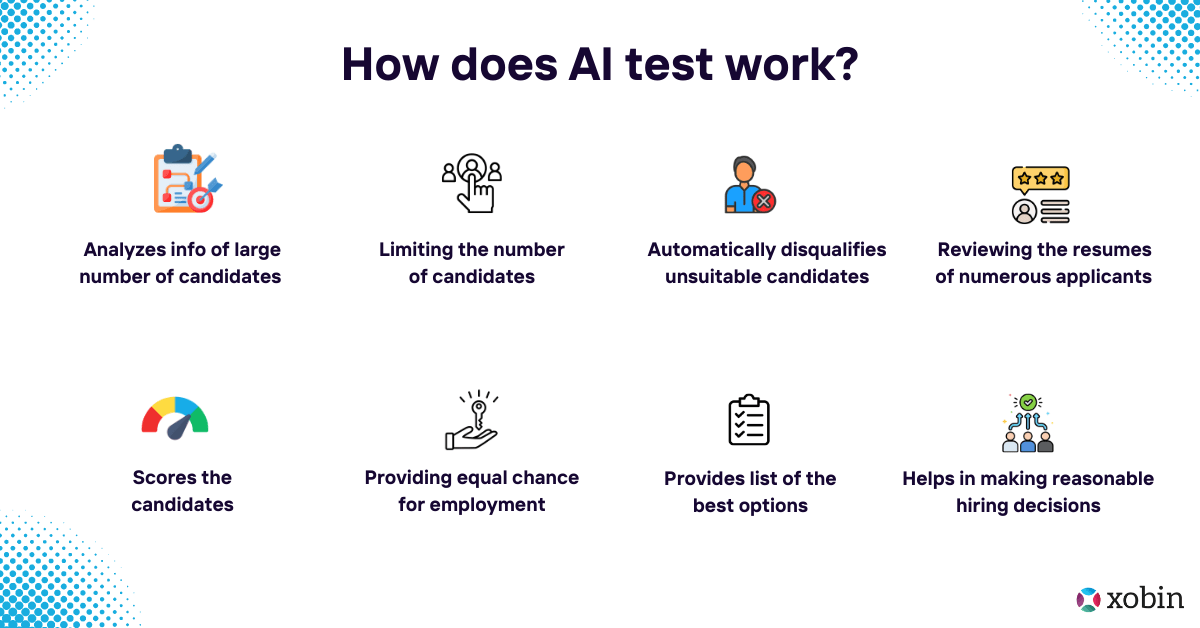 It analyzes the information of a large number of candidates:
Analyzing the information of a large number of candidates can be a difficult and time-consuming task for humans. However, with the help of unique algorithms, artificial intelligence can efficiently analyze this data.
Limiting the number of candidates:
Employers can use artificial intelligence tests to narrow down the pool of candidates to a specific number.For instance, if an employer receives 500 resumes, they can limit the selection to 50 applicants and choose from among them.
Best HR Software Solutions
Campus Recruitment Software
With our online campus recruitment software screen, hire top talents hassle-free. Everything is under one platform, from test creation to the candidate's evaluation. from test creation to the candidate's evaluation.
Rating 5.0
Based on 321 user ratings
API Integration by Xobin
Get integrated and harness the strength of robust assessments with Xobin APIs. Save sweat and time and focus on your core offering, not building your assessment stack. from test creation to
Rating 5.0
Based on 321 user ratings
Coding Skill Assessment Software
With our 100+ coding assessments on various languages such as Java, Python, JavaScript, React, Angular, etc., evaluate and hire the best-talented developers. from test creation to the candidate's evaluation. to the candidate's evaluation.
Rating 5.0
Based on 321 user ratings
Pre-Employment Testing Software:
Get access to the vast library of validated tests to screen candidates using online assessments. Simplify your recruitment process with our cloud-based Pre-employment Testing Software. from test creation to the candidate's evaluation.
Rating 5.0
Based on 321 user ratings
Pre-recorded Video Interview Platform:
Pre-recorded Video Interview Platform allows candidates to fully express themselves to a pre-recorded question. So that you can get more insight into candidates in far less time than a traditional phone interview. from test creation to the candidate's evaluation.
Rating 5.0
Based on 321 user ratings
Automatically disqualifies unsuitable candidates:
If a job candidate does not meet the necessary qualifications for your company, such as lacking sufficient work experience, the artificial intelligence system will automatically disqualify them. This allows you to focus your time on reviewing the eligibility of qualified candidates.
Reviewing the resumes of numerous applicants:
With the help of specialized tools, AI-based systems analyze a large number of resumes using artificial intelligence and recommend the most suitable candidates for you. This will significantly save your time.
Scores the candidates:
Pre-employment tests based on Artificial Intelligence analyze candidates' answers and performance in various fields to provide a score. You can give it the scope of the score and let it do the rest! This score helps you select the best candidate for your company's requirements.
It gives every candidate an equal chance for employment:
When it comes to evaluating job candidates, artificial intelligence has an advantage over human evaluators. AI has the ability to carefully assess every piece of information provided by each candidate, ensuring that each applicant is given an equal opportunity. On the other hand, human evaluators may miss critical details while reviewing candidate experience and information. With the assistance of AI, the recruitment process becomes more unbiased and fairer for all candidates.
It provides the employer with a list of the best options:
These tests can provide you with a list of qualified candidates according to your expectations. This way, you can hire a professional from among them and save time and energy.
Reasonable hiring decisions are made:
The hiring practices driven by artificial intelligence rely solely on logic and factual information and don't take into account emotional factors such as age, race, or gender. This ensures a fair and reasonable process for all candidates.
How do AI-based tests assess a candidate?
Step One: During an exam, artificial intelligence thoroughly reviews and evaluates candidates' responses to questions, ultimately providing a score based on their performance. Employers can then use this score to make informed hiring decisions.
Step Two: The assessments evaluate candidates' abilities across different areas, including behavioral and communication skills, to determine their suitability for the desired job role.
Step Three: Through the use of AI-powered interview videos and their subsequent analysis, employers can assess a candidate's behavior and personality to determine their suitability for a job position.
So, if you have gone on interviews and assessments and lost it to a better-looking person or someone with ties to the employer, don't get disappointed! Everyone is the same before AI-based tests! Together, we learned that in the first step, AI-based tests, and HR tech tools were needed to review the CVs of numerous candidates in the shortest time. Then, the test automatically disqualifies candidates who are below average and unsuitable. The next step for the AI is to limit the number of candidates and score each remaining one to make decision-making easier for the employer.
Conclusion
In conclusion, be optimistic. If you believe you're fit for a job position, be sure that AI is more reasonable and logical than the human mind. So, it will understand it as you do.
So, are you ready now to get assessed by the most accurate tools available in the employment process, AI tests? We know that these tests come with some advantages. Artificial intelligence's efficiency, ease, and accuracy make it a valuable tool in various industries. It helps the employer choose the best candidate fairly, equally, and accurately. Since the AI-based tests have a logical foundation and are designed not to miss a single point, they ensure that every candidate is assessed equally.
At the end of the process, the hiring manager is usually left with a list of reasonably-chosen candidates. Although AI can even pitch THE BEST candidate, most employers prefer to have a list and choose the candidates based on their in-person interviews as well. So, if you're job hunting, make sure to take a look at the ways to write a well-crafted resume. This can help you stay among the finalist candidates!