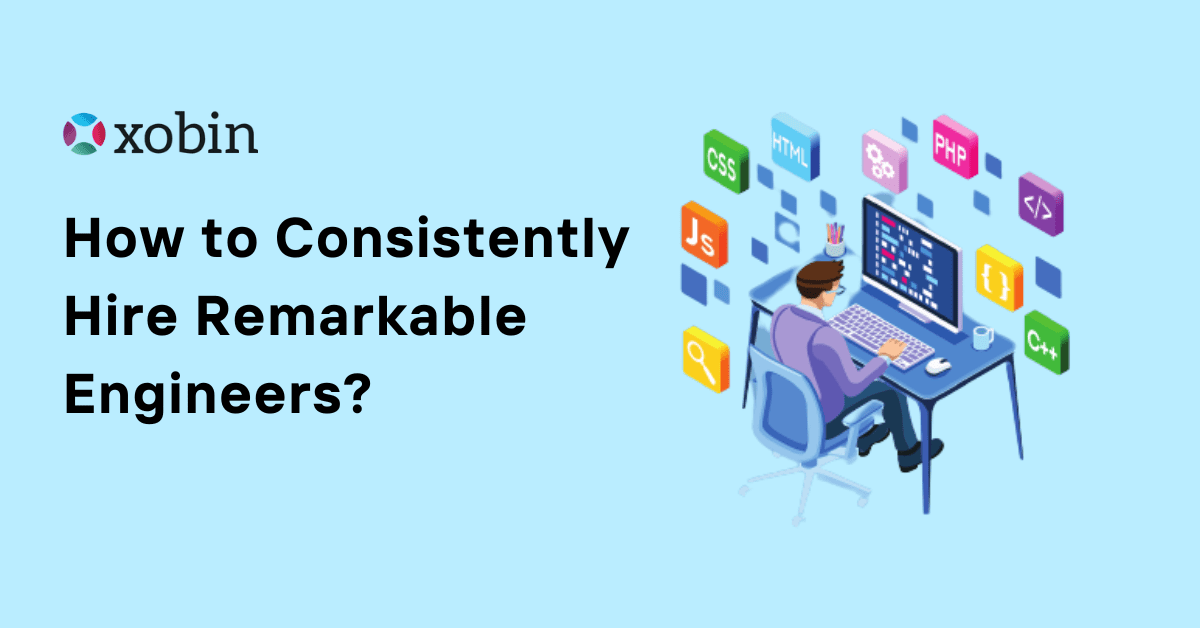 Top Tech companies always aim for the best: the best talent, best resources, best practices, best everything.
But what
truly
differentiates a wannabe top company from a real top company is the high standards they set in their talent acquisition and recruitment. The way they treat their recruitment cycle
.
The biggest myth is that recruitment is a pay as you use kind of thing. That part is utter rubbish. Recruitment is a continuous cycle. When you are looking to hire, you need to be active, and when you aren't hiring, you should be pro-active.
The best way out is to always keep hiring, but when in doubt -don't hire, keep looking.
In a particular case for technical hiring, the former VP of engineering at Amazon and Zynga, Neil Roseman, says that companies have no idea how to go about hiring the best

.

In his interview with

First Round Review

, he explains how companies and candidates oversell things and achievements

.
The key to getting there, in reality, is by taking the following baby steps.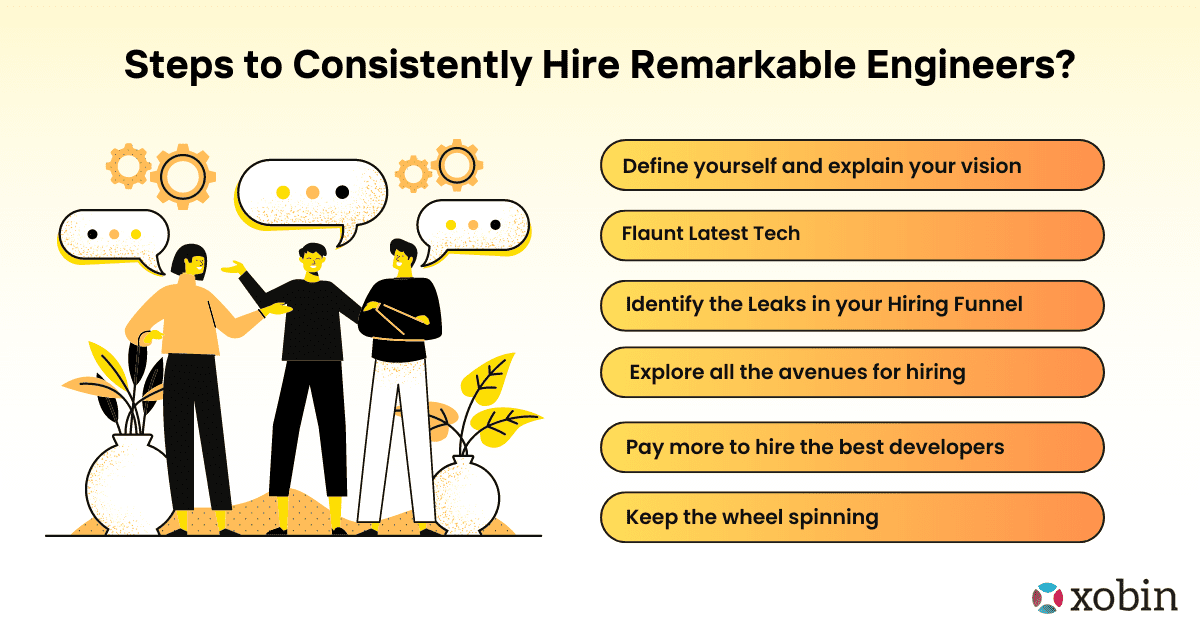 Define yourself as a company and explain your vision
You should define what your company stands for. Write down a purpose for your organization. You do not have to be different, but you must show focus. Good prospective employees will "buy-in" to a company that shows that it has a vision. Try to generate enthusiasm for your company's mission. This will speed up the interview process and improve your company's retention rate.
Not

just

this, add a bio for the founders and the team. A personal touch for someone who

is inspired

enough might be the required shove in the back to accept the offer.

Besides, it is motivational to know that I will be working for someone who is

probably

my age, but is better than me and has achieved things I can only dream of

.
Why? Because it is the vision of the company which defines the quality of challenges that the employees shall work towards resolving. Great companies like Tesla or Apple has this work cut out for them, and it is usually people like Mr Jobs and Mr Tesla that we envision when we think of a reason to work at these companies. It is these people and the values they instil in the
company work culture
that makes one want to work for them.
Flaunt Latest Tech
Indian IT companies and a few startups have abused and misused the talents of developers by either underpaying them or overworking them. Today's developers are looking for a healthier and more balanced lifestyle.
Show that the company is ahead of the curve by constantly moving away from legacy technologies and embracing new ones.
When you are looking to hire ambitious people, you should show that you are

equally

tech-savvy

. Show people that you are in for the latest advancements in technology. The best developers are the ones always looking to learn new things. Most of the young developers love companies that are adaptive and are more likely to join you.
Best HR Software Solutions
Campus Recruitment Software
With our online campus recruitment software screen, hire top talents hassle-free. Everything is under one platform, from test creation to the candidate's evaluation. from test creation to the candidate's evaluation.
Rating 5.0
Based on 321 user ratings
API Integration by Xobin
Get integrated and harness the strength of robust assessments with Xobin APIs. Save sweat and time and focus on your core offering, not building your assessment stack. from test creation to
Rating 5.0
Based on 321 user ratings
Coding Skill Assessment Software
With our 100+ coding assessments on various languages such as Java, Python, JavaScript, React, Angular, etc., evaluate and hire the best-talented developers. from test creation to the candidate's evaluation. to the candidate's evaluation.
Rating 5.0
Based on 321 user ratings
Pre-Employment Testing Software:
Get access to the vast library of validated tests to screen candidates using online assessments. Simplify your recruitment process with our cloud-based Pre-employment Testing Software. from test creation to the candidate's evaluation.
Rating 5.0
Based on 321 user ratings
Pre-recorded Video Interview Platform:
Pre-recorded Video Interview Platform allows candidates to fully express themselves to a pre-recorded question. So that you can get more insight into candidates in far less time than a traditional phone interview. from test creation to the candidate's evaluation.
Rating 5.0
Based on 321 user ratings
Identify the Leaks in your Hiring Funnel
A

t top tech companies, typically 60+ people apply before a final candidate is chosen. Make sure that you spread the word. A lot of companies overlook this part and assume that the quality of candidates is just the responsibility of the staffing firm.
Glassdoor has a lot of mentions about ambiguous job descriptions. So usually the first thing that a lot of recruiters should get right is the

job description

.
Sit down with your tech lead and help yourself write a

technically

correct version.

Remember, English is important, but it is the developers that read the description, write it in a language they understand

. 

Now that we have a proper Job description, let's discuss the avenues that companies use to find the best talent

.
Explore all the avenues for hiring
One of the bigger mistakes companies commit is sticking to only one hiring partner/method

. In this digital age, that is a sin. Your referrals/Naukri/Agency might've been amazing for you till date.

But if you are going to be obnoxious to the existence of amazing solutions that can solve your problems, you are inviting trouble unto yourself

.
Best talent doesn't go about advertising their availability on various portals. But why try your luck? The following are the things that you should do at the least when recruiting for your company:
Job boards are amazing to build a large pool of developers that show interest in your company. But there is a clear problem, you have to sit and screen each resume.
Employee Referral

networks are the best. You spend the least amount of money of any solution. Get the best quality results. And because these people already know your employee(s), they feel right at home already. Everyone is happy. But banking only on them is a costly mistake. Because not always is someone going to be looking for a job change. And firing blanks is not acceptable in any

recruitment process

.
Use various ATS to streamline the process
So next we come down to using a proper

ATS

to manage the entire process. The easiest and most cost-effective way is to use Excel sheets and track all the applicants in one place. Make sure there is at least a single interaction with every individual that applies.
Automate processes like Screening, Assessment and Scheduling of interviews with help of Machine Learning and Artificial Intelligent

.
Finally, this is the step most recruiters dread to take. Technology has for far too long been a phobia for recruiters. But the ones who have embraced it have seen a great improvement in their results. There are

multiple

solutions that provide end-to-end recruitment suites.

Studies show that data-driven hires are much more efficient compared to the traditional hires

. And the time to adapt is now. With various solutions to provide you with data and give you much better insights. Automation of the entire process does not mean that you

are left

behind. It is optimizing the entire process to provide you with more power and information. When you automate the entire process, you get time to focus on the more important things.
Platforms like Xobin help you complete the entire cycle without breaking a sweat. There are other platforms that provide individual services like screening, assessing etc.
But it is always recommended to have everything monitored from one place. We at Xobin ensure that you can even use your favourite ATS with us and not worry about a thing.
Use social media to hire, platforms like LinkedIn, and even Facebook.
Social media is where you get to interact with all your fans. People who are interested in your company, and want to stay updated about you are best found here. LinkedIn is a professional social network, where you can find various potential employees. Similarly, a less formal medium is Facebook, and even Twitter to an extent.
Standardize the entire Talent Acquisition
Mostly there are two ways to go about it – Like Google & Directi, keep it centralized. Developers are very choosy. Centralizing the entire process ensures diversity and an equal standard at every workplace in the company. The other way is to leave it to the individual teams, in which case they will not progress. It will limit diversity. Doesn't matter which team/project/vertical the individual will join, make sure that each one passes through a final filter, making it a centralized process. Ensuring that there is a set standard maintained across departments. Collate the info on each interview .This removes any bias and helps add to diversity.
Pay more to hire the best developers
If your best developers are leaving, it is one of two reasons. While most of these cases
are related
to work/managers being a problem.
There are also cases where developers are
grossly
underpaid, and hence leave when they get a better opportunity
.
Handling internal issues with constant monitoring is one solution. But addressing the monetary aspect is

equally

important. You should not lose any good developer because you thought he/she is asking for too much. It is hard to believe but the startup explosion has inflated the salaries of developers. Good developers are almost twice as expensive to hire now. But that should never be a block for you to hire. If an amazing developer is asking for a compensation that is a little over your budget, go for it.

It will pay itself back hundred times over, compared to getting a substandard developer

.
Keep the wheel spinning
Like I have mentioned before, it is imperative that you have a constant hiring process. This is where the best companies beat the rest. With a team that keeps an eye out for the best talent, their engagement is what defines their success. Even when people are not joining you, if someone has a great experience interviewing with you, it is a win.
Because believe me or not, with the advent of forums like Glassdoor and Quora, people talk, and the way you treat people goes way further than you may think
.
Another key aspect is the way you respond to people who apply for roles that are not available currently. Because at times, people who are amazing apply to you, but for roles, you aren't looking to fill.

It is again important to keep them engaged, and tell them

politely

that there is no position for them currently
. That you will inform them if there is one.
A company is only as good as the people that work for it. And it is important to have the best engineers working for you, all the time(not meaning 24 hours a day). In order to do that, you should have a process that is effective, efficient and simple.
At Xobin Interact, not only do we help you with the full recruitment cycle, but we provide you with that human touch even when automating the entire process. Our Bot (World's First Intelligent Interview Bot), is capable of screening, assessing, and even scheduling interviews for developers based on your requirements. Now all you have to do is sit back and monitor the progress.
Use Xobin and hire the best developers. Never miss out on another good developer ever again. Give your candidates an experience to relish. Come try Xobin for free at interact.xobin.com/signup