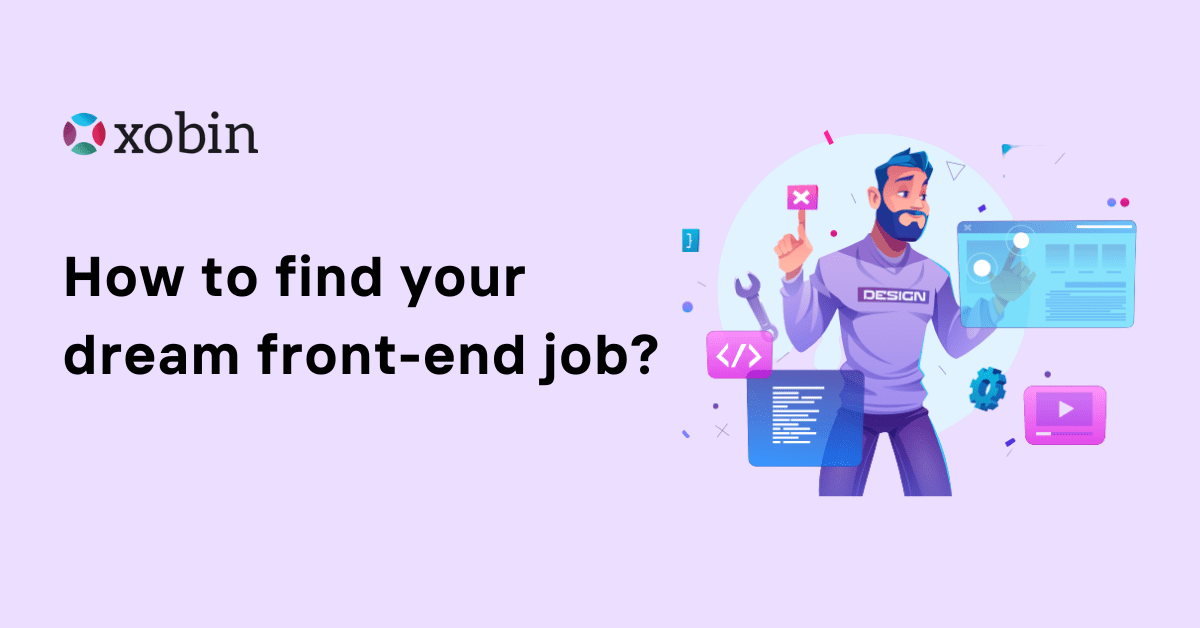 Now that you have started on your path to becoming a world-class front-end developer, it's time to find a job. The key here is to not get any job that offers web development.
A simple search for front end jobs on Google produces:
2600+ results on LinkedIn

1800+ on Naukri (Bangalore alone),

around 900 startups on AngelList.
It is clear that there is no lack of opportunities for a good web developer. But, like I have mentioned before, it is never as easy as applying to every job that is out there. Novice developers do that, not pros like you.
A clear and methodological way is what will lead you to your dream job. Let's get started,

shall

we?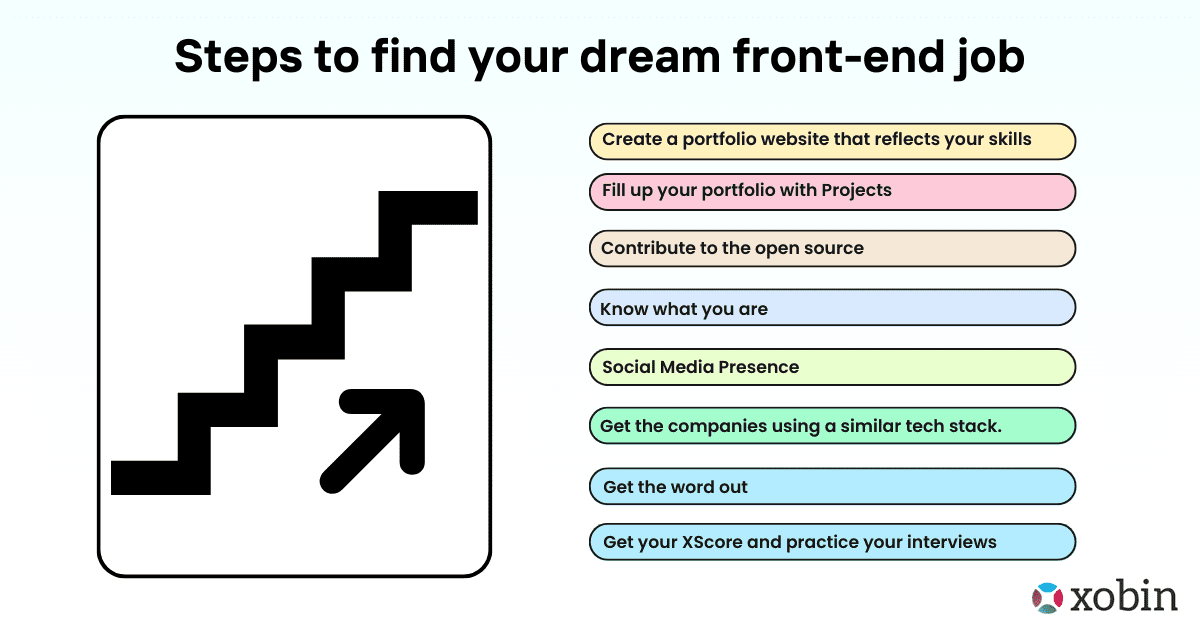 Create a portfolio website that reflects your skills
Well, a web designer is nothing without a proof of work. Nothing screams TALENTED more than the websites you created. So make sure that you have one dedicated to you and your projects, and use that as the resume.
Have a look at these portfolio websites to spark your imagination.
Fill up your portfolio with Projects
Work, work a lot and do as many projects as you can. If you have worked with companies or clients, put them all in your portfolio. Even better, work on freelance projects. Not only will it help you fill your portfolio, but will give you a steady income source.
You may even consider helping out charitable organizations and NGOs.
Best HR Software Solutions
Campus Recruitment Software
With our online campus recruitment software screen, hire top talents hassle-free. Everything is under one platform, from test creation to the candidate's evaluation. from test creation to the candidate's evaluation.
Rating 5.0
Based on 321 user ratings
API Integration by Xobin
Get integrated and harness the strength of robust assessments with Xobin APIs. Save sweat and time and focus on your core offering, not building your assessment stack. from test creation to
Rating 5.0
Based on 321 user ratings
Coding Skill Assessment Software
With our 100+ coding assessments on various languages such as Java, Python, JavaScript, React, Angular, etc., evaluate and hire the best-talented developers. from test creation to the candidate's evaluation. to the candidate's evaluation.
Rating 5.0
Based on 321 user ratings
Pre-Employment Testing Software:
Get access to the vast library of validated tests to screen candidates using online assessments. Simplify your recruitment process with our cloud-based Pre-employment Testing Software. from test creation to the candidate's evaluation.
Rating 5.0
Based on 321 user ratings
Pre-recorded Video Interview Platform:
Pre-recorded Video Interview Platform allows candidates to fully express themselves to a pre-recorded question. So that you can get more insight into candidates in far less time than a traditional phone interview. from test creation to the candidate's evaluation.
Rating 5.0
Based on 321 user ratings
Contribute to the open source
In our last article, we had discussed how the open source MVC Git is a useful tool. As useful as it is, it is

equally

beneficial to add your code to Github.
Not

just

that, keep working on various projects. You may end up meeting a potential employer via these projects. Also, try and contribute to various open source projects on Git. You can explore all open projects at Explore Github.
It is an amazing chance to improve your skills and add to your portfolio while meeting with various other developers

.
Know what you are
Like mentioned at the start of the article, there are thousands of jobs requiring Front End Developers

. But what exactly is a front-end developer? As you may have guessed by now, front-end developer is not

just

one classification. There are

mainly

two types of developers in front-end development:
This is the light-weight champion developer that makes the structure for your website. He is the HTML and CSS champ, do not expect this person to be a heavy lifter

in terms of

Javascript. More of a design-oriented role, it is generally preferred to have such people for this position.
Now here comes the heavy hitting.

Javascript developers are the ones you expect to be making the majority of your integrations

. In essence, this developer is almost a backend developer. Node.js is going to be a key player here while maintaining the load times among others.

You can expect the Javascript developer to be someone who is capable of thinking bigger and making decisions about tech stacks for designers

. Like choosing between Angular/Flux/React.
Social Media Presence
It sounds all too trivial, doesn't it? But it isn't. As much as LinkedIn is the only professional social media platform, potential employers even check profiles on Twitter and Facebook to see the views the person possesses. It is really not recommended that you don't put anything on social media that you wouldn't say in front of your boss. 
Get the companies using a similar(if not same) tech stack.
Now that you have listed down your skills and preferences in tech stack, you have your job cut out for you.

Get down to websites like

TechStacks.io

or

StackShare

to get the stack info about the companies you would

ideally

like to work for

.
Alternatively

, you can also end up at job search sites, and see what companies are looking for an engineer with your skillset

. There is a chance that you find some companies that aren't exactly looking for you, but rest will work.
Never apply for all the companies that fit your requirements. Always look deeper and do some research before you apply. It is better to save your time later than before.
GET the word out
Keep in mind that job ads tend to list more (sometimes WAY more!) requirements and "nice-to-haves" that is

really

expected from candidates. Never hurts to ask, right?! Don't let this discourage you though. If you can handle most of what they're looking for, you'll

probably

be at least considered for the role.
Get your XScore and practice your interviews
This is the step that makes you stand out. XScore is a consolidated report of your skills, from an assessment conducted by an AI-powered bot.

The Xobin bot (

http://xobin.com

) can not only assess you based on your skills but also simulate your interviews with top tech companies

. You can simulate your Interviews with companies like Google, Microsoft. After the simulation, your confidence will increase in an actual interview.
Xobin's all-new Interview Simulation feature will launch on 3rd April. You can subscribe to it here.
(This feature has now been discontinued.)
This article is the 2nd of a 3 part series. You can check out the previous article on "Want to be a kickass Front-end developer? Get started now" to start your Front End developer journey.