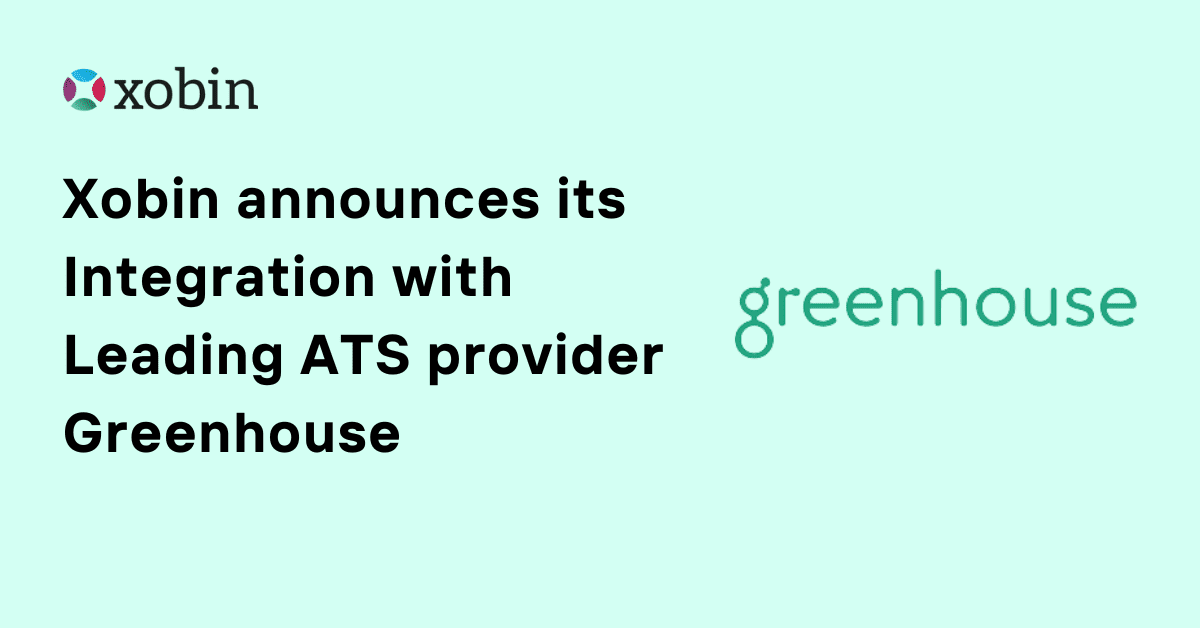 Leading AI based Assessment Platform from Bangalore Announces Integration with the Top ATS provider in Silicon Valley.
The leading AI-based smart assessment platform from Xobin, and Greenhouse, the world's leading recruitment platform, today announced an integration. Moreover, this integration adds intelligent proctored assessments in every software skill for human resource professionals using Greenhouse's platform.
Hiring doesn't have to be crazy. All growing tech companies run into the same fundamental problem while hiring- UNCERTAINTY.
Uncertainty about the

quality of hire

Team fit unce

rtainty

Uncertainty about time and money spent.
Xobin makes creating and conducting online Assessments easy for recruiters. Its secure environment verifies the integrity of the submission with keyword pattern analysis and eye motion tracking. Add that to the fact that recruiters can send out invites to all their prospects in a single click, and Xobin becomes doubly efficient. For recruiters with Candidate Journey and Code Playback, have same trust as of the one on one tests. Therefore, this removes the need for a secondary verification of skills. Thus, saving loads of time per hire, freeing up the schedule and improving productivity. This also ensures that only the most qualified candidates end up being hired.
From the founders desk:
"Xobin is a platform for secure and fast hiring. It uses AI to block improper test attempts. This gives candidates the comfort needed and the recruiters the authenticity they need", says Guruprakash, the CEO of Xobin.
Best HR Software Solutions
Campus Recruitment Software
With our online campus recruitment software screen, hire top talents hassle-free. Everything is under one platform, from test creation to the candidate's evaluation. from test creation to the candidate's evaluation.
Rating 5.0
Based on 321 user ratings
API Integration by Xobin
Get integrated and harness the strength of robust assessments with Xobin APIs. Save sweat and time and focus on your core offering, not building your assessment stack. from test creation to
Rating 5.0
Based on 321 user ratings
Coding Skill Assessment Software
With our 100+ coding assessments on various languages such as Java, Python, JavaScript, React, Angular, etc., evaluate and hire the best-talented developers. from test creation to the candidate's evaluation. to the candidate's evaluation.
Rating 5.0
Based on 321 user ratings
Pre-Employment Testing Software:
Get access to the vast library of validated tests to screen candidates using online assessments. Simplify your recruitment process with our cloud-based Pre-employment Testing Software. from test creation to the candidate's evaluation.
Rating 5.0
Based on 321 user ratings
Pre-recorded Video Interview Platform:
Pre-recorded Video Interview Platform allows candidates to fully express themselves to a pre-recorded question. So that you can get more insight into candidates in far less time than a traditional phone interview. from test creation to the candidate's evaluation.
Rating 5.0
Based on 321 user ratings
He further added: "It is exciting to be partnering with Greenhouse and seeing our mutual customers benefit from this combination of tech. Hence, our customers were able to allocate more recruiting resources towards sourcing, improving the overall quality of candidates being evaluated and getting through the Xobin Assessments. Thus saving them valuable time."
Dane Hurtubise, the VP of Platform and Partnerships at Greenhouse had similar things to say about the integration. He said, "Candidate integrity and authenticity are two major factors for making impact hires. Xobin's smart assessment platform enables our mutual customers to automate the process of verifying candidate ability and integrity in a single step, saving both recruiter and candidate time and energy. We are thrilled that Xobin is joining our community of partners!"
About Xobin

:

Xobin is a comprehensive recruitment suite for companies to find the right tech talent in a secure, authentic, and super fast manner. The AI powered Platform uses Pupil Tracking and Keying Pattern Analysis to ensure Candidate Integrity while taking an assessment. Hence, with a vast library of application and coding based questions, Xobin helps recruiters create assessments. Therefore, these assessments help you in finding the best fit for the job role.

Software you need for all your recruitment process

1 Million +

Test takers per year
About Greenhouse
Greenhouse Software designs tools that help companies source, interview, hire and onboard the right talent. Daniel Chait and Jon Stross founded Greenhouse with their headquarters in New York City. Recognized as the 2017 Best Place to Work in the U.S. by Glassdoor, the Greenhouse team currently works with over 2,000 of the world's most innovative people-driven companies. These include Sony, Airbnb, Slack, TIME Inc. and more.