Remote hiring isn't a new concept for recruiters and HR teams. For years, it had been discussed as a passing trend. However, the COVID-19 pandemic has forced all teams to work remotely.
Hiring candidates without an onsite interview is hard. Of course, we've all heard of the common issues and excuses. From internet connectivity issues, and technical issues to personal obligations at home. There are many such problems that can make remote recruitment a lengthy and exhausting process.
Nothing can truly match the insights derived from an in-person meeting. However, today's unique scenario has thrown up several questions and challenges.
With the lack of face-to-face interaction, how does one differentiate a genuinely qualified candidates from those who do not have prior experience ?

How does one assertain that the candidate has enough expertise to operate at their optimum level outside a traditional office setups ?
In this article, we delve deeper into the best practices that recruiters can adopt during remote hiring.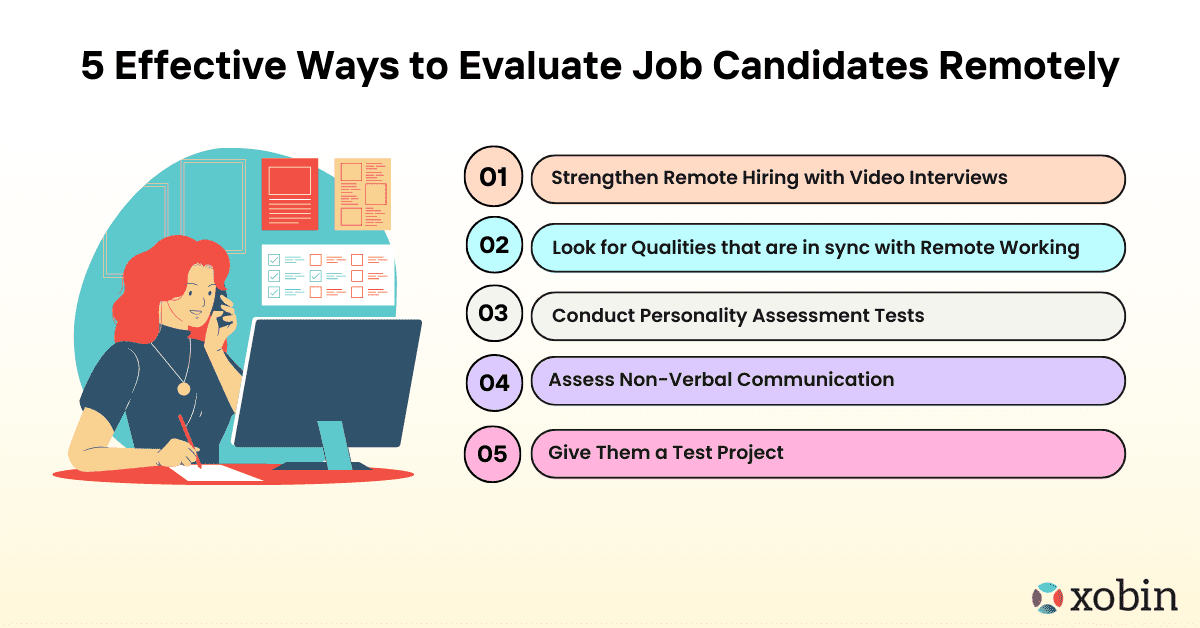 1. Strengthen Remote Hiring with Video Interviews
A remote hiring process is pretty much the same for on-site employees. In fact, the bar is just as high. All the job prospects have to undergo the interview screening process, including:
A phone screening
On-site interview
However, in the wake of the pandemic, there's no question of calling the candidates for on-site interviews.
Needless to say, video calls via Zoom or Google Meet come to the rescue. Sounds great, right? Yet there's a problem.
Many companies are introducing more rounds of interviews for in-depth conversations. An attempt to make up for the lack of in-person interactions.
However, they often end up losing talented candidates just because the hiring process was too long!
Don't worry! Here's what you can do:
Optimize recruiting speed: Have candidates answer a few common questions in a pre-recorded video interview. Jump to a video interview with the ones who are able to get past the screening process. Try tools like myInterview and Xobin.
Leverage panel interviews with multiple team members. Encourage the recruiters to be patient and empathetic. Give the candidate enough time and space to show their best.
Calendar Planning: Each week, Set aside a particular day and time for interviews. Specify your time zone in all candidate communication to avoid candidate no-shows.
2. Look for Qualities that are in sync with Remote Working
Employers have to consider certain factors to ensure that the new staff can thrive both in a remote working environment.
Some of the Qualities that you might consider are:
Good communication skills via phone, email, and other platforms
Work ethics
Adaptability and Flexibility
Independent problem-solving skills
Additionally, you can ask the candidates specific questions like:
How do you work effectively under pressure?
In remote conditions, how do you or will you set your daily goals?
How do you handle a challenging situation?
Have you worked with a virtually distributed team?
What do you do to stay focussed on your day-to-day tasks?
With a simple questionnaire, you will save time and sort out the right candidates early on in the hiring process.
Best HR Software Solutions
Campus Recruitment Software
With our online campus recruitment software screen, hire top talents hassle-free. Everything is under one platform, from test creation to the candidate's evaluation. from test creation to the candidate's evaluation.
Rating 5.0
Based on 321 user ratings
API Integration by Xobin
Get integrated and harness the strength of robust assessments with Xobin APIs. Save sweat and time and focus on your core offering, not building your assessment stack. from test creation to
Rating 5.0
Based on 321 user ratings
Coding Skill Assessment Software
With our 100+ coding assessments on various languages such as Java, Python, JavaScript, React, Angular, etc., evaluate and hire the best-talented developers. from test creation to the candidate's evaluation. to the candidate's evaluation.
Rating 5.0
Based on 321 user ratings
Pre-Employment Testing Software:
Get access to the vast library of validated tests to screen candidates using online assessments. Simplify your recruitment process with our cloud-based Pre-employment Testing Software. from test creation to the candidate's evaluation.
Rating 5.0
Based on 321 user ratings
Pre-recorded Video Interview Platform:
Pre-recorded Video Interview Platform allows candidates to fully express themselves to a pre-recorded question. So that you can get more insight into candidates in far less time than a traditional phone interview. from test creation to the candidate's evaluation.
Rating 5.0
Based on 321 user ratings
3. Conduct Personality Assessment Tests
Working from home is not a cup of tea for everyone. Some personality types find it relatively easier than others. Many are self-starters, while others rely on getting instructions before they decide to get ahead with work.
Psychometric and Personality assessments or quizzes can be a great way to gauge if the job candidate can fit well in the virtual as well as traditional office setup. 
Want to create something similar? You can use a tool like ProProfs Quiz Maker, which is an assessment software with hundreds of customizable templates to create personality and skill assessment tests. Not only that, you can share the quizzes via email with just one click.
✅ Bonus Tip
Instead of a resume, ask the job aspirant to send you a video of themselves in which they tell you about their qualifications, job experiences, and best life moments.
You will get to know a lot about their personality.
4. Assess Non-Verbal Communication
Some qualities are hard to assess via telephonic or video interactions while candidates answer the interview questions.
When conducting interviews in a virtual environment, an interviewee's specific actions can act as a game-changer.
Focus on their interaction throughout the hiring process to assess if they possess the attributes to regulate their day, organize (or reorganize) their tasks, and ask for help when needed to complete their goals.
Here are the most important signs to look for:
Are they disciplined in terms of interviewing at the scheduled time?
Are the applicants well-equipped with all the preliminary information about your company?
Do they display maturity and confidence in their answers?
How excited do they sound about being a part of the team?
Lastly, do they have a professional tone?
5. Give Them a Test Project
Success in an interview doesn't guarantee success on the job.
The problem, though, is that it becomes impossible to gauge work ethics and efficiency.
It would be best to devise and assign a test project for the shortlisted candidates. Those who wish to work for your company will happily finish up this added task.
Here's how you can go about it:
Organize a virtual meetup with the team.
Give a behind-the-scenes glimpse at the job candidate. The test project will give both recruiters and interviewees an idea of what it is like to work together.
Make sure the Assessment test is relevant and only takes a few hours. You can use training and assessment software to create one that can be easily taken during online interviews.
Navigating The New Normal In Remote Hiring
While the remote hiring process comes with its own set of demands and challenges, the efforts are worth it.
As alluded to above, this article provides you with ideas on succeeding in remote hiring. In fact, to find the perfect candidate for your company, establish your own process. Design this process before you start searching for candidates.
Make sure you use the best hiring management tools. Maintain communication with the candidates and keep them updated on the recruitment process status.
To further learn all the ways to assess potential remote workers, learn from your peers. Check discussions on hiring issues or employee questions and answers on various Q&A platforms.
Software you need for all your recruitment process
1 Million +
Test takers per year
Author Bio:
Samuel Alfie is a blogger at ProProfs Discuss, the #1 Q&A website with millions of wisdom seekers collaborating to ask questions and get the best answers. He writes about a variety of topics including technology, business, e-commerce, science, and more.