When we started a year a simple thought struck our mind tools like Google Forms, Type Forms offer unlimited form completions. Our best of 2020 Why should assessment platforms be any different? 
We started the year by making a change in the way assessments are used. For the first time, we introduced the concept of unlimited assessment invites for a simple monthly subscription.  We came up with a new pricing model which allowed our customers to start from 99 USD. We only put a limit on the simultaneous test-takers, so customers who are conducting campus drive and recruitment events should opt for a higher plan. Find below our pricing.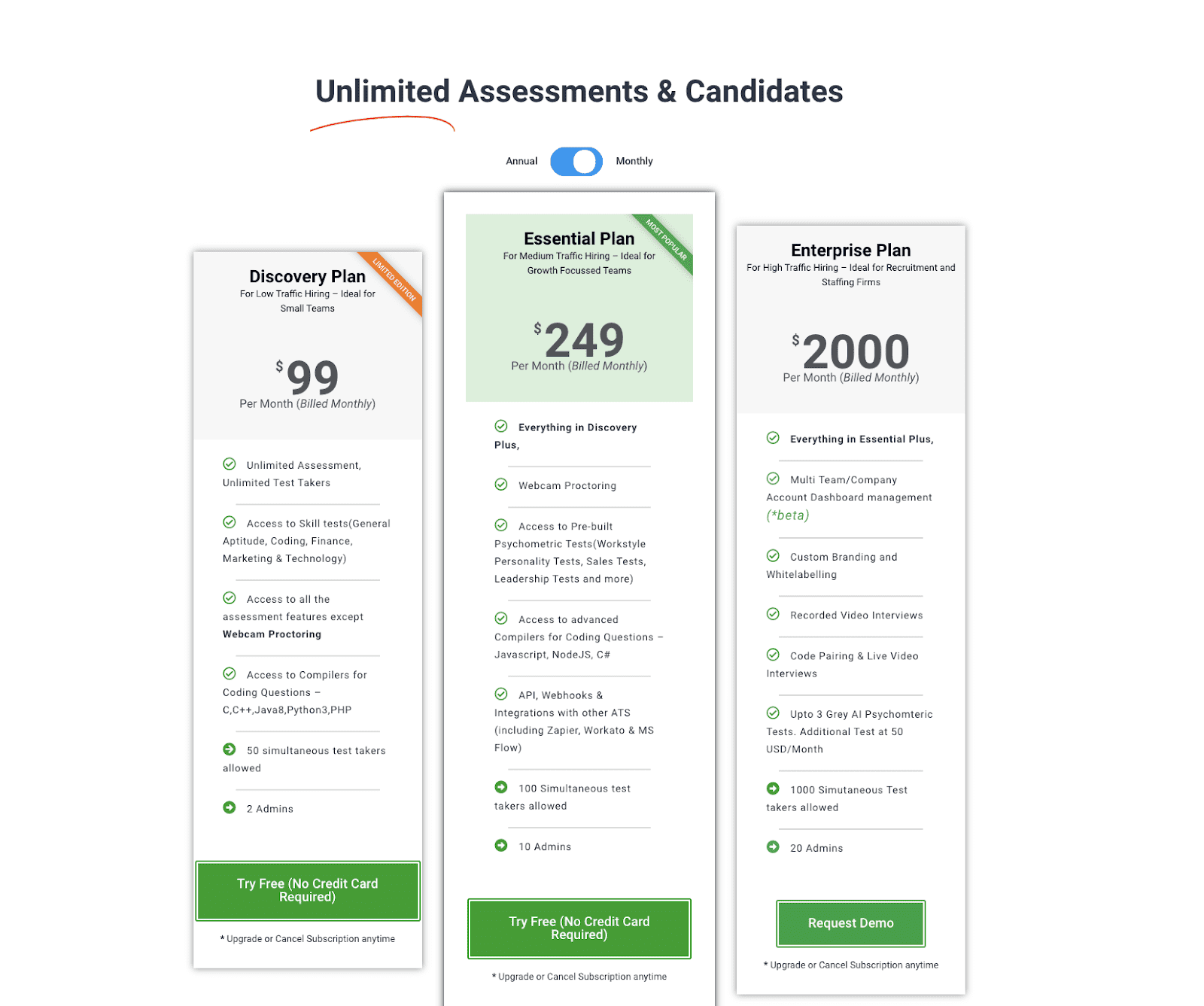 February 2020
As months passed by, in February, we realized the need to introduce a new home page for our admin dashboard where customers can quickly review the overall recruitment process. We introduced a simple interface where our customers can see the recent reports, the live test-takers, and lastly the overall assessment statistics. Find below the layout of the Home page.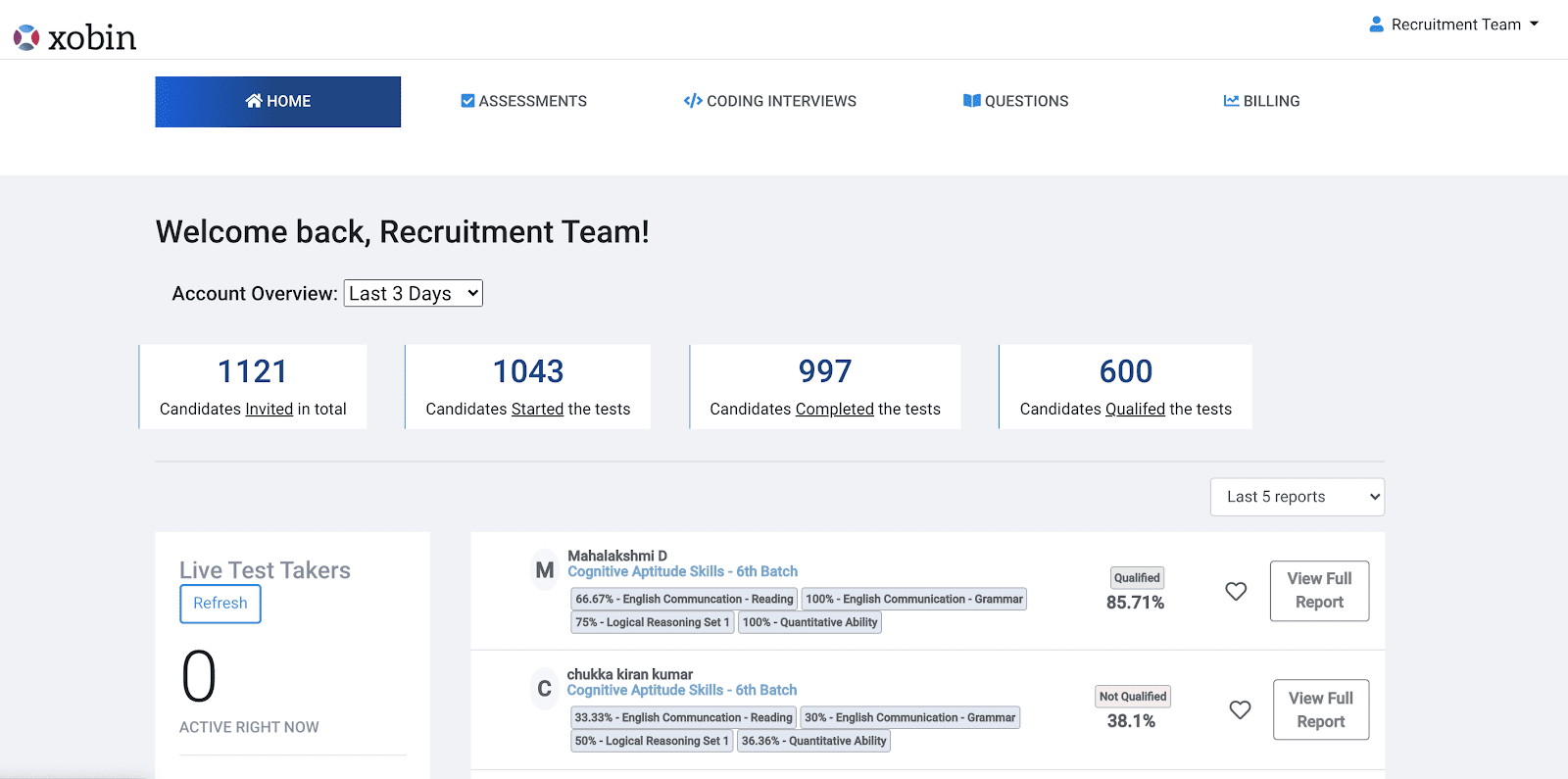 Best HR Software Solutions
Campus Recruitment Software
With our online campus recruitment software screen, hire top talents hassle-free. Everything is under one platform, from test creation to the candidate's evaluation. from test creation to the candidate's evaluation.
Rating 5.0
Based on 321 user ratings
API Integration by Xobin
Get integrated and harness the strength of robust assessments with Xobin APIs. Save sweat and time and focus on your core offering, not building your assessment stack. from test creation to
Rating 5.0
Based on 321 user ratings
Coding Skill Assessment Software
With our 100+ coding assessments on various languages such as Java, Python, JavaScript, React, Angular, etc., evaluate and hire the best-talented developers. from test creation to the candidate's evaluation. to the candidate's evaluation.
Rating 5.0
Based on 321 user ratings
Pre-Employment Testing Software:
Get access to the vast library of validated tests to screen candidates using online assessments. Simplify your recruitment process with our cloud-based Pre-employment Testing Software. from test creation to the candidate's evaluation.
Rating 5.0
Based on 321 user ratings
Pre-recorded Video Interview Platform:
Pre-recorded Video Interview Platform allows candidates to fully express themselves to a pre-recorded question. So that you can get more insight into candidates in far less time than a traditional phone interview. from test creation to the candidate's evaluation.
Rating 5.0
Based on 321 user ratings
May 2020
By May, the volume of the assessments conducted on our platform increased significantly. Customers started finding it difficult to crunch numbers via the excel export. So we decided to launch simple filters on the "All reports" page. The All Reports page shows the off-tab activity of test-takers, whether they are qualified or not, and most importantly the ability to shortlist candidates. Find below the layout of the "all reports" page.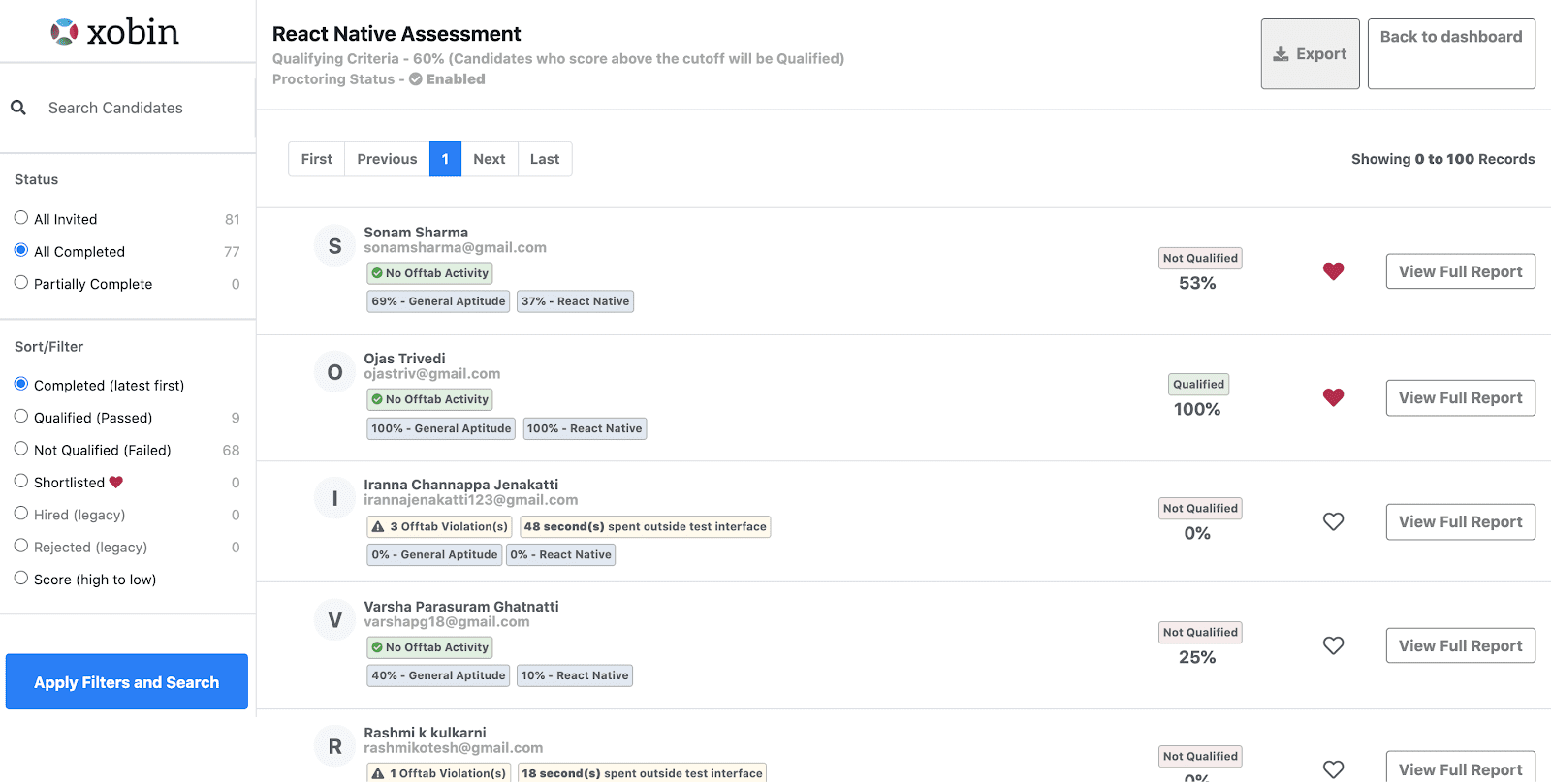 We also sensed the increased demand for Live & Recorded video interviews during the lockdown. So we offered both the service free for all the startups till June.  Our engineers spend all their time fixing bugs,  and ironing out all the little intricacies. So now our video interviews platform worked seamlessly. While our product team was working on adding new features, our content team was busy expanding our test portfolio. We partnered with subject matter experts across the world and expanded our test portfolio from 50 Job Roles to over 500 Different white collar Job roles.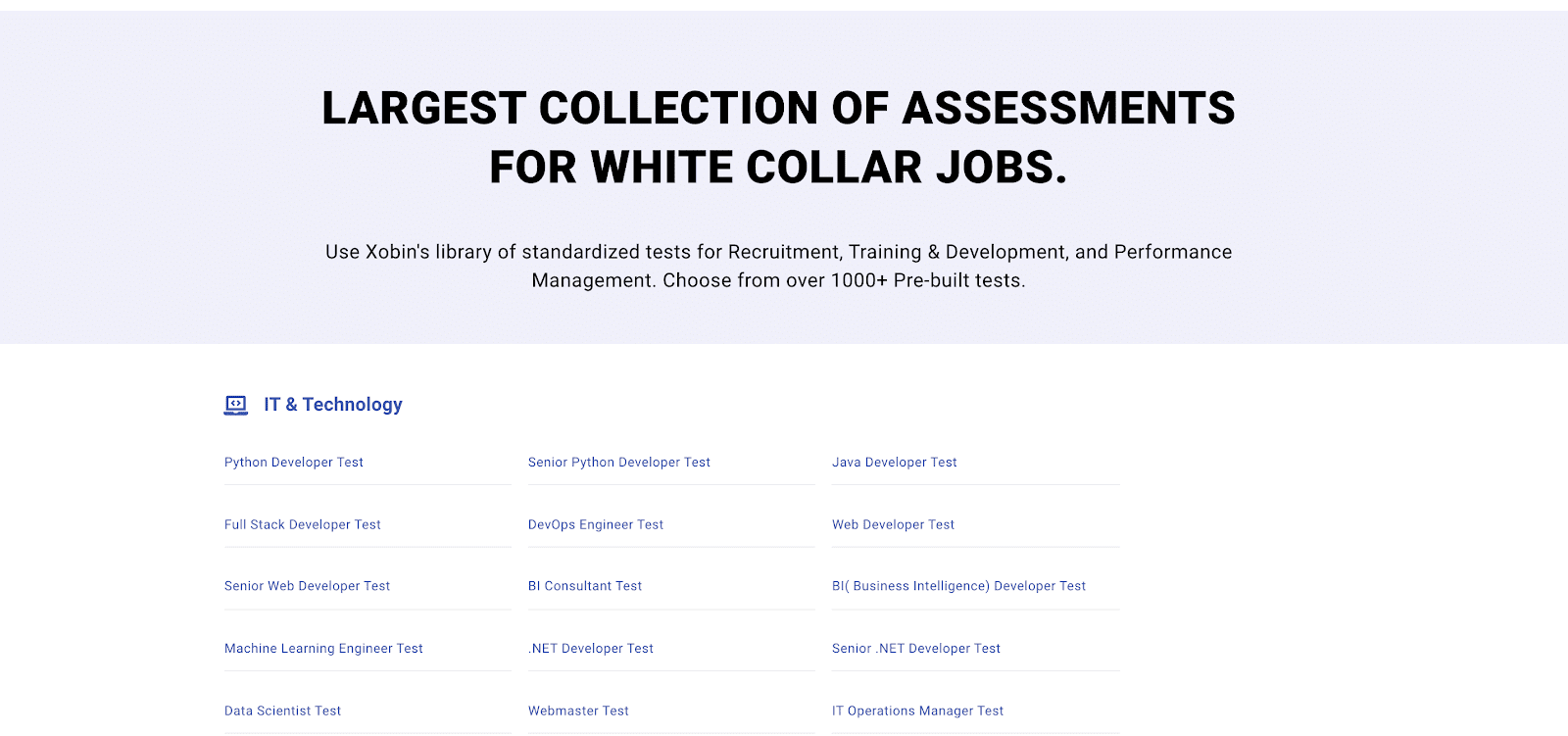 The size of the assessments started increasing and our customers found it hard to keep scrolling down the report, we solved this by redesigning a report which can easily be navigated. Find below the screenshot of the detailed report.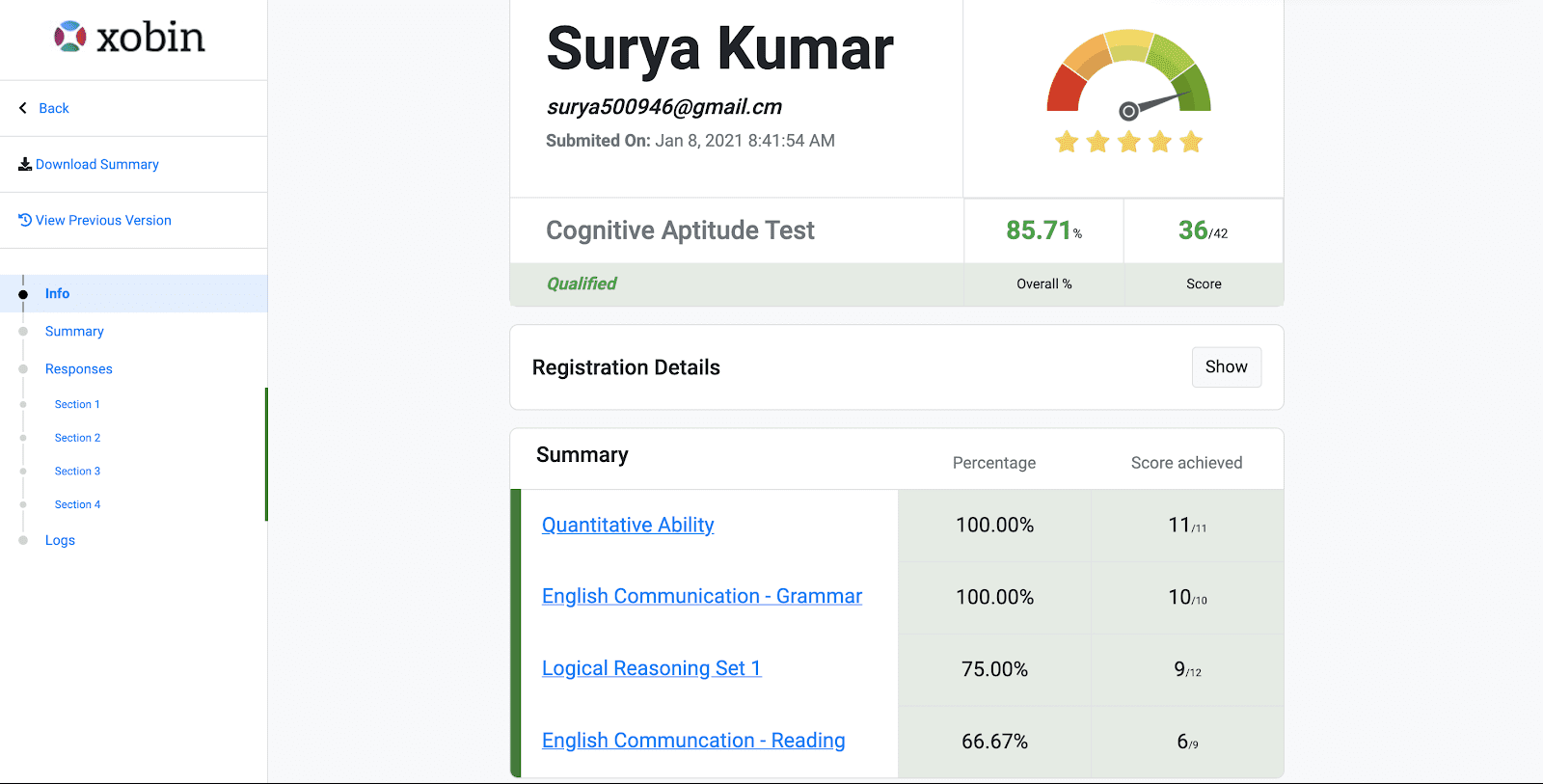 Apart from these major changes, we improved the performance of our platform by over 5 times. We also introduced new compilers and improved the test taker experience by improving their interface.  We have got great plans for 2021! Make sure to tune in to Xobin Talk Show every month. Stay tuned.