When we discuss a journey of startup projects like Apple, Google, or Amazon, we talk about Steve Jobs, Eric Schmidt, or Jeff Bezos only. These people might have sown a seed of startup projects with an idea. In fact, in nourishing and growing these ventures hard work of its employees plays big role. These startups can flourish because they are lucky enough to find a qualified team. Hence, Let me take you through how pre-employment testing can be of help for startups.
A competent and technically skilled team can take a startup venture to new heights of success. However, finding a qualified and skilled employee from the vast pool of incompetent professionals is not a piece of cake. Thus, pre-employment testing is a great tool to test the capabilities and skills of employees before hiring the perfect employee.
What is Pre-Employment Testing?
Pre-employment tests are a standard objective for gathering relevant information about candidates during the hiring process. The professionally created pre-test enables employers to check the efficiency and traits of potential employees. The information retrieved from these tests depends on the methods used by a company. 
   Looking for Pre-Employment Testing Software? Check out the best pre-employment testing software.
These tests are becoming highly popular as they can filter incompatible candidates and manage a large number of applicants swiftly. Additionally, the problem of resume spammers has been increasing rapidly. According to a report, on average applicants spend merely 76 seconds reading the job description – this results in recruiters receiving 50% of applications that won't match the job brief.
Hiring Challenges Faced by Startups 
In tough economic conditions, it is very hard for a startup to grow and thrive. And, on top of various external challenges, they have to bear the stress of hiring the right candidates while facing the following challenges –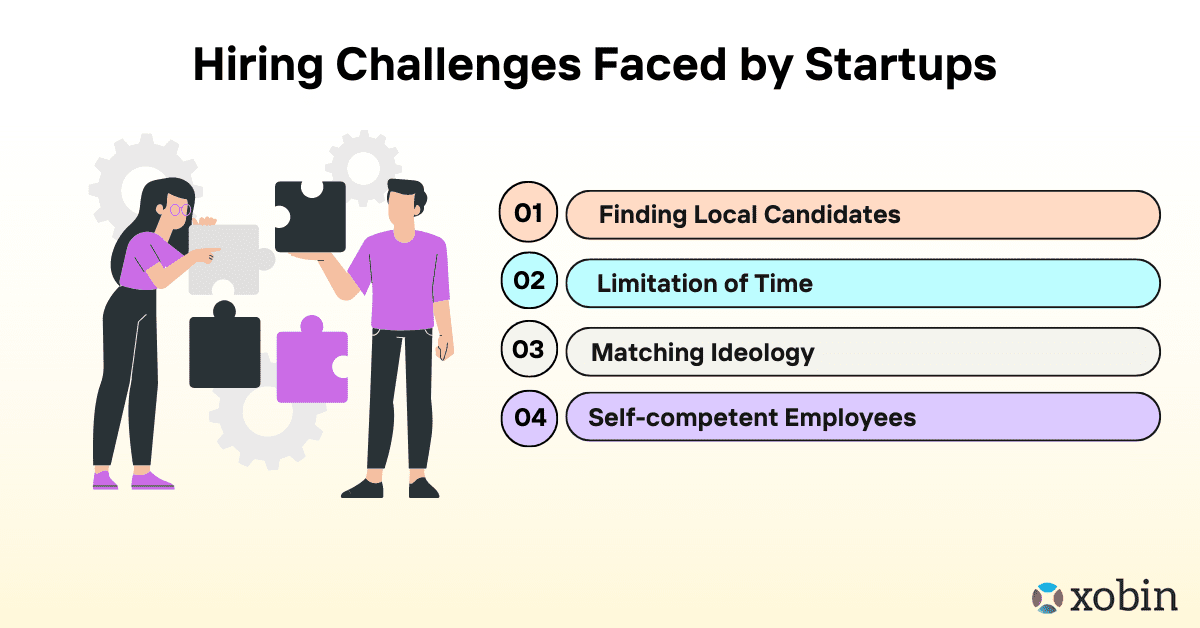 1. Finding Local Candidates
Startups have a limited budget for hiring. So, they can't afford to relocate an employee from outside the regional boundaries. Thus, they have to find candidates locally who can offer the best services. This pre-employment test can be very useful as it can test the skills of local employees and find suitable candidates. 
2. Limitation of Time
Startup organizations have limited employees. So, this startup needs employees who can work on their own under minimum guidance. That's why testing the skills of candidates before hiring them, gives a rough idea to startups regarding the practical skills of candidates.
3. Matching Ideology
Startup is an innovative business idea based on a unique ideology. To grow further, startups need to find employees who can connect with the startup and helps it in growing. But, it's hard to find the same ideology and passion containing employees without testing them on multiple grounds.
4. Self-competent Employees 
To grow your startup business, you need employees who are tech-savvy as well as confident. If your employees are multitalented, then they can easily fit into any role to take your business further. Moreover, employees with a grasp of the latest marketing trends can benefit your business in multiple ways.
Best HR Software Solutions
Campus Recruitment Software
With our online campus recruitment software screen, hire top talents hassle-free. Everything is under one platform, from test creation to the candidate's evaluation. from test creation to the candidate's evaluation.
Rating 5.0
Based on 321 user ratings
API Integration by Xobin
Get integrated and harness the strength of robust assessments with Xobin APIs. Save sweat and time and focus on your core offering, not building your assessment stack. from test creation to
Rating 5.0
Based on 321 user ratings
Coding Skill Assessment Software
With our 100+ coding assessments on various languages such as Java, Python, JavaScript, React, Angular, etc., evaluate and hire the best-talented developers. from test creation to the candidate's evaluation. to the candidate's evaluation.
Rating 5.0
Based on 321 user ratings
Pre-Employment Testing Software:
Get access to the vast library of validated tests to screen candidates using online assessments. Simplify your recruitment process with our cloud-based Pre-employment Testing Software. from test creation to the candidate's evaluation.
Rating 5.0
Based on 321 user ratings
Pre-recorded Video Interview Platform:
Pre-recorded Video Interview Platform allows candidates to fully express themselves to a pre-recorded question. So that you can get more insight into candidates in far less time than a traditional phone interview. from test creation to the candidate's evaluation.
Rating 5.0
Based on 321 user ratings
Why Invest in Pre-employment Testing?
50% of US employees are going to be millennials by 2020. That means upcoming employees are going to be passionate, creative, opportunity seekers, and fresh out of grad school. Also, these are the perfect candidates for startups, but they lack practical training and skills. So, before hiring them, startups need to organize pre-employment tests and check their skills for various reasons.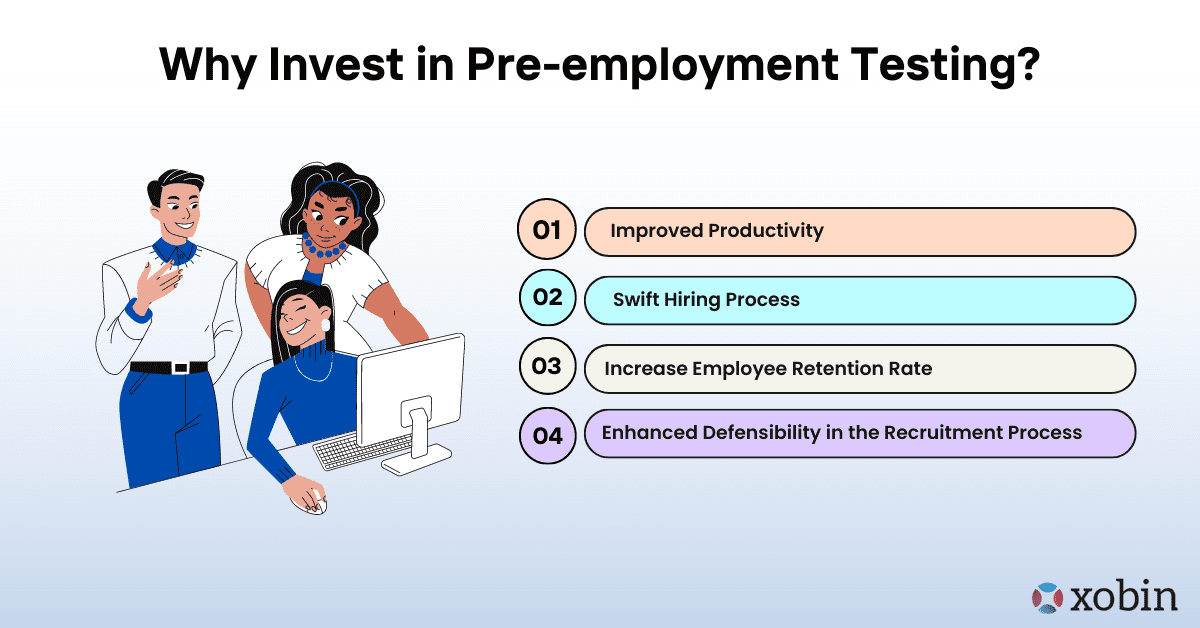 1. Improved Productivity 
It has been illustrated by numerous types of research that professionally developed and implemented pre-employment tests can analyze the productivity of a candidate in a wide range of job profiles. These tests are the perfect and accurate way to determine the performance of candidates because the test shows objectivity to an extent. Therefore, well structured pre-employment tests test Performance, knowledge, and skills altogether.
Example:
Taking an apparel brand case study that has improved the productivity of their employees by measuring the hourly sales volume. They asked their entire team to perform the Criteria Basic Skills Test that analyzes the basic maths, communication skills, and speaking talent of employees. By evaluating the average sales per hour and test scores, the company is able to determine the hourly productivity of every employee. Additionally, the test outcome has thrown light on the various aspects such as retention rate, customer satisfaction level, training expenses, individual productivity, and so on.
2 Swift Hiring Process 
The process of organizing interviews and evaluating candidates takes up lots of time. On top, 75% of experienced candidates decline the job offers from startups. Thus, to reduce time wastage, business organizations are automating the early stages of the recruitment process. Pre-employment testing here eliminates incompetent and under-qualified candidates from the hiring process and reduces the time of the hiring process. 
Hence, after pre-employment testing with the applicants, recruiters should shortlist and pay attention to them. This practice will not only reduce the recruitment process time but will also reduce the cost of the hiring process. It can also amplify the accuracy of the selection process as well.
3. Increase Employee Retention Rate
The significant benefit that is driven by pre-employment testing is the improved employee retention rate. The test can show figures on the job expectations and the work environment. These makes new hires aware of the work. Further, it means that both the startup and candidates can make accurate choices as per their needs.
On the other hand, a pre-employment test will verify for the company whether the candidate can handle the workflow or not. After these tests, the candidate will accept the offer letter by their choice. Let me take you through how pre-employment tests impact the retention rate-
It will reduce the voluntary turnover by ensuring that candidates know about the real job profile.
It will cut short the involuntary turnover by making sure that candidates have the perfect skills and capacities to perform their work successfully.
4. Enhanced Defensibility in the Recruitment Process 
Apart from helping startup organizations in improving outcomes, the pre-employment tests can work towards improving the objectivity, legality, and equability in the hiring process as well. It is highly crucial for all companies to include equitable and legal features in employee selection practices. In some of the regions, pre-employment tests are governed by federal guidelines to ensure equality and non-discrimination in the hiring process. With this practice, companies can make the recruitment process more legal.
Employers should be aware of the importance of legalizing the recruitment process due to the number of federal compliances. It is essential to realize that employment testing can actually enhance the legal objectives of the organization. The organization that prepares the recruitment process according to legal guidelines is always prepared to defend the legal position of the company in case of legal obligations.
Features of Professional Pre-employment Test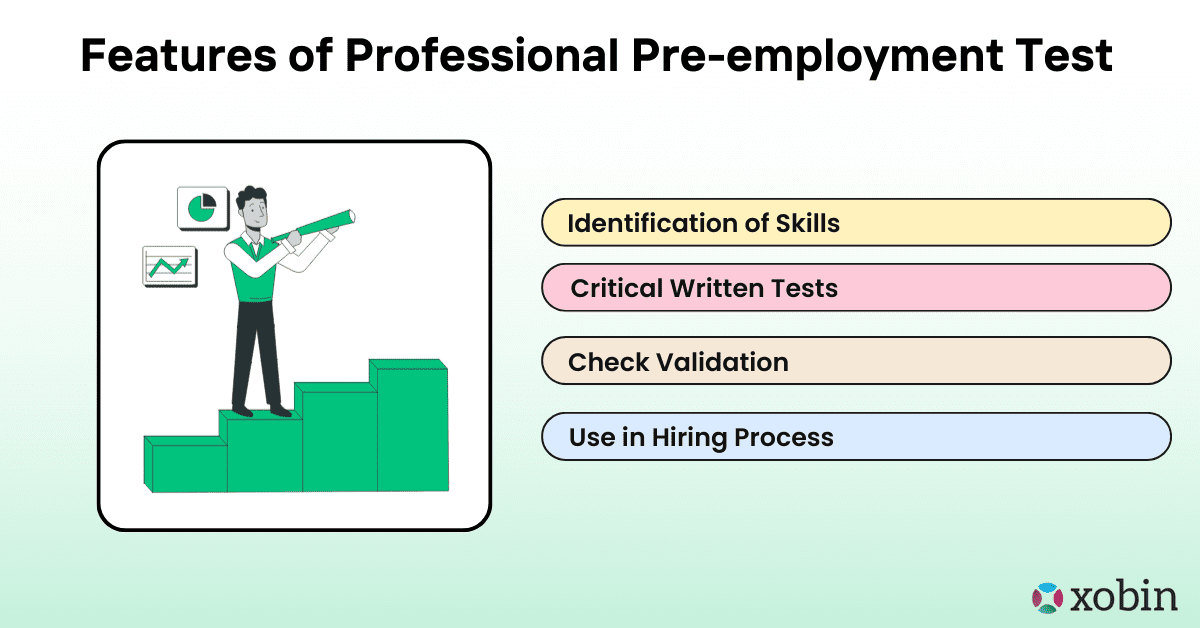 1. Identification of Skills
Foremost, startup organizations need to determine all the skills that they want in their candidates. If employers are not aware of the skills that they need to take their company ahead, then they won't be able to create a comprehensive test defining all the essential skills.
2. Critical Written Tests
When you have to test the critical tests, then you have to conduct them in a written manner. The written test can present a situation in a better way and gives the opportunity to narrate an answer properly. The problem-solving abilities of the candidates can be tested by presenting a word problem. Moreover, computer and technology usage skills can be analyzed. On the top, critical skills like designing abilities or grammatical errors can be addressed through written tests better. 
3. Check Validation
As many know these pre-employment tests are for new candidates only. Sometimes employees working in a position don't possess the talent to handle the position. Therefore, these tests can verify these skills.
4. Use in Hiring Process
Employment tests should be included in the recruitment process in different stages. Foremost, it should be used to shortlist the good candidates from the pool of applicants. Tests can be more comparative once candidates are analyzed. So, candidates who pass must be proficient in their skills. 
Pre-employment Test – A Necessity 
Most startups fail due to incapable and incompetent employees. Employees are the fixed assets of the startups that make them a success. Thus, to hire professional and skilled employees for your startup company – it is essential to include pre-employment tests. So, once you note down what you need, you should create the tests carefully. The perfect implementation of the employment skill test will increase employee productivity. Also, reduce hiring process costs and time along with multiple other benefits.