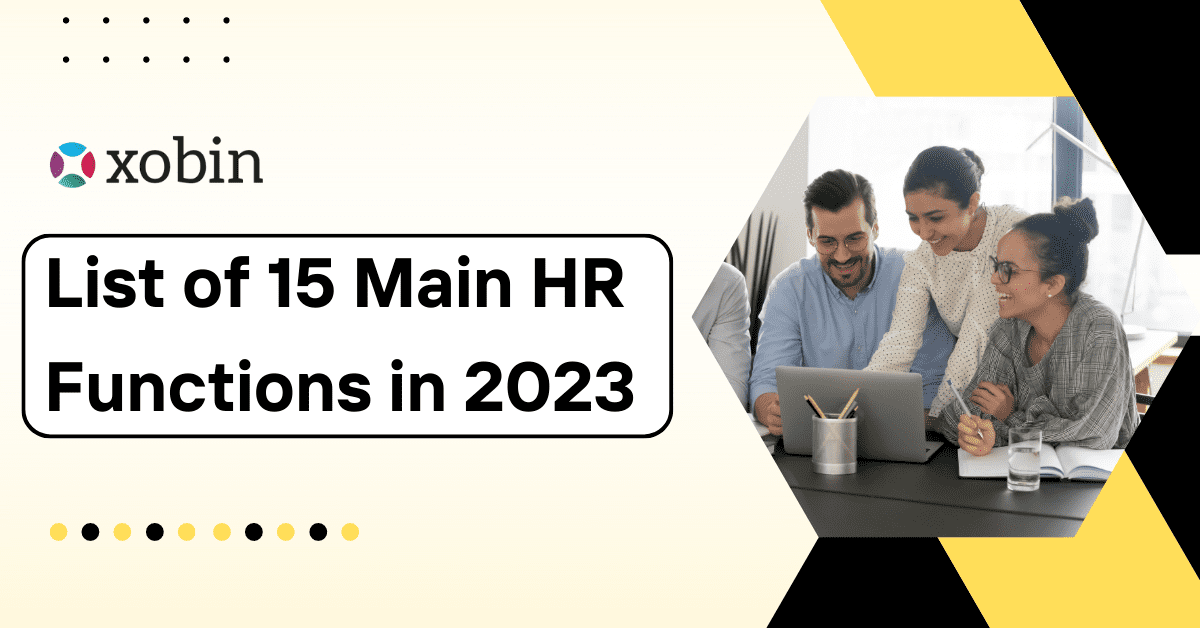 What is Human Resources?
Human Resource is a very old phrase first used by John R, American Institutional Economist, in 1893. However, it wasn't until the twentieth century that HR functions and departments were fully created and helped settle conflicts between employees and their employers.
A human resource is a person or employee who works for an organization and maintains its KPI's . Employees are labor resources who contribute to the company's goals & mission. The word "human resources" refers to all the employees of a company. Human resources are the people who work at a company and make it a workplace.
A company's human resources division controls and manages the employee life cycle, focusing on its people, who are its most significant asset that helps the organization grow and achieve its goals. The department's key HR functions and responsibilities are centered on identifying the best methods to utilize the people that are currently present in the organization.
Looking for Recruitment Planning Software? Check out the best Recruitment Planning Software solutions.
There are a lot of factors and functions that have the greatest impact on employee happiness and performance. The human resources department ensures that the firm has an appropriate staff to meet the organization's goals by paying attention to these elements.
Let's jump on to the main HR functions.
15 Main HR Functions list: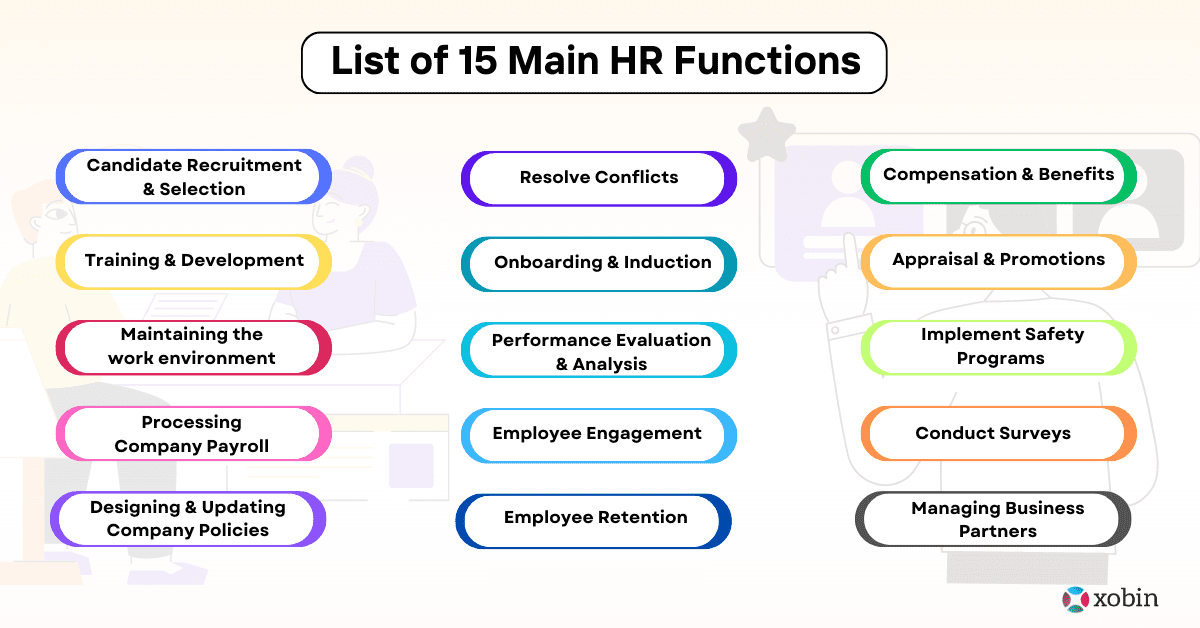 Candidate Recruitment & Selection:
The hiring of a candidate is the simplest and first step taken by HR. Although the hiring process is tedious and costly, it is pleasant to meet new individuals and assess their talents. One of the key HR functions is the development of a recruiting procedure.
The technique comprises assessing the business's needs and selecting the best talent that has the potential to help the company grow. The perfect candidate may boost the spirit of the entire workplace and contribute to achieving the set objectives at a faster pace.
Training & Development:
In recent years, there has been a considerable shift in how training and development are addressed. It has become one of the main hr functions to perform.
Businesses have begun to invest in staff training after recognizing how crucial it is. It plays a vital role in helping an individual grow at a faster pace. As the corporate environment develops, companies must be conscious of their employee's growth. They must prioritize it and provide assistance to their employees in gaining the skill.
Maintaining the work environment:
One of the most important HR functions is to maintain a healthy and positive working culture inside the firm, as it has the biggest impact on the organization. As a result, it increases the productivity and efficiency of employees while decreasing absenteeism and employee turnover.
As a result, the human resources department should guarantee that employees are satisfied with their jobs and get along with their employers and coworkers.
Processing Company Payroll:
To ensure the integrity of the organization, the Human Resources department must manage the payroll activities of the company and provide assistance to employees if there are any issues.
The HR executive should also decide how bonuses and appraisals are included in an employee's gross compensation, which plays an integral part in terms of monetary benefits. It is one of the main HR functions.
Designing & Updating Company Policies:
Rules and regulations must be followed if the firm is to deliver outcomes and maintain higher standards of performance. So, if you are applying for the HR role, you must continue to update the company's present policies, which is one of the major HR functions.
If a certain technique is not followed or is difficult, HR professionals must update the policies and guidelines to make them fit for company operations and growth.
Resolve Conflicts:
The human resources department acts as a mediator between employees and supervisors whenever conflicts arise. The HR department will follow dispute resolution processes in order to reach a mutually acceptable conclusion for all parties. Reducing the potential for conflict among employees inside the business is a key HR function and responsibility.
Hence, the human resources department is in charge of examining claims of discrimination, unfair treatment, and bad working conditions.
Onboarding & Induction:
In HR functions list, onboarding & induction are crucial pointers. HR professionals should provide great onboarding to the new employees, as it helps them to settle themselves quickly in the workplace. Also, induction should be done.
Induction is the process of introducing new employees to their roles and the firm. It comprises greeting new employees and providing them with any basic information they may need to become acquainted with the company.
Best HR Software Solutions
Campus Recruitment Software
With our online campus recruitment software screen, hire top talents hassle-free. Everything is under one platform, from test creation to the candidate's evaluation. from test creation to the candidate's evaluation.
Rating 5.0
Based on 321 user ratings
API Integration by Xobin
Get integrated and harness the strength of robust assessments with Xobin APIs. Save sweat and time and focus on your core offering, not building your assessment stack. from test creation to
Rating 5.0
Based on 321 user ratings
Coding Skill Assessment Software
With our 100+ coding assessments on various languages such as Java, Python, JavaScript, React, Angular, etc., evaluate and hire the best-talented developers. from test creation to the candidate's evaluation. to the candidate's evaluation.
Rating 5.0
Based on 321 user ratings
Pre-Employment Testing Software:
Get access to the vast library of validated tests to screen candidates using online assessments. Simplify your recruitment process with our cloud-based Pre-employment Testing Software. from test creation to the candidate's evaluation.
Rating 5.0
Based on 321 user ratings
Pre-recorded Video Interview Platform:
Pre-recorded Video Interview Platform allows candidates to fully express themselves to a pre-recorded question. So that you can get more insight into candidates in far less time than a traditional phone interview. from test creation to the candidate's evaluation.
Rating 5.0
Based on 321 user ratings
Performance Evaluation & Analysis:
One more key hr function is to evaluate and analyze employee performance. In performance analysis, performance is evaluated using a specified set of criteria.
Human resources can use performance analysis to evaluate an employee's contribution to a job or project; it also helps them provide feedback to improve their performance.
Employee Engagement:
Employee engagement factors refer to the workforce's enthusiasm and dedication to the company. On the other end, employees who actively participate in their work have a greater dedication to the organization, their employment, and their connections with coworkers.
Hence, companies with engaged employees earn more per share and have a greater chance of recovering from downturns and recessions.
Employee Retention:
Every business needs dedicated employees who will stick with the organization and help it grow. Hence, companies must have a retention strategy.
As a result, management must retain those employees who have a strong appreciation for their organization and give it their all.
Compensation & Benefits:
The phrase "compensation and benefits" refers to all of the perks that an organization provides its employees in exchange for their work. When looking for a new job, the first thing anyone thinks about is the compensation.
In practice, however, remuneration implies far more than a mere paycheck. Insurance, stock options, housing, and transportation are some of the benefits provided by the employer apart from monetary compensation.
Appraisal & Promotions:
The goal of performance assessment is to examine an employee's performance on a regular basis so that management may assess their development and address any difficulties or challenges.
Each HR department person should know what their task is. As a result, chiefs evaluate each employee on their individual tasks. Also, their capabilities as well as provide promotions.
Implement Safety Programs:
HR is crucial to maintaining employee health and safety because employees spend 8 to 10 hours a day at work, and human resources is critical to safeguarding their safety and health.
Human resources must implement a systematic safety program for the company's personnel. They must also resolve any difficulties that employees may face.
HR has taken on another responsibility, conducting surveys, and this data is crucial. Employees are sometimes afraid to offer their opinions in public. Thus, HR should conduct frequent surveys.
Because it contributes to the seamless operation of the organization's feedback system. This input can aid in issue-solving and progress.
Managing Business Partners:
The manager is the public face of the company. All strategic partnerships are managed by the HR Department. It is one of the most important HR functions to perform.
The HR Manager represents the organization publicly. The HR department represents the company during corporate mergers, acquisitions meetings and conferences.
Conclusion:
Human resources is a multifaceted job that helps businesses get the most out of their employees. To operate across these basic HR functions, you must have a diverse skill set as an HR professional. The human resources division is critical to the growth of an organization. They go beyond employment, training, and money.
Therefore, they contribute to the development of the company's culture, and with these HR functions, they ensure that everyone is happy and satisfied with the roles & responsibilities assigned to them. Hence, a firm is only as good as the people who work for it; therefore, human resources are important for any organization.