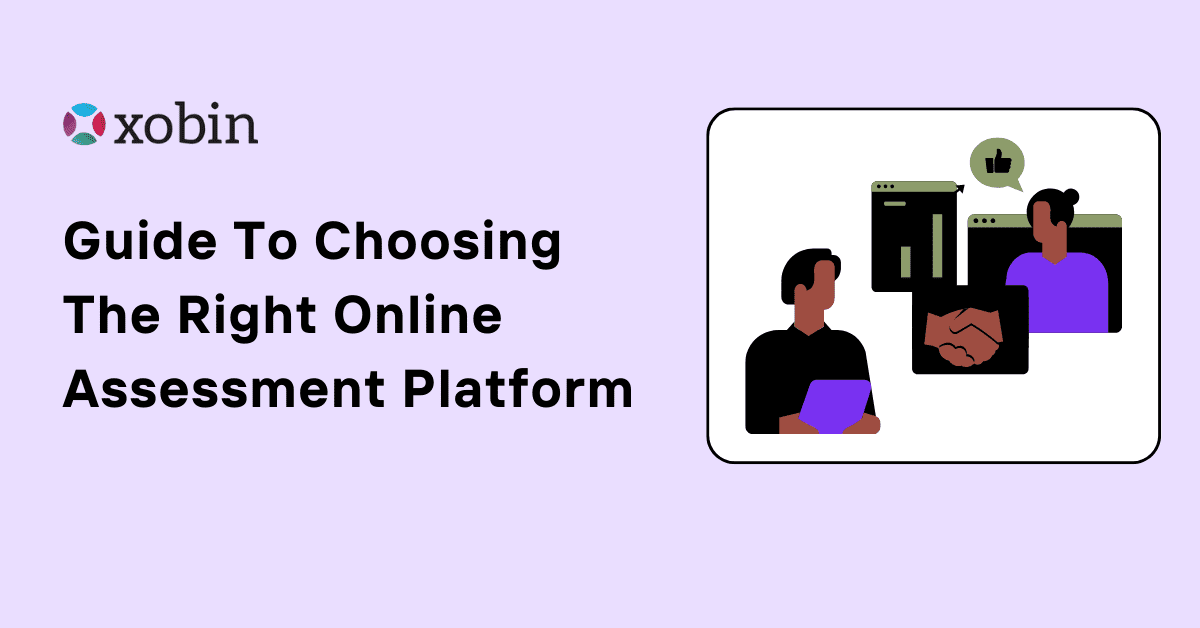 The right online assessment platform gives an elevated design to the path of the recruitment process.
Had nightmares of hiring the right person for your company?
Validating the skill set of a candidate is the most crucial step in the hiring process. Conducting an online pre-employment assessment is the secret sauce for validating the skills and hiring the right fit for your organization. Your recruitment strategy to sky-rocket your hiring goals rests on the founding rock of 'Choosing on the right online assessment platform'.
   Looking for Online Assessment Software? Check out the best online assessment software.
Here you go!!
The eye candy features of an online assessment platform routing to achieve your hiring goals.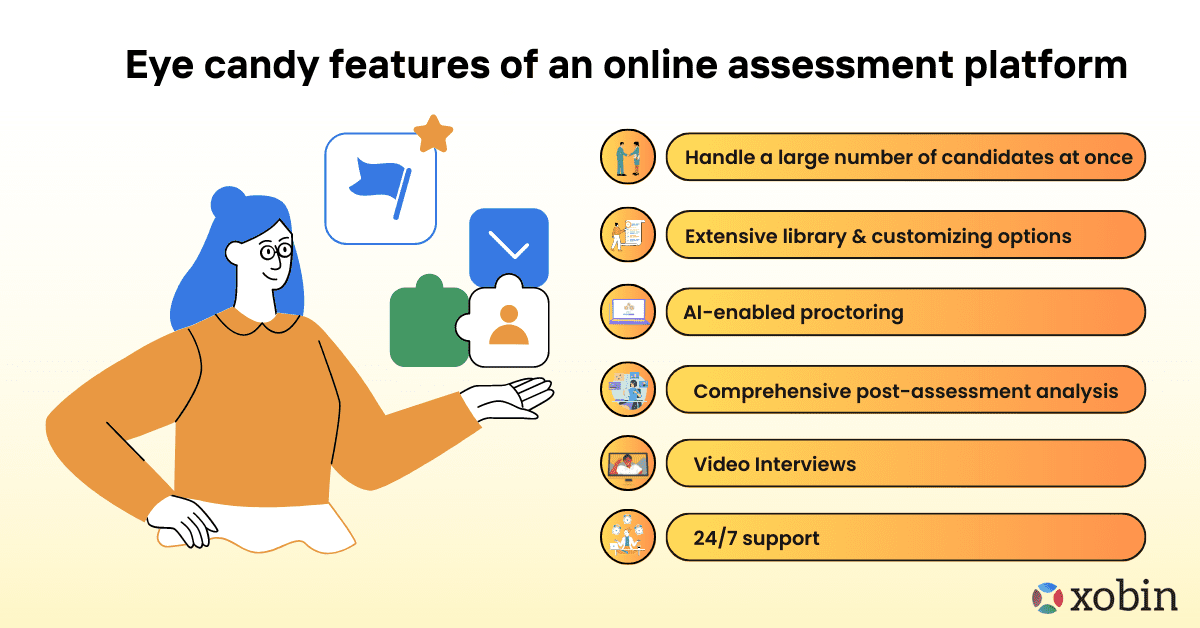 Handle a large number of candidates at once
Yes! 'Scalability' is the term we use. An ideal online assessment platform should be robust enough to accommodate a large pool of candidates from various locations simultaneously.
This is one of the major criteria taken into consideration by organizations for campus hiring and conducting hackathons.
Thanks to online assessment platforms, the organizations can now send the assessment link to the candidates across various locations at the same time, thereby reducing the time of the recruitment process.
The candidate will only need just a computer and an internet connection to take the assessment.
Since everything is on the cloud, there is no need for installing a software. It's that simple!
The online assessment platform should have customization options for branding. You can configure your landing page of the assessment along with your company logo.
At Xobin, we have robust assessment to accommodate hundreds of candidates at once. It's being used and recommended by 300+ organizations across the globe.
Top reasons why pre-employment assessment is important to hire a candidate.
Extensive question library and customizing options
Break out from the burden of selecting and writing questions for recruitment!
An online assessment platform should have an extensive question library catering to various levels of difficulty.
The hiring managers and recruiters will be more advantaged if the online assessment platform allows customizing options.
At Xobin, we have tailor-made assessments as well as customization options to prepare your own set of questions and time duration.
360° assessment solution
A study done by Career Builder shows that 71 per cent of employers value emotional intelligence in an employee than IQ. Hence it imperative to assess the technical competency as well as the psychometry of the candidates. An ideal online assessment platform should serve as a one-stop solution to assess the overall competence of a candidate.
Xobin brings a 360° assessment solution to your table.
Best HR Software Solutions
Campus Recruitment Software
With our online campus recruitment software screen, hire top talents hassle-free. Everything is under one platform, from test creation to the candidate's evaluation. from test creation to the candidate's evaluation.
Rating 5.0
Based on 321 user ratings
API Integration by Xobin
Get integrated and harness the strength of robust assessments with Xobin APIs. Save sweat and time and focus on your core offering, not building your assessment stack. from test creation to
Rating 5.0
Based on 321 user ratings
Coding Skill Assessment Software
With our 100+ coding assessments on various languages such as Java, Python, JavaScript, React, Angular, etc., evaluate and hire the best-talented developers. from test creation to the candidate's evaluation. to the candidate's evaluation.
Rating 5.0
Based on 321 user ratings
Pre-Employment Testing Software:
Get access to the vast library of validated tests to screen candidates using online assessments. Simplify your recruitment process with our cloud-based Pre-employment Testing Software. from test creation to the candidate's evaluation.
Rating 5.0
Based on 321 user ratings
Pre-recorded Video Interview Platform:
Pre-recorded Video Interview Platform allows candidates to fully express themselves to a pre-recorded question. So that you can get more insight into candidates in far less time than a traditional phone interview. from test creation to the candidate's evaluation.
Rating 5.0
Based on 321 user ratings
Logical reasoning and analytical ability tests:
Logical reasoning and analytical ability tests help the recruiters to assess the thought process of the candidates and map them against the standard skillset required for the job.

Communication skills assessments:
Communication assessment helps the recruiters to identify the candidates who have a good command of the language and can present their ideas to others. Our assessment platform also helps to assess the email etiquette of candidates.
Psychometric assessments:
Psychometric tests help the recruiters to assess the soft skills, emotional intelligence and cultural fit of the candidates. They reveal the inhibitions and the actual behaviour of a person.
Technical assessments:
Technical Assessments help the campus recruiters to understand the technical skill set of candidates during campus hiring. This helps recruiters analyze if the students have the technical competency for the specific job role.
Pro tip: The right way to leverage an online assessment platform to boost your hiring.
AI-enabled proctoring during online assessment

A good online exam system will have anti-cheating features in place to counter cheating effectively.
Let AI take care of proctoring your candidates.
AI enabled proctored tests typically involves monitoring your candidates during an online assessment. This is possible with the help of a webcam, mic and access to the screen of the candidate. The AI enabled proctor observes the student's eye movements or other behaviours that amount to signs of cheating. AI can detect if the candidate opens another browser during a test. It generates a comprehensive report that explains students' activity during every minute of the examination.
Xobin shares the report the behaviour and actions of the candidate with the recruiters.
Pro tip: Recruiters can now make their lives easier by incorporating AI into the recruitment process.
Comprehensive post-assessment analysis

A piping hot post-assessment analysis helps the recruiters and hiring managers to take quick hiring decisions.
An ideal test analysis of an online assessment platform should portray:
Performance of a candidate with respect to various sections
Performance of a candidate with respect to the level of difficulty
Gap analysis of a distinctive score with respect to the standard score
Address strengths and areas of improvement
Valuable feedback and suggest ways for improvement
Xobin post-assessment analysis and report looks like this!
Video Interviews
Video interviews are beneficial for both the candidates and the recruiters. They are the most sought-after feature while choosing an online assessment platform.
With hiring becoming more global and employees working remotely, video interviews have become the mainstream.
With the launch of video interviews in the recruitment process, the recruiters can now schedule the interview with the candidates as per their convenience. The candidates can attend the interviews at the comfort of their home or workplace.
Adopt a professional video interviewing soft will integrate with your existing technology and workflows, to create a more seamless process for you and your candidates.
Xobin helps you to interact with your candidate along with notes from the AI about what it has observed in each candidate. It greatly saves the time and cost associated with campus recruiters as they can design their own schedule while selecting a huge number of candidates. The candidates need not worry about the hassle of going for an on-site interview.
The paramount feature of an online assessment platform – 24/7 support
At times, recruiters may not possess technical knowledge related to the software. They might require proper application/software support at each stage of the exam creation and completion.
In such scenarios, operational support should only be a phone call or live chat away.
Technical support offered by the developer of the platform is appreciated by candidates facing technical glitches. At Xobin, our technical team is available 24/7 to serve our customers. 🙂
Thus, The sumptuous advantages of an online assessment platform
Reduced administration work
Instant analysis and reports
Increased productivity and reduced hiring time
Wider reach to find the right candidates
Concluding thoughts . . .
With Xobin, your recruitment process becomes a low hanging fruit.
We offer various tailor-made platform with generous pricing to suit your requirement.
Xobin is ideal for:
Campus Recruitment
Walk-ins
Hackathons
Mock assessments
Video Interviews and a lot more… ( Chat with us! )
Signup with Xobin for a 14-day FREE trial.