Remote working, which was once commonly reserved for freelancers and creative artists, has now become the regular norm of work. The global pandemic has disrupted the office working environment and has forced workers in advanced economic countries to do remote work. Moreover, businesses have also noticed a rise in productivity among remote workers for some specific tasks and are now advocating for the norm of remote work to continue.
Most businesses are permanently resorting to the norm of remote working. Interestingly the major reason behind this is cutting down the huge infrastructure expense. But, on the other end, the remote working model also brings some challenges if the remote team is not managed properly.
New organizations or startups that have not managed remote teams earlier are more likely to make some mistakes that can cost businesses to a large extent. However, the worst impact of a mismanaged remote team falls on the workers or employees, who are left unsatisfied and frustrated.
Here in this blog, we will review 7 mistakes that may be costing your business and that you should avoid while managing a remote team. Let's get started.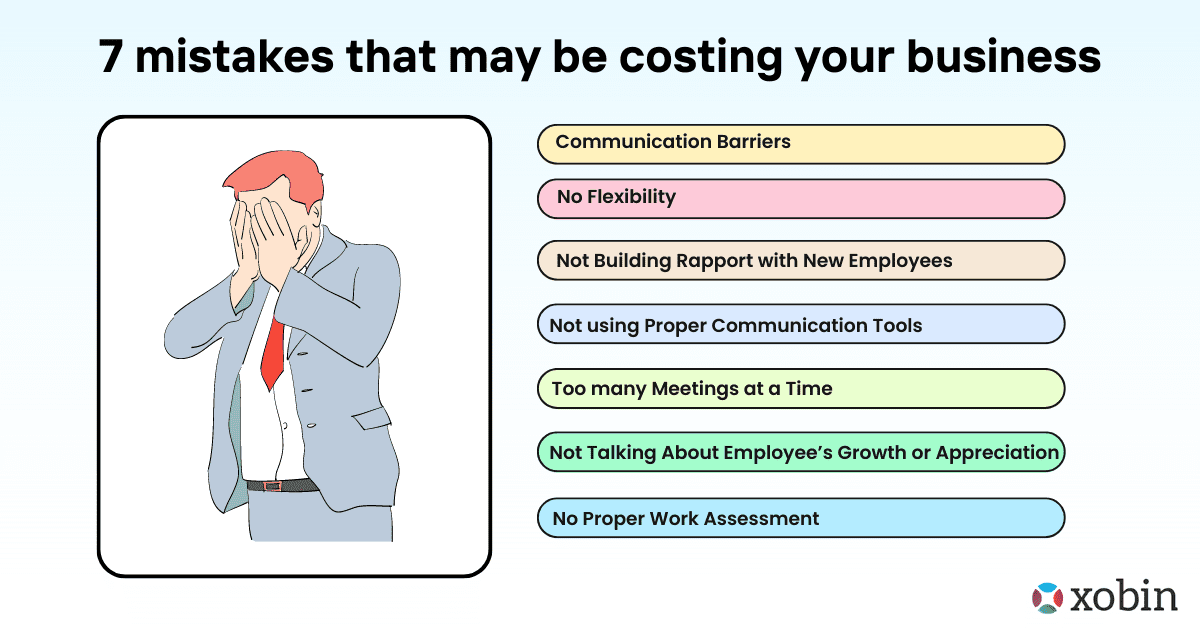 Communication Barriers
There are many communication barriers, especially when your team is working remotely. However, you must take care of this issue. Communication is the core and heart of any work. Unless your communication is clear and transparent, you will not be able to convey your message to the team and vice versa.
Unclear communication or miscommunication leads to misunderstandings and confusion. And all of these occur due to a lack of non-verbal communication. Unlike in an office set-up, you don't get your employees near you to pass the message clearly and verbally. Over video or phone calls, one may not be able to convey the message using gestures and the right tone.
Hence, it's clear that managers must be extra careful while communicating with employees working remotely. You must not assume that the team will figure out whatever messages or emails have been sent. Be clear in explaining the goals and plans of the team. Also, try to have phone or video call meetings once a day.

No Flexibility
The main aim of letting employees work from home is to give them flexibility in work and life. Unfortunately, some managers fail to understand this point and assume that even the remote work should be within 9–5 office hours. If you are one of them, you are making a big mistake!
Hence employers should allow time flexibility for their employees. Fix the duration of the total working hours of a day without a rigid structure. Different employees may feel productive at different hours of the day. Let your employees work in a hybrid working structure. As a result, you will see a productivity increase. These changes also let employees living in different time zone work comfortably.
Not Building Rapport with New Employees
When you hire offshore developers or a remote employee, the newly hired may feel left out unless you arrange a proper onboarding and then regularly maintain a healthy conversation with the employee. Just because you haven't met them or never shared your meals with them doesn't mean they are not part of the team. They are humans and need to be heard and understood. Talk about things beyond work.
Good management is based on rapport building. It will help if you create a strong manager-employee bond to let your remote employee feel free to discuss things with you, whether official or unofficial. This way, an employee will connect more with the mission and vision of the company and work towards achieving the company's broader objectives rather than just working for the assigned role.
Thinking about how to do it? Talk with them after office hours, ask about their recent hobby or initiate random discussions. Ask about their family and how they are doing. These conversations will bring the employee into a comfort zone where they can approach you with any feedback, idea, or suggestion without hesitation.
Best HR Software Solutions
Campus Recruitment Software
With our online campus recruitment software screen, hire top talents hassle-free. Everything is under one platform, from test creation to the candidate's evaluation. from test creation to the candidate's evaluation.
Rating 5.0
Based on 321 user ratings
API Integration by Xobin
Get integrated and harness the strength of robust assessments with Xobin APIs. Save sweat and time and focus on your core offering, not building your assessment stack. from test creation to
Rating 5.0
Based on 321 user ratings
Coding Skill Assessment Software
With our 100+ coding assessments on various languages such as Java, Python, JavaScript, React, Angular, etc., evaluate and hire the best-talented developers. from test creation to the candidate's evaluation. to the candidate's evaluation.
Rating 5.0
Based on 321 user ratings
Pre-Employment Testing Software:
Get access to the vast library of validated tests to screen candidates using online assessments. Simplify your recruitment process with our cloud-based Pre-employment Testing Software. from test creation to the candidate's evaluation.
Rating 5.0
Based on 321 user ratings
Pre-recorded Video Interview Platform:
Pre-recorded Video Interview Platform allows candidates to fully express themselves to a pre-recorded question. So that you can get more insight into candidates in far less time than a traditional phone interview. from test creation to the candidate's evaluation.
Rating 5.0
Based on 321 user ratings
Not using Proper Communication Tools
Another mistake that business owners and managers make is not using proper communication tools. Some businesses still think emails, video messages, or calls are enough for communication. What they fail to understand is that emails and video messages are not always effective and are also a waste of time for small amounts of tasks or conversations.
By proper remote communication tools, we mean instant chat options or direct messaging channels like Slack, Skype, and many more. You cannot benefit from remote working unless you leverage new tools. New technology has presented you with innumerable options. Automated staff management, time tracking, and precise scheduling are key factors for the success of any project. Choosing the best time clock app should start with your industry in mind to ensure the application has all the necessary features required within your industry. For instance, if you're working in the healthcare sector, you will need an app to manage your medical staff, or property managers need to monitor construction employees' locations, times, and working hours. Leverage communication and automation tools and, if possible, use project management tools.
Too many Meetings at a Time
You may think scheduling more meetings to discuss projects will make things clear among employees. But you are wrong! Scheduling too many meetings together in a day may backfire and result in a loss of productivity.
According to a survey, 42% of remote employees say they are more productive when they get to work without interruptions. And you must agree that some meetings are unnecessary and act as interruptions for productive employees and break their workflow.
You must host meetings only when necessary and require the complete team to be present. However, for communicating with one person or a group of 3-4 employees, you can communicate through tools like slack and google meet if necessary. This way not only saves your and your employee's time but also increases productivity.
Not Talking About Employee's Growth or Appreciation
Investment in employees is the most impactful investment. You have to invest in your employee's growth for your company's overall growth and stay competitive.
Most employees don't get the growth or appreciation they deserve, especially when working remotely. Employers think their remote work helps employees save money. But that is not always the case. Everyone wants their personal and professional growth from time to time. A report says that 22% of employees value their growth and development more than work culture, money, and other benefits.
Try to talk to your employee straight regarding their professional growth and career goals, guide them if possible, suggest new skills that will help them in their career goals, and most importantly, appreciate them.
No Proper Work Assessment
Every employee needs to be assessed from time to time to check the productivity ratio, especially when they are working remotely. After assessing their work, don't forget to give them constructive feedback. Real-time feedback helps employees improve their overall performance as well as identify their weak areas.
Not assessing an employee's work and not communicating about it will harm the overall growth of your organization. Unfortunately, many employers make this mistake thinking that they cannot assess remote working employees and feedback cannot be given online. But that's not right. It may be not easy to give feedback over a video call, but you should at least try to communicate it well.
Providing just feedback on a negative note may sound like harsh criticism. So instead, try to put your criticism with positive notes too. This concept is known as the sandwich approach, where a negative piece of feedback is given between two positive ones.
Conclusion
Since we have realized the importance of remote working, we are more inclined to have it implemented permanently. Remote working may bring innumerable benefits to your organization in the days to come. However, you may be burning your pocket if you are aware of the mentioned mistakes and do not take the right measures to correct them.
Hope the above list of mistakes will help you recognize the mistakes you were probably doing and help you retain your employees along with increasing their productivity.
Software you need for all your recruitment process
1 Million +
Test takers per year
Author Bio:
Harikrishna Kundariya, a marketer, developer, IoT, ChatBot & Blockchain savvy, designer, co-founder, Director of eSparkBiz Technologies, Software Development Company. His 10+ experience enables him to provide digital solutions to new start-ups based on IoT and ChatBot.
LinkedIn | Twitter