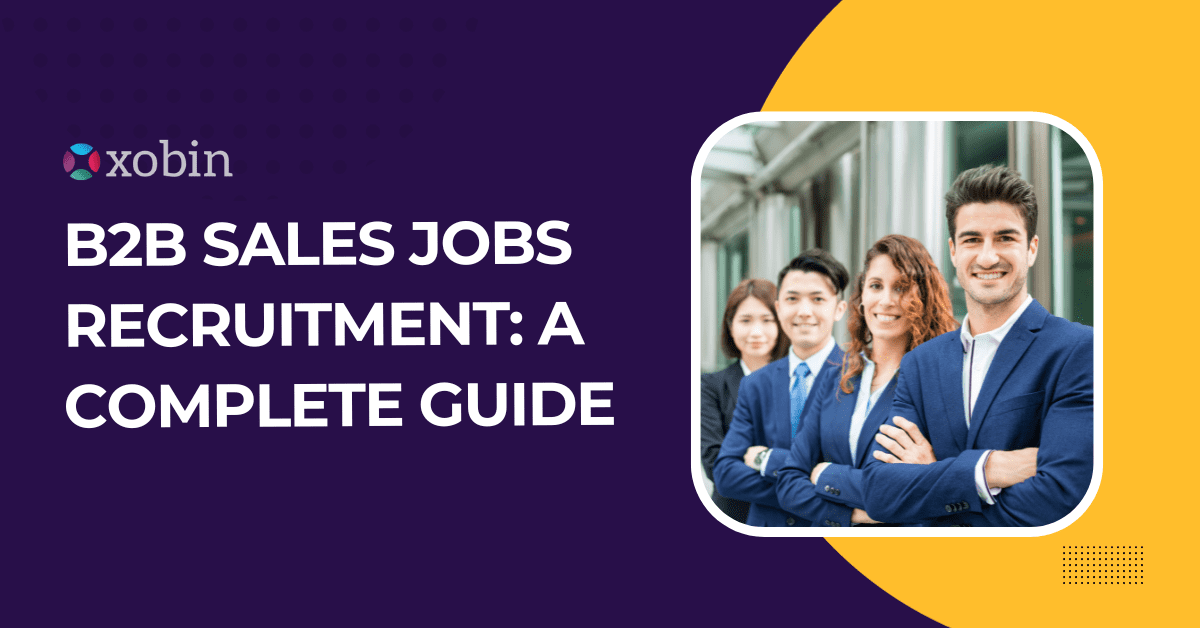 The B2B sales jobs are a dynamic and integral function within an organization that focuses on driving revenue through business-to-business transactions. Professionals in this role are tasked with identifying and cultivating relationships with potential clients, often other businesses, and guiding them towards solutions that meet their specific needs. This involves a deep understanding of the products or services offered, enabling the salesperson to effectively communicate the value proposition to potential clients. B2B sales professionals play a pivotal role in the growth and success of a company, as they are responsible for generating substantial revenue streams through strategic sales efforts.
To excel in the B2B sales jobs, individuals must possess a combination of essential skills and qualities. Effective communication is paramount, as clear and persuasive articulation of the product's value is key to success. Active listening and empathy enable sales professionals to understand and address client needs. Strategic thinking, resilience, and adaptability are crucial traits, given the dynamic nature of the B2B sales jobs environment.
 Looking for Recruitment Software? Check out the best recruitment software.
Furthermore, a solid grasp of product knowledge, negotiation skills, and ethical conduct are essential in building and maintaining successful client relationships. B2B sales professionals also need to be adept at time management and organization to effectively manage a pipeline of leads and opportunities.
Key Responsibilities in B2B Sales Jobs Role:
An ideal Sales Job description Should include below mentioned key responsibilities
About Us:
[Company Name] is a dynamic and innovative [Industry] company dedicated to providing cutting-edge solutions to businesses. With a focus on [Specific Product/Service], we empower organizations to [Unique Selling Proposition]. We are currently seeking a highly motivated B2B Sales jobs representatives to join our team and drive revenue growth through strategic business-to-business transactions.
Key Responsibilities:
Prospecting and Lead Generation:

Identify and target potential clients through extensive market research and outreach efforts.
Generate qualified leads and develop a robust pipeline of opportunities.

Client Relationship Management:

Build and nurture strong, long-lasting relationships with clients.
Understand client needs, challenges, and objectives to provide tailored solutions.

Product Knowledge and Presentation:

Possess in-depth knowledge of our products/services and effectively communicate their value proposition.
Conduct compelling sales presentations and demonstrations to potential clients.

Negotiation and Deal Closure:

Skillfully negotiate pricing, terms, and contracts to secure profitable deals.
Ensure all aspects of the deal align with company objectives and policies.

Post-Sales Support and Client Satisfaction:

Provide exceptional post-sales support, ensuring client satisfaction and addressing any concerns or issues.
Maintain regular communication with clients to foster ongoing partnerships.

Market Analysis and Reporting:

Monitor market trends, competitor activities, and customer feedback to identify opportunities for growth.
Prepare regular reports on sales performance, highlighting key achievements and areas for improvement.
Qualifications:
Bachelor's degree in [Relevant Field].
Proven track record of success in B2B sales, with [X years] of experience in [Specific Industry].
Excellent communication and interpersonal skills, with the ability to articulate complex concepts clearly.
Strong negotiation and closing skills, coupled with a results-driven mindset.
Proficient in CRM software and other sales-related tools.
Ability to work independently and as part of a collaborative team.
How to Apply:
Interested candidates are invited to submit their resume and cover letter to [Email Address]. Please include "B2B Sales Representative Application – [Your Name]" in the subject line.
Sales Outreach Skills and Expectations from a B2B Sales Personal Jobs?
Let your personalized words and thoughts sway your audience for better sales outreach. Here are some ways on how you can customize your outreach now! It is an art to speak directly without using fluff in this era of sending generic emails. All you want to do is grab the maximum attention of your audience using a few words and sentences to stand out. But how to make the customer value and engage with your sales pitch? Your one-and-only answer here is reaching out to them personally and hitting the right spot by suggesting what you can offer.
This read is what you need right now when the market is oversaturated and competitive for the sellers. Here are five tips to make things easier for you.
Researching Enough:
You will never regret researching enough about your buyers and who they are. The first and foremost step for a green sales outreach is researching and defining your target audience. Market research enables businesses to:
Have relevant knowledge about the buyer's persona
Who are they going to reach, and why
An ideal image of customers with their data and insights
Challenges, goals, and pain points of the prospects
Area of concern with a probable solution
Form an opinion or the best – compliment that can later be used in the subject line to hook your prospect.
Furthermore, if we look at the effectiveness of market efforts, research can help in providing critical information that otherwise would have been left unbothered. So, never underestimate the power of thorough and detailed research.
Working on Your Subject Line:
Maximizing open rates using exciting subject lines will never go out of fashion. But why personalizing your cold email subject line must be your top priority? Here's why:
Remember that you prospect will see your subject line first.
You will be marked about your authenticity based on your subject line ( high probability)
To gain a good open rate, a personalized subject line is all you need.
Pro Tip: Start and regard using the first name of your prospect. This will create a sense of surprise and urge to open the email.
Lastly, an important fact here to understand is that your sales outreach campaign must be buyer-oriented rather than what you have. You and your offers and services can certainly be the last things to include in your email. Enlightening Area: Never start your sales outreach email with your past achievements. The prospect is least interested to know about them ( bitter truth). Start with them (prospects) and the solution to their issues.
Best HR Software Solutions
Campus Recruitment Software
With our online campus recruitment software screen, hire top talents hassle-free. Everything is under one platform, from test creation to the candidate's evaluation. from test creation to the candidate's evaluation.
Rating 5.0
Based on 321 user ratings
API Integration by Xobin
Get integrated and harness the strength of robust assessments with Xobin APIs. Save sweat and time and focus on your core offering, not building your assessment stack. from test creation to
Rating 5.0
Based on 321 user ratings
Coding Skill Assessment Software
With our 100+ coding assessments on various languages such as Java, Python, JavaScript, React, Angular, etc., evaluate and hire the best-talented developers. from test creation to the candidate's evaluation. to the candidate's evaluation.
Rating 5.0
Based on 321 user ratings
Pre-Employment Testing Software:
Get access to the vast library of validated tests to screen candidates using online assessments. Simplify your recruitment process with our cloud-based Pre-employment Testing Software. from test creation to the candidate's evaluation.
Rating 5.0
Based on 321 user ratings
Pre-recorded Video Interview Platform:
Pre-recorded Video Interview Platform allows candidates to fully express themselves to a pre-recorded question. So that you can get more insight into candidates in far less time than a traditional phone interview. from test creation to the candidate's evaluation.
Rating 5.0
Based on 321 user ratings
Getting Creative Than Ever in B2B Sales Jobs:
Life is too short to be generic. Get creative and see the magic happen. When you wish to do something extraordinary, you must think outside the box. This is the very basis of any personalized outreach. You must incorporate creativity in your next sales outreach campaigns because:
You have the option to play with different mediums and sources like video, GIF, infographics, free deals, and much more.
You are at liberty to curate the content the way you like.
Furthermore, you can follow up using unique approaches that won't annoy your prospects.
You can add social proof or yours along with the potential case study related to your past experience.
Lastly and most importantly, you can frame an irresistible CTA that will urge the prospects to take immediate action.
Automation in B2B Sales Jobs and Tasks:
It's high time to use technology and automation if you have been ignoring these and relying on traditional approaches. Invest in cold email automation tools that help in:
Inbox rotation
Listing prospects
Scheduling the follow-up sequences
Connecting multiple email accounts as per the campaigns
Advanced A/B testing
Team collaborations
customizable AI templates
The manual work and energy that can be challenged to other productive areas should be replaced with AI if required. There are plenty of tools available to suit your business. All you have to do is search for the best and most relevant ones that will help you in elevating sales.
Master Stroking With Optimization and Improvement:
Sales in business is all about experimenting, implementing, and optimizing. One cannot rely on a single method or way forever. It's crucial to test your sales outreach from time to time, as this is an ongoing process. Ensure that you measure the results and see for yourself what works best for you. Additionally, you can use email tracking tools and feedback to get hold of the open, reply, and response rates, analyze the conversion rate, and more. These are some of the variables that can improve your sales outreach strategies effortlessly.
How AI Tools Help in B2B Sales Jobs Recruitment?
AI tools play a transformative role in B2B sales jobs recruitment, revolutionizing the way businesses identify, evaluate, and hire top talent. On the other hand, AI sales recruitment tools can shift through vast pools of potential candidates, parsing resumes and online profiles to identify individuals with the right sales skills test and experience for B2B sales roles. This saves time and resources in the initial stages of recruitment.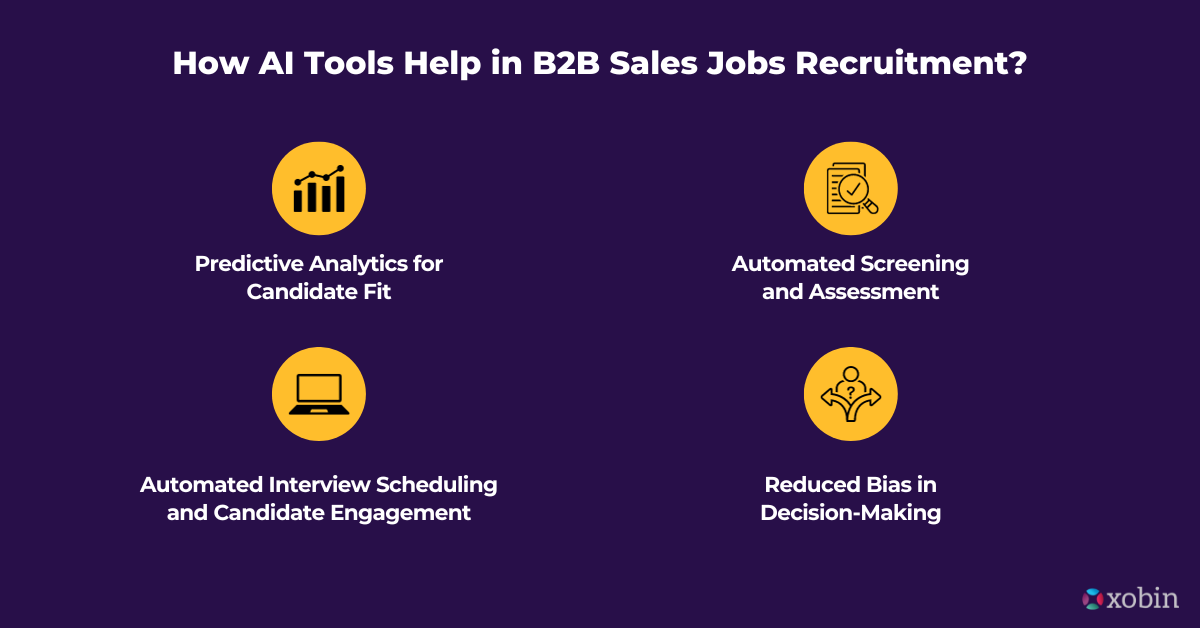 Predictive Analytics for Candidate Fit:
AI algorithms can analyze historical data of successful sales representatives within the organization to create a predictive model for candidate success. This ensures that candidates selected for B2B sales roles are likely to excel in the position. Also, these tools can analyze candidate behavior with the help of psychometric assessments and interviews with company content. This provides insights into their suitability for the B2B sales role, including their communication style, problem-solving ability, and adaptability.
Automated Screening and Assessment:
AI-powered screening tools can administer sales assessments and evaluate candidate responses, objectively scoring them against predetermined criteria. This ensures that candidates meet specific skill and competency thresholds required for B2B sales jobs. AI-driven chatbots and virtual assistants equipped with NLP capabilities can engage with candidates in natural, conversational language. This enhances candidate experience and allows for a more comprehensive evaluation of their communication skills.
Automated Interview Scheduling and Candidate Engagement:
AI tools can segment and target candidates based on their preferences and behavior, delivering personalized content and communications. This not only improves engagement but also provides insights into their interests and motivations. AI-powered scheduling assistants can coordinate interview times with candidates based on their availability and the availability of hiring managers, streamlining the process and reducing scheduling conflicts.
Reduced Bias in Decision-Making:
AI operates based on objective criteria and data, reducing the potential for human bias in candidate evaluation and selection. This helps in ensuring a fair and merit-based recruitment process. AI algorithms learn from each interaction, constantly refining their assessment criteria and predictive models. This means that over time, the AI becomes more adept at identifying the best candidates for B2B sales roles.
By harnessing the power of AI in recruitment, businesses can streamline the B2B sales personnel recruitment process, identify high-potential candidates, and ultimately build a high-performing sales team.
Final Thoughts:
Remember that personalization is your prized possession to take your sales outreach to new heights. Your personal touch can do wonders where technology fails to spread its charm. When you refer to someone personally, it gives a sense of uniqueness and belonging. This adds spice and makes things interesting. So, use the above-given formulas effectively and see your outreach soaring.