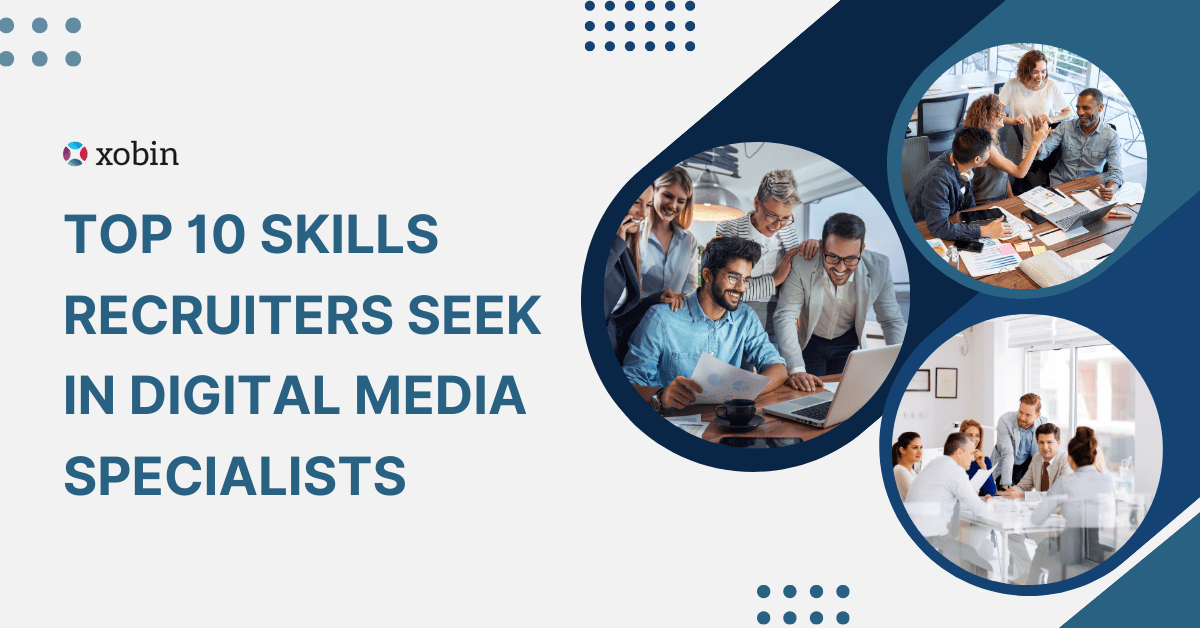 Online marketing plays a huge role in the modern business landscape. Now, as huge part of shopping is done online, businesses of all shapes and kinds invest a lot on brand promotion. Also, in order to do so successfully and achieve their goals, they seek and hire qualified digital media specialist to help them. What does online advertising involve? What do people who work in online advertising do? And what skills must one possess to land a job in this field?
 Looking for Recruitment Software? Check out the best recruitment software.
So stick with us and we will answer all these questions!
What Is Digital Marketing?
Digital marketing refers to the use of various digital channels, platforms, and technologies to promote and advertise products, services, or brands to a target audience. It encompasses a wide range of online marketing activities aimed at reaching and engaging potential customers in the digital space. Below are a few digital marketing key components;
Social Media Marketing: Utilizing social media platforms (like Facebook, Instagram, Twitter, LinkedIn, etc.) to promote products or services, engage with the audience, and build brand awareness.
Email Marketing: Sending targeted emails to a list of subscribers or potential customers to promote products, share updates, and nurture leads. Also, this outreach helps in PR and brand identity so hiring an email marketing expert is also a must in marketing teams.
Search Engine Optimization (SEO): The practice of optimizing a website to rank higher in search engine results pages (SERPs) for specific keywords or phrases. This helps improve organic (non-paid) traffic to the website. So having an SEO expert with content writing skills is always a plus.
Analytics and Data Analysis: Utilizing tools to track and measure the performance of digital marketing efforts. This helps in understanding customer behavior, ROI, and making data-driven decisions. So you should in recruit a Marketing analytics in your team.
It also consists of many different promotion tactics. Such as, affiliate marketing, video and display advertising as well as pay-per-click advertising, content creation, etc.
Main Responsibilities of Digital Media Specialist:
Digital media specialist is a professional in the field of digital marketing. Their primary responsibilities include:
Conducting market research to define their target audience, monitor industry trends, analyze competitors, etc.
Planning, implementing, and monitoring the company's advertising campaigns.
Leveraging various promotion tools and channels, such as social networks, SEO, email, pay-per-click advertising, and others to achieve company goals.
Creating, distributing, and promoting compelling marketing content.
Automating daily tasks to streamline the workflow and achieve the desired results.
Tracking performance and assessing the key metrics to refine the strategy.
These are the primary tasks of an online marketer. Now, let us tell you about the most in-demand skills that recruiters are looking for in these specialists.
Top 10 Skills for a Digital Media Specialist To Test On:
These skills collectively equip a Digital Media Specialist with the tools and knowledge needed to effectively plan, execute, and optimize digital media campaigns across various online platforms. It's essential for staying competitive and achieving success in the dynamic field of digital marketing and media management. So below are the technical skills digital marketing experts should be tested on.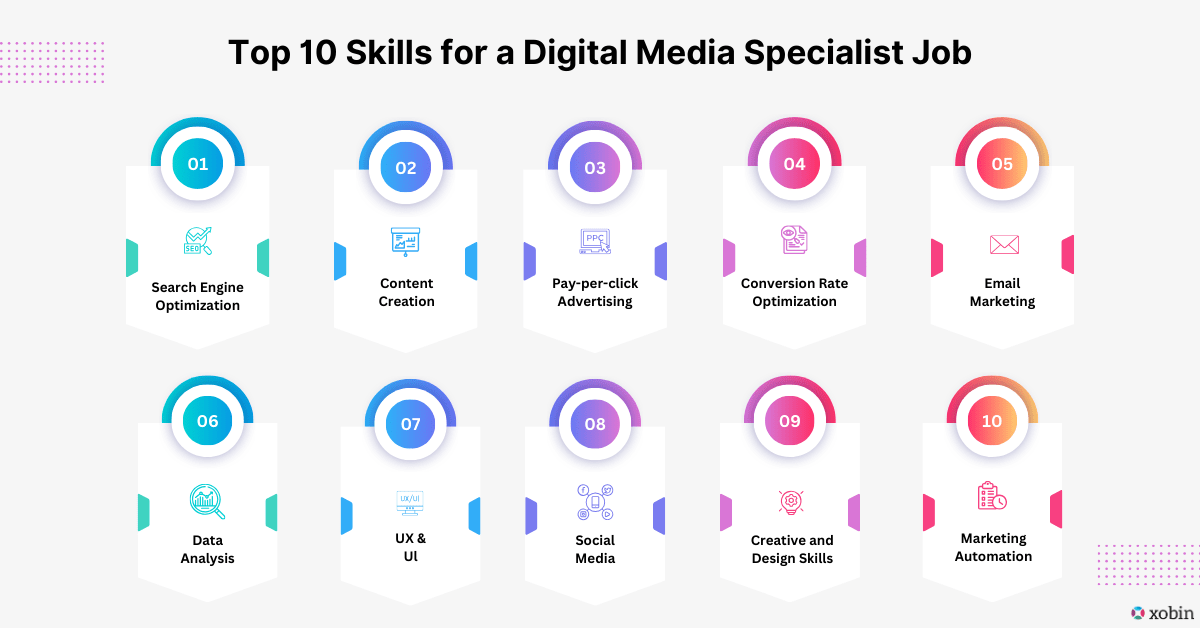 Search Engine Optimization (SEO):
In the digital era, consumers often look for brands, products, and services on the web. Every search begins with a search engine. Thus, knowing how to get noticed in the search results matters a lot in digital marketing. To showcase your understanding of SEO, you need to know on-page optimization and Off-page optimization. Digital Media specialists have to be skilled in Keyword research, Analytics, Critical thinking, Content marketing and Technical SEO, etc.
Also, it's worth noting that today SEO is not an entirely manual process. That's why you need to possess sufficient knowledge of trusted SEO tools in addition to the aforementioned skills. Besides basic Google Search Console, you can master the SERP tracking tool by SE Ranking. This tool helps you analyze pages that appear in the top positions on the search engine result pages (SERPs) and understand what can be done to improve the ranking of the website you are optimizing.
Therefore, tools like this help digital media specialist in achieving greater results with less effort. So don't hesitate to master them and include them in your CV.
Content Creation:
Digital content drives traffic, generates engagement, builds trust, and initiates customers' purchase journeys. That's why it's important for marketers to be able to craft great content that resonates with the audience. This is often one of the first abilities recruiters target in a digital media specialist. So, a good specialist should be able to plan and produce any kind of content, including content for the web, social media, email, etc. The content you produce must be relevant, engaging, and valuable. On top of that, it should be perfectly optimized for SEO to ensure that prospects can find it in SERPs.
As a marketing specialist, you should be able to generate flawless content yourself. Additionally, you should be able to:
Plan and schedule marketing campaigns;
Keep a content calendar;
Set goals and tasks for the content team;
Handle content distribution and promotion, etc.
Pay-per-click Advertising (PPC):
There are two ways to bring a website to the top positions in SERPs. The first method is organic. It implies increasing your position by meeting all ranking requirements by adjusting SEO. The second method is paid. Pay-per-click advertising, or PPC, implies paying fees for placing your ads in the search results. Although today there is a massive shift toward organic promotion, PPC still remains an effective way to rank high and gain traffic. Thus, an excellent digital professional must know how to handle PPC efficiently.
Best HR Software Solutions
Campus Recruitment Software
With our online campus recruitment software screen, hire top talents hassle-free. Everything is under one platform, from test creation to the candidate's evaluation. from test creation to the candidate's evaluation.
Rating 5.0
Based on 321 user ratings
API Integration by Xobin
Get integrated and harness the strength of robust assessments with Xobin APIs. Save sweat and time and focus on your core offering, not building your assessment stack. from test creation to
Rating 5.0
Based on 321 user ratings
Coding Skill Assessment Software
With our 100+ coding assessments on various languages such as Java, Python, JavaScript, React, Angular, etc., evaluate and hire the best-talented developers. from test creation to the candidate's evaluation. to the candidate's evaluation.
Rating 5.0
Based on 321 user ratings
Pre-Employment Testing Software:
Get access to the vast library of validated tests to screen candidates using online assessments. Simplify your recruitment process with our cloud-based Pre-employment Testing Software. from test creation to the candidate's evaluation.
Rating 5.0
Based on 321 user ratings
Pre-recorded Video Interview Platform:
Pre-recorded Video Interview Platform allows candidates to fully express themselves to a pre-recorded question. So that you can get more insight into candidates in far less time than a traditional phone interview. from test creation to the candidate's evaluation.
Rating 5.0
Based on 321 user ratings
In order to land a digital media specialist job, candidates should be able to plan PPC campaigns and set clear goals for them. Also, should be able to find the right keywords and craft powerful copy and call-to-actions for your campaigns. Finally, you must demonstrate an ability to test, track, analyze, and optimize PPC campaigns for the best outcomes.
Conversion Rate Optimization (CRO):
Conversion is the ultimate goal of every marketing campaign. That's why conversion rate optimization, or CRO, is always on the list of the most sought-after digital skills for media specialists.In a nutshell, CRO is the process of enhancing the percentage of website visitors who perform a targeted action, for example, subscribing to a newsletter or making a purchase. Therefore, some of the most important aspects of CRO include data research and analytics. Also, it includes A/B testing, UI/UX design, Copywriting, etc.
To get the job, you must be able to continuously monitor conversion rates, analyze them, and find effective ways to improve them.
Email Marketing Skills:
Today, there are plenty of digital tools and channels that come in handy for advertising. Yet, email remains one of the most important ones. Email has the largest number of active users than any other marketing channel – the number of users of this channel is projected to hit 4.7 billion by 2026. Thus, understanding how to engage, nurture, and convert prospects via this channel is a must for digital media specialists.
As a media expert, one should be able to work with tools like mailchimp and hubspot forms on. Also, on;
Create effective sign-up forms;
Segment email lists;
Craft catchy subject lines and content for emails;
A/B test emails;
Measure, analyze, and optimize the results.
In addition, you should demonstrate an excellent understanding of primary email-related metrics like click-through rate, open rate, conversions, etc.
Data Analysis:
No online advertising strategy can deliver consistently good results if it's not analyzed and refined regularly. That's why data analysis is also one of the most important abilities recruiters assess. To land and succeed in a digital media job, you must know how to measure, analyze, and report on campaign data. Accurate analytics is pivotal for obtaining valuable market insights and making data-driven decisions that will help businesses attain their short-term and long-term goals.
Apart from your own abilities, you should be able to demonstrate knowledge and experience with various data analysis software and online tools.
UX & Ul:
User interface (UI) and user experience (UX) design are two more digital skills that are in huge demand these days. UI refers to the visual look of the website or app and all its elements, such as icons, buttons, images, and so on. The core aim of UI design is to create an appealing interface that is intuitive and easy on the eye. UX design, on the contrary, focuses on the interaction of the user with the website or app. Its core goal is to make the site easy to navigate, accessible, and functional.
As an online marketer, you won't have to design the UI and UX of the website yourself. Nevertheless, both UI and UX have a significant impact on the impression prospects get from the website and brand as a whole. Thus, a good understanding of UI and UX concepts can help media experts create the best experiences for prospects and increase the chances of retaining customers.
Social Media Skills:
The number of active social media users now is 4.80 billion, and this number keeps growing at a whopping 3.2% annual growth. Given the large number of users, social networks play a huge role in building brand awareness and trust. Also, social networks can assist in accelerating sales. More and more users are now discovering new brands, products, and services and making purchases directly from platforms like Facebook and Instagram. This makes social media marketing one of the most crucial digital skills of today.
A good online marketer must be well-versed in all kinds of social networks and know how to leverage them to achieve business goals.
Creative and Design Skills:
Visuals, infographics, and all sorts of multimedia content play a massive role in online advertising. Different visual elements can help establish a uniform brand image, drive prospects' attention, and ensure that your target audience remembers your message. Thus, basic creative and design abilities are also crucial for digital media specialists.
Marketers often have to create visuals themselves. Even if you don't have to handle design on your own, you might be required to set tasks for designers and plan multimedia content for different channels. All in all, having basic abilities is a must.
Marketing Automation:
Online advertising consists of many small but important tasks that must be handled every day. These tasks can include metrics tracking, email marketing, SMS promotion, push notifications, and much more. All of these tasks are crucial for success. However, they can take too much time by manually. Which is why automation is one of the most prominent skills in the industry.
Knowing the basics of automation and having proficiency with different digital tools that allow automation will help you handle your job quicker and more efficiently and deliver the best results to your companies.
Summary:
These days, a digital marketer's job can be very fulfilling, well-paying, and promising in the long run. Specialists in this field are in high demand across all business niches. But the job can also be rather challenging due to the large number of skills required.From search engine optimization to automation – all these abilities are of high value for employers. After reading this article, you have a list of the most sought-after skills that can help you land a media specialist's job. Use this knowledge to hone your proficiencies and gain a competitive advantage!