So you've been working day and night trying to get your job application right but you're still not getting any replies? Guess what? Many applicants have the same problem with one of the main causes being a neglected resume. So what makes it an outstanding resume?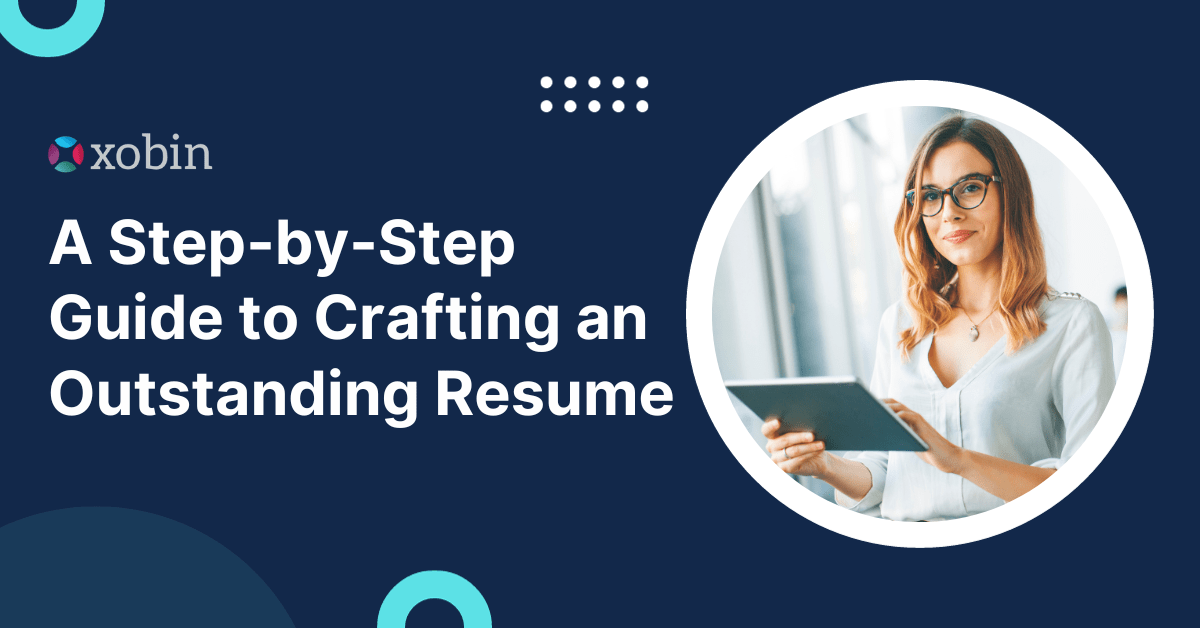 If you want more replies & interview offers, just sending out applications with an average or below par resume is not going to work. In this post I'll be sharing some of the tips I've gathered over the years on crafting an outstanding resume sure to get you your dream job.
Understanding the Anatomy of a Great Resume:
Hiring managers love when you draw their attention to key aspects of your application. This  includes relevant skills & experiences. But often applicants forget the basics, leaving out a clear header section containing not just your name or contact information, but also links to professional profiles like LinkedIn or maybe your personal website. 
 Looking for Recruitment Software? Check out the best recruitment software.
Some of my top tips on structuring a resume include using the 'reverse-chronological' order, though this technique is generally more suited for those with extensive work-experience it offers you room to highlight some of your recent job-experience straight off the bat. For those new to the job market, the best way to structure a resume when you have limited work experience is to capture the hiring manager's attention at first glance.
One of the best ways to do this is by adding an opening statement or a "Professional Profile" right at the start of the page where you can boast and go into detail about any of your outstanding achievements – but don't forget to avoid any clichés.
Step-by-Step Guide to Creating an Outstanding Resume:
When starting out, it's ideal to start jotting down a rough draft on paper, writing down different skills and achievements which are relevant to the job you're applying for. But don't forget to not exaggerate as these claims will need to be backed up at your interview.
The biggest problems applicants have is tending to use too many cliche skills or nouns, including "Problem-solver", or "Hard worker" in their resume. Instead you should be focusing on skills directly or closely related to the actual job and company you will be working for. For instance, a Software Engineering position at Amazon may add a section of skills with "Objective-C", "Python", or "UI". All of which are relevant & exemplary. So, if by chance you do mention skills which are harder to ascertain including "Project Management", make a note to try and back it up in some way in the "Work Experience" section.
Best HR Software Solutions
Campus Recruitment Software
With our online campus recruitment software screen, hire top talents hassle-free. Everything is under one platform, from test creation to the candidate's evaluation. from test creation to the candidate's evaluation.
Rating 5.0
Based on 321 user ratings
API Integration by Xobin
Get integrated and harness the strength of robust assessments with Xobin APIs. Save sweat and time and focus on your core offering, not building your assessment stack. from test creation to
Rating 5.0
Based on 321 user ratings
Coding Skill Assessment Software
With our 100+ coding assessments on various languages such as Java, Python, JavaScript, React, Angular, etc., evaluate and hire the best-talented developers. from test creation to the candidate's evaluation. to the candidate's evaluation.
Rating 5.0
Based on 321 user ratings
Pre-Employment Testing Software:
Get access to the vast library of validated tests to screen candidates using online assessments. Simplify your recruitment process with our cloud-based Pre-employment Testing Software. from test creation to the candidate's evaluation.
Rating 5.0
Based on 321 user ratings
Pre-recorded Video Interview Platform:
Pre-recorded Video Interview Platform allows candidates to fully express themselves to a pre-recorded question. So that you can get more insight into candidates in far less time than a traditional phone interview. from test creation to the candidate's evaluation.
Rating 5.0
Based on 321 user ratings
Once your skills section is outlined, you can then move on to your interests or extracurricular activities. Examples include setting up your own online blog or newsletter, volunteering at your local book club or setting up a charity initiative.
Coming down to the main chunk of the resume, your education & work experience should take up the bulk of your focus. Whether you're certain of the position you're applying for, or you're still trying to find opportunities by going to hiring events, tuning your resume to hit the nail on the head by perfecting your education & work experience section is sure to get you your interview call.
Here's the step by step process to attack these sections:
List and date all previous education, including professional qualifications. Place your most recent educational history first. Include qualification type, grades and dates. Don't forget to add specific modules and provide additional details where necessary.
Mention any Massive Open Online Courses (MOOCs), personal development courses or online events you've attended.
List your work experience in reverse date order. Include the job title, name of the company, how long you worked there and key responsibilities. If you have plenty of relevant work experience, this section should come before education.
You can leave out the details of your references at this point, or mention that 'references are available on request'.
Design and Formatting for an Eye-Catching Resume:
If you want to give your resume an edge, I recommend using an online tool like Canva or other design tools which provide templates for free, do make sure to make the document as professional as possible as you don't want to come across as too bold.
When finalising the document, make sure to include professional font variants such as Arial or Calibri and a user-friendly font size – 9pt or 10pt is ideal.
Final Tips:
Get your resume read by friends & family
Ensure grammar & spelling is correct
Situate your name at the top of the page centred in font size 18-20 pts. Beware though, any larger can come across as arrogant.
Make sure your resume covers a full page in length. If it's just over one page when you're finished writing it, find a way to reduce it to one page.
Many applicants who achieve success often make use of their peers' input when reviewing their resume. This offers numerous advantages, including correction of overlooked grammar mistakes or to offer new potential ideas. Proof-reading ensures you're less likely to submit an application with rookie mistakes – one of the main factors of a rejection.
Difference Between an Outstanding Resume and a Normal Resume:
| | | |
| --- | --- | --- |
| Content | Outstanding Resume: | Normal Resume: |
| Content Depth: | Provides detailed and quantified achievements, showcasing a track record of significant contributions. | Contains basic information about work experience and skills, often without specific achievements. |
| Customization: | Tailored for each job application, highlighting the most relevant skills and experiences. | May be more generic and less customized for specific roles. |
| Impactful Language: | Uses strong action verbs and quantifiable metrics to demonstrate accomplishments. | May have less emphasis on impactful language and quantifiable results. |
| Professional Summary: | Includes a compelling professional summary that provides a snapshot of the candidate's strengths and career goals. | May have a basic objective statement or lack a professional summary. |
| Design and Formatting: | Utilizes professional formatting, clear headings, and bullet points for easy readability. | May have simpler formatting, potentially lacking visual appeal. |
| Keyword Optimization: | Incorporates specific keywords from the job description to align with the employer's requirements. | May not be as focused on keyword optimization. |
Conclusion:
Crafting an outstanding resume is a pivotal step towards securing your desired job and advancing in your career. By following these structured steps including focusing the resume by tailoring it to the job, emphasizing achievements or courses taken and presenting information clearly and concisely; you can significantly increase your chances of standing out to potential employers. Remember, a well-crafted resume is not just a document but a powerful tool representing your professional identity that can pave the way for exciting opportunities ahead.
Software you need for all your recruitment process
1 Million +
Test takers per year
Author Bio:Daniel Taylor is an experienced professional in supporting candidates with new job opportunities and helping startups fill their open positions. He is a contributor to various sites and currently serves as the head of content for Hereiwork.