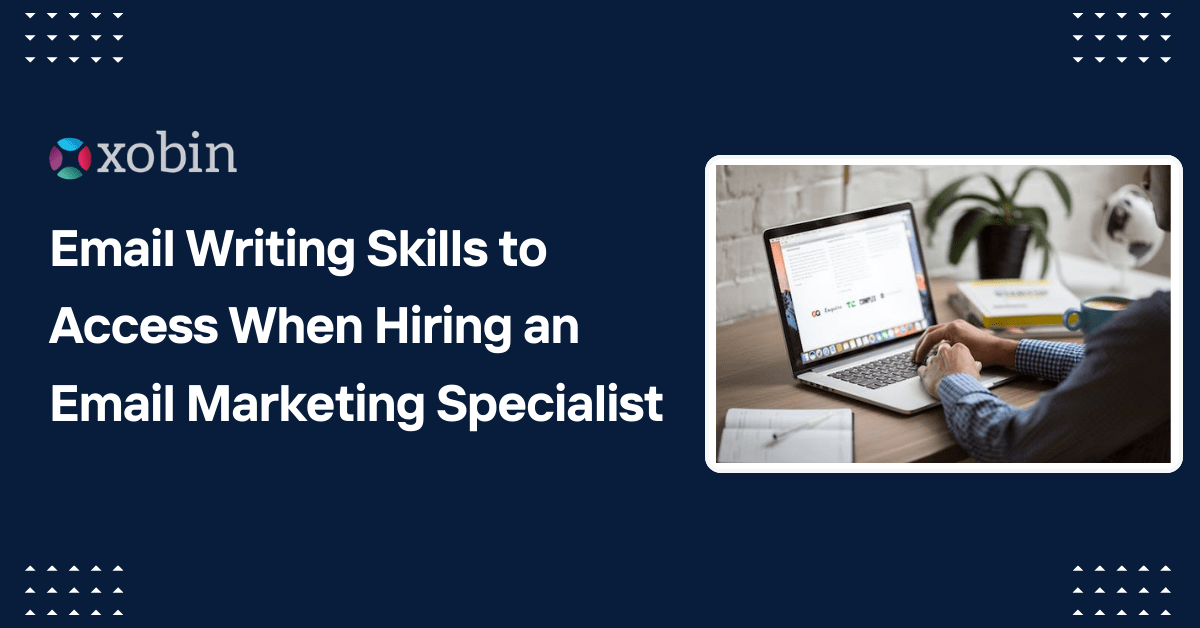 Interviewing a job applicant takes work; HR managers and executives can relate to this statement. As an HR professional, you must pay attention to multiple factors, including qualifications, experience, expertise, potential, and your ability to fit into an organization's culture. Soft skills are also crucial in making any applicant the right fit. The job of HR personnel is to assess all these factors before giving a green signal to a job applicant. The same is true when recruiting an marketing specialist. The HR personnel assigned with the job of taking interviews from job applicants applying for the position of an email marketing specialist should look for a few particular skills.
A job applicant with these skills can indeed perform the job perfectly. Otherwise, it is better to give opportunities to other applicants with those skills. So, as an HR, your priority should be hiring the individual with maximum talent and potential. A fun fact, recruiters should write a recruitment email like a pro. So, hiring a top talent who knows the email campaigns writing and trade can be a challenging task. However, knowing a little about email marketing, the essential factor to consider in it as well as the necessary skills required in the job applicant can help you recruit top talent.
 Looking for Recruitment Software? Check out the best recruitment software.
This article outlines the basic definition of email marketing, its importance for businesses, critical factors in email marketing, and the skills to assess while hiring a specialist in this domain. Read on to learn more.
What is Email Marketing?
Before we discuss the essential factors needed to write an email copy for email marketing and the skills required in an email marketing specialist, it is essential to know what email marketing is. So email marketing is considered one of the very first and still influential digital marketing techniques. This technique involves using email to reach prospects and existing customers and make them aware of your products and services. It also helps you make the target audience aware of new offerings and discounts.
Email marketing can also serve as an effective marketing channel to help you educate your audience about your brand's value. It can also be used as an effective way to upsell or cross-sell already purchased products which ultimately help businesses boost their revenue. Even though some people have started preferring social media over email for marketing purposes, if you do it right, email marketing is 40 times more effective than social media marketing. Hence, every business, whether small or large, needs to have a specialized email marketing team.
Factors to Consider While Writing an Email Copy:
It is worth mentioning that an email marketing specialist should know critical factors that play a crucial role in making an email copy for email marketing valuable. Overlooking these factors while writing an email copy would prove costly, and the business may fail to get bespoke results from email marketing campaigns. The HR personnel assigned with the task of interviewing job applicants hoping to work as email marketing specialists should also enquire about them during the interview. These factors are discussed below: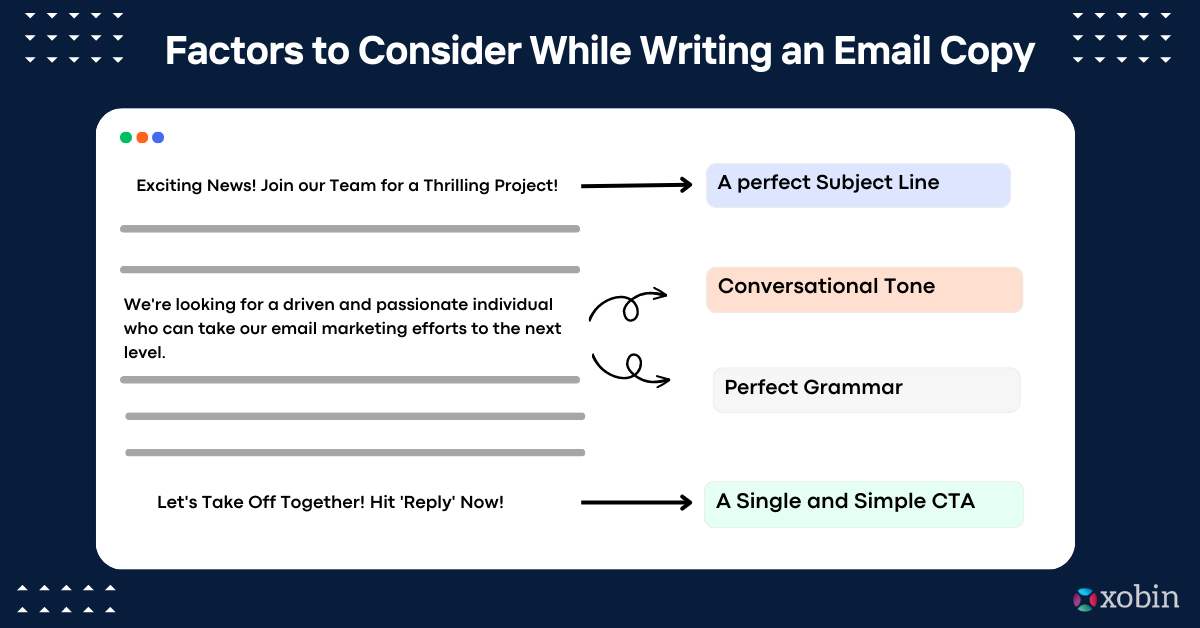 A perfect Subject Line:
When writing an email copy, the subject line serves the same role a title serves for a blog. They will open it if it is compelling enough to grab the audience's attention. Otherwise, audience will ignore the mail and not act on it. Hence, it is necessary to nail the subject line of an email copy capable of captivating the audience and making them wonder what the email copy packs for them.
Moreover, the subject line of an email copy should be short, featuring action verbs. It should be something like, "Open it, or you'll end up missing out!".
Conversational Tone:
Another essential factor that makes an email copy perfect is conversational tone. There is no need to be formal with the target audience. You need to be personal to generate conversions through your email copy. Hence, your email copy should have words like 'you' and 'your'.
These words make the individual receivers feel that the email copy is articulated for them instead of thousands of others like them.
Perfect Grammar:
Content is nothing but meaningless if it lacks impeccable grammar. The same is the case with an email copy. Hence, any email copy should be perfectly articulated without any vague sentences or grammar mistakes. While proofreading it repeatedly is a good idea, an effective way to get rid of grammar and other mistakes in the content is by using an effective grammar checker. It will not only help you save your time and effort but also ensure a perfect email copy.
Best HR Software Solutions
Campus Recruitment Software
With our online campus recruitment software screen, hire top talents hassle-free. Everything is under one platform, from test creation to the candidate's evaluation. from test creation to the candidate's evaluation.
Rating 5.0
Based on 321 user ratings
API Integration by Xobin
Get integrated and harness the strength of robust assessments with Xobin APIs. Save sweat and time and focus on your core offering, not building your assessment stack. from test creation to
Rating 5.0
Based on 321 user ratings
Coding Skill Assessment Software
With our 100+ coding assessments on various languages such as Java, Python, JavaScript, React, Angular, etc., evaluate and hire the best-talented developers. from test creation to the candidate's evaluation. to the candidate's evaluation.
Rating 5.0
Based on 321 user ratings
Pre-Employment Testing Software:
Get access to the vast library of validated tests to screen candidates using online assessments. Simplify your recruitment process with our cloud-based Pre-employment Testing Software. from test creation to the candidate's evaluation.
Rating 5.0
Based on 321 user ratings
Pre-recorded Video Interview Platform:
Pre-recorded Video Interview Platform allows candidates to fully express themselves to a pre-recorded question. So that you can get more insight into candidates in far less time than a traditional phone interview. from test creation to the candidate's evaluation.
Rating 5.0
Based on 321 user ratings
A Single and Simple CTA:
The last and most essential factor of any compelling email copy is a CTA (Call to Action). A CTA is your tool to make your audience purchase a product or visit a page. However, adding too many CTAs in a single email copy can act as a counter-effect. This practice will lead to a confused audience, and they will give up the idea of following any CTA. Hence, make sure you add a single CTA that is simple enough to make the readers follow it quickly.
Skills an Email Marketing Specialist Should Have?
Now that you know what email marketing is and which factors should be considered while writing an email copy, it is time to learn a few essential skills an email marketing specialist should have. These skills will help an marketing executive rock the job without beating around the bush. Further details about these skills are given below: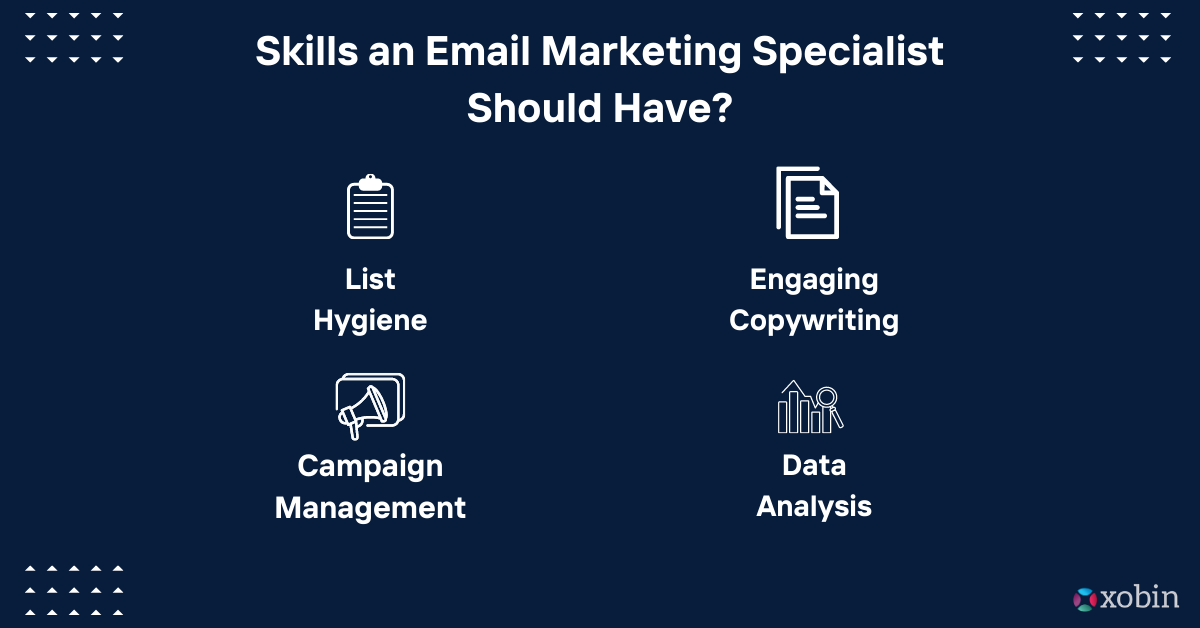 List Hygiene:
The first and most obvious skill an email marketing specialist should have is the ability to build, manage, clean, and audit lists. Segmentation of lists is also necessary to target various consumers with content that is relevant to them.
Engaging Copywriting:
The effectiveness of any email marketing campaign relies primarily on the copy articulated for it. Hence, the marketing specialist should know how to nail the copy for an email marketing campaign and make the target audience follow the given CTAs.
Campaign Management:
You may think this skill is just about creating and managing various email campaigns. However, it is much more than that. The email marketer should know how to take the help of CRM tools and perform A/B testing of email copies to come up with the best content.
Data Analysis:
Data has become the bloodline for business operations for all marketing and campaigns. An marketing specialist should understand the data and act accordingly. They should be able to monitor data related to performance, conversion, demographics, and behaviour of the target audience.
Xobin's Role in Assessing Email Writing Capabilities:
Xobin's Email Marketing Manager Online Test:
Xobin's, Email Marketing Manager Online Test is one of the top test used by companies for hiring. This comprehensive assessment is designed to evaluate your expertise and proficiency in the dynamic world of marketing. For HR's these test has questions that will help candidates showcase their skills and abilities to employers. To go further in the interview for this role, here's a guide on Email marketing associate interviews.
Test Objectives HR's can Assess:
Assess Email Marketing Strategy: Evaluate your understanding of strategic writing concepts, including segmentation, targeting, and positioning.
Measure Campaign Planning Skills: Test your ability to plan, develop, and execute effective marketing campaigns tailored to specific audiences and objectives.
Analyze Content Creation Expertise: Assess your proficiency in crafting compelling email content, subject lines, and call-to-action (CTA) messages to maximize user engagement and conversions.
Evaluate Email Marketing Analytics: Measure your knowledge of marketing analytics tools and your ability to analyze campaign performance metrics for data-driven decision-making.
Customer Engagement Techniques: Test your skills in nurturing customer relationships through personalized email communications, A/B testing, and optimization.
Who should take this test?
Digital marketing role applicants
Aspiring Marketing Managers seeking to demonstrate their expertise in the field.
Experienced Email Marketing Managers aiming to showcase their skills to potential employers.
Marketing professionals looking to transition into an email marketing specialists role.
In the End:
In conclusion, Email marketing continues to be a valuable strategy, capable of yielding exceptional outcomes when executed effectively. However, to maximize the potential of email marketing campaigns, companies should consider enlisting the expertise of top professionals in this field.
Hence, Xobin's tests and the critical points above will help you pick the top talent for the position of marketing specialist. Hopefully, it will help you in the upcoming recruitment phase! We wish you luck with the process!
Software you need for all your recruitment process
1 Million +
Test takers per year
Author Bio: Saif Malundar, Saif is a digital marketer and writer who has introduced various modern strategies in her published articles. He is also co-author of various famous digital marketing books. He was a bookseller before moving to children's publishing and worked for Knowledge Creators Company as a creative writer. He wrote a number of articles and blogs for teens and children on the adequate use of technology while working in that company. Saif is famous for his great knowledge about the modern innovations that can be depicted in his writing.