Employees expect to receive enough compensation, comprehensive benefits, and a positive work atmosphere. But another big thing is on that list: development opportunities. After all, every forward-thinking, top employee always wants a place that allows them to grow, pick up new skills, and advance their careers within your company.
So, how can you ensure that they will have this opportunity? The best way is to create a career development plan that outlines how you will help them grow in their roles.
We'll break down some essential steps for HRs to create an effective employee development plan.
What Is an Employee Development Plan?
An employee development plan is a blueprint to help you map out how an employee will grow and advance in their career with your company. It outlines short- and long-term professional goals for the employee and action steps for meeting those objectives.
Creating an employee development plan is mutually beneficial. As it helps employees achieve their professional aspirations, it also allows employers to groom top talent from within and improve staff retention rates (not to mention boosting morale overall).
   Looking for Recruitment Software? Check out the best Recruitment Software solutions.
Some key components of an effective employee development plan include: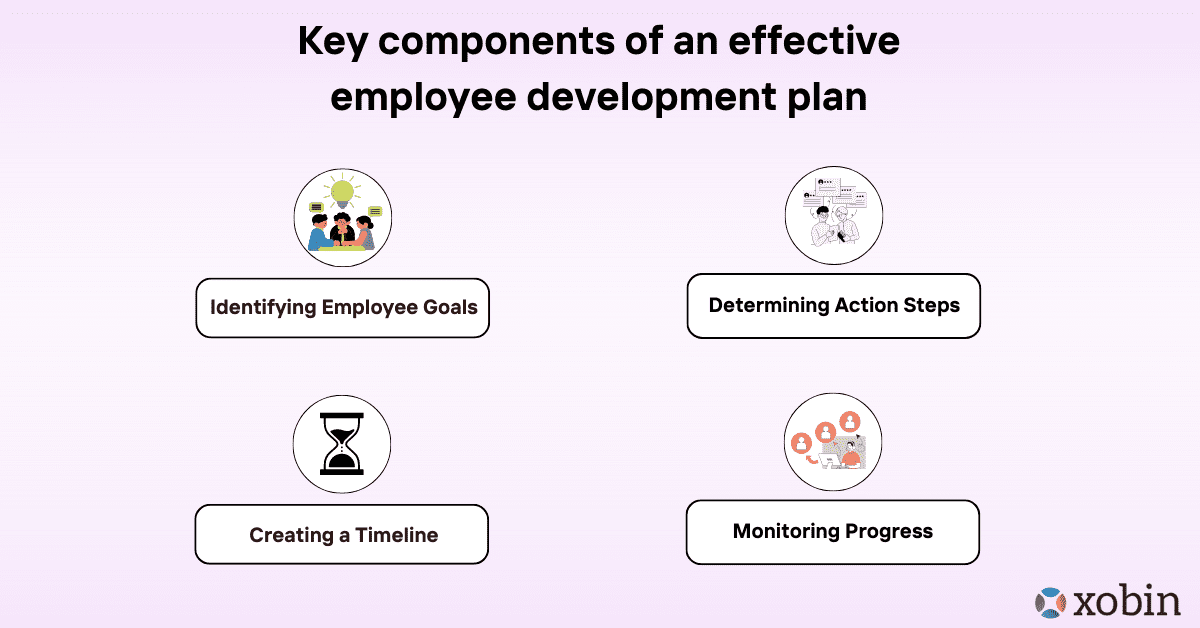 Identifying Employee Goals
Identifying employee goals is the first and most important step – figuring out your employees' goals. Unfortunately, simply asking them isn't always the most accurate method (they could feel pressure to give you the answer they think you want to hear).
Instead, try conducting an in-depth interview with each employee or administering a career interest survey.
Once you have their answers, you can better match them up with development opportunities to help them achieve their objectives.
Determining Action Steps
Once you've established their goals, the next step is determining how they can achieve them. These steps will involve looking at the resources available to them and mapping out a timeline for taking action steps.
Creating a Timeline
Employees need to know that there is a light at the end of the tunnel – meaning, they need to see that their development plans have a defined beginning, middle, and end.
A timeline also gives you both something to measure progress against, so you can see what's working and what isn't.
Monitoring Progress
Obviously, you'll want to keep tabs on how your employees are doing in meeting their development goals.
This is where setting up a system for tracking progress comes in handy. Doing so will help ensure that everyone stays accountable and on track.
How to Create an Effective Employee Development Plan
Now that we've gone over the basics of employee development plans let's take a look at some essential steps for creating an effective employee development plan: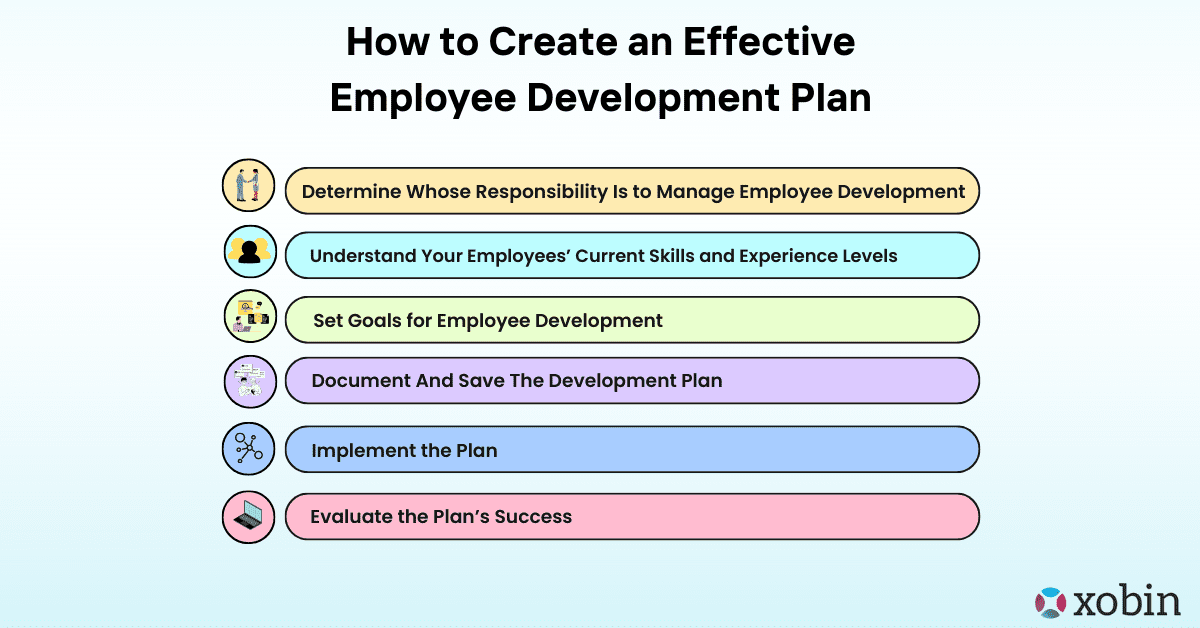 #1. Determine Whose Responsibility It Is to Manage Employee Development
The first step in developing a career plan is determining whose responsibility it will be to manage it. Most likely, this will fall on the HR team, depending on the size of your company. So, you may want to delegate this responsibility to managers or even individual employees.
Best HR Software Solutions
Campus Recruitment Software
With our online campus recruitment software screen, hire top talents hassle-free. Everything is under one platform, from test creation to the candidate's evaluation. from test creation to the candidate's evaluation.
Rating 5.0
Based on 321 user ratings
API Integration by Xobin
Get integrated and harness the strength of robust assessments with Xobin APIs. Save sweat and time and focus on your core offering, not building your assessment stack. from test creation to
Rating 5.0
Based on 321 user ratings
Coding Skill Assessment Software
With our 100+ coding assessments on various languages such as Java, Python, JavaScript, React, Angular, etc., evaluate and hire the best-talented developers. from test creation to the candidate's evaluation. to the candidate's evaluation.
Rating 5.0
Based on 321 user ratings
Pre-Employment Testing Software:
Get access to the vast library of validated tests to screen candidates using online assessments. Simplify your recruitment process with our cloud-based Pre-employment Testing Software. from test creation to the candidate's evaluation.
Rating 5.0
Based on 321 user ratings
Pre-recorded Video Interview Platform:
Pre-recorded Video Interview Platform allows candidates to fully express themselves to a pre-recorded question. So that you can get more insight into candidates in far less time than a traditional phone interview. from test creation to the candidate's evaluation.
Rating 5.0
Based on 321 user ratings
#2. Understand Your Employees' Current Skills and Experience Levels
Once you know who will manage employee development, it's time to start understanding your employees' current skills and experience levels. Remember, the point of the employee development plan is to help employees pursue goals they're passionate about.
It's crucial to connect with them about what they want to achieve. Are they aiming to secure a managerial role in the firm? Obtain a qualification? Come to grips with an unfamiliar area of the enterprise. This way will give you a good foundation for developing plans tailored to each individual. You can do this through performance reviews or skills assessments.
#3. Set Goals for Employee Development
After you understand your employee's current skills and experience levels, you can start setting goals for their development. These goals should be specific, measurable, achievable, relevant, and time-bound (SMART).
The plan should be mutually beneficial, so you must consider how their goals will help you achieve your business objectives. You should use technology, especially if you run an online store or service. Using chatbots, integrating digital storefront programs, and updating your website can be one of the first tasks to improve employee productivity through technology.
#4. Document And Save The Development Plan
Once you have set the goals, it is essential to document the whole development plan. This will include what they need to do to achieve their goals and when they need to do it. It's also a good idea to review and update the plan regularly to stay relevant.
If you have an HR division, also hand in the plan to them. The idea is to ensure that it's kept somewhere; you and your worker can easily access it when needed. You can also consider creating a more shareable format, like explainer videos.
Using video format, in general, will make you and your employees much easier to access the document whenever they need it.
#5. Implement the Plan
It's time to start implementing them. This will require regular communication and collaboration between managers, HR, and employees.
The implementation process will help your employees achieve their goals and improve their performance. Don't forget to check in regularly to ensure employees are on track and offer any additional support they may need.
#6. Evaluate the Plan's Success
After some time has passed, it's important to sit down and evaluate how successful the employee development plan was. This step will help you determine whether any changes need to be made to plans. It will also allow you to identify areas where employees excelled and reward them for their hard work.
It's also a good idea to get feedback from employees on how they're finding the process and whether they think it's helping them achieve their goals.
Only Software you need for all your recruitment process
1 Million +
Test takers per year
Wrapping Up: Level-Up Employee Performance
You need to have an excellent career development plan to get the best out of every employee and improve their productivity. By following the tips outlined above, you can create an effective employee development plan to help your employees achieve their goals while also benefiting your business.
Author
Andre Oentoro is the founder of Breadnbeyond, an award-winning explainer video company. He helps businesses increase conversion rates, close more sales, and get positive ROI from explainer videos (in that order).
Email: [email protected]
LinkedIn: Andre Oentoro