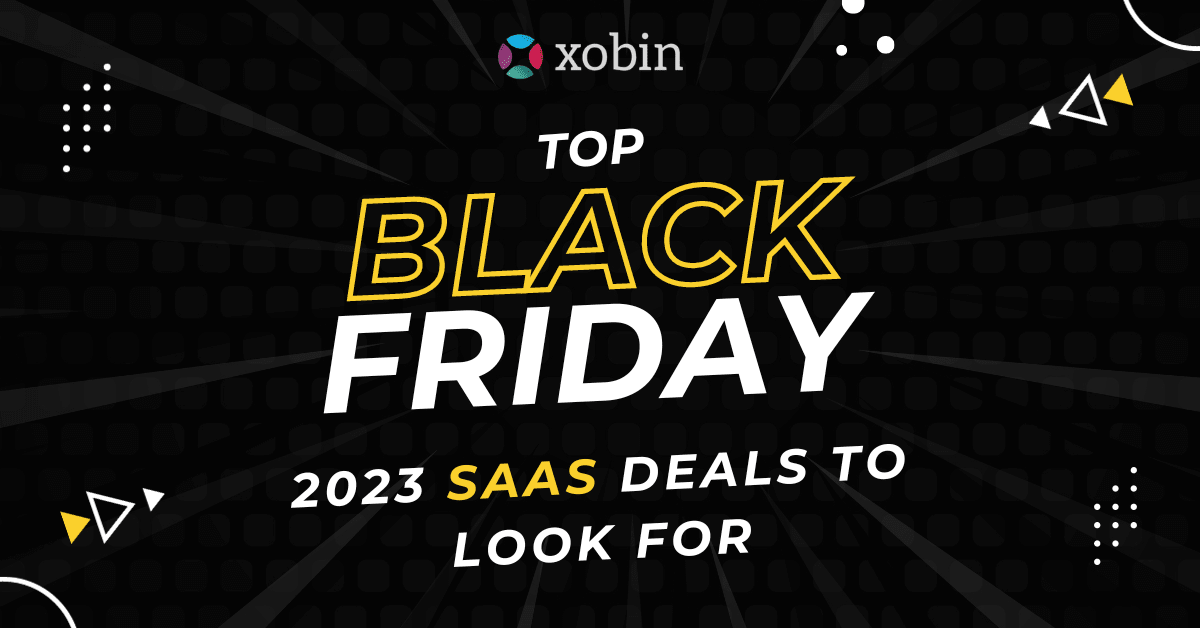 As the year draws to a close, the anticipation for Black Friday 2023 is palpable. It's that time of the year when businesses, both big and small, embark on a treasure hunt for the most tantalizing SaaS Black Friday 2023 deals. And in the realm of software as a service (SaaS), the offerings are nothing short of spectacular. Imagine unlocking the potential of cutting-edge tools, streamlining operations, and supercharging growth, all at a fraction of the regular price.
Black Friday 2023 promises to be a game-changer for businesses seeking to amplify their productivity and efficiency. But what sets the SaaS Black Friday 2023 deals apart? Let's explore it all in this blog;
Key Highlights in SaaS Black Friday 2023 Deals:
Unbeatable Discounts:
Prepare to be astonished by the jaw-dropping discounts on some of the most powerful SaaS products in the market. This Black Friday, businesses have the chance to acquire premium software at prices that might just leave you doing a double take.
Revolutionary Tools at Your Fingertips:
From recruitment platforms armed with AI-driven assessments to marketing suites equipped with automation wizardry, these deals offer access to tools that can redefine the way you operate. It's a chance to step into the future of business operations.
 Looking for Recruitment Software? Check out the best recruitment software.
Customizable Solutions for Every Need:
Whether you're a startup seeking to streamline your operations or an established enterprise looking to scale up, the SaaS Black Friday 2023 deals cater to a diverse range of needs. The offerings span industries, functions, and sizes, ensuring that there's something for everyone.
Advantages of SaaS Black Friday 2023 Deals:
Elevated Efficiency: SaaS solutions are designed to streamline processes, automate tasks, and enhance collaboration. With these deals, businesses can harness the full potential of these tools, resulting in elevated operational efficiency.
Cost-Efficient Growth: Investing in SaaS tools can be a game-changer for businesses aiming for growth. The Black Friday deals offer an unparalleled opportunity to acquire these tools at a fraction of their regular cost, providing a significant return on investment.
Competitive Edge: In today's fast-paced business landscape, having access to the right tools can be a game-changer. The Black Friday 2023 SaaS deals empower businesses to stay ahead of the curve, enabling them to compete more effectively and serve their customers with excellence.
In this blog, we'll delve deeper into some of the most enticing Black Friday 2023 SaaS deals across various domains, highlighting the unique advantages they bring to the table. Get ready to embark on a journey of business transformation!
Best HR Software Solutions
Campus Recruitment Software
With our online campus recruitment software screen, hire top talents hassle-free. Everything is under one platform, from test creation to the candidate's evaluation. from test creation to the candidate's evaluation.
Rating 5.0
Based on 321 user ratings
API Integration by Xobin
Get integrated and harness the strength of robust assessments with Xobin APIs. Save sweat and time and focus on your core offering, not building your assessment stack. from test creation to
Rating 5.0
Based on 321 user ratings
Coding Skill Assessment Software
With our 100+ coding assessments on various languages such as Java, Python, JavaScript, React, Angular, etc., evaluate and hire the best-talented developers. from test creation to the candidate's evaluation. to the candidate's evaluation.
Rating 5.0
Based on 321 user ratings
Pre-Employment Testing Software:
Get access to the vast library of validated tests to screen candidates using online assessments. Simplify your recruitment process with our cloud-based Pre-employment Testing Software. from test creation to the candidate's evaluation.
Rating 5.0
Based on 321 user ratings
Pre-recorded Video Interview Platform:
Pre-recorded Video Interview Platform allows candidates to fully express themselves to a pre-recorded question. So that you can get more insight into candidates in far less time than a traditional phone interview. from test creation to the candidate's evaluation.
Rating 5.0
Based on 321 user ratings
Top Black Friday 2023 SaaS Deals List
1. Xobin's Black Friday 2023 SaaS Deals:
Xobin is a pioneering recruitment platform that leverages the power of Artificial Intelligence to redefine how companies assess and hire top talent. At its core, Xobin offers an expansive library of assessments spanning a wide spectrum of skills, from technical proficiency in languages like Python, Java, and JavaScript to soft skills and psychometric traits. This allows businesses to conduct highly accurate evaluations, ensuring candidates are an ideal fit for their roles. Notably, Xobin places a strong emphasis on technical assessments, providing an unparalleled tool for identifying exceptional developers and programmers. What sets Xobin apart is its commitment to preventing fraud and cheating during assessments, guaranteeing the integrity of results. With real-time monitoring, customizable evaluation forms, and a versatile range of response formats, Xobin provides a comprehensive solution for precise and insightful candidate assessments.
Complementing its cutting-edge technology, Xobin offers a suite of services tailored to optimize the recruitment process. This includes expert support and training to ensure businesses harness the platform's full potential. Moreover, Xobin's dedication to continuous innovation ensures clients stay at the forefront of recruitment technology. By seamlessly integrating with existing HR systems and offering a customizable question library, Xobin adapts to the unique needs of each organization.
Ultimately, Xobin stands as a game-changer in talent acquisition, equipping companies with the tools and insights needed to make informed, data-driven hiring decisions.
Black Friday Deal: 60% off on Xobin Infinity and Xobin Classic Deal
Last Date to Avail the Deals: 26/11/2023
2. Engagebay
An integrated all-in-one marketing, sales and support platform with a free CRM built for startups and growing companies. Streamline and grow your marketing, sales & support processes using a single software. Get a unified customer view across all the teams. Market your business like the world's best companies, build lasting customer relationships, sell like the pros, and provide awesome support to your customers.
Its intuitive features empower teams to drive conversions, boost customer satisfaction, and ultimately, accelerate business growth. From email marketing to helpdesk support, EngageBay provides a comprehensive solution for businesses seeking to optimize their customer engagement strategies.
Black Friday Deal: Flat 40% off lifetime for new signups
3. Document360
Document360 is an AI-powered knowledge base platform enabling the creation of a robust self-service knowledge base catering to both external customers and internal users. The new AI Concierge, Eddy serves as a sophisticated AI-driven search expert equipped with natural language processing (NLP) capabilities enabling users to find information quickly and accurately.
Leveraging its user-friendly configuration options, you can effortlessly produce various resources like user guides, internal wikis, frequently asked questions (FAQs), standard operating procedures, and user manuals.
Black Friday Deal: Save up to 50% on all annual plans.
Offer validity: 6th Nov - 8th Dec 2023
4. SSL2BUY
An SSL certificate verifies your website's identity and encrypts information transmitted between your customer's browser to your site. This prevents cyber criminals from snooping on the interactions between you and your customers.
Black Friday Deal: UPTO 85% Off on SSL Certificates + an additional 10% on your first SSL purchase.
Offer validity: 31/12/ 2023
5. Powr.io
POWR has an extensive app plugin library of over 60 profit-generating and customer support tools such as Form Builder, Popup, Live Chat, and Social Feed. These plugins increase leads and conversions for any new site visitors, plus other apps that support your customers to build trust and keep a handle on customer retention.
You can also gain premium access to all POWR apps via POWR One. It is an all-in-one platform app suite for small businesses interested in scaling or expanding their company quickly.
Black Friday Deal: 30% off any POWR app or 50% off our top 4 Black Friday sales plugins
Offer validity: 29/11/ 2023
6. Cloudways
Cloudways offers reliable, scalable, and user-friendly hosting solutions designed for various needs. Whether you're launching a personal blog or scaling an e-commerce business, our platform ensures optimal performance. Enjoy seamless web experiences backed by robust infrastructure and intuitive tools.
Black Friday Deal: 40% OFF for 4 Months on all hosting plans + Upto 40 Free Migrations
Offer validity: 01/12/ 2023
7. Omnisend
Omnisend is helping small and medium-sized e-commerce businesses around the world grow and retain their customer audience with easy-to-use email and sms marketing. Manage your customer relationships, build your email and SMS lists, send targeted campaigns, create automation workflows, and track your results – all from within Omnisend's dashboard.
More than 100,000 e-commerce stores around the world already enjoy benefits Omnisend gives. Get award-winning 24/7 support, even on free plan, take advantage of affordable paid plans, and easily integrate Omnisend to get more sales, in more ways, and build better customer loyalty.
Black Friday Deal: Use code BFCM2023 to receive a 30% discount for the first 3 months subscription of a paid plan.
Offer validity: 31/12/ 2023
8. SE Ranking
SE Ranking is an all-in-one cloud-based SEO and digital marketing platform for business owners, SEO pros and digital agencies.
Secure access to all must-have SEO tools at the best possible price! Start your free trial to activate this offer. Start your free trial and click on your personal link within the platform. Your discount will be applied automatically.
Black Friday Deal: Get an extra 20% off on all annual plans and add-ons, on top of your year-round 20% discount.
Offer validity: 04/12/ 2023
9. Coupler.io
Coupler.io is an automation and analytics platform that assists users in streamlining their data and turning it into comprehensive reports. The tool offers full functionality to collect, organize, and visualize marketing, sales, accounting, and other business records. Coupler.io provides dashboard templates and data consultancy services to leverage custom reporting. Regarding data integrations, 70+ data sources and 5+ data destinations are available.
The platform doesn't require coding skills, so it can benefit PPC, SEO, social media specialists, and other marketers who want their reports to contain data from multiple apps and be up-to-date.
Black Friday Deal: Using the promo code BFCM23, new users can get 30% OFF all pricing plans
Offer validity: 30/11/ 2023
10. Pictory.ai
Pictory.ai is an AI-powered video creation platform that enables content marketers to create and edit professional-quality videos with ease. The platform uses artificial intelligence to automate the video production process, allowing users to generate videos from text scripts, blog posts, and long-form video content. It is designed to be fast, scalable, and affordable, with a focus on enhancing content engagement and SEO.
Black Friday Deal: 40% off Annual Standard, Premium & Team Plans and 10 FREE Additional Videos Per Month Code: BFCM40GB
Offer validity: 30/11/ 2023
11. Sender
Sender is your all-in-one marketing software that helps you create workflows like abandoned carts and reminder emails to engage customers and boost conversions. These emails are easy to make, thanks to their drag-and-drop email builder and responsive templates. In addition, Sender provides high-converting popups that capture traffic from your website and generate quality leads. You can then segment these prospects based on their behavior and preferences and target them with personalized emails.
Besides this, the platform offers text marketing, enabling you to reach customers directly on their mobile phones. You can even combine your email and SMS campaigns to give recipients an omnichannel experience.
Black Friday Deal: 20% off for all paid plans
Offer validity: 28/11/ 2023
12. Narrato
Narrato is a powerful AI content creation and marketing platform that provides an extensive suite of AI and automation tools. Its purpose is to assist you in effortlessly and collaboratively producing exceptional content. Unlike other AI content generation tools, Narrato is more than just a tool – it is a comprehensive workspace that combines AI and automation to support your ideation, creation, collaboration, and publishing needs, all within a single platform.
By utilizing Narrato, you can significantly accelerate the production of content, reducing the time required by almost 5-10 times. This efficient process not only saves valuable resources but also reduces costs in terms of both hours and dollars spent.
Black Friday Deal: 30% off for your first year on Narrato Workspace
Offer validity: 03/12/ 2023
13. HackerEarth
HackerEarth is a global company that helps large enterprises recruit, evaluate, and upskill developers based on specific skills. The company's platform enables recruiters to make the most accurate and informed decisions about candidates, screen developers, improve hiring efficiencies, facilitate continuous learning and development, and ensure the right developers are matched with the right positions. HackerEarth is also a leading facilitator of online hackathons and coding challenges, where its community of over 7.6 million developers can upskill and practice for employment interviews
Black Friday Deal: 50% off on all products purchased annually
Offer validity: 30/11/ 2023
14. FounderPass
FounderPass is a online perks club for founders and businesses whereby they can access over 175 different deals and discounts on software and tools. With over $1m of perks available to members they can save thousands on their tech stack all year round.
Black Friday Deal: 25% off membership for life
Offer validity: 25/11/ 2023
15. QR Diffusion
QR Diffusion – where art meets tech in our dynamic QR codes! Say goodbye to plain black and white and hello to eye-catching designs, perfectly crafted by our QR code generator! Our generator is incredibly user-friendly, perfect for beginners to edit pre-made templates and create their artistic QR codes in seconds. For tech lovers, our platform offers deep customization options—fine-tune your QR codes to perfection with advanced settings. Your perfect QR is just moments away!
Black Friday Deal: 50% OFF
Offer validity: 01/12/ 2023
16. Growth Partners Media
What sets Growth Partners Online apart is their innovative strategy. They conduct exhaustive off-page audits to identify immediate growth opportunities for their clients. With systems and processes being engineered for both quality and scale, they save businesses 6+ months of internal ramp time when compared to hiring in-house. By partnering with Growth Partners Online, B2B SaaS brands can build an SEO "moat" that sets them apart from the competition, driving more demos, trial sign-ups, and customer acquisitions through free traffic.
Black Friday Deal: a lifetime 5% discount on their services as well as an exhaustive off-page audit (worth $4000) for free with any Growth Plan or above — a deal that promises enduring value for your SEO strategy.
Offer validity: 27/11/ 2023
17. Consolto
Consolto redefines the conferencing experience for customer meetings, merging the power of live chat, appointment scheduling, and video chat into one unified platform. Tailored exclusively for enriched customer interactions, imagine the best of Zoom, Calendly, and Intercom seamlessly. integrated into one transformative tool
Black Friday Deal: 90% off for the first 3 months OR 50% off yearly subscriptions for the 1st year
Offer validity: 28/11/ 2023
18. Currency Switcher for WooCommerce
Currency Switcher for WooCommerce plugin allows visitors to switch between currencies according to their preferences easily.
Black Friday Deal: Flat 23% Off
Offer validity: 04/12/ 2023
19. Weblium
Weblium is a website builder to turn your ideas and conceptions into a ready-to-use functional site. With the assistance of our builder, you can create different types of websites and edit them at any time, adding more content. While integrations with different payment systems and built-in CRM will help you bring your business online, a flexible editor will be an advantage for designers and marketers.
Black Friday Deal: 30% off the annual Pro plan
Offer validity: 21/11/ 2023
20. Salesgear
Get accurate prospecting insights, warm up email accounts for better inbox delivery, and craft impactful emails with AI. Seamlessly integrate with your CRM for prompt follow-ups. Equipped with these streamlined tools under one roof, empower your sales team to effortlessly secure deals and surpass targets.
Black Friday Deal: Free for first 6 months – paid annually on all plans
Offer validity: 30/11/ 2023
21. Whatagraph
Whatagraph is a marketing data platform that marketers use to connect scattered marketing sources, easily turn that siloed data into insightful marketing reports, and automate how they are shared. Connect any marketing source with 45+ native integrations, Custom API, or spreadsheets. Create stunning marketing report in minutes using drag-and-drop builder. And it's fully customizable with cross-channel widgets, filtering and custom calculations. Anything you create can be saved as a template, reused and edited at once + easy-to-set-up data transfers to Google BigQuery available.
Black Friday Deal: For Black Friday 2023, we're offering 20% off all first-year plans, 20% off on add-ons, and 20% on existing plans scale-ups. Coupon – BF2023
Offer validity: 30/11/ 2023
22. SalesBlink
SalesBlink is an AI powered cold email outreach solution using which you can search for prospects, put your cold email sequences on autopilot, view stats and reports for opens, clicks, replies and more effortlessly.
BlinkGPT is SalesBlink's in-house Generative AI that lets you write emails, create sales sequences and much more with just a few clicks.
Black Friday Deal: 50% off on Scale and Business Plans for next 1 year for both Yearly and Monthly Plans. Use Coupon "BlackFriday2023" on checkout.
Offer validity: 31/12/ 2023
23. Planly
Planly is an all-in-one social media management tool, thanks to which you can easily manage your social media profiles across 7 key platforms: Instagram, TikTok, LinkedIn, Facebook, Pinterest, Twitter, and Mastodon and enjoy its innovative features.
Black Friday Deal: There will be 50% OFF for the first month subscription and 30% OFF for annual subscription
Offer validity: 30/11/ 2023
24. Cheqmark
Cheqmark, an ultimate free checklist maker tool, has been designed to elevate daily routines and revolutionize your approach to productivity. For those looking for long-term organization, Cheqmark offers an exclusive Black Friday 40% discount on a yearly subscription for Premium features (all Premium templates included)
Black Friday Deal: 40% off on a yearly plan
Offer validity: 05/12/ 2023
25. Retainful
Retainful is an all-encompassing email marketing automation platform, empowering Woocommerce and Shopify stores to boost sales through features like abandoned cart recovery, automated emails with dynamic coupons, and a flexible drag-and-drop editor.
Enhanced with real-time analytics, exit-intent popups, a robust referral program, broadcast and segmentation tools, Retainful delivers personalized, strategic communication to optimize customer engagement and increase revenue. Trusted globally by over 15,000 store owners, it's acclaimed as one of the top tools for Woocommerce and Shopify stores. Retainful now provides a 30% discount, enhancing its value proposition.
Black Friday Deal: Flat 30% off
Offer validity: 05/12/ 2023
26. StatusGator
StatusGator is an innovative platform designed to streamline the monitoring of cloud services and websites. It offers a centralized status page that aggregates the status of all your cloud vendors, hosted applications, services, and websites, providing a comprehensive view of your digital ecosystem. This unified status page is essential for teams, reducing the volume of support tickets and enhancing overall efficiency​ Overall, StatusGator is a powerful tool for organizations looking to maintain optimal operational uptime, ensuring that all team members are always informed about the status of their essential digital services.
Black Friday Deal: Use promo code BLACKFRIDAY2023 to get an instant discount of 20% on Starter plans.
Offer validity: 12/12/ 2023
27. OneStream Live
OneStream Live is a cloud-based live streaming solution that allows users to create, schedule, and live stream real-time and recorded videos on 45+ social media platforms and the web at once.
Black Friday Deal: 20% off on all monthly plans for the first 3 months. (Coupon Code: BFCM20) and 15% off on all annual plans. (Coupon Code: BFCM15)
Offer validity: 05/12/ 2023
By registering your Black Friday 2023 deals on our platform, you'll gain visibility to a wide audience actively seeking the best bargains. This is a golden opportunity to showcase your products or services to a highly engaged community.
Hence, our registration is quick and easy. So, click here and fill in your deals details. Don't miss out on this chance to make your Black Friday promotion a massive success. Wishing you a prosperous Black Friday season!