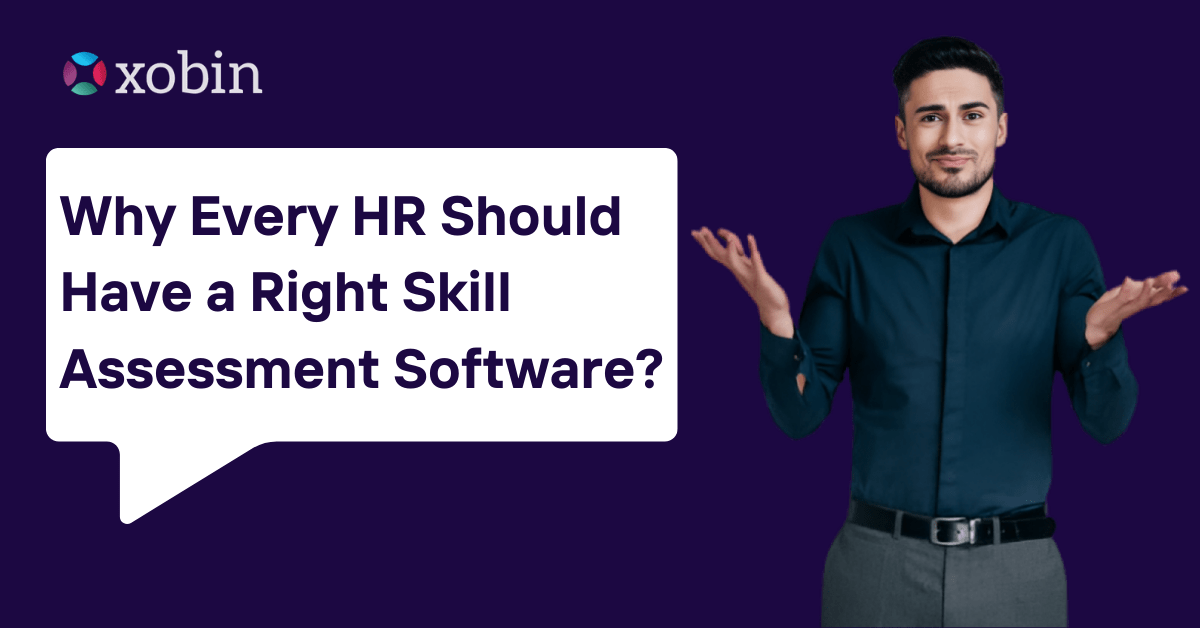 This days skill assessment software is a standardized tool for evaluating a candidate's employability. The software assesses candidates based on their technical/domain skills, psychometry, and cultural fit. HR professionals can automate and simplify the hiring and talent assessment processes with the help of best HR Management Software. 
Finding the right candidate for the company is quickly done with proper human resource assessment tools. Read below to have a clear understanding of the reasons why HRs should make use of skill assessment software.
 Looking for Recruitment Software? Check out the best recruitment software.
Importance of Skill Assessment Software:
There are many variables to take into account while evaluating candidates and employees. Although degrees, experience, and skills are important, they are not the only considerations an HR should make. They should also check the applicant's personality and suitability to the company's culture. Software for skill assessment comes in handy here.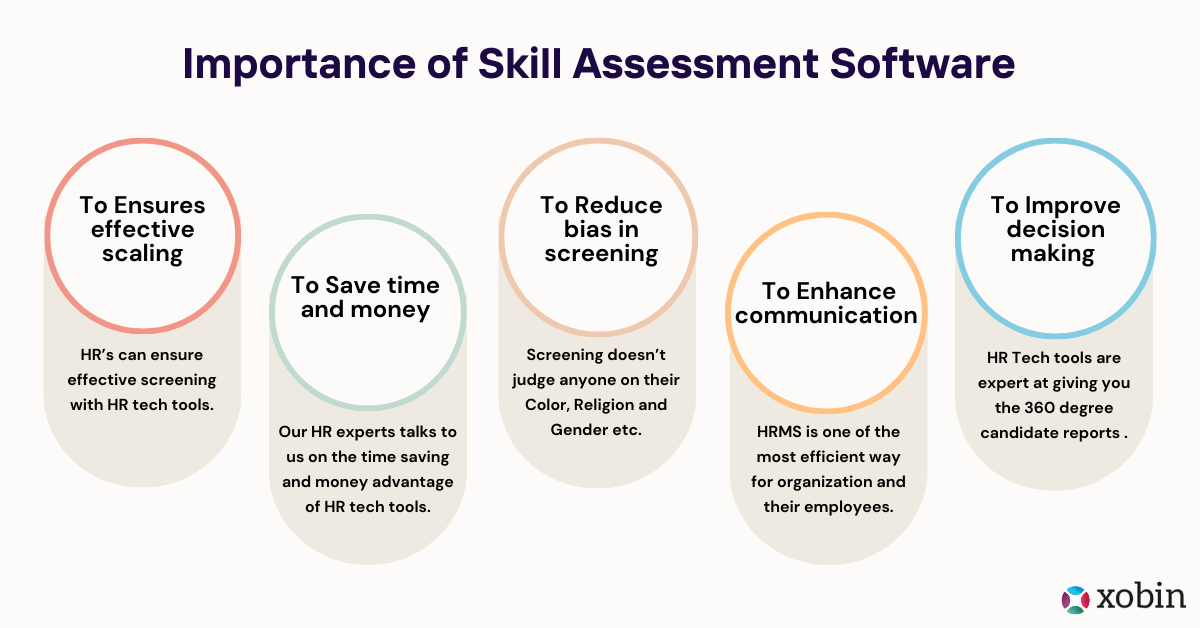 You can use them to measure a candidate's aptitude and consider whether they fit with your company's culture. This is important for selecting the best applicant and can also reduce turnover rates and boost employee satisfaction.
Assessment softwares also helps HR professionals for employee development and training. You can be confident that you are making the best choice for your company by using HR assessment tools.
To ensure effective scaling with skill assessment software:
Employers can hire workers quickly and efficiently by scaling up their hiring process with the use of skill assessment software. Finding the right talent for the right position is the best thing about the assessment software as it makes recruiting candidates simpler for HRs.
As the skill assessment tools operate automatically, most of the assessment process can be automated, so the HRs are relieved of their responsibility. The platform can also identify any fraudulent behavior, reject applicant applications and only choose legitimate applicants.
To save time and money:
Businesses can save time and money on hiring and accessing their current employees by using skill assessment software. Skill evaluations can help HR to find the best candidates and reduce prejudice during the screening process. This would result in less resource waste and eventually produce a more effective hiring process and employee retention process.
Businesses can guarantee that they are making efficient use of their time and resources by only interviewing the right candidates for new hires and also for any job promotions. By minimizing the risk of using the wrong persons, which can be expensive in terms of time and training, skill assessment can assist in lowering the cost of the hiring process.
Best HR Software Solutions
Campus Recruitment Software
With our online campus recruitment software screen, hire top talents hassle-free. Everything is under one platform, from test creation to the candidate's evaluation. from test creation to the candidate's evaluation.
Rating 5.0
Based on 321 user ratings
API Integration by Xobin
Get integrated and harness the strength of robust assessments with Xobin APIs. Save sweat and time and focus on your core offering, not building your assessment stack. from test creation to
Rating 5.0
Based on 321 user ratings
Coding Skill Assessment Software
With our 100+ coding assessments on various languages such as Java, Python, JavaScript, React, Angular, etc., evaluate and hire the best-talented developers. from test creation to the candidate's evaluation. to the candidate's evaluation.
Rating 5.0
Based on 321 user ratings
Pre-Employment Testing Software:
Get access to the vast library of validated tests to screen candidates using online assessments. Simplify your recruitment process with our cloud-based Pre-employment Testing Software. from test creation to the candidate's evaluation.
Rating 5.0
Based on 321 user ratings
Pre-recorded Video Interview Platform:
Pre-recorded Video Interview Platform allows candidates to fully express themselves to a pre-recorded question. So that you can get more insight into candidates in far less time than a traditional phone interview. from test creation to the candidate's evaluation.
Rating 5.0
Based on 321 user ratings
To reduce bias in screening:
To reduce bias in the screening process, skill assessment software can be used to screen employees and job applicants. It is because the skill assessment software's are impartial and standardized and do not take an applicant's age, gender, or race into account.
HRs can find the best candidates by using these in the screening process and evaluating them specifically on their skills and abilities. This can assist in removing unconscious bias and promoting diversity and inclusion at work, which improves business performance.
With the help of management and assessment software, HR can only select and keep the correct employee who will remain longer and help lower your employee turnover rate. As assessments take time, the less work you have to do, the better the results will be.
For enhanced communication and employee satisfaction:
With the use of HR Management Software, HR can learn more about the communication preferences and strengths of each employee. It gives everyone a clearer understanding of what they can do and helps facilitate improved communication within the team.
Employees are happy with their work when they like the interview experience. Also, they are happy when they got the position and the engagement culture of company. By ensuring that each employee is well-treated, instructed, and developed in accordance with their genuine beliefs and motivations, HR evaluation tools can assist in increasing employee satisfaction. 
Making improved decisions and team productivity:
A rise in team productivity is possible by placing people in the right jobs that work with their strengths and skills. As everyone is putting their effort into achieving a common objective, it becomes easy to do so in a way that best uses their unique skills. let us take you through the power of AI in recruitment and role of chat gpt in it:
Making better choices for hiring, training, and development requires HR management tools, is a necessity. The information gathered by the assessment tool can contribute to a more realistic portrait of each employee. Hence, it can help in placing the right employee in the right team.
Employees are more likely to be productive when they work in an atmosphere that fits them and their skills. HR assessment tools also help enhance productivity. For example, by making sure every employee is completing the tasks assigned.
Final thoughts:
The use of HR evaluation tools is growing in popularity as HR looks for the best candidates in a more efficient manner. Hence, the workforce becomes more productive with these softwares. So, use them to evaluate a person's abilities, compatibility, and intelligence.
Software you need for all your recruitment process
1 Million +
Test takers per year
Author Bio: I am Ravi Varma, A Digital Expert, Blogger Author of Best CRM Software In India Article at We Suggest Software – A Leading Software Reviews & Recommendations Platform Worldwide.