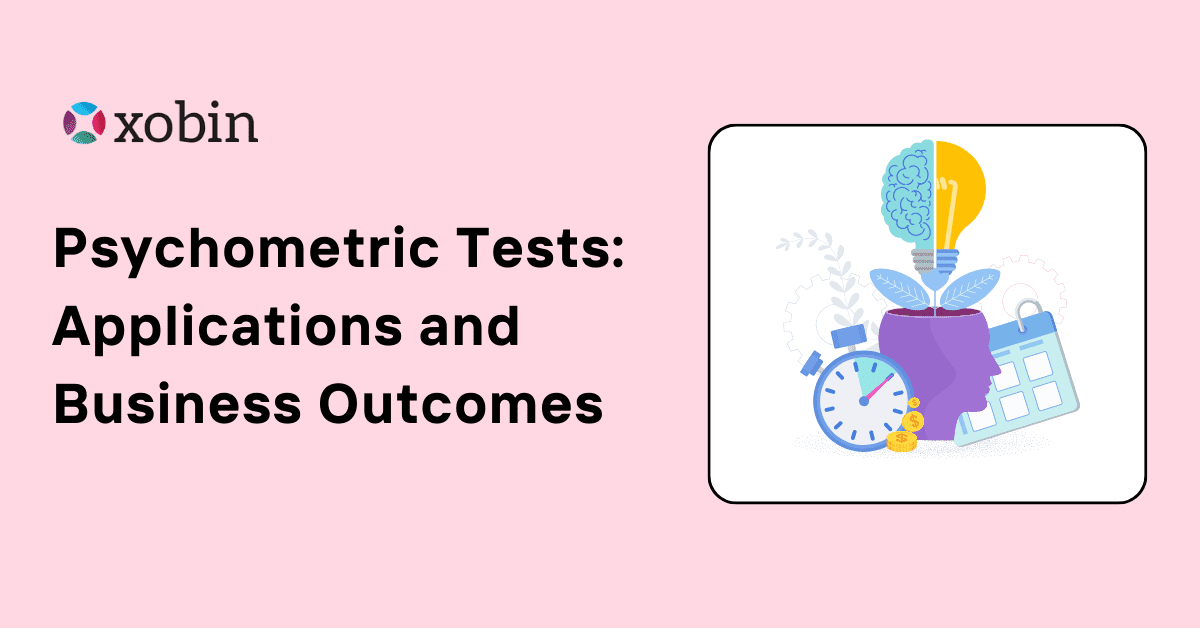 Psychometric tests have been shown to improve recruitment outcomes by 24%, which hugely saves the business money in both the short and long term.
While on one hand, aptitude tests can measure anything from verbal ability, numeric ability, logical reasoning, data checking and even spatial ability, on the other hand, psychometric tests can measure various aspects of personality, including enthusiasm, motivation and the ability to work with others.
   Looking for Psychometric Testing Software? Check out the best psychometric testing software.
Having discussed the reliability of the results of psychometric tests in our previous article, in this article we shall see how the psychometric tests prove to yield various successful business outcomes.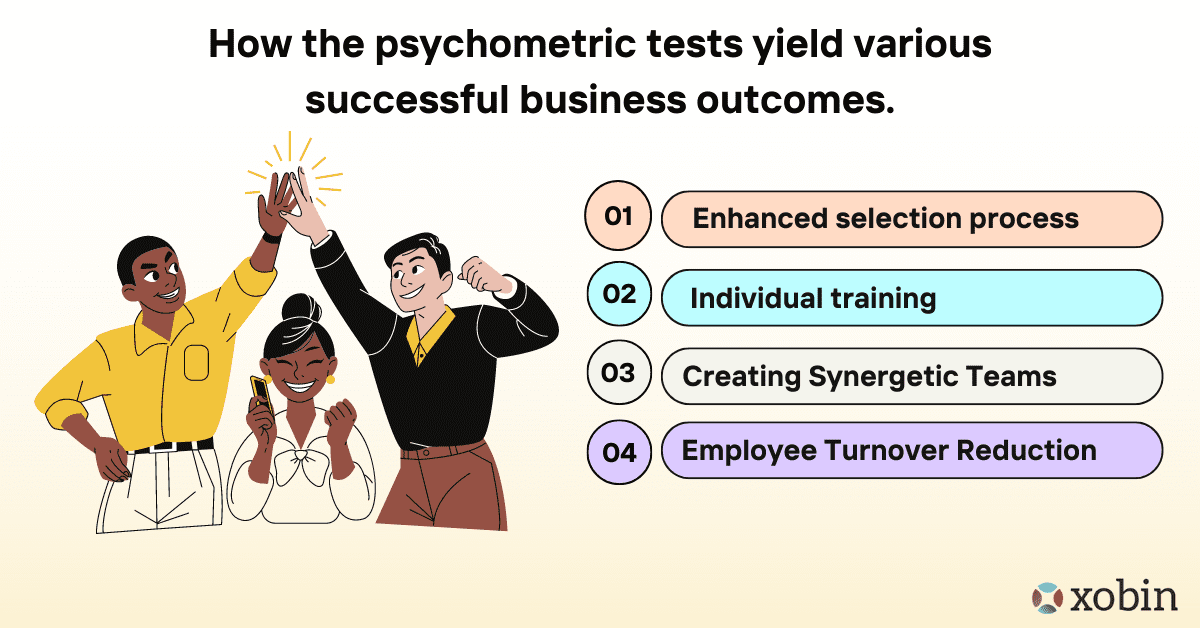 Enhanced selection process
Psychometric tests are not about right or wrong answers.
They are aimed at finding the right fit for an organization. They help us to find whether if a person has a genuine interest in engaging for the role being offered.
A study showed that psychometric tests incorporated in the recruitment processes cut the recruitment costs by 30-40%.
Yes, you can directly weed out the candidates who show even traces of disinterest or curiosity in the job. Psychometric tests help organizations to understand the job-fit, cultural-fit, and even team-fit of a candidate.
For example, if an advertising agency is looking for an out-going and gregarious business development representative, a simple personality psychometric test will reveal if an applicant is a right fit or not.
Best HR Software Solutions
Campus Recruitment Software
With our online campus recruitment software screen, hire top talents hassle-free. Everything is under one platform, from test creation to the candidate's evaluation. from test creation to the candidate's evaluation.
Rating 5.0
Based on 321 user ratings
API Integration by Xobin
Get integrated and harness the strength of robust assessments with Xobin APIs. Save sweat and time and focus on your core offering, not building your assessment stack. from test creation to
Rating 5.0
Based on 321 user ratings
Coding Skill Assessment Software
With our 100+ coding assessments on various languages such as Java, Python, JavaScript, React, Angular, etc., evaluate and hire the best-talented developers. from test creation to the candidate's evaluation. to the candidate's evaluation.
Rating 5.0
Based on 321 user ratings
Pre-Employment Testing Software:
Get access to the vast library of validated tests to screen candidates using online assessments. Simplify your recruitment process with our cloud-based Pre-employment Testing Software. from test creation to the candidate's evaluation.
Rating 5.0
Based on 321 user ratings
Pre-recorded Video Interview Platform:
Pre-recorded Video Interview Platform allows candidates to fully express themselves to a pre-recorded question. So that you can get more insight into candidates in far less time than a traditional phone interview. from test creation to the candidate's evaluation.
Rating 5.0
Based on 321 user ratings
When you have information about a candidate's personality, their traits and innate reflexes, you can be confident you are choosing the right person, for the right job, and for the right company.
We can deter a candidate from cheating or faking responses in psychometric tests and here is how we have internal consistency checks in our assessments.
Individual training
Psychometric tests help in evaluating and analyzing the performance gaps that are needed to be addressed and taken into consideration to provide individual training.
For example, a sales manager might want to understand why some sales representatives are great at presentation and influencing, but still lacking what it takes to close a deal.
In order to find a solution to this, a sales potential test can be incorporated during the training sessions. This assesses whether a candidate can build relationships, has empathy for clients, is disciplined enough to manage the process from start to end, and other sales specific traits.
Pro Tip: Organizations ace the recruitment race for right talent using psychometric assessments.
Creating Synergetic Teams
Psychometric tests can be scaled up to look at the spread of personalities and skills in the workforce.
Studies have consistently proven that highly diverse teams out-perform teams of similar people. The information provided by psychometric testing can then be used to create the best organization structure that focuses on diversity in both skills and personalities.
Aha! An important aspect to be noted, psychometric tests can also be used to identify any existing personality clashes and move individuals to groups more suited to their personalities.
Organizations can now have a happy and productive workforce.
Pro Tip: Organizations can adopt 16 personalities test to understand the diversity of psychology of their employees.
Employee Turnover Reduction
We have been constantly stressing the impact of employee turnover in a couple of our articles.
We are doing it again here!
The total costs associated with the turnover range from 90% to 200% of a person's annual salary. Yes, that us how dearly attrition would affect an organization.
Incorporating psychometric tests in your recruitment process brings the right candidates onboard thereby reducing the employee turnover.
Employees who feel valued and understood often perform better and are less likely to leave a business. Psychometric testing allows employers to better understand their employees, their motives, and values, which in turn creates more motivated employees.
How to conduct psychometric assessments using Xobin
At Xobin we have a library of psychometric assessments to suit your business needs.
Our behavioural

psychometric analysis tests

help to evaluate Decision-Making Style, Values, Leadership and Entrepreneurial Ability, Motivation and Communication Style of candidates.
Emotional Intelligence test helps to evaluate the ability to work under pressure, Understanding Emotions and Empathy, Balance Emotions with Reason
Situational Judgement tests help to evaluate how applicants respond to realistic business situations revealing the integrity and conscience of the candidates.
Are you hiring?
Make sure that you assess the behavioural traits of your candidates. Don't burn your fingers by making vague assumptions!
At Xobin, we will help you to pick the right psychometric assessments for your business needs. Chat with us to know more .  .  .