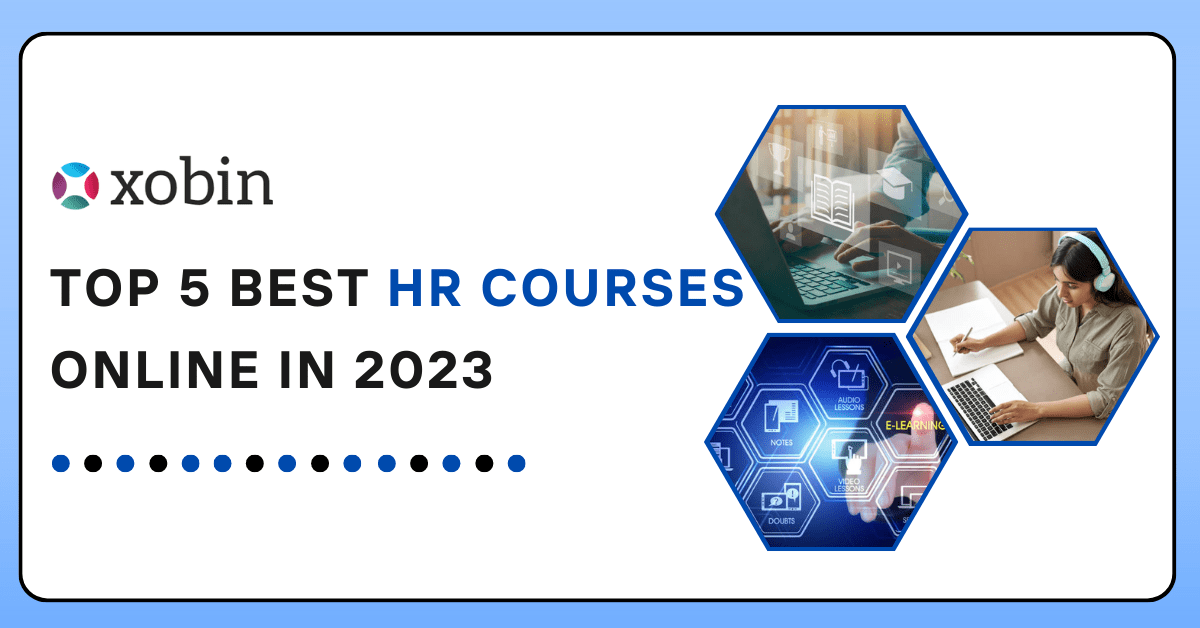 According to Grand View Research, the worldwide HR Analytics market will develop at a 14.3% CAGR between 2022 and 2027. Human Resources professionals must always improve their learning and expertise to stay at the top. In order to gain expertise, you should choose HR courses that fit your needs.
   Looking for Recruitment Software? Check out the best recruitment software.
Nowadays, you can learn anything quickly from the comfort of your home. Many online courses in your profession are accessible. Even when you have everything in front of you, selecting the right path might be difficult.
So we've compiled a list of the 5 Best HR courses online in 2023 to help you overcome challenges and improve. Whether an HR specialist or a newcomer in this sector, these courses will help you comprehend the fundamental principles of the recruitment process and improve your skills.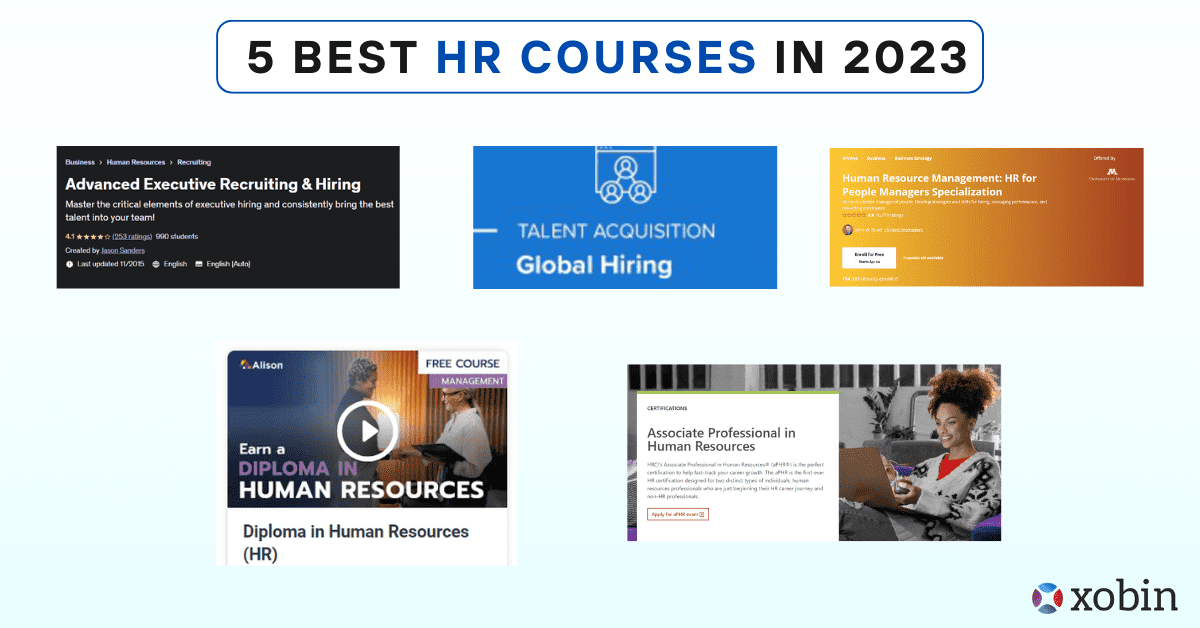 A course in the field of recruiting made by Udemy, which helps to master the elements of executing hiring and recruiting to have a great talent acquisition strategy. This HR course consists of 43 lectures to prepare you to ace in the recruiting field.
This course uncovers the most important components you must adopt to advance from an ordinary recruiter to a superstar! To discover best practices, you must first grasp the principles of recruitment.
This course is not for newbie recruiters. It is specially made for experienced recruiters to impact their respective fields more. Also, this course is suitable for HR professionals who are recruiting as a part of their job.
Features
2.5 hours of on-demand video.
3 articles.
3 downloadable resources.
Full lifetime access.
Access on mobile and TV.
Certificate of completion.
What will you learn?
Consistently attract the best executive talent.
Make more successful hiring decisions.
Learn to provide compelling offers to candidates without overpaying and to get a great candidate experience.
Other Courses
SHRM provides this course it helps HR professionals elevate their knowledge and potential in human resources. It focuses on recruiting and retaining top talent globally.
This hrm course is a perfect fit for Hiring managers who want to improve their team's quality and HR professionals who want to have a higher influence and greater responsibility.
Features
It gives a high-level overview of the ideas and practices of global talent recruitment and retention.
The course gives a comprehensive overview of the legal and regulatory requirements for hiring non-U.S. national employees.
What will you learn?
Why is global hiring important?
Global hiring approaches benefits and challenges
Global recruitment considerations
Compliance regulations when hiring non-U.S. employees inside the U.S. and abroad.
Other Courses
Best HR Software Solutions
Campus Recruitment Software
With our online campus recruitment software screen, hire top talents hassle-free. Everything is under one platform, from test creation to the candidate's evaluation. from test creation to the candidate's evaluation.
Rating 5.0
Based on 321 user ratings
API Integration by Xobin
Get integrated and harness the strength of robust assessments with Xobin APIs. Save sweat and time and focus on your core offering, not building your assessment stack. from test creation to
Rating 5.0
Based on 321 user ratings
Coding Skill Assessment Software
With our 100+ coding assessments on various languages such as Java, Python, JavaScript, React, Angular, etc., evaluate and hire the best-talented developers. from test creation to the candidate's evaluation. to the candidate's evaluation.
Rating 5.0
Based on 321 user ratings
Pre-Employment Testing Software:
Get access to the vast library of validated tests to screen candidates using online assessments. Simplify your recruitment process with our cloud-based Pre-employment Testing Software. from test creation to the candidate's evaluation.
Rating 5.0
Based on 321 user ratings
Pre-recorded Video Interview Platform:
Pre-recorded Video Interview Platform allows candidates to fully express themselves to a pre-recorded question. So that you can get more insight into candidates in far less time than a traditional phone interview. from test creation to the candidate's evaluation.
Rating 5.0
Based on 321 user ratings
This specialization consists of 5 courses that Coursera provides. It starts with a foundational course to cover the basics and then other courses help you dive deep into the insightful and in-depth knowledge about what works in the workplace and the best practices for hiring and managing a team.
This hrm course is valuable for entrepreneurs and managers in the field of human resource management who want to have a deeper understanding of managing, hiring and rewarding employees.
After completing this course, the main skills you will gain are Performance management, Onboarding, Recruiter Resume, Resource Management, Recruitment, Organizational Culture, Performance Appraisal, etc.
Features
It provides an introduction to the basic principles and policies of human resource management.
Shareable Certificate & Flexible Schedule.
It takes around 6 months to complete.
What will you learn?
It helps to find alternative methods in human resources and helps to find the factors to motivate the employees.
It also helps in terms of best practices for hiring and rewarding employees.
Avoiding key mistakes in mismanaging human resources.
Other Courses
This course is offered by Alison, which helps you to gain knowledge in terms of hiring, training and motivating staff effectively. This course focuses on learning how to get the most out of employees.
It consists of 10 modules that start with an introduction to human resource management and cover all the eight core roles of HRM. It also helps to establish a strategic HRM plan and overall recruitment process.
This course illustrates how organizational culture and strategies have a huge impact on both big and small organizations. Anyone interested in the field of HR or HR professionals to improve their skills can opt for this course. Employees are an important aspect of any organization; this course helps you to get the most out of them.
Features
10-15 Hours of Learning.
CPD Accreditation.
Final assessment & human resources certification.
What will you learn?
It explains general processes related to recruitment, selection, training and appraisal.
It helps in recognizing the key responsibilities of a human resource manager.
Identify strategies for managing the 'process of change' within an institution.
Other Courses
It is hard to find a course that fits beginners in the field of Human resources, this course definitely fits this criterion, and HRCI provides it. This course provides the perfect start in this field as it helps you fast-track your career and gives you confidence.
This course is divided into two distinct types of individuals, one just starting in the HR profession and the other being a Non-HR professional. This course's main purpose is to provide the fundamentals regarding HR operations, Human Resource Development, Recruiting, Compensation, Benefits, etc.
Features
The course is for Human Resources Professionals who are just beginning their HR career journey and non-HR professionals.
1 hour and 45 minutes (plus 30 minutes of administration time) for the Exam.
Certification to help fast-track your career growth.
What will you learn?
Talent Acquisition.
Learning & Development.
Compensation & Benefits.
Employee Relations.
Compliance & Risk Management.
Other Courses
Conclusion
Human resource professionals play an important role in every firm, and their tasks have grown in complexity in recent years. Online courses have become popular among HR professionals wishing to expand their knowledge and abilities.
We evaluated the five finest HR courses accessible online in 2023 in this blog. These courses address various topics, including human resource management, analytics, diversity and inclusion, and employment law. By taking these courses, HR professionals may broaden their knowledge and keep current on industry trends.