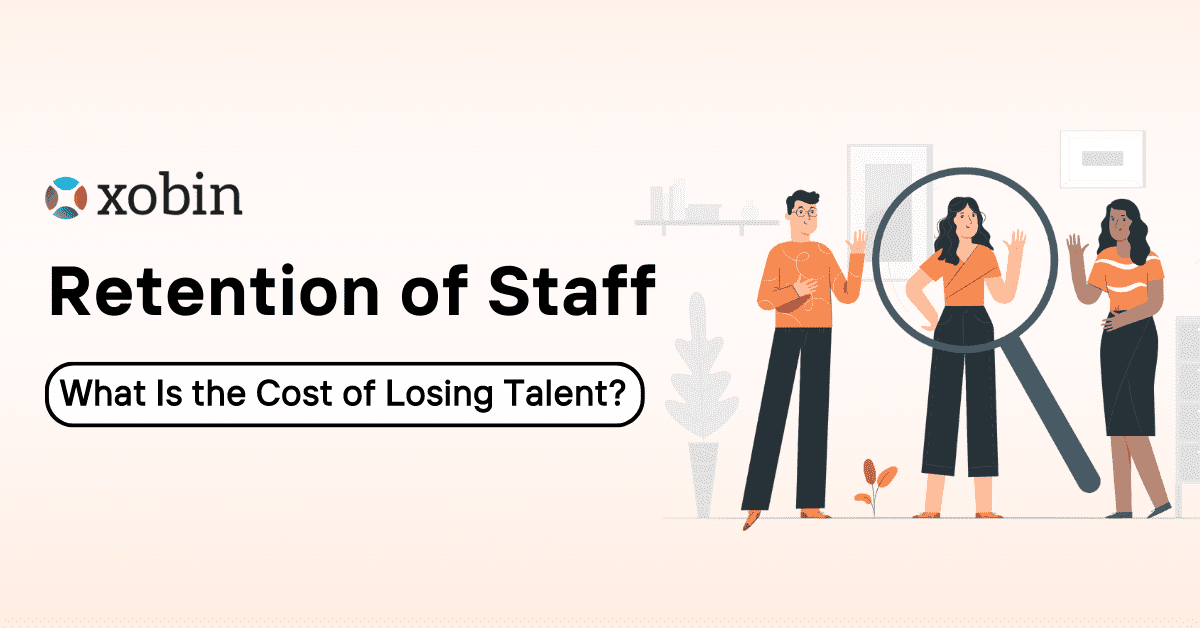 The common saying goes that acquiring new customers is more expensive than retaining the ones you already have. It's similar to employees. The importance of staff retention cannot be underestimated as it influences every other aspect of your company.
But what if you keep losing talent and hiring new employees only to have them leave as well? You might be losing a lot of money. Here's the real cost of losing talent and how you can increase your employee retention rates.
The Cost of Losing Talent
A lot of companies understand the importance of staff retention. They falsely believe that any and all employees are replaceable. But losing an employee and then finding another one will already cost you money. This money could be spent in a smarter way on improving different aspects of your business to ensure that your current employees stay with you.
One of the biggest misconceptions is that you could actually cut costs by firing people. Think about all of the news you've read about big brands having layoffs in an attempt to cut costs. The truth is that simply firing people won't help your business survive. In fact, it might end up doing more harm than good both in the short term and in the long run.
Employees leaving your company and you firing employees could be equally detrimental to the retention of staff in your business. You could end up with lower rates of productivity, morale, and even profit. All of these potential effects just highlight the importance of staff retention.
   Looking for Hiring Software? Check out the best Hiring Software solutions.
The full cost of losing employees depends on a variety of factors, including:
Hiring – To hire a new employee, US businesses spend 52 days and $4,000 on average per employee.
Onboarding – It takes an equivalent of around 6-9 months of the employee's salary to complete the onboarding process, including training.
Soft Costs – These are costs associated with productivity and engagement that are harder to quantify but are equally critical.
As an example, you can imagine an employee who earns $60 thousand a year. If they leave and you want to replace them, your company will spend approximately $45 thousand to achieve that, including all costs listed above.
The Reasons for Losing Talent
If you want to create employee retention plans that actually work, you first need to understand why your employees leave. Of course, if you keep firing people, that will also affect the rate of your retention of staff, but a lot of employees could be leaving on their own for all kinds of reasons:
No Career Opportunities:
Some of the best employee retention plans focus on employees first and foremost which often means providing career opportunities. If an employee sees ways they could grow and develop at your company, they won't be looking for other places to work at.
Poor Engagement:
Unengaged employees could be the reason for poor productivity in your company, but it's not always the fault of the employees themselves. If you don't try to engage them, they could end up leaving to look for a more interesting place to work at. Here is a guide on maintaining employee engagement.
Bad Company Culture:
The successful retention of staff is often related to good company culture. Naturally, if you have bad company culture (e.g. an unsafe environment for female employees), then your employees could decide to leave.
Lack of Benefits:
When choosing between two job opportunities with the same salaries, workers will go for the job that has better benefits. So if you don't provide any benefits or the benefits you provide are lacking compared to those of other companies, you could be losing staff.
Insufficient Compensation:
Just as good benefits are important for the successful retention of staff, so is compensation. Hence, your employees should be satisfied with the salaries. And should be appropriate for the work they do and the qualifications they possess.
Disagreements with Staff:
In some cases, specific employees might decide to leave your company because they have disagreements with other employees or management.
Absence of Clear Goals:
In terms of leadership, it is necessary to clearly explain to your employees what the mission, vision, and values of your company are. Otherwise, they might not feel like they have clear goals to pursue when working for you.
Feeling Unvalued:
One more reason why you have such poor retention of staff could be that your employees feel unvalued. You need to listen to their opinions and work with them as a team instead.
How to Retain Employees
So, how do you make sure that your employee retention rates improve and remain stable? Here are some things you could do: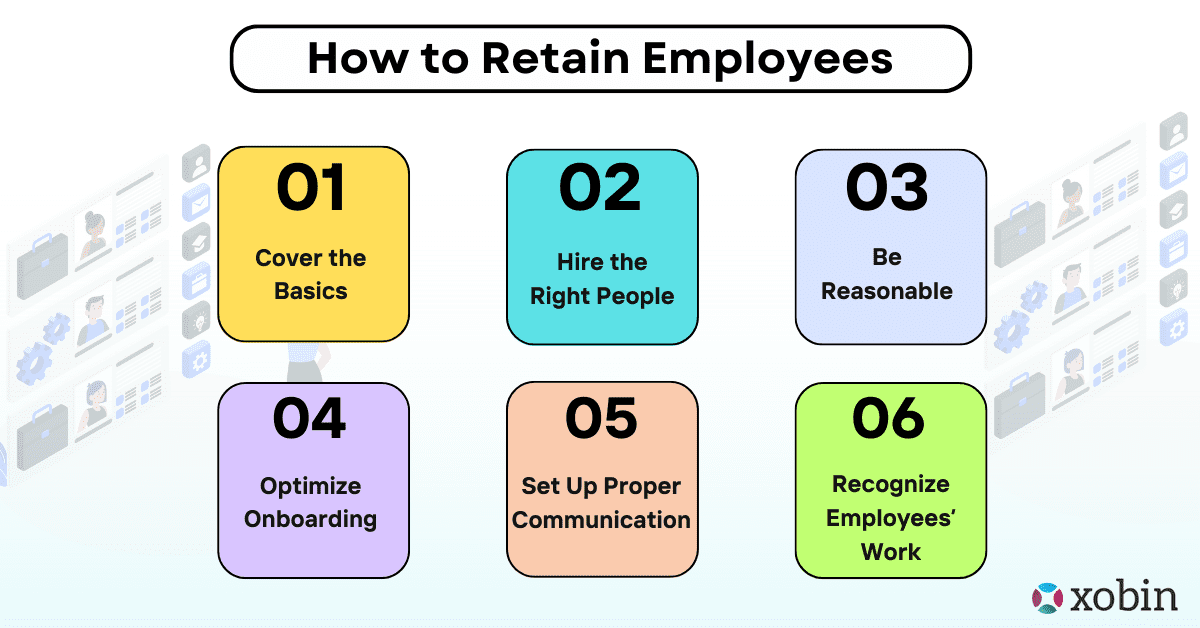 Cover the Basics:
All successful employee retention plans should start with the basics, including salaries, benefits, company culture, and goals. Ask yourself such questions:
Are the employees being paid enough considering their workload, qualifications, and other factors?
Do the employees receive good benefits? What do other companies offer to their employees (that our company could offer as well or offer something better)?
Is the environment safe for employees to work in? Is the atmosphere friendly?
What are the vision, mission, and values of the company? What goals is the staff team pursuing?
Hire the Right People:
One of the most obvious employee retention ideas you've probably heard before is that you should hire the right people – and that's completely true. It will be difficult to find the kinds of specialists you need that will also work well in a team, but if you succeed, you won't have to worry about employees leaving your company.
Best HR Software Solutions
Campus Recruitment Software
With our online campus recruitment software screen, hire top talents hassle-free. Everything is under one platform, from test creation to the candidate's evaluation. from test creation to the candidate's evaluation.
Rating 5.0
Based on 321 user ratings
API Integration by Xobin
Get integrated and harness the strength of robust assessments with Xobin APIs. Save sweat and time and focus on your core offering, not building your assessment stack. from test creation to
Rating 5.0
Based on 321 user ratings
Coding Skill Assessment Software
With our 100+ coding assessments on various languages such as Java, Python, JavaScript, React, Angular, etc., evaluate and hire the best-talented developers. from test creation to the candidate's evaluation. to the candidate's evaluation.
Rating 5.0
Based on 321 user ratings
Pre-Employment Testing Software:
Get access to the vast library of validated tests to screen candidates using online assessments. Simplify your recruitment process with our cloud-based Pre-employment Testing Software. from test creation to the candidate's evaluation.
Rating 5.0
Based on 321 user ratings
Pre-recorded Video Interview Platform:
Pre-recorded Video Interview Platform allows candidates to fully express themselves to a pre-recorded question. So that you can get more insight into candidates in far less time than a traditional phone interview. from test creation to the candidate's evaluation.
Rating 5.0
Based on 321 user ratings
Be Reasonable:
Being reasonable is the key to the successful retention of staff. Don't set expectations that are too high and can barely be achieved by your employees. Don't be too hard-headed, and instead, listen to your employees. Also, don't expect there to be any employee turnover whatsoever because some employees will still leave no matter what you do.
Optimize Onboarding:
One of the best employee retention ideas you will hear is optimizing the onboarding process. Because, it ultimately leads to better retention of staff. If you train new employees well, they will be fully equipped to perform their job correctly and stay at your company long-term.
Set Up Proper Communication:
Communication is critical for your business to be able to function properly, but it is also essential for the retention of staff. You need to have multiple channels of communication and a set of guidelines on how to communicate in different situations. Plus, you should always ask for feedback from employees and give them feedback of your own.
Recognize Employees' Work:
Last but not least, the most obvious one of the employee retention ideas is to recognize the work your team does. Your employees need to feel valued, so recognizing their efforts and achievements regularly is a must. Whether it is a simple thank you or a paid vacation, all types of recognition matter.
Conclusion
All in all, losing talent is definitely not something you want for your company. By improving your employee retention rates, you could reduce the money you are losing from employees leaving and make sure that other aspects of your business are affected less by such employee loss.
Software you need for all your recruitment process
1 Million +
Test takers per year
Author Bio: Kristen Bray is a professional writer and а blogger. She has been working as an editor at а Trust My Paper. Kristen mainly covers topics such as blogging, digital marketing, and self-education. In her free time, she practices yoga and also travels.