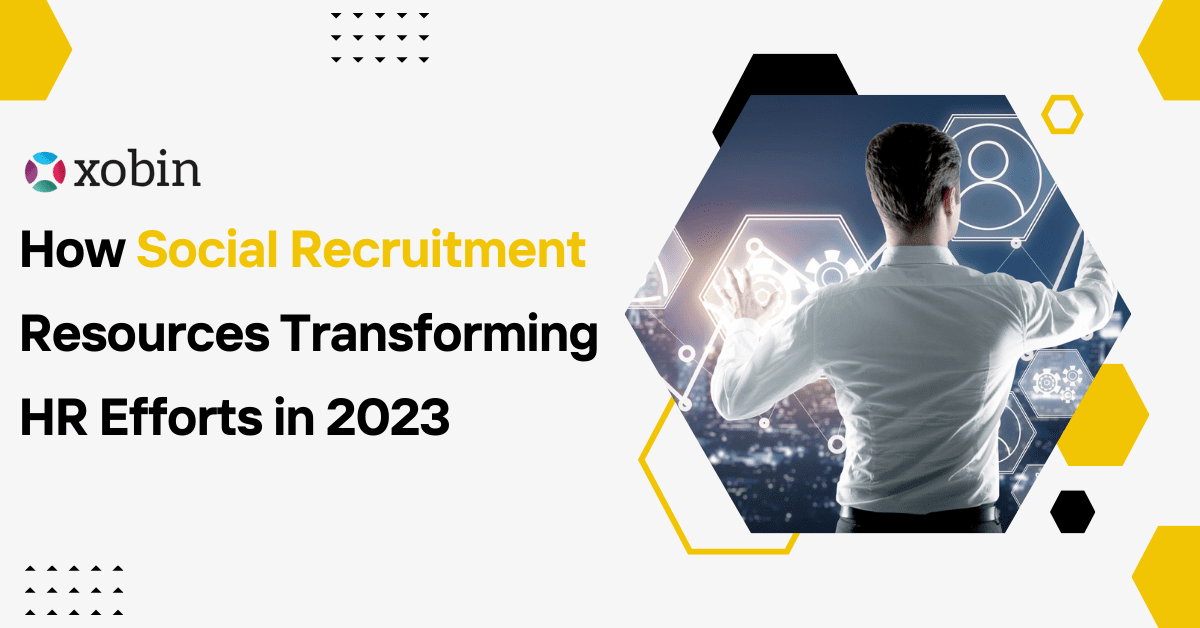 Today, if you are a hirer looking for top talent, it's time to change your ways. So, a recruiter mustn't simply sit down and hope people spread the word on their behalf. Interestingly, according to a study, around 94% of recruiters are using (or planning to use) social media channels for recruiting. So, this is where social recruitment saves the day.
Recruitment is a very chaotic process for HRs—no matter what the company size is. Sometimes, HR teams end up hiring not-so-fit candidates even after going through a detailed hiring process.
 Looking for Recruitment Software? Check out the best recruitment software.
Hence, this article explains what social recruiting is and how it's changing HR practices.
What is Social recruitment?
Social recruitment is the process of hiring new candidates (working professionals) through social media platforms. For example platforms like Facebook, Twitter, LinkedIn, etc. Also, this includes job boards, forums, and blogs on the internet.
Social recruitment has gained prominence due to the widespread use of social media in people's personal and professional lives. It provides HR professionals and recruiters with an additional avenue to reach and interact with candidates beyond traditional recruitment types.
Key elements of social recruitment include:
Employer Branding:
Social media platforms offer opportunities to showcase the organization's culture. For example, culture like values, and unique employer advances and hence the employer brand, attract potential candidates.
Job Posting and Advertising:
HR professionals can share job openings across job portals gives them an advantage. However, they can use social media to reach a wide audience and increasing the visibility of available positions.
Candidate Screening and Evaluation:
Social media profiles can provide additional insights into candidates' professional backgrounds, skills, and interests, supplementing traditional resumes and application materials. However, it is essential to navigate privacy and legal considerations while reviewing candidates' social media presence.
Best HR Software Solutions
Campus Recruitment Software
With our online campus recruitment software screen, hire top talents hassle-free. Everything is under one platform, from test creation to the candidate's evaluation. from test creation to the candidate's evaluation.
Rating 5.0
Based on 321 user ratings
API Integration by Xobin
Get integrated and harness the strength of robust assessments with Xobin APIs. Save sweat and time and focus on your core offering, not building your assessment stack. from test creation to
Rating 5.0
Based on 321 user ratings
Coding Skill Assessment Software
With our 100+ coding assessments on various languages such as Java, Python, JavaScript, React, Angular, etc., evaluate and hire the best-talented developers. from test creation to the candidate's evaluation. to the candidate's evaluation.
Rating 5.0
Based on 321 user ratings
Pre-Employment Testing Software:
Get access to the vast library of validated tests to screen candidates using online assessments. Simplify your recruitment process with our cloud-based Pre-employment Testing Software. from test creation to the candidate's evaluation.
Rating 5.0
Based on 321 user ratings
Pre-recorded Video Interview Platform:
Pre-recorded Video Interview Platform allows candidates to fully express themselves to a pre-recorded question. So that you can get more insight into candidates in far less time than a traditional phone interview. from test creation to the candidate's evaluation.
Rating 5.0
Based on 321 user ratings
Candidate Sourcing and Engagement:
Social media enables HR professionals to proactively search for potential candidates, engage with them directly, and build relationships before initiating the formal recruitment process. It also provides a platform for candidates to express interest, ask questions, and learn more about the organization.
Employee Referrals and Advocacy:
Social media platforms facilitate employee engagement and encourage employees to share job openings within their networks, increasing the chances of attracting quality referrals.
Talent Community Building:
HR professionals can create and nurture online communities or groups where potential candidates can interact, stay informed about company updates, and participate in discussions related to industry trends or job opportunities.
Social recruitment allows organizations to tap into the vast pool of talent available as well as expand their reach and engages with candidates. So, by effectively leveraging all social media and recruitment strategies HR professionals can strengthen employer branding efforts. As a result, attracting top talent to their organizations.
How Social Recruitment is Transforming HR Efforts?
In 2023, social recruitment is nothing less than a corporate trend. However, it isn't a very recent practice. The roots of social recruitment go as far back as the 2000s. LinkedIn, the networking site for working professionals, was founded in 2003. As it gained popularity, social recruitment became a thing. It provided a platform for working professionals to create online profiles, connect with colleagues, and share their work experiences. As LinkedIn gained recognition, HR professionals recognized its potential as a valuable tool for sourcing and recruiting candidates.
In fact, the popularity of social media use, in general, played an important role in the rise of this trend. As above mentioned, Twitter, Facebook, and Instagram offered a broader reach and allowed HRs to engage with potential candidates on a more personal level. Hence, today, social recruitment has become an integral part of many companies talent acquisition strategies.
Checkout the ways social recruitment has changed HR practices: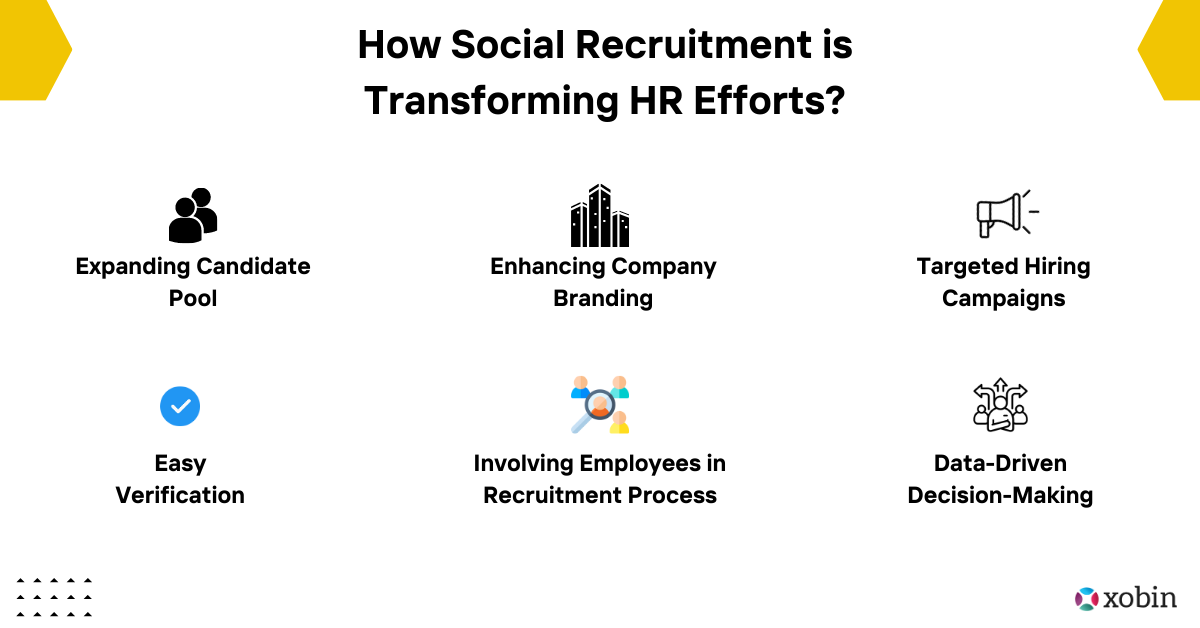 Expanding Candidate Pool:
Before the advent of social hiring, HR professionals didn't have access to a vast talent pool. Now, this has changed forever. For instance, LinkedIn sees a traffic of around 61 million job seekers every week. And every individual from this number has an account on LinkedIn with minimum details, to say the least. In simpler words, LinkedIn has a readymade database for HRs to find candidates from. All you need to do is make a list of potential profiles and use an automation tool to send cold messages on LinkedIn.
This is how social hiring has successfully expanded the talent pool for recruiters. Not to forget, this practice has started the trend of approaching passive candidates who aren't actively looking for jobs but may be open to trying.
Enhancing Company Branding:
Gone are the days when candidates grabbed the first opportunity they got. In 2023, your talent pool is more informed than ever. This makes talent acquisition such a complicated process, especially with Glassdoor and AmbitionBox reviews. This is why company branding is so crucial for social hiring. Companies need to use their social media pages to showcase their unique organization work culture, ethics, and office environment. Such steps help in developing a strong employer brand. HR professionals can share engaging content, employee testimonials, and company updates to attract individuals who resonate with the organization's brand values.
In the long run, company branding benefits lead generation and networking too.
Targeted Hiring Campaigns:
Social media platforms offer advanced search options that help HR professionals to do more targeted recruitment. LinkedIn, for instance, offers tools like LinkedIn Sales Navigator that help you search with advanced options such as "View Similar," "Boolean Search", and "Spotlight filters", etc.
With this, you get search options such as
Posted on LinkedIn for 30 days
Changed jobs in the last 90 days
Mentioned in the news in the last 30 days
With team link intro, etc.
Social recruitment has hyped the practice of target recruitment. And this targeted hiring goes beyond demographics, interests, and professional backgrounds.
Easy Verification:
LinkedIn profiles are nothing but social proof of the applicants. An active (and complete) profile provides insights into a candidate's interests, skills, professional network & feedback, and recent activities. Like in the pre-internet era, HR professionals don't have to go behind the candidates' backs to unravel the mystery of the new recruit.
Instead, they can simply incorporate checking their social media profile reviews as part of their screening process.
Involving Employees in Recruitment Process:
Searching for top talent isn't an easy job for recruiters. However, involving the existing employees does make it a little easier. For example, if you are looking for a Backend Engineer, ask the existing engineers to refer you to someone who is good at the job. On top of that, social media makes it easy to share job openings within employee networks. This is a great way to make strategies like employee referral programs more effective.
Hence, companies can use their existing network and reach and find a perfect candidate by incentivizing employees to refer suitable candidates.
Data-Driven Decision-Making:
Social hiring involves many software and tools. For example, if you are sending cold emails or messages to potential candidates, you might be using automation or a CRM (Candidate Relationship Management) tool at least. Using such tools generates a wealth of data and analytics that HR professionals can utilize to assess the effectiveness of their recruitment strategies in 2023. They can judge the performance of the previous campaigns and improve accordingly. This data helps in identifying trends, tracking candidate engagement, and measuring the success of various channels. In the long run, HR professionals can make more informed decisions to optimize recruitment efforts. This is how social hiring has established data-driven decision-making in the recruiting process.
Final Thoughts!
In conclusion, social recruitment changes HRs' recruitment efforts significantly. It has introduced factors like employer branding, real-time interaction with candidates, data-based decision-making, employer reputation, targeted hiring, etc. This trend has made HR efforts easier and more effective than traditional hiring. If you haven't tried social recruitment yet, it's time that you do.
So, remember, it's crucial for HR professionals to stay up-to-date with emerging trends in social media. You aren't the only one looking for the top talent.
Software you need for all your recruitment process
1 Million +
Test takers per year
Author Bio: Vaibhav is the founder of smartlead.ai and smartwriter.ai, which are cold outreach and personalization platforms. Before this, he worked in an AI business analytics business and had bootstrapped his software consultancy, which funded 55 startups. He posts actively about SEO and growth marketing.