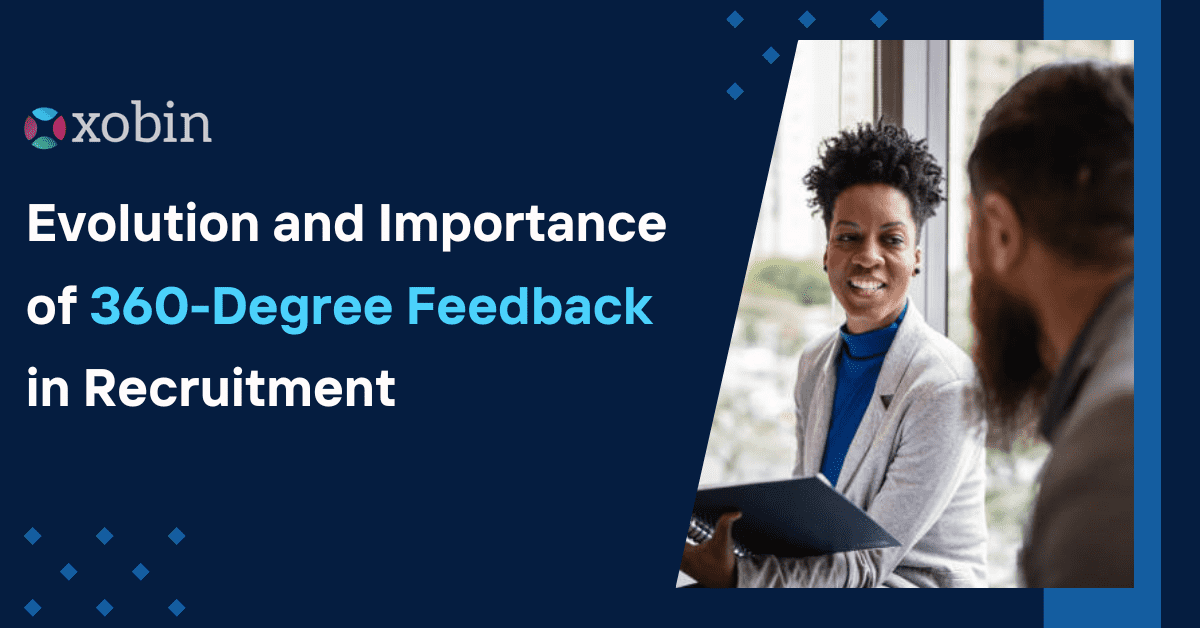 The recruitment process has evolved over the past few years. On the other hand, the 360 degree feedback in the process.
Interestingly, if you all remember in old films, where the candidate is looking for a job for a long time, and everywhere they say: "We will call you back"? And they don't call back, of course. Fortunately, today this situation is observed less and less. Empathy and humanity are valued in candidate experience. An employer cannot hire everyone. And not everyone meets the requirements. However, courtesy, attentiveness, and the desire to be useful to each other are what should be characteristic of both sides of the interview.
Importance of 360 degree feedback:
The interaction between the employer and the applicant during the interview process is just an episode. But after the interview, life does not end, whatever its result. The company continues to function, and the candidate for the position continues to live his life. He has relatives, friends, and acquaintances. Perhaps he has a considerable audience on social networks.
 Looking for Recruitment Software? Check out the best recruitment software.
What will his opinion about your company if the person was treated arrogantly during or after the interview?
Therefore, consider hiring specialists from freelance platform. Also, consider a more systematic approach. As an employer is in the technical skill recruitment, the more likely it is that both parties will end up happy, even if the hiring doesn't happen. So, with the freelance platforms the lack of the desired result can also become a growth zone and tell the applicant the main vector in which he needs to work to develop his talents and improve his skills.
7 main rules of 360 degree feedback:
Below are recommendations that can make 360 Degree feedback useful for the applicant and the employer, who will maintain a positive image even in case of refusal.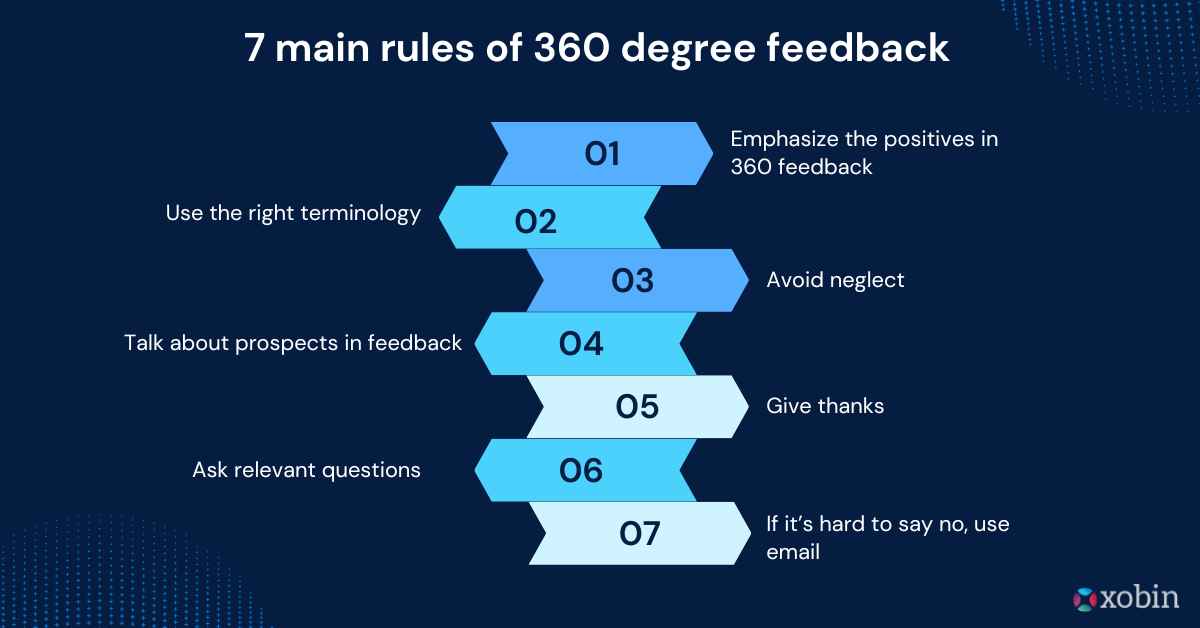 1. Emphasize the positives in 360 feedback:
In each person, you can find strengths and the potential that he can develop professionally. If you tell him this and highlight his advantages, this 360 feedback will become as useful as possible for a person. So, he will not consider wasting the time spent on the interview.
2. Use the right terminology:
When you talk about the fact that the level of a specialist does not reach the one that the company needs, replace the word "disadvantages" with "growth areas". When we talk specifically about the growth zone, we relieve a person of stigmatization and point out that he can improve the level of his skills. We show that an insufficient level of development of a particular skill is not a permanent given, but only a state at the moment. And if a specialist wants to improve his level, then everything is in his hands.
Best HR Software Solutions
Campus Recruitment Software
With our online campus recruitment software screen, hire top talents hassle-free. Everything is under one platform, from test creation to the candidate's evaluation. from test creation to the candidate's evaluation.
Rating 5.0
Based on 321 user ratings
API Integration by Xobin
Get integrated and harness the strength of robust assessments with Xobin APIs. Save sweat and time and focus on your core offering, not building your assessment stack. from test creation to
Rating 5.0
Based on 321 user ratings
Coding Skill Assessment Software
With our 100+ coding assessments on various languages such as Java, Python, JavaScript, React, Angular, etc., evaluate and hire the best-talented developers. from test creation to the candidate's evaluation. to the candidate's evaluation.
Rating 5.0
Based on 321 user ratings
Pre-Employment Testing Software:
Get access to the vast library of validated tests to screen candidates using online assessments. Simplify your recruitment process with our cloud-based Pre-employment Testing Software. from test creation to the candidate's evaluation.
Rating 5.0
Based on 321 user ratings
Pre-recorded Video Interview Platform:
Pre-recorded Video Interview Platform allows candidates to fully express themselves to a pre-recorded question. So that you can get more insight into candidates in far less time than a traditional phone interview. from test creation to the candidate's evaluation.
Rating 5.0
Based on 321 user ratings
3. Avoid neglect:
At a certain stage in the interview, the hiring manager or other specialist who is assigned this function may experience boredom. This happens when it becomes obvious that the applicant does not live up to the bar of requirements that the company has set. But such a situation is not a reason to show how uninteresting you are in communicating with your interlocutor. Perhaps in a few years, working on himself, he will become a sought-after specialist for many companies.
4. Talk about prospects in feedback:
Let the applicant know that failure in this particular interview does not lead to a string of other failures. Those competencies that he possesses may be sufficient for another company or other position. Some applicants are quite resilient and calmly survive rejection, while other people are characterized by a higher degree of sensitivity. Especially – if working in your company was their dream at a certain stage of life, and they prepared for an interview for a long time. In this case, it is important to encourage a person so that he does not dwell on failures, but works on himself and tries to conquer new heights.
5. Give thanks:
When a person prepares for an interview, he spends a lot of time. First, he designs the resume to the requirements of your company, then he studies your wishes. After that, the candidate understands the values and prepares for the further steps and so on.
So, with 360 degree feedback all this takes is the energy. Hence, even if the applicant's competencies are not enough to be hired, thank him for the effort that he spent preparing for the interview.
6. Ask relevant questions:
Correctly posed questions that relate to the topic of professional development may affect the fact that in the future the applicant. As they will pay attention to shortcomings that he did not notice before. So, this 360 degree feedback will allow him to shift his focus to priorities that will help him to reach a new level in the future. Hence, streamlining hiring process.
In this case, the person will remember the interview positively, since it will become for him a kind of short consultation with an answer to the question of where to move.
7. If it's hard to say no, use email:
It is much easier to report good news in person or by phone when you hear the joyful voice of the interlocutor. On the other hand, when we have to notify about a refusal and that the competence of a specialist is not enough to work in a specific position, it is more difficult to do. Therefore, it is good advice to use email. It's not as long as one might think. Here are some recommendations that will be relevant for you:
Prepare a template, but don't overuse it. The text should start with the name of the person you are interacting with. Therefore, the appeal "dear applicant" will give out a formal approach to business and a lack of humanism and empathy.
Write 3-4 unique sentences that relate to your experience of communicating with the applicant during the interview. It can be a listing of several of his strengths and growth areas. This is how you let a person know that he has strong skills and advantages. Also, at the same time, you emphasize that refusing hiring by your company is justified.
When a recruiter has to interact with a large number of applicants in for a position is possible to lose track. So, having a 360 degree feedback response template for applicants who did not make it easier to communicate. You can also take the help of free email templates to help you at the beginning.
So, basic that are relevant for everyone can be taken from the template. Also, few 360 degree feedback suggestions which are personalised will communicate more humane.
Conclusions:
The hiring process today is very different from what job seekers faced a few years ago. For them, 360 degree feedback is fruitful, as it allows you not to be in a state of uncertainty.
Hence, with 360 degree feedback there is also a positive side for the employer himself. Each job seeker is a potential client, and in a few years or perhaps a potential employee. It is today that you are laying the foundation for possible further cooperation.
Software you need for all your recruitment process
1 Million +
Test takers per year
Author's Bio: Eliza Medley is an experienced writer and psychologist. She is actively interested in management, new technologies, and writing motivational articles. She also loves catching up on modern trends. Also, she inspires people to learn new things and reach new heights with her work.