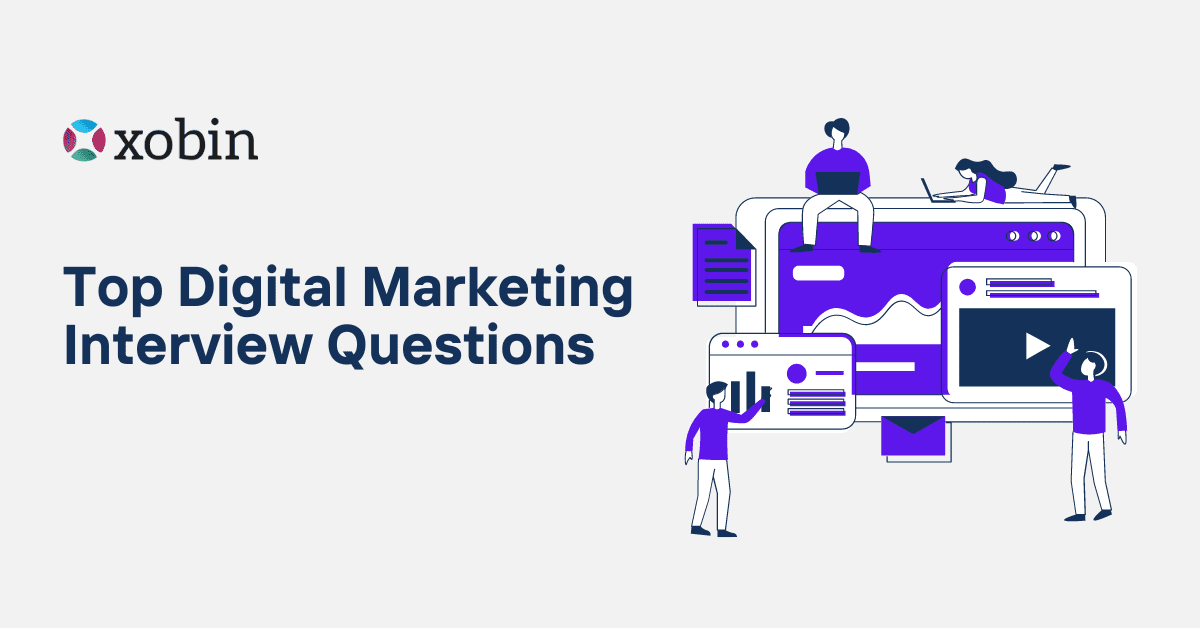 In 2020, Digital Marketing has become one of the most pivotal functional in all organizations. With the world moving towards digitization, businesses are relying on digital marketers to do the magic.
With the vast multitude of applicants eager to break into this field, how does a recruiter interview for this position?
Simple. To encourage Data-Driven Hiring and Blind Hiring Practices, request your applicants to take up Online Digital Marketing Skills Assessment. It serves as a good method to screen applicants and identify the top Digital Marketing specialists before inviting them for an interview.
Don't worry, we have simplified your life.
Here are some hand-picked Digital Marketing Interview Questions and assessments that you must use in your next interview!
A typical Digital Marketing Interview must cover Lead generation, SEO Skills, Social Media Marketing, and Content Writing Skills.
The Warm Up : Checking Digital Marketing Fundamentals
If you are looking for an entry-level digital marketing associate, it is always ideal to start from the basics.
How did you first come across this field ? What piqued your interest ?
Explain what is a keyword
In what cases is online marketing preferred to offline marketing?
If you were to built the Digital Marketing function from scratch, what marketing stack would you adopt and why ?
If you are hiring a digital marketing team, gain insights into how to split up the roles among your hires and what organizations expect from each role. So if you are outsourcing your digital marketing, assess them and make the right decision.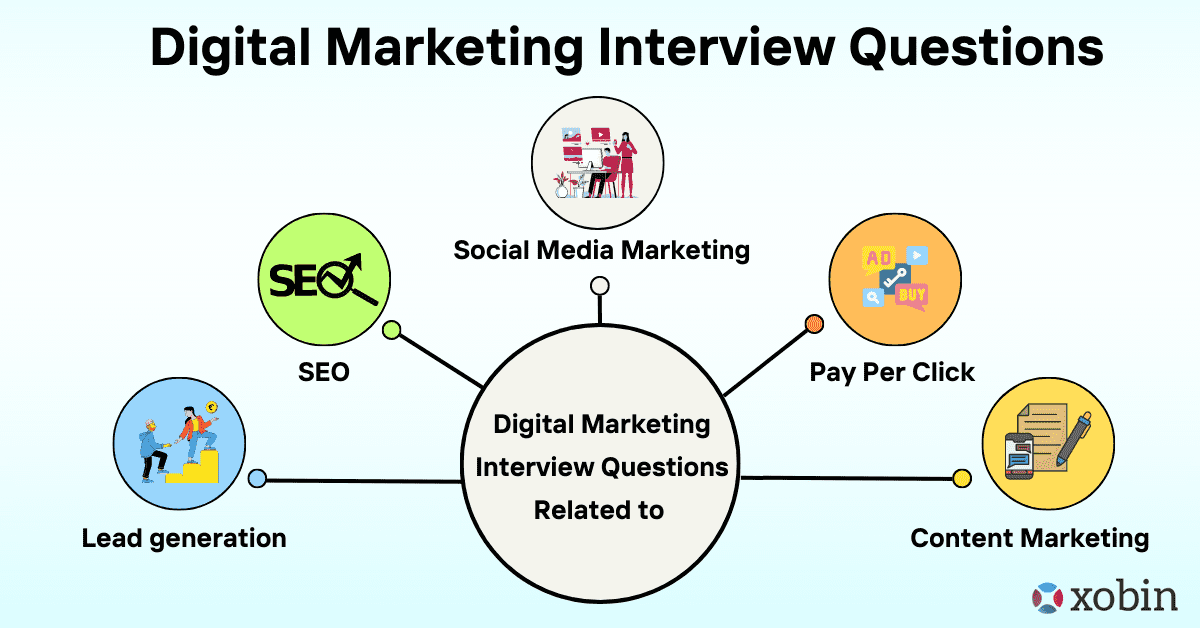 Lead generation
The primary function of a marketing function is to generate leads.
Digital Marketing specialists are able to explore the landscape and provide answers to where the potential customers spend their time. most common job role of a Digital Marketer is to manage the PPC and Ads. More significantly, what is the best way to reach them?
Here are a few direct questions or situational case studies to know their definition and understanding of the term 'lead generation.
What strategies would you use to generate leads?
How do you distinguish your target customers from the Sales Funnel point of view?
Case Study 1

Let's say you are tasked with running online marketing for a new education tech company that sells courses online. This is an old company that hasn't done a lot of online marketing in the past and you would be tasked with building up the division on your own. What would you do in your first 14 days on the job?
Best HR Software Solutions
Campus Recruitment Software
With our online campus recruitment software screen, hire top talents hassle-free. Everything is under one platform, from test creation to the candidate's evaluation. from test creation to the candidate's evaluation.
Rating 5.0
Based on 321 user ratings
API Integration by Xobin
Get integrated and harness the strength of robust assessments with Xobin APIs. Save sweat and time and focus on your core offering, not building your assessment stack. from test creation to
Rating 5.0
Based on 321 user ratings
Coding Skill Assessment Software
With our 100+ coding assessments on various languages such as Java, Python, JavaScript, React, Angular, etc., evaluate and hire the best-talented developers. from test creation to the candidate's evaluation. to the candidate's evaluation.
Rating 5.0
Based on 321 user ratings
Pre-Employment Testing Software:
Get access to the vast library of validated tests to screen candidates using online assessments. Simplify your recruitment process with our cloud-based Pre-employment Testing Software. from test creation to the candidate's evaluation.
Rating 5.0
Based on 321 user ratings
Pre-recorded Video Interview Platform:
Pre-recorded Video Interview Platform allows candidates to fully express themselves to a pre-recorded question. So that you can get more insight into candidates in far less time than a traditional phone interview. from test creation to the candidate's evaluation.
Rating 5.0
Based on 321 user ratings
Search Engine Optimization
To earn a high rank on search engines is not an easy joke. SEO has no quick fix. As a result, it takes at least 3 months of time and effort of your digital marketer as SEO to show marginal improvement. Likewise, it takes years of content creation, and constant tactical backlinking strategy activity to rank high.
While some companies may afford to hire dedicated SEO experts, in most organizations, the digital marketer must lay the foundation for SEO.
In case you are hiring for Technical SEO roles, do use the Online SEO Skills Assessment by Xobin.
Here are a few questions that you can ask for the role of an SEO Analyst or a digital marketer in general.
What are some of the most recent and major changes made by Google in their search algorithm?
What steps do you follow while conducting an SEO Audit of a website ?
How would you perform a keyword research ?
Explain a situation when your SEO Campaign went wrong. Looking back, what would you do differently ?
Assessment Rubrics: The above questions help you analyze how up-to-date is the applicant in the field of Digital Marketing. The best applicants and data-oriented in their approach. Above all, they give logical answers to their method of functioning.
Social Media Marketing
An interesting study made by an influencer marketing agency, Mediakix shows that an average person will spend more than five years of their life on social media. The study also says that this is more than the time spent on eating and grooming. Businesses are tapping this influence and most of them out.
Hence it is important to hire a person who is a versatile social media expert. These questions will let you understand how familiar is your candidate with social media tools.
What metrics do you use to measure the success of your social campaigns?
Describe the process you use to create a social media calendar.
How would you allocate our social media budget?
Case Study 2

FoodSumo is Food Delivering Startup. The Digital channels are not giving the desired results and the cost of acquiring a customer is very high. As a Marketing Associate what strategy and marketing channel would you would you adopt to increase App Downloads and why?
Assessment Rubrics – Check for a clear understanding and selection of marketing channels. More importantly, the best candidates display an understanding of tradeoffs between different channels.
Pay Per Click Or Google Adwords
The most common job role of a Digital Marketer is to manage the PPC and Ads. Therefore it is critical to analyze the understanding if you are hiring an in-house digital marketing manager, it is important to know if the candidate has previously run paid campaigns. If not, ask them to work out a case study.
Explain what is PPC or Pay Per Click advertising?
What are the primary models for determining Pay-Per-Click?
How does the Google Display Network work ?
Mention how will you go about creating a successfull PPC Campaign?
When do you conclude an ad-test ?
How many keywords should I have per ad group?
Case Study 3

Below is a LinkedIn Sponsored Ad. What is the Best Metric to measure the Performance of this Ad. What will you do to improve this Ad.
Assessment Rubric – It's important to probe the interviewee's understanding of Quality Score and managing ad-rotations. More importantly, best applicants speak about statistical significance in their PPC Ads, using one of many online options, like the Teasley calculator.
Content Marketing and Email Marketing
Content marketing has become a top element of digital B2B lead generation.
As a result, 96 percent of B2B buyers want content with more input from industry thought leaders. Similarly, 47 percent of buyers viewed three to five pieces of content before engaging with a sales rep. To further enhance engagement, a quiz maker can be employed to create interactive quizzes that showcase thought leadership and provide valuable insights, effectively capturing and nurturing leads in the B2B landscape.
While grammar and language fluency is important for content marketing, above all, it is essential to be relevant and address the pain points of customers. Here are a few questions you can ask a content marketer.
In case you are hiring for Content Marketing specialists, check out Online Content Marketing Skills Assessment by Xobin.
How do you write a content for a person who is at the bottom of the Sales Funnel?
What is a long-form content? In which cases do companies long-form content?
Explain the difference between B2B and B2C content marketing
What type of emails would you send to move a customer down the funnel?
Case Study 4

You work for a Large HR Staffing Firm that helps companies fill job roles. Your Company has just Tied up with a Leading Media Publication and has done a study on Job Salary Statistics around the Country. There are 30 Days before this Study is released. What kind of a Content Plan will you come up with?
Behavioral Interview Questions
Digital Marketing is tough and the very job requires extreme levels of patience, perseverance, organization skills, and analytical skills. Make sure you ask the right behavioral interview questions to the longevity of a candidate if hired.
Executing an Influencer Marketing campaign is hard. When was the last time you attempted Influencer marketing and what was your workflow?
How many times you do follow up with an outbound cold email? How do you feel when your targeted list doesn't work?
How do you organize and prioritize your workday?
What do you do when you run out of content to create? What steps do you take to overcome writer's block?
Do you prefer brainstorming with your team or working alone?
Assess your candidates' innate behavioral traits using Xobin Personality Inventory. Select the traits that you'd look for in your potential candidates, we shall customize the test for you.
Digital Marketing Assessments
Lean organizations typically look for Full-Stack Digital Marketers. These are generalists with a strong foundation in every service of the realm of Digital Marketing.
Like leading firms around the world, if you have a pool of applicants it may not be feasible to interview each and every applicant. In such cases, you can make use of tailor-made digital marketing skills assessments to screen your candidates.
Software you need for all your recruitment process
1 Million +
Test takers per year
Within the Xobin assessment platform, we have a huge question library of Digital Marketing questions. Most importantly, recruiters can customize their tests periodically.
Here are some of the most popular assessments used for testing the skills for Digital Marketing roles. Take your pick.
More power to you!