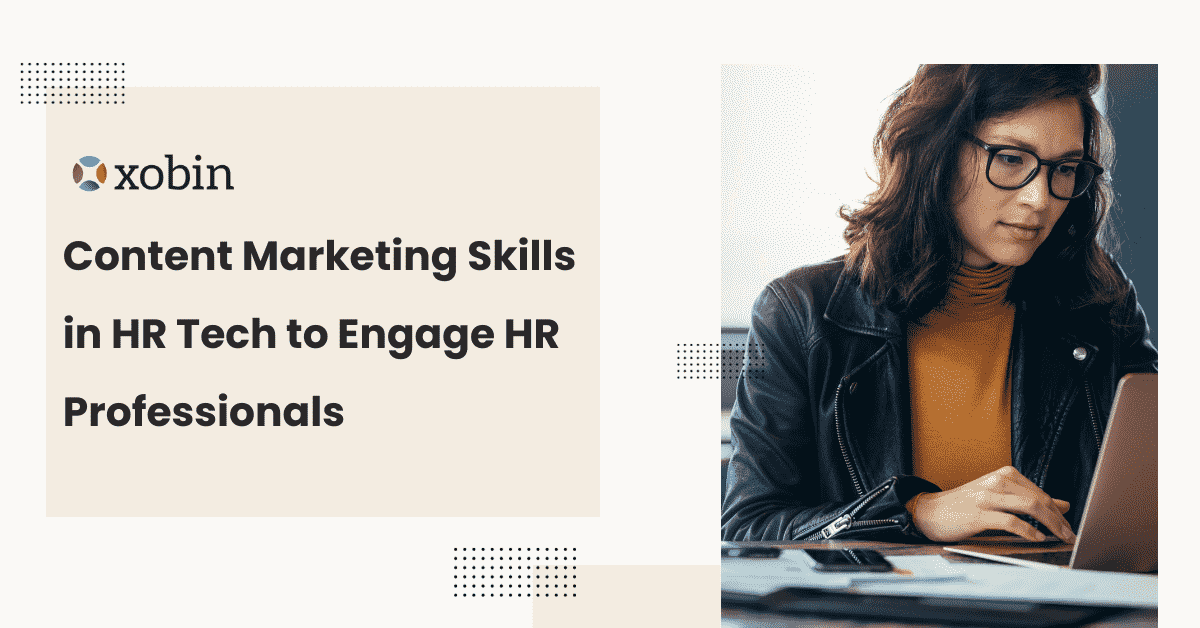 In today's dynamic business world, HR professionals are gradually looking up to technology like never before. As a result, its strengthening their business objectives and productivity. HR tech, often known as human resources (HR) technology, is reshaping the way organisations and companies are managing their target workforce. In this article, we'll discuss the HR tech market and the content marketing skills required to engage HR professionals.
What's an HR technology?
HR technology is an adopted software or hardware used by a specialized person or HR team for greater work efficiencies. Also, to deliver a better employee experience. This team or department is vital for the success of a company because they are responsible for the hiring process, compensation, and recruitment. Likewise, they can also support a range of HR functions such as payroll, work analytics and so on.
According to recent research, the global HR tech market valued was at $22.90 billion in 2021 and it's expected to rise to $39.90 billion by 2029 showing a CAGR of 7.5% throughout the forecast period. That is to say, HR professionals must keep up to date with AI based technological tools. Also, it will help in staying ahead to provide the best support for their business and its people.
Ways HR leaders can effectively use HR tech
To refresh your knowledge in HR tech, it is important to go through online courses, workshops and continuous learning. So, that it will help you stay ahead with the new trends in the field, as this can serve as a useful resource for others. So,regularly reviewing the HR policy and updating it changes the way people work and keeps them unbiased in what they do.
 Looking for Recruitment Software? Check out the best recruitment software.
On the other hand, collaboration between IT and other HR staff within the organisation is paramount for a seamless operation. Having said that, you can invite a colleague to discuss your concerns and expectations. Working hand in hand with team member help to address the challenges that could be valuable and create a user-friendly environment. Hence, developing the habit of cooperation, trust and respect for everyone in your team helps to build teamwork. Also, opens communication as well as promotes technological changes.
Read more about this in our blogs: Ways HR leaders can effectively use HR tech
Content marketing skills in HR tech and ways to engage HR professional
To attain a successful business, you must know how to relate to customers, get what they want, and market it to them. So, that is where content marketing skills comes in. So, skills in content marketing can be a great experience for HR tech companies in creating and distributing valuable content. As a result, it brings in the best talent available for work.
So, below are the skills needed in the content marketing. So, that you'll be able to attract, engage and educate your target audience within the human resources industry.
Consider your audience:
For you to know what you are marketing and what blog post or articles you will be writing, you have to know who your audience are whether they are your current employees, new hires or job seekers. There are various human resource job titles your services can offer depending on their goals and values. Aside from that, if you focus on an employee relations manager, HR director or chief human resource officer, they offer different needs and different information.
So, who is your audience? When you know your targeted audience all you need is to tailor your content and information to them. That way, you will not confuse your audience and chase them away.
Strong Communication skills:
Marketing is about understanding what your audience wants and delivering it to them. Therefore, it's no surprise that strong communication is one of the highest skills of an HR professional should have. A, for effective and successful collaboration between employees. The ability to express ideas clearly to others in a logical way is what HR managers should be mindful of when looking for applicants.
Best HR Software Solutions
Campus Recruitment Software
With our online campus recruitment software screen, hire top talents hassle-free. Everything is under one platform, from test creation to the candidate's evaluation. from test creation to the candidate's evaluation.
Rating 5.0
Based on 321 user ratings
API Integration by Xobin
Get integrated and harness the strength of robust assessments with Xobin APIs. Save sweat and time and focus on your core offering, not building your assessment stack. from test creation to
Rating 5.0
Based on 321 user ratings
Coding Skill Assessment Software
With our 100+ coding assessments on various languages such as Java, Python, JavaScript, React, Angular, etc., evaluate and hire the best-talented developers. from test creation to the candidate's evaluation. to the candidate's evaluation.
Rating 5.0
Based on 321 user ratings
Pre-Employment Testing Software:
Get access to the vast library of validated tests to screen candidates using online assessments. Simplify your recruitment process with our cloud-based Pre-employment Testing Software. from test creation to the candidate's evaluation.
Rating 5.0
Based on 321 user ratings
Pre-recorded Video Interview Platform:
Pre-recorded Video Interview Platform allows candidates to fully express themselves to a pre-recorded question. So that you can get more insight into candidates in far less time than a traditional phone interview. from test creation to the candidate's evaluation.
Rating 5.0
Based on 321 user ratings
Create content on case studies and marketing:
There is nothing better than seeing testimonials of other companies saying how your technology has been of help in their human resource department. With these good reviews, new customers would want to be a part of your software to get the same success stories as previous users.
Furthermore, with this content marketing strategy, you can explain the benefits of your technology to other people. Human resources from different departments like talent acquisition and performance management can also tell the tale of how seamless and easy your platform has been.
Social media content Marketing Skills:
Creating the right social media, blog posts, whiteboards, videos, e-books and newsletters can educate your old and new customers. As a result, it will let them know about the company's policy. These social media marketing channels such as Facebook, X (Formerly Twitter) and LinkedIn can provide a means to engage your audience. Also, determine the right platform for your company's career page and publish content on it regularly.
Hence, with the way social media algorithms are increasing, HR professionals who understand this are likely to be in demand for work in the coming years.
Being unique in providing information:
Creativity can be the use of innovative technology to improve the employee experience. However, bots and AI-powered and other writing technology can provide useful information based on data. After all, people who develop creative ideas can still have the right marketing campaign for their business audience.
"The future of work is not about technology, but about people."- Carla Harris
Being creative goes beyond just the content. It's about creating a unique and engaging experience for consumers to make them feel valued and connected.
Content Marketing Feedback Skills:
Create a Q&A form that employees can submit questions is necessary when it comes to technology in human resources. People will always have questions, comment and the only way you can answer them as a tech provider is to open rooms for feedback. Also, remember to appoint an HR representative or team member to address the email and comment.
However, to stay ahead and make better decisions, HR professionals can turn to research paper writing companies. These companies can give you In-depth records on the latest educational trends. Also, keys to solving student problems and progress in HR technology, allowing you to make informed choices for your organisations.
Conclusion:
In HR technology, content marketing skills are essential to how your business is going to project. All you need is to enable employee engagement in HR, making it seamless for both HR professionals and trainees. That way, your business will seem to thrive in the world of human resources.