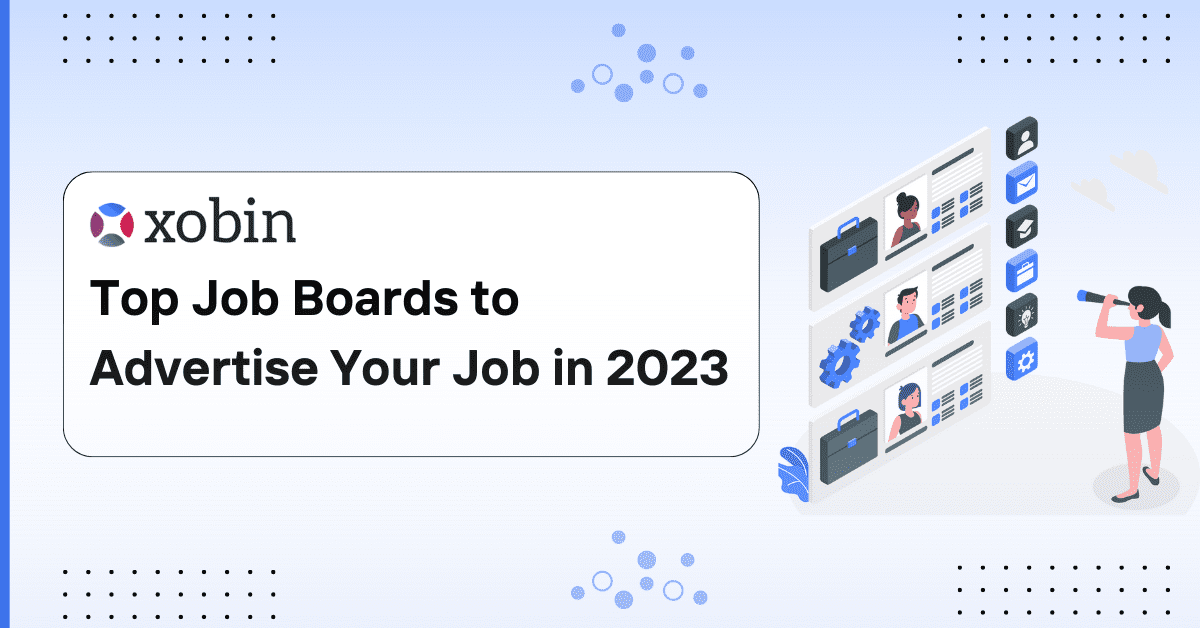 Employees are the biggest asset for any business aiming to achieve futuristic projection and development goals in 2023. Getting the best candidate is a big-time deal for startups and corporate industries. Many top job boards, websites, and portals are the best way to connect employers and job seekers to find each other. The job platforms are equipped with millions of job listings and employee data and cater specific hiring needs of the employees.
Nowadays, AI powers the top job boards and offers additional resources. On the other hand, resources like resume screening, interview scheduling, and a talent pool of active and passive candidates. So, these job boards provide robust tools and techniques to employers to reach a global network of candidates and attach, engage, and recruit them for your company's job openings.
   Looking for Hiring Software? Check out the best Hiring Software solutions.
There are many factors to consider while searching for the best job boards, like ease of use, advanced features, cost or pricing structure, experience level search, reviews, and effectiveness. In this article, we have compiled the list of top job boards to advertise in 2023:
List of Top Job Boards:
LinkedIn:
LinkedIn is a top-listed job board with a professional network of over 830 million members in 200+ nations and territories. The comprehensive connecting platform is broadly used to post jobs to attract, engage and recruit top candidates for different job roles.
HR managers can easily promote job descriptions or offers to appear in the search results and get the most exposure with the pay-per-click model. The cost-effective ad feature of LinkedIn is a bonus to extend the reach of the job post to different regions of the world.
GoHire:
GoHire is an easy-to-use job board offering key features like multiple job postings, job advertisements, candidate resume screening, social media recruitment, talent pool, and employer branding.
With over 3000 businesses worldwide, GoHire offers a great recruitment platform to launch your hiring quickly.
Providing a user-friendly interface, GoHire is one of the top job boards for advertising job openings for early-stage businesses, startups, corporate industries, well-established businesses, IT companies, and advertising and marketing agencies.
Recruiters find it easy to plan their recruitment strategies for new hires in the companies and approach future hiring goals for development and business expansion.
Best HR Software Solutions
Campus Recruitment Software
With our online campus recruitment software screen, hire top talents hassle-free. Everything is under one platform, from test creation to the candidate's evaluation. from test creation to the candidate's evaluation.
Rating 5.0
Based on 321 user ratings
API Integration by Xobin
Get integrated and harness the strength of robust assessments with Xobin APIs. Save sweat and time and focus on your core offering, not building your assessment stack. from test creation to
Rating 5.0
Based on 321 user ratings
Coding Skill Assessment Software
With our 100+ coding assessments on various languages such as Java, Python, JavaScript, React, Angular, etc., evaluate and hire the best-talented developers. from test creation to the candidate's evaluation. to the candidate's evaluation.
Rating 5.0
Based on 321 user ratings
Pre-Employment Testing Software:
Get access to the vast library of validated tests to screen candidates using online assessments. Simplify your recruitment process with our cloud-based Pre-employment Testing Software. from test creation to the candidate's evaluation.
Rating 5.0
Based on 321 user ratings
Pre-recorded Video Interview Platform:
Pre-recorded Video Interview Platform allows candidates to fully express themselves to a pre-recorded question. So that you can get more insight into candidates in far less time than a traditional phone interview. from test creation to the candidate's evaluation.
Rating 5.0
Based on 321 user ratings
CareerBuilder:
CareerBuilder is the preferred choice of recruiters to advertise their job posts and attract quality candidates for different positions. Having an extensive database of 80 million plus resumes, this job board gives access to a recruitment app, making it easy to check notifications regarding job applications.
The talent discovery platform of CareerBuilder allows recruiters to streamline applications with an automated system, matching profiles as per the pre-written job description, work experience, job qualification, license, or certification.
Recruiting companies can opt for subscription plans to advertise their job openings and locate the best match for technical, managerial, and consultant roles.
Lensa is a powerful platform for job seekers looking to find their dream job. It provides a user-friendly interface that allows job seekers to easily search and apply for jobs that match their skills and career goals. Also, with advanced technology like artificial intelligence and machine learning algorithms, Lensa offers personalized job recommendations to job seekers, making it easier for them to find the right job.
Additionally, Lensa provides a range of resources, including salary data, interview tips, and career advice, to help job seekers succeed in their job search. Overall, Lensa is an excellent platform for job seekers to find job opportunities that match their skills, experiences, and career goals.
Glassdoor:
Glassdoor is the best job posting platform for recruiters who want to create a customized company profile showcasing specific information like work culture, benefits, and hikes.
Created in 2008, Glassdoor has gained more than 2.3 million employers and 115 million reviews and ratings, with 55 million users per month. Allowing job seekers to get an insight into job requirements, overview, rating, and salary structure. Also, it provides a real-time experience at both ends. Recruiters can signup for free to use advanced features like customized profiles, robust tools, and analytical parameters for advertising job posts.
Indeed:
Indeed is among the most popular job boards for recruiting agencies and HR managers to advertise job openings in their companies. With more than 175 million candidates' resumes in the database, it has established a great network worldwide to meet the specific requirement of recruiters.
Also, scraping thousands of jobs from the career pages, Indeed allows recruiters to search for the top talent within a particular region and to locate their work experience, skills, and academic qualification.
This leading job site features automated recruitment, virtual interviews, candidate matching, free and sponsored job postings. Also, email alerts and notifications, and advanced searching options.
Zip Recruiter:
ZipRecruiter is a top-rated job board to post small-sized to large-scale industry job openings and advertises the listings per the business size, location, and hiring needs. It offers personalised plans to choose the advertisement options and attract applicants to apply for job posts.
Recruiters can opt for standard, premium, and enterprise plans to advertise job openings and get interesting features like email notifications and messages, creating company career pages and job descriptions.
Monster:
Monster is a popular mobile optimised job board or site, allowing recruiters to attract, and engage talent acquisition through its advanced features. Offering advanced search options to find candidates using filters such as skills, locations. Also, work experience, and work experience, this job board aligns the hiring process quickly and productively.
Established in 1994, Monster has offered recruitment services to many organisations and businesses. Also, its advanced features like email notifications, resume screening, interview scheduling, and talent pool are a never-to-miss deal for recruiters and hiring managers to advertise their job openings on this platform.
Conclusion
In conclusion, today's competitive marketplace, the best use of a top can make recruitment easy and hassle-free. Hence, popular job boards can help you reach the perfect candidate for various job roles by offering many benefits and features. So, from customization to target advertisement, these tools provide an amazing opportunity to plan recruitment strategies per the description. So, if you want to increase your job description's reach to attract and engage candidates for your company, investing in the right job boards can help you leverage the best way to close job openings efficiently. Hence, check the features, listings, cost structure, and reviews to know more about the popular job boards to advertise your job opening today!
Software you need for all your recruitment process
1 Million +
Test takers per year
Author Bio – Chris Smith a Founder and CPO of GoHire, a talent-hiring platform used by SMBs across the world to manage jobs, candidates, interviews, and hiring, in less time, with less effort. On a mission to help you spend less time hiring and more time growing your business.