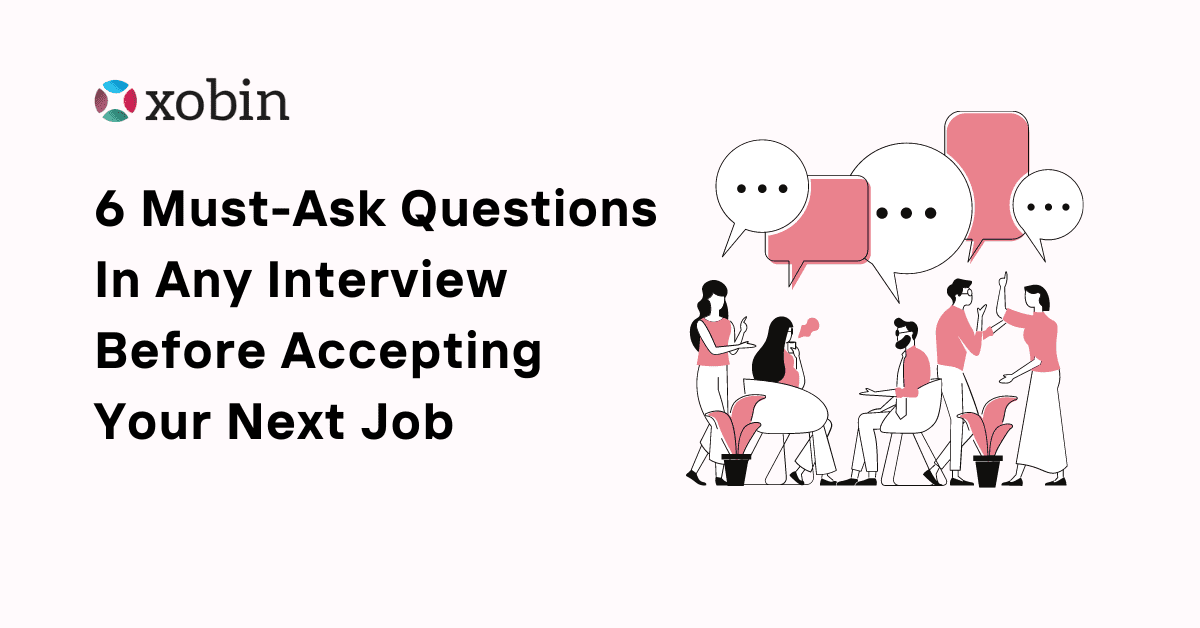 "Do you have any questions for me?"
Haven't we all felt a sigh of relief on hearing this. Done with the interview. But is it?
Recent report says that 30% of job seekers quit jobs within 90 days of joining. The more informed you are about the job, the less chance that it is a mismatch for you. The interview and the job is a two way commitment and you need to make sure you have all the answers before you commit. That interview room is not the place to come out having doubts in your head.
Here is a set of questions you must ask your interviewer before you get to the negotiation stage.
Company Culture
"What is working for the company like? How is the work-life balance?"
Ask the interviewer about their own experience with the company. This will give you a first-hand view of the work culture at the company. Incompatibility is the prime cause of millennials leaving the company. The work culture is an important aspect of any job. It's essential to be in sync with the work environment. Understand your own personality before you make a decision about your future.
Company culture can be categorised into 4 categories.
Customer Obsessed

 

Amazon

Customer is god.

Ultra Aggressive

 

Uber

Get shit done attitude.

Value Based Company

 

Tata Group

Highest standards of Integrity.

Perfection Oriented Companies

 

Apple , Google

Nothing but the best.
Expectations from you.
"The job role looks interesting. Could I know in detail what project would I be working on? What am I expected to do? Will I work on a project from scratch? Can I work from home ?"
This is a major question most people ignore. It's very risky to assume that a new employer will treat you like in your current firm. To be on the same page ask your prospective employer what they expect of you, in the first 1 , 3 and 6 months. This will clearly help you understand the quality of work and how you can grow in the job.
Knowing what the company expects you to do on a long term and a daily basis ensures you can deliver accordingly. Use this question to understand the company's work policies.
You can then use this information to make the decision on the compensation. If you believe the work they expect deserves more, say it. The interview is not the time to hesitate. It is always better to get these things out of the way earlier.
Company Future
"What are the upcoming projects ? How does the company plan to raise funds or expand in the next 1 year?"
With automation and newer technologies like AI, you must future proof your career. Asking this question indicates genuine interest in the understanding the direction of the company.
If its a Startup, make sure that you are drawn to the vision. You need to feel it is a risk worth taking. In case the company is big enough, find out about the upcoming products/features planned up and how they plan to embrace newer technologies.
Best HR Software Solutions
Campus Recruitment Software
With our online campus recruitment software screen, hire top talents hassle-free. Everything is under one platform, from test creation to the candidate's evaluation. from test creation to the candidate's evaluation.
Rating 5.0
Based on 321 user ratings
API Integration by Xobin
Get integrated and harness the strength of robust assessments with Xobin APIs. Save sweat and time and focus on your core offering, not building your assessment stack. from test creation to
Rating 5.0
Based on 321 user ratings
Coding Skill Assessment Software
With our 100+ coding assessments on various languages such as Java, Python, JavaScript, React, Angular, etc., evaluate and hire the best-talented developers. from test creation to the candidate's evaluation. to the candidate's evaluation.
Rating 5.0
Based on 321 user ratings
Pre-Employment Testing Software:
Get access to the vast library of validated tests to screen candidates using online assessments. Simplify your recruitment process with our cloud-based Pre-employment Testing Software. from test creation to the candidate's evaluation.
Rating 5.0
Based on 321 user ratings
Pre-recorded Video Interview Platform:
Pre-recorded Video Interview Platform allows candidates to fully express themselves to a pre-recorded question. So that you can get more insight into candidates in far less time than a traditional phone interview. from test creation to the candidate's evaluation.
Rating 5.0
Based on 321 user ratings
Growth, Challenges and Opportunities 
What is the most pressing need that this department faces ? What are the growth opportunities ?
This is a home run question. Most of the times, this is a genuine question that shouts that you intend to stay for a long time in the company. Most companies invest a lot in making a new hire. If you show that you are willing to stay longer than most others, you are already at an advantage.
Find out what opportunities are there in the department you will be working in. This not only tells you about your future possibilities, but also tells you if there is enough scope for you.
Find out what are the current problems the department is facing. This is almost as important because you will be solving at least one of them, if not all.
Tech Stack (Exclusive to Software Developers).
"Why is this Stack being used ? Why can't we can use something else ?"
Question the company stack and the tools it uses. Reason out with the interviewer on why this stack is being used. Ask if they are flexible with the requirements. Let's say you know both Python and RubyOnRails, and the company currently uses only Python for an application. Find out if they are willing to explore alternatives/improvements to their stack .
In big companies, often cases arise when they hire you for A, and you work on B. That is not an ideal scenario.
Make sure that you know what other departments in the company use to make products. It is possible that you have interest in a different technology as a future option. It is always better and easier to make a department switch than finding a new employer.
Improvements and Suggestions
"When can I know the outcome of this interview at the earliest? In any case, please do give me feedback to improve."
Okay, this one is a bit tricky. Usually it isn't recommended to ask the interviewer this question. But assuming you did well in your interview. Asked a decent number of questions, and have established a good rapport. This question will fetch you a good and honest response. This will also get you a hazy idea of whether you will get in or not.
At Xobin, we value the time of the interviewers and the interviewees. Hence instead of a Job Description, we provide an Opportunity Description ! Do check out our AI powered chatbot that fills the information void between companies and applicants.